Drink and beverage shopify theme: Top 10 impressive shopify themes for your online stores
In order to satisfy your dream about launching an awesome drink and beverage online store, Arrowtheme delivers you Top 10+ impressive shopify themes below. We are sure through this helpful article, you can easily get more ideas for developing your store with ease. Finding the suitable theme not only improves your sales but also makes your income more stable than ever. Let's explore this article right now!
HOT!!!! We've just updated Lusion Shopify Theme 2.0 with a bunch of improvements and exclusive features. Lusion eCommerce Shopify theme is one of the best-selling themes on ThemeForest .Check this theme out now: Lusion eCommerce Shopify theme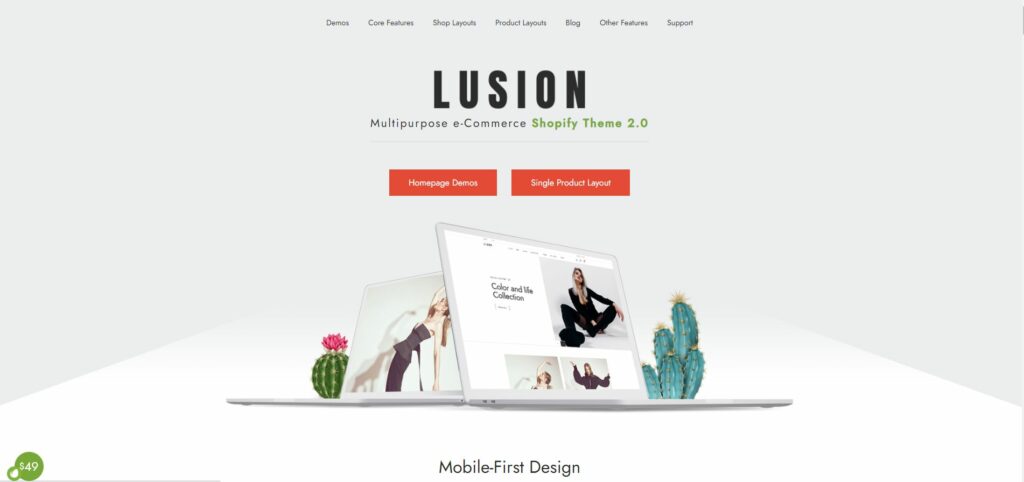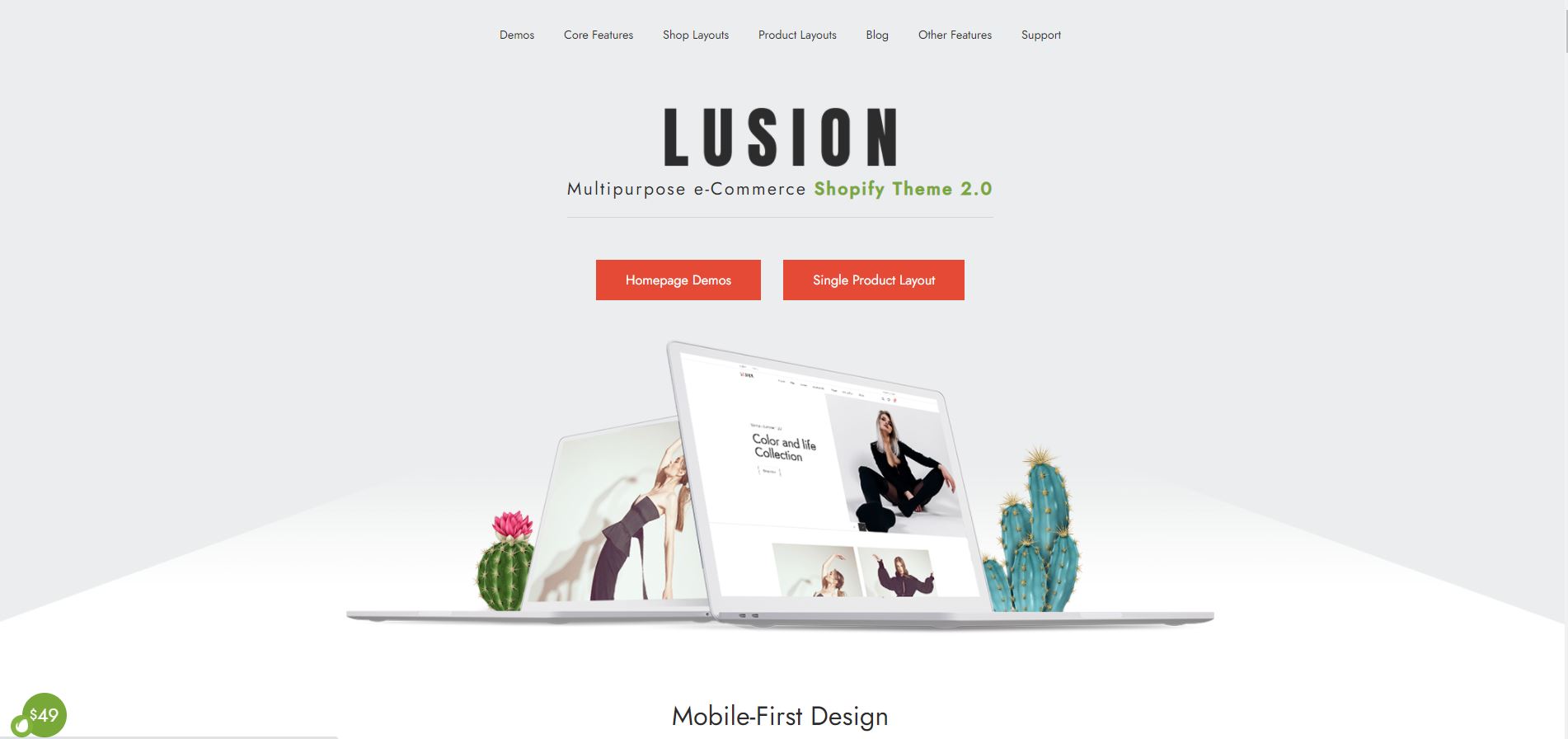 Here are some new benefits you'll get when choosing Shopify 2.0 theme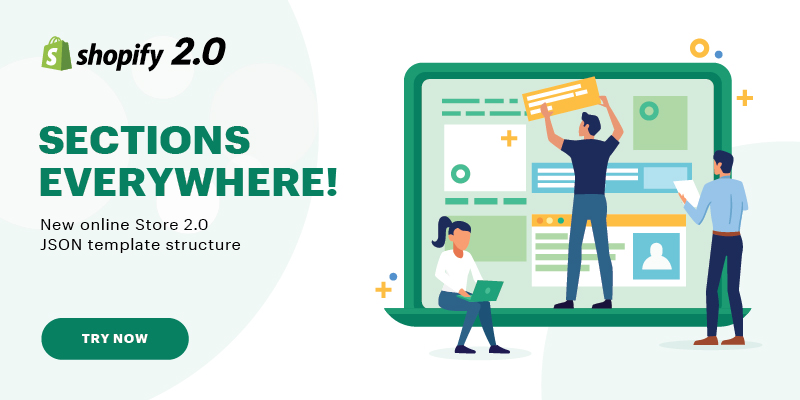 Sections are available on every page like the Home page, product page, collection page, collection list page, cart page, etc.
App Block supports you to relocate or move Shopify apps within the template without touching the code files.
Shopify Metafields permits you to add dynamic information about your products, variants, collections, customers, orders, blogs, and many more in your store.
Collection and search filters support you to filter products and search results by availability, price, vendor (brand), color, and many more.
The first Drink and beverage shopify theme we want to recommend for you is Arangi. It comes from and is one of the most impressive shopify themes in the market. On top of that, this theme is a combination of pastel colors and standard UX/UI graphic trend design. As a result, your website will have a great look more than any competitor. Besides 8+ pre – made homepage layouts, you also have many freedom to customize anything you want thanks to the "Powerful Section Settings" and "Powerful theme settings". 
What's more, Arangi also integrates plenty of hot functions and extensions. For example, you can access more and more clients from many different countries with the help of the "Multiple currencies drop down" feature. Additionally, "Product video popup" allows you to add an attractive video to introduce your items. Above all, it will bring to your customers a lot of best experience and highest satisfaction whenever visiting your website.
If you are seeking a drink and beverage shopify theme for developing your online store, you must have a glance at Groca. Receiving 360+ sales on a big website like Themeforest, so we are highly recommend it for you to adapt with online stores, including Drink and beverage online stores. Firstly, this theme is coded with HTML5 and CSS3, so it is highly security and ready to update. Besides, it features Sidebar Ajax Filters which allows you a lot of product filters to choose products. Moreover, it provides 5 types of Mega menu. As a result, you can arrange and adjust all items according to the most attractive display.
Coming to another flawless drink and beverage you must know – Gopher. This theme has an extremely minimalist design with perfect background color. Besides, Gopher is fully responsive design. Hence, your site will have a stunning appearance on every type of modern device and compatible with all browsers. What's more, as you know, content is one of the most essential parts of Gopher. Content not only has attractive information, but it also is displayed in a wonderful way. Then, "Slick Slider" feature of Gopher will assist you to achieve this goal.
Other highlight features of Gopher:
Product Sale label
Product Carousel
Drag and Drop sections
Grid and List Mode
SEO optimization helps you digital marketing well.
Right from the name, LaCafe is the shopify theme especially built for drink and beverage related to coffee. Your website will have a professional look owing to the combination of powerful color and typography. Besides, this drink and beverage shopify theme never limits your imagination and creativity. Following that, you are free to create many good – looking layouts and powerful custom options with a few simple operations. Best of all, we must mention the friendly SEO optimization of this shopify theme. Thanks to that, your site will effortlessly increase its rankings on search engines, especially Google with ease.
KoldBrew appears in your eye as an awesome shopify theme for topics of drink and beverage. In fact, KoldBrew has every element you need to build an irresistible website for your coffee shop or anything similar to. With this theme, you can make your online store become extremely stylish thanks to its collection of powerful features and portfolio templates. Furthermore, this theme is very easy to use and friendly to users. Besides many available models for Homepage or Shop Page, you can adapt other pre – made layouts for inner pages such as About, Contact, FAQ Page, etc.
Coming to another shopify theme corresponds with a cafe online shop named CoffeeShop. This theme has the standard UX/UI designs and great colors. As a result, this drink and beverage shopify theme will draw customers' attention at the first glance. Moreover, CoffeeShop is a 100% responsive design. Hence, your site will look extremely stunning yet keeps all its advanced functions regardless of any device. Best of all, don't require coding is the best plus score of this theme. As a result, users can use this theme very easily even if you're a newbie.
If you're looking for a shopify theme specialized for selling drink and beverage products, you must have a glance at Apparelix. This theme inherits all the best functions of Shopify platform and is compatible with the official shopify apps. As a result, your website will easily be raised by developing the functionality of your online shop as well as increasing sales. Addition to, you can customize your site, especially homepage by adding, removing sections of contents with Ready Sections.
Other outstanding features of Apparelix:
Shopify Visual Builder
Product Quick View
Blog plugin
Newsletter subscription form
Many google fonts options.
Its name tells all about product topics this theme supports – Beverages. With the well – structured and luxurious design style, you can showcase your products in the most attractive way. Besides, customers can search the products they need in just some second owing to the available pages such as: Collection page, sale page and catalog page. What's more, this theme is equipped with a bunch of ready sections. Some of them are: Collection list, Newsletter, Image with text, Featured product, Slideshow and so on.
Let's pay your attention to MyBottle if you're searching for an impressive Drink and beverage shopify theme. It is known as one of the best shopify themes for selling drink and alcohol in the market. At first, despite having a minimal and elegant design, this theme still knocks out any opponents in the same business area with visual effects and graphics. Besides, with the "Shopify visual builder" feature, just only a few simple operations such as: add, remove or reorder any section, then you can create your own creative website. What's more is fully responsive design. As a result, your site will have a perfect look on any modern device.
Multify is a powerful multipurpose shopify theme with 11 beautiful skins. Hence, you can use this theme for a variety of e – commerce stores, including Drink and beverage. This drink and beverage shopify theme is the ideal one for any shopkeeper to push their store on the best – selling top in the market. Which features make it so outstanding?
First, this theme is compatible with many browsers and its customizable ability is extremely highly appreciated.
Besides, thanks to the multi- language and multi-currency, your site will have many opportunities to be spread all over the world.
Moreover, boosting sales is something very easy of this drink and beverage shopify theme.