Free eCommerce WordPress Themes: Top 20+perfect themes to download in 2021
You're looking at a handpicked list of the best Free eCommerce themes as of today. All themes are powered by WooCommerce that allows you to build a mobile-friendly eCommerce store with ease.
1. Automatic Free eCommerce WordPress Themes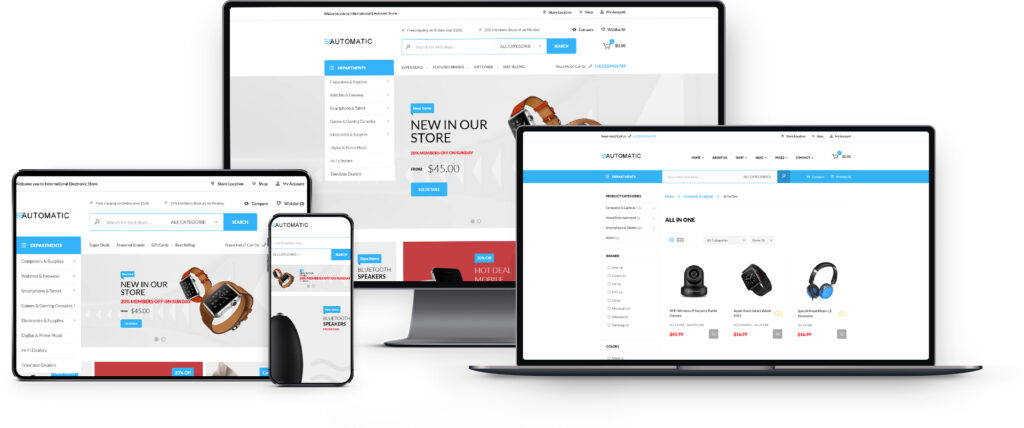 This is a neatly structured and free WordPress eCommerce multipurpose website theme. It is a very powerful and endlessly flexible toolkit, a set of amazing layouts and templates combined with the powerful WPBakery Page Builder to handcraft your own exclusive, and professional-looking pages and websites in a matter of minutes.
Besides, the main features of this WordPress theme include Visual Composer, Store Locator, Slider Revolution, Ultimate Addons, Megamenu, and powerful WooCommerce features for your beautiful website.
2. Zigcy Lite eCommerce WordPress Themes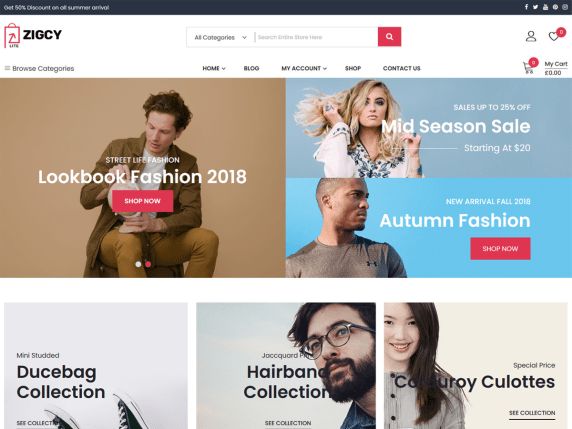 Zigcy lite is one of the most used creative eCommerce themes, which mainly suits multiple stores. Depended on customization options, a brilliant 5-page layout, and many other amazing functions, you can always stand out. The list of its strong features goes on and on.
Apart from this, the theme is responsive, fits on all screen sizes, and is SEO-optimized. If you count on Ziggy Lite, you are just a few minutes away from your dream online store. It also provides two WooCommerce layouts and can work on all browsers with such ease.
3. Helpmate eCommerce WordPress Theme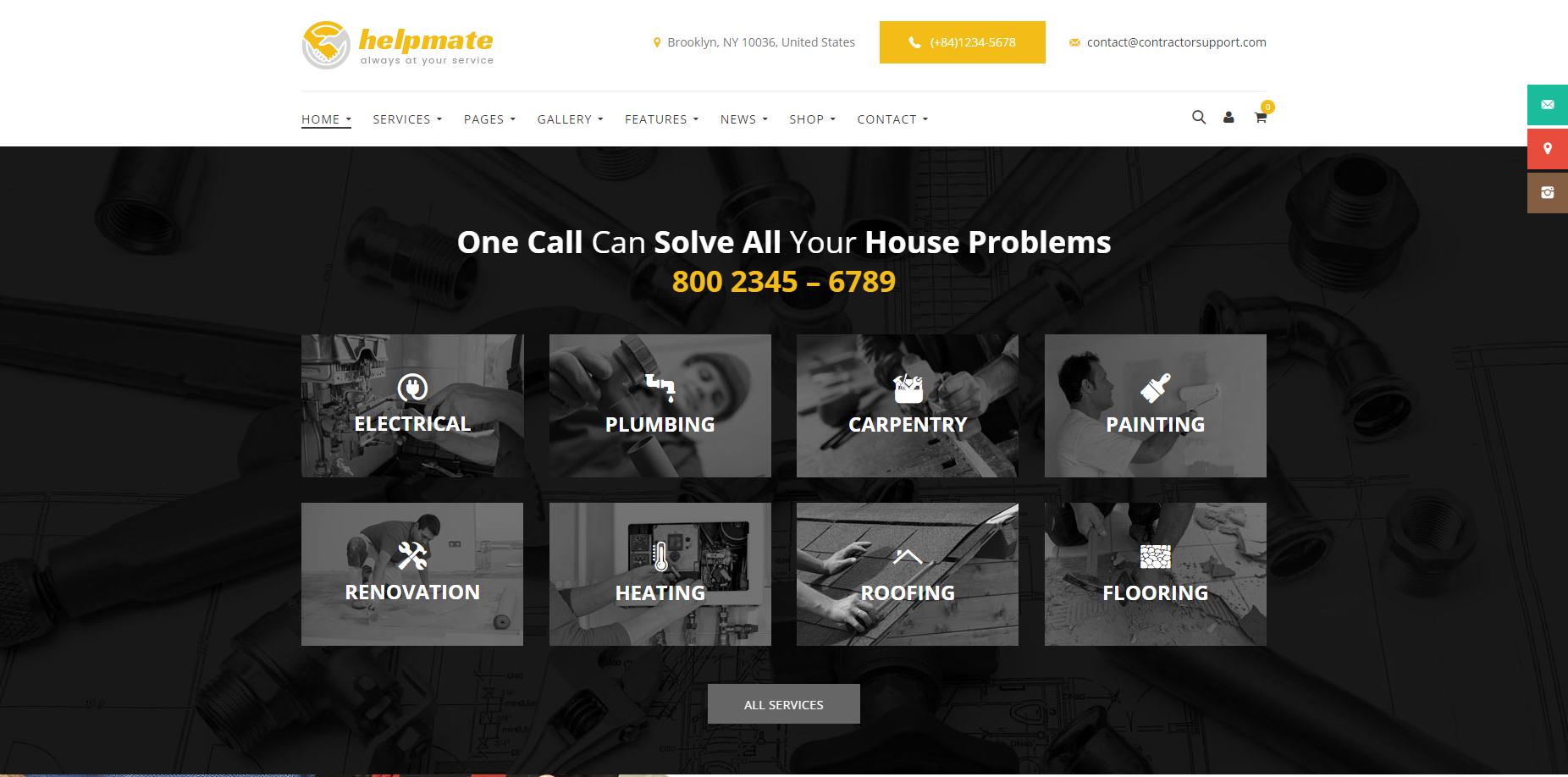 Helpmate is a highly customizable and mobile-friendly eCommerce WordPress theme for any category from selling t-shirts to furniture or anything in-between.
The theme comes with Page Builder, which features dozens of unique, customizable content module blocks readily available for you to drag and drop into the action as you handcraft your pages to suit your every need.
There are also a lot of other essential plugins such as, Product Color Swatch, Slider Revolution Price Slider Filter, Algolia Search, Ajax Add to Cart, Mega Menu … made available to use on Helpmate. So, it is an assurance that Helpmate will bring you a super powerful WordPress Theme
4. Gelli WordPress Theme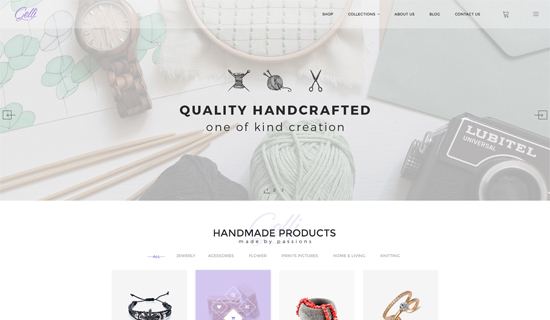 Gelli yet another Free multipurpose eCommerce WordPress theme that features an easy to use WPBakery Page Builder helping to build your first eCommerce website with ease. Some other practical features of Gelli include ider Revolution, WPML Support, Ultimate Addons, Megamenu, Store locator and much more, as well as all the necessary eCommerce pages for smooth online store operation.
Especially, it also includes dozens of handsome shop page styles and myriad customizable options for your product catalogues, image galleries, and product portfolios
5. Fekra Responsive e-Commerce WordPress Theme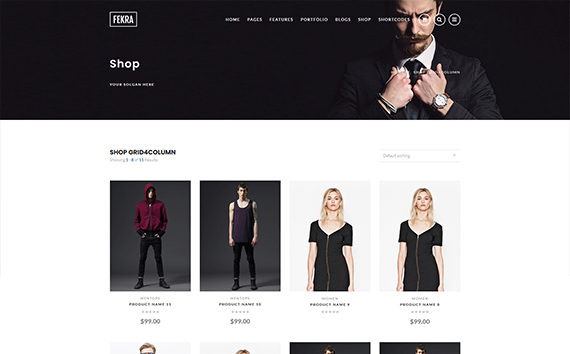 Fekra is a free eCommerce WordPress theme that you can use for showcasing your products or building an efficient online store for your business. This theme is very flexible and includes options that make website development an easy task. It has a fluid and fully responsive layout design to make sure that your visitors will have an awesome viewing experience
In addition, Feka includes a Drag & Drop – Page Builder plugin that allows you to build advanced layouts for your posts, pages and the homepage of your site using a drag and drop back and front end editors. It also includes a Slider Revolution plugin to help people generate striking slideshows for your content, products and images.
6. Solaz Free Ecommerce WordPress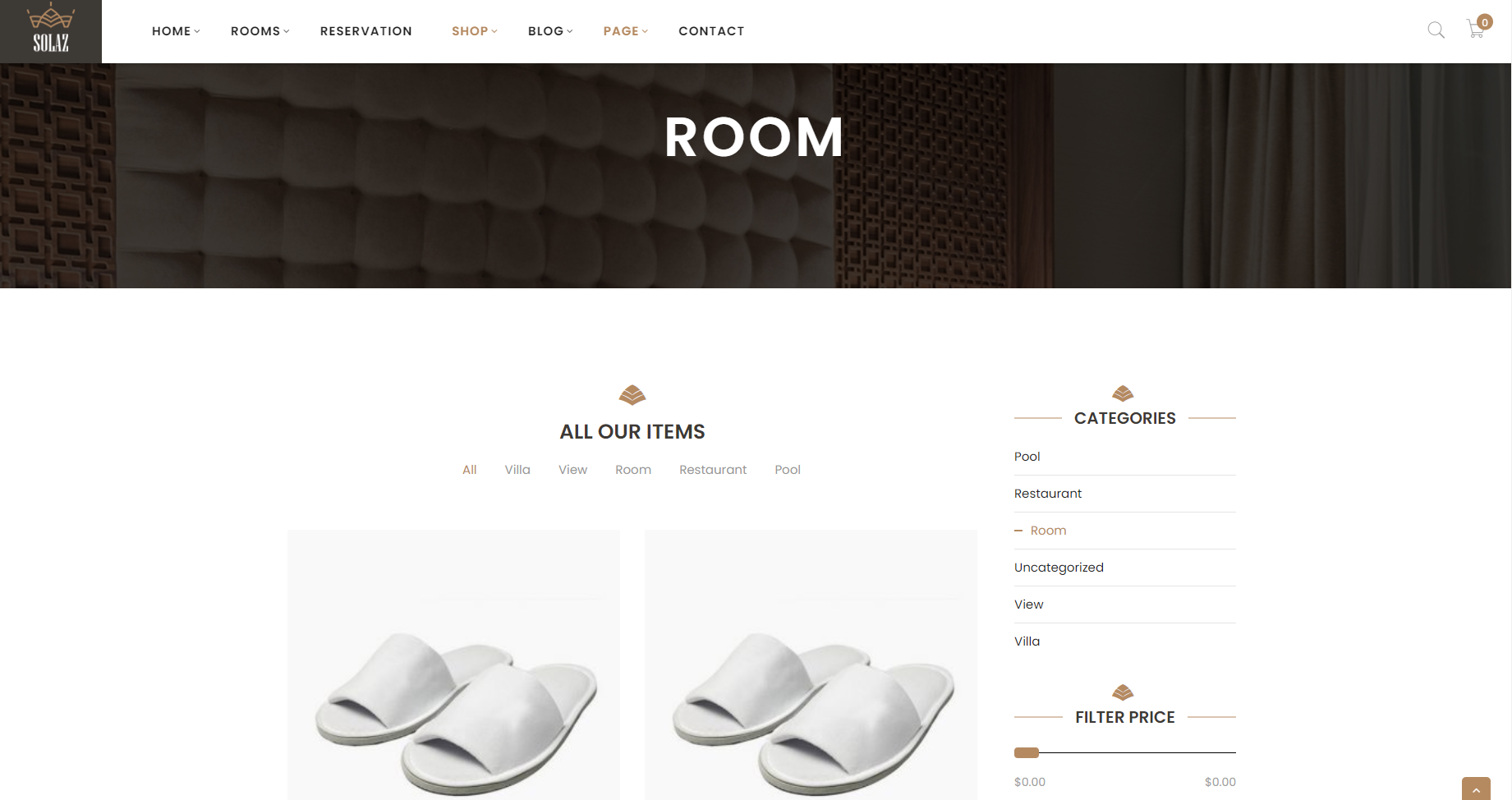 Starting a fashion, hotels, lodges, inns or bed and breakfast… or pretty much any other online shop happens quickly when you are in possession of Solaz
WPBakery Page Builder, Store Locator, Slider Revolution, Hotel booking features, Flexible Payment Methods, social media integration is that's what's up when it comes to Solaz. Bear in mind, this is just a small fraction of the complete set of features that Solaz offers all its users. Make your eCommerce website outstandingly appealing and boost your potential through the roof.
7. Circle Ecommerce WordPress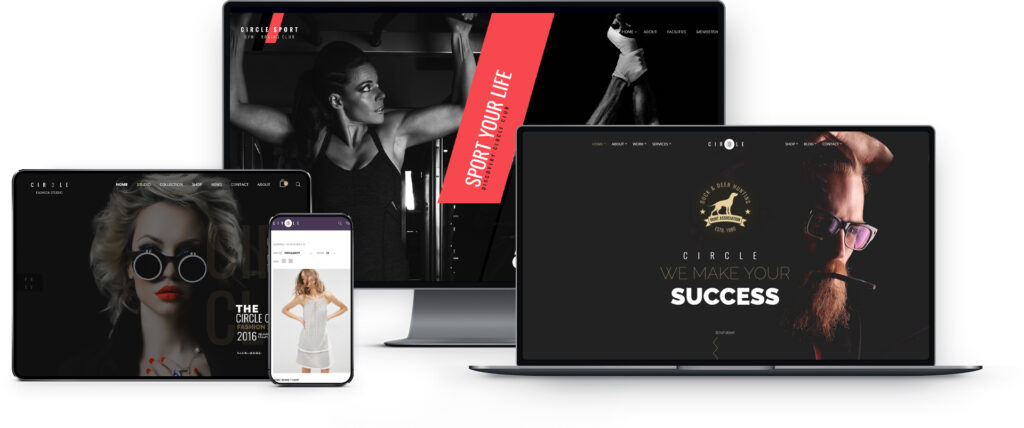 When in need of a versatile Free eCommerce WordPress theme to cover all your online business needs, Circle is the one that treats your demands best. It is a responsive, retina-ready and cross-browser compatible tool that delivers superb shopping experience across all platforms.
On top of that, It provides tons of powerful modules and inner page layouts to every possible component of a successfully operating online store, Circle misses nothing. Besides, when doing customization tweaks, you only undergo a visual coding process with no real programming work.
8. Mokar eCommerce WordPress theme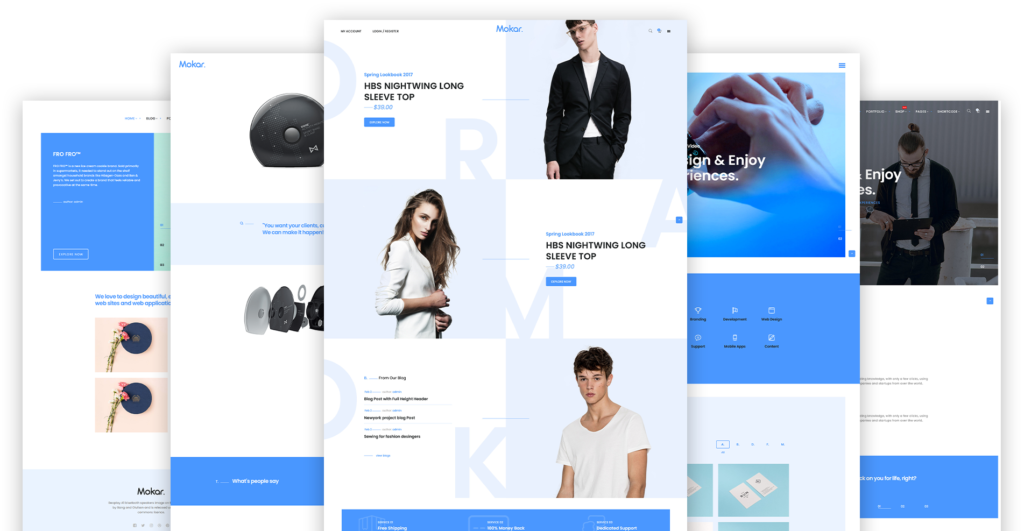 Mokar is a powerful Free WordPress shop theme with Elementor that suits an array of different businesses. With demos alone, you can cover fashion, furniture, medicine, organic, cosmetics, jewelry, winery, electronics, you name it. Also, with upcoming updates, you can expect even more sample variations and features to drop.
Mokar is optimized for speed, SEO and mobile devices, too. In short, it is a pack of amazingness that will do you well.
9. Tinos Multipurpose WordPress Theme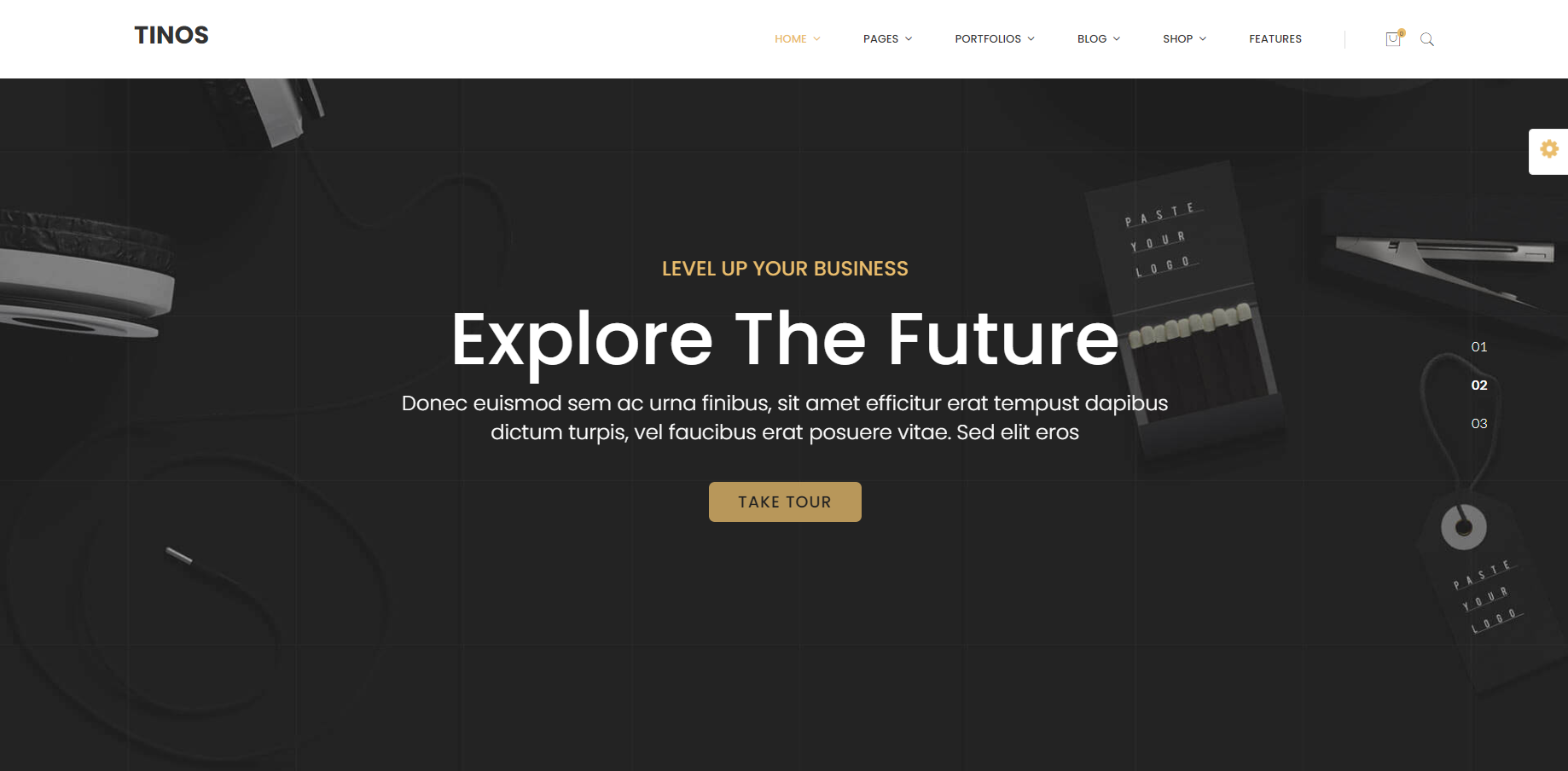 Tinos comes with an eye-catching layout design that will instantly draw the attention of your site visitors. It is Retina-ready, fully responsive and mobile-ready to ensure that your website will work smoothly across all modern devices.
Moreover, you can build every layout page you can imagine using WPBakery Page Builder. This drag and drop page builder allows you to build unlimited unique layout pages for your website without putting forth much effort.
10. Shopper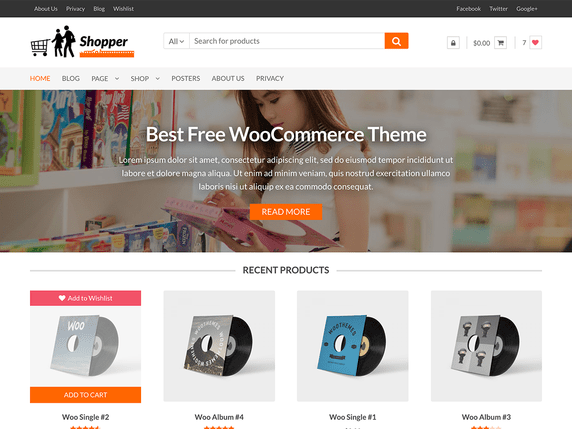 It is a Free eCommerce WordPress Themes and business WordPress theme, which best suits to digital stores, men and women apparel, handbags, jewelry, kids store, luxurious home appliances store, and many other multipurpose stores. It is fast enough to combat your user's demands, has an easy to use interface, and provides a quick, clean, and modern shopping experience.
You can smartly work with this theme by integrating structured data along with WooCommerce it. Apart from all these hacks, you might think of the popular WordPress page builders and plugins. It is a theme that brings you more customers, better revenue with its high-class features.
11. Phlox WooCommerce Theme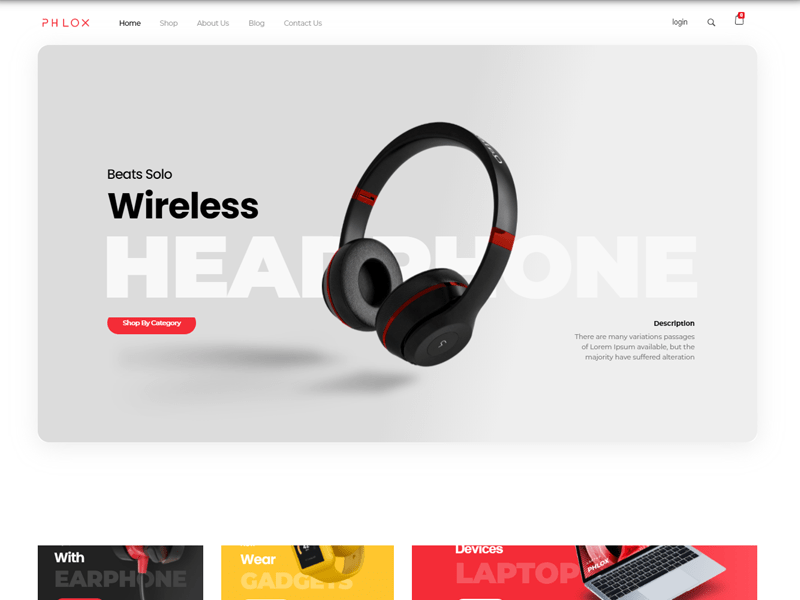 If you want to enhance your digital shop with class and modern designs, then a phlox digital shop is the best for you. It is compatible with WooCommerce, so you never let your customers down on their needs and demands. Alongside this, it has a new 4-page demo, which includes home, about us, blogs, and contact us page.
You can count on its fast speed with a one-click demo installation. Phlox digital comes with a responsive, flat, and minimal design to stand out in the market. Keep your basics secure with its elementor page builder and have a modern image of your Store.
12. Shopping Cart eCommerce Theme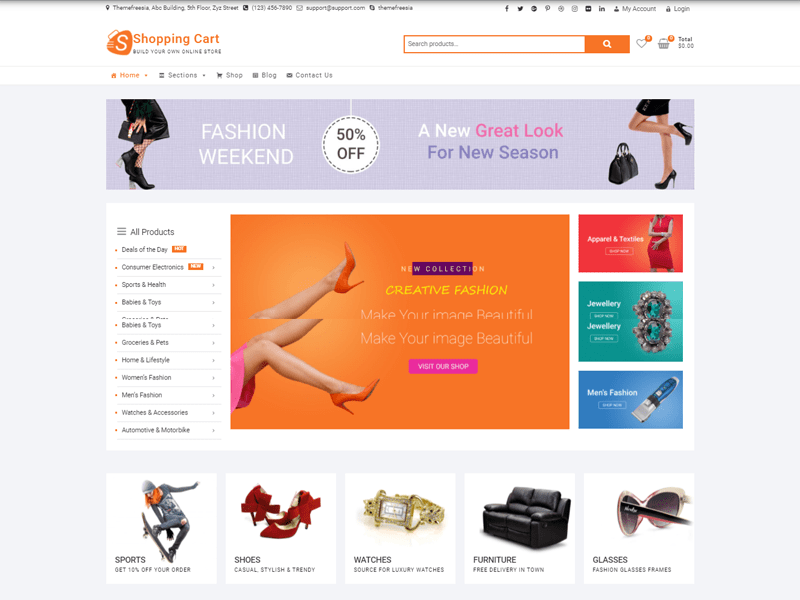 Competition is high in the market for giving your customer an excellent online shopping experience. In such cases, the shopping cart can do wonders. It is a theme beautifully designed for your customer needs and demands. Bringing about a change in your website is never easy.
It is compatible with WooCommerce for an impressive shopping experience and also fits all screen sizes. With a one-click demo installation, it also has compatibility with many popular plugins, e.g., Breadcrumb NavXT, contact form 7, WP-PageNavi, Jetpack, WooCommerce, etc., etc. And with such a beautiful theme, you can create multiple layouts as well. Grab it ASAP.
13. Tyche Free eCommerce Theme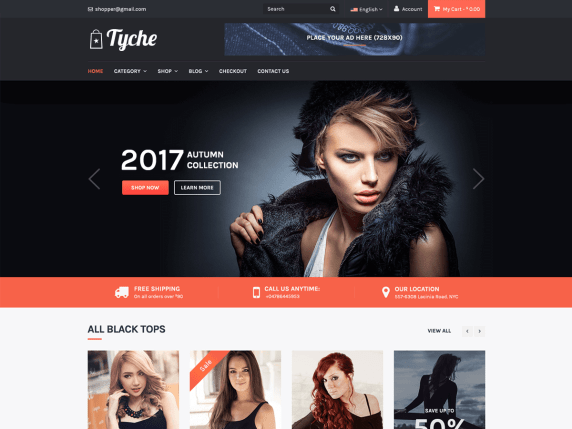 Tyche is a one-topic-oriented WordPress theme. It poses a minimalistic clean design with one purpose: shopping. It also comes with a basic demo and lots of support to get you started. Along the theme comes documentation, location services, and a clean code. Tyche has a simple-to-craft design with an e-mail contact and sign-up system. It has lots of specialized options: blogs, shopping carts, page sections, and even an Add Banner. A delicate top bar and a footer with appealing information to put are also available. Play around with this versatile responsive tool and start selling!
14. Pixova Lite Free eCommerce WordPress Themes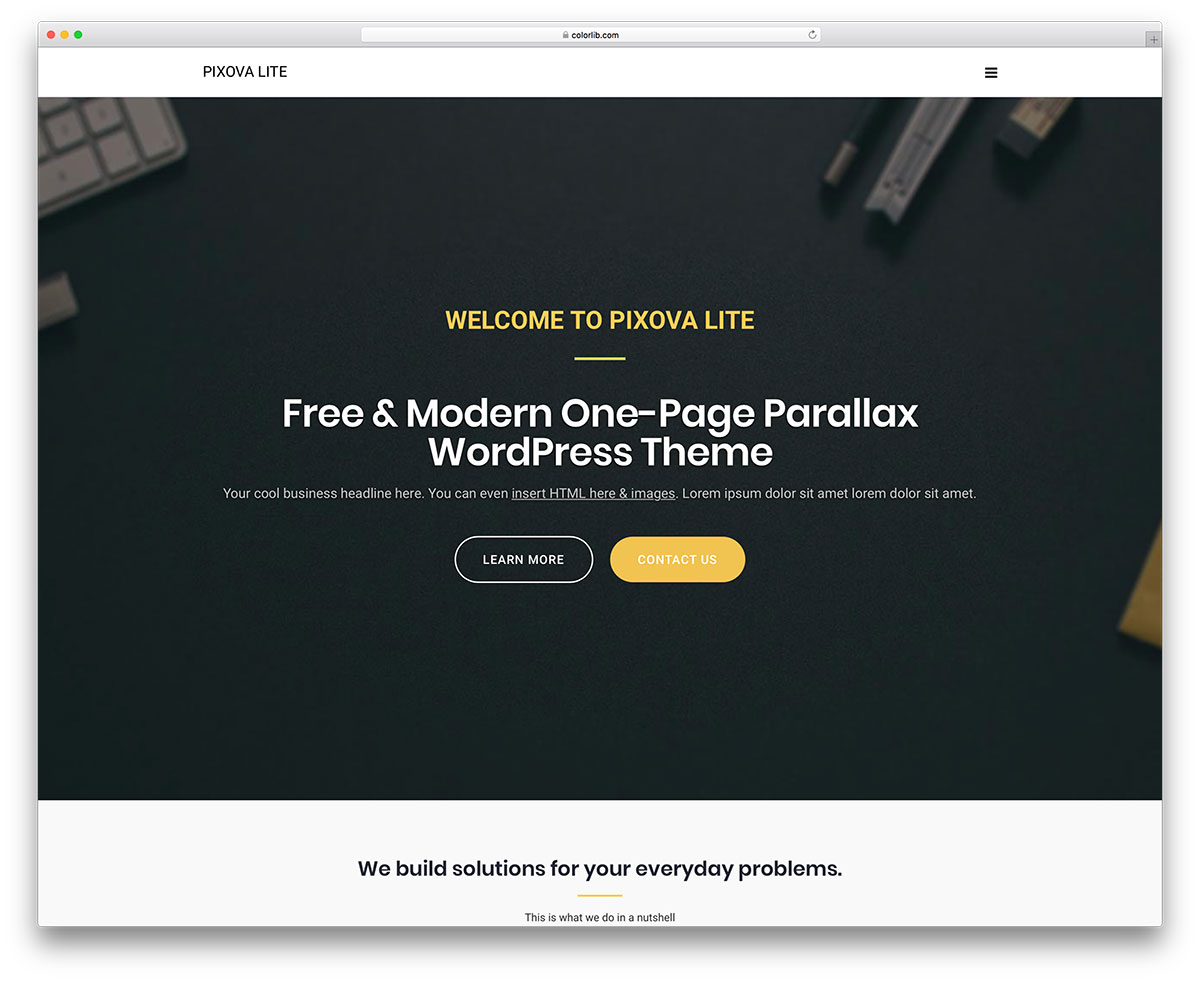 Pixova Lite is an eye-catching modern WordPress theme. It has a simple and smooth concept and counts with a high quality built. You will get it with great loading speed performance and 100% responsiveness. All of this while being completely free! You get to use pie charts, survey results, analyze your top product sales, and more. Pixova Lite has a clean code and comes with SEO optimization. It also provides Retina-ready picture display. Customize the looks on your text posts with Google Fonts sets. Enjoy all the possibilities this edgy and up to date theme gives you.
15. Ascendant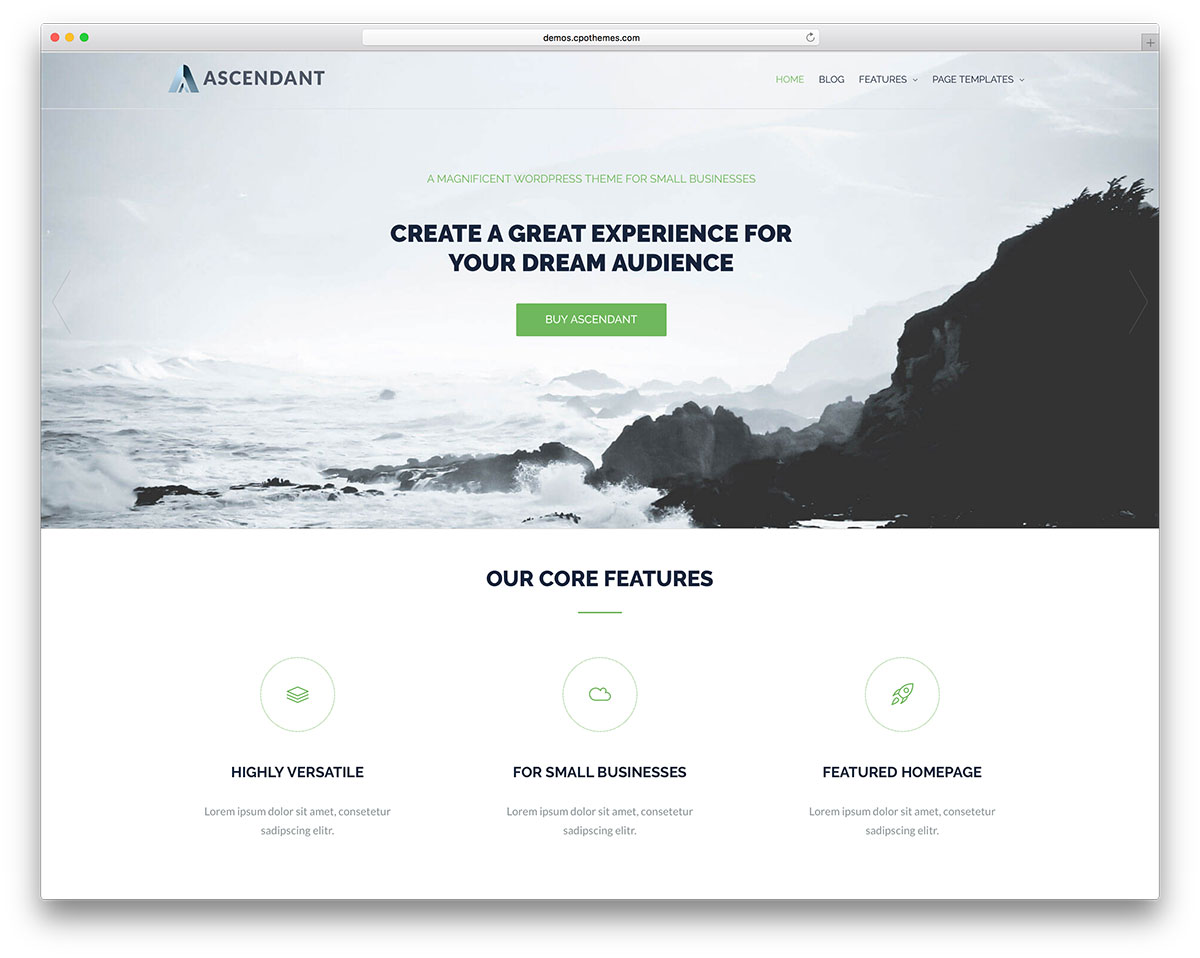 Ascendant is a Free eCommerce WordPress Themes dedicating itself to provide adaptability and great layout responsiveness. This theme uses awesome Google Fonts for beautiful typography. It also features multiple sidebars and unlimited colors. All this together makes great posts easy to modify.
Ascendant provides custom shortcodes that allow introducing buttons and panel options. This theme also comes with WooCommerce integration for you to set up your online stores. You can use it for any kind of website, especially business starters.
16. GrandMart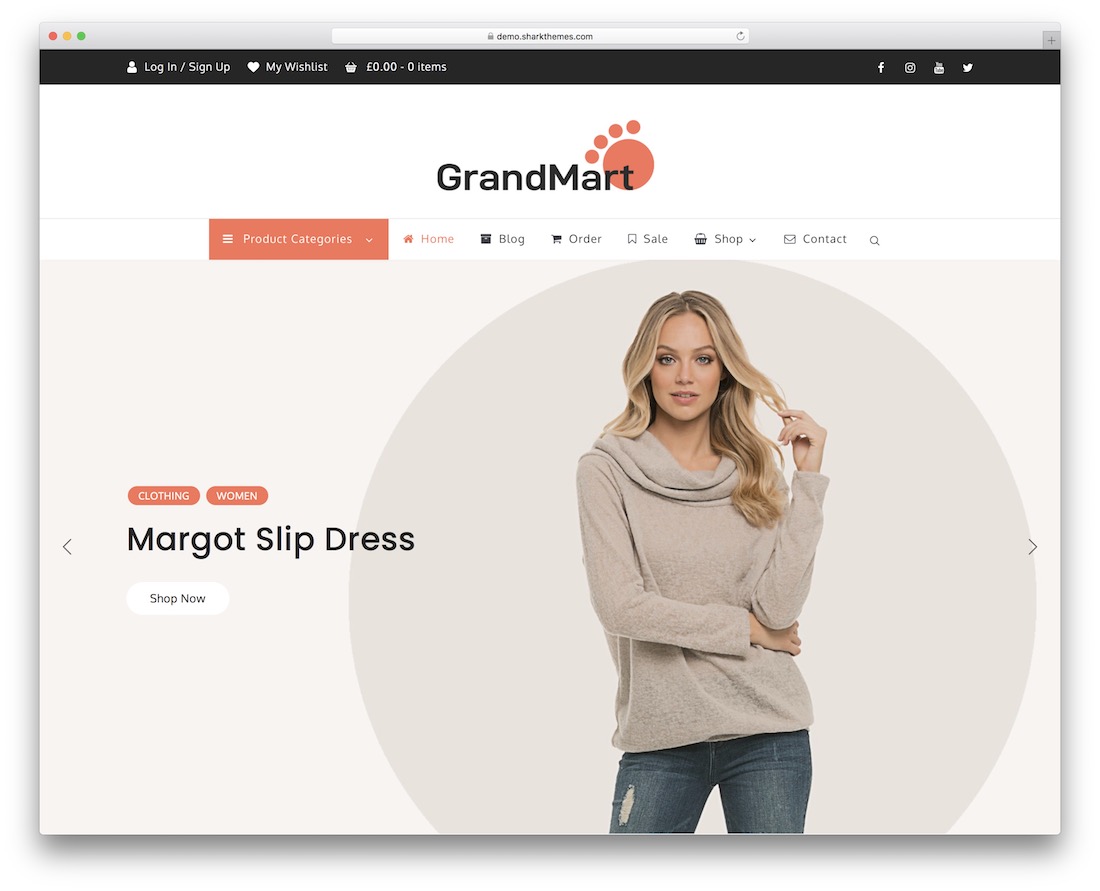 Starting an online eCommerce business happens way quicker than you may think. And this applies to everyone, whether you are a beginner or a web developer – you just need the right tools. GrandMart is a free WordPress theme that offers you to create an online store selling just about anything. From clothing, accessories and shoes to furniture, beauty products and more. Not just that, you can also create a general eCommerce website, pushing various items.
17. Top Store eCommerce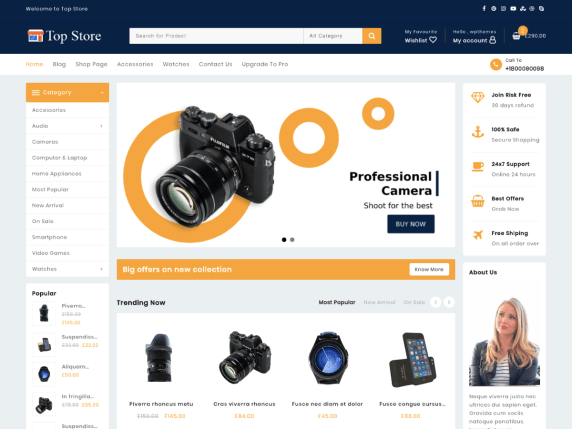 Top Store Free eCommerce WordPress Themes is a multi-purpose WordPress theme for eCommerce businesses. It comes coupled with the powerful WooCommerce plugin which simplifies the process of managing and maintaining an online shop. In other words, anyone can do it, whether you are familiar with this type of website or not. Beginners, you are welcome. Just remember what it meant to build an eCommerce page back in the day – it is incomparable with today's process. A free eCommerce WordPress theme does the major part of the work for you, you primarily focus on the finishing touches only.
18. Supermarket Ecommerce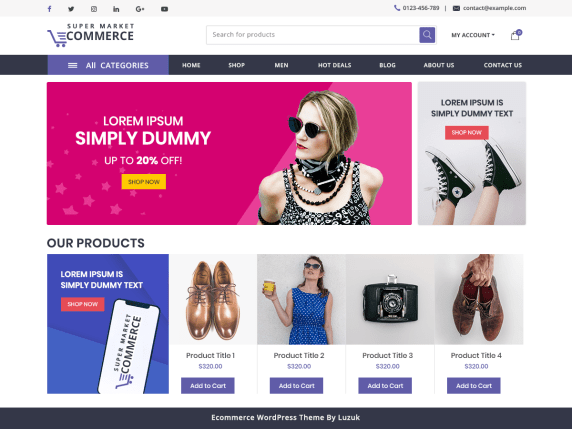 The supermarket is a multi-purpose free eCommerce WordPress theme with the ability to cater to any niche and industry. In other words, it does not really matter what type of products you plan to market online, you can realize the desired eCommerce website with Supermarket without a hassle. Even as a complete newbie, you will still experience great success with the establishment of a conversion-focused webshop. Selling gadgets, fashion items, you name it, make it happen with Supermarket and forget about all the rest.
19. Vantage Free eCommerce WordPress Themes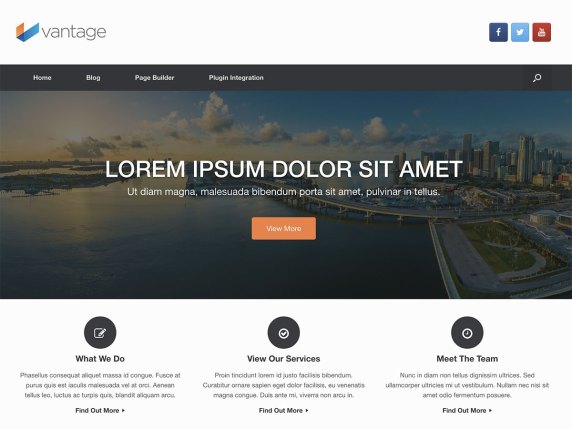 Vantage is the most refined free eCommerce theme that you can use for different kinds of business websites. This flat and trendy theme comes with amazing features that can be found on premium WordPress themes. It has a page builder that makes building a professional website a simple task. Vantage also features a MetaSlider, an incredible free slider plugin that allows you to easily manage and organize your sliders
20. Virtue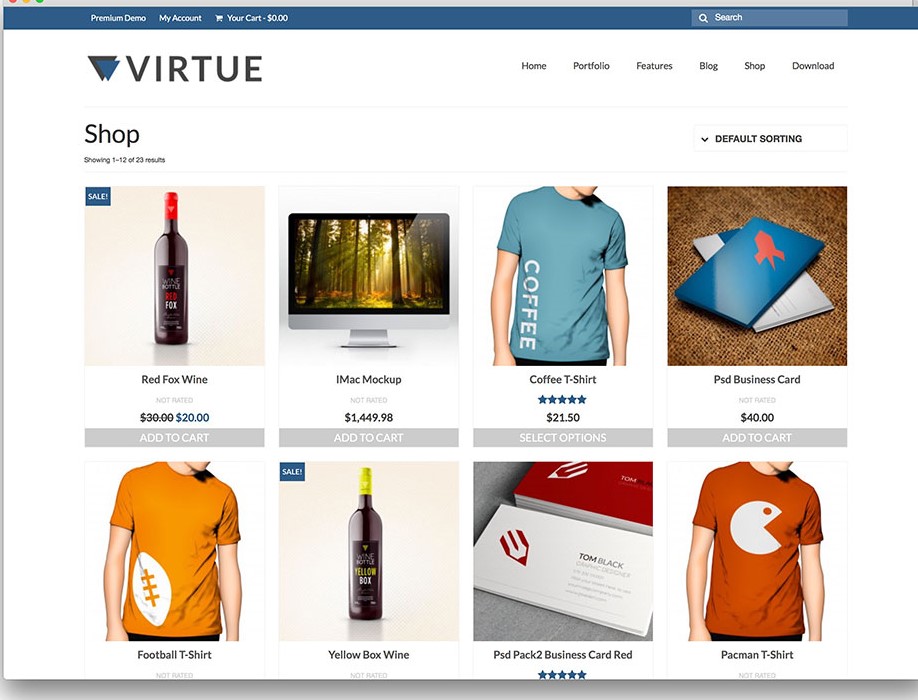 Virtue Free eCommerce WordPress Themes comes with remarkable customization options for your website. This simple yet smart theme is built with valid and clean HTML5 and CSS3. Its responsive layout comes with the most recent Bootstrap technology to help your website become accessible to different browsers and devices. It also provides support for WooCommerce that is essential in building an online store. Overall, Virtue's bendy framework goes well with any kind of businesses, online store and portfolio.
There's a lot to consider when releasing a website for online business. Getting a business up and running can be a time-consuming and costly venture. For this reason, you may want to seek the best free eCommerce themes to make the process easier.