Iaas vs Paas vs Saas: What are differences , examples and how to choose the best one for your business
Iaas vs Paas vs Saas stand for the 3 main categories of cloud computing. They are cloud-based tools that improve a wide variety of businesses' operations today. In this article, you'll learn how different cloud computing services are used to develop the technologies you utilize every day and guides to choose the best one for your business.
iaas vs paas vs. saas: how are they different?
Within the world of cloud computing, iaas vs paas and SaaS each provides different goals. The difference between these tools largely based on what providers and users are each responsible for.
Firstly, IaaS (Infrastructure as a Service) is an alternative solution for on-premises infrastructure that cover storage, networking, servers, and virtualization services. Moreover, IaaS offers businesses' day-to-day operations with cloud-hosted services that are easily accessible over the internet.
Next, PaaS (Platform as a Service) is a tool that allows developers to develop hardware, software, and applications. Similar to IaaS, PaaS tools are accessible via the internet.
At last, SaaS (Software as a Service) is a more and more popular tool that offers users a variety of applications without having to install software on their devices.
SaaS tools are accessible to all user with an internet connection and login information.
1. What Is IaaS?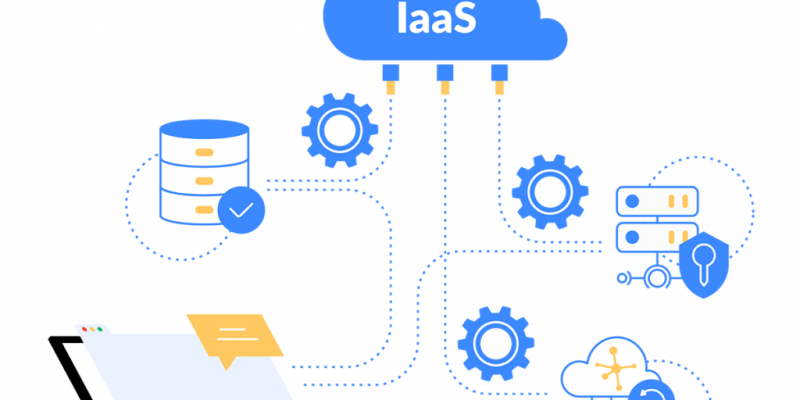 IaaS is a logical first step for companies transitioning to the cloud from on-premises infrastructure. Moreover, IaaS bypasses the limitations of on-site tools while reducing the financial investment necessary to care for a business's daily operations. Furthermore, IaaS technology easily scale with businesses as they develop and adapt to developing markets.
IaaS is:
Best-suited for remote collaboration.
Flexible.
Cost-effective.
With pay-as-you-go solution, businesses can decrease the number of excess services bought with IaaS.
Businesses can also use IaaS to achieve control over their infrastructure, at the same time forgoing outdated on-site tools and preparing for the unexpected.
Finally, IaaS tool are best suitable for remote, hybrid, or in-person working configurations.
Advantages of IaaS
IaaS Technology is beneficial to business in some case where scalability and quick provisioning are key. In other words, organizations experiencing speedy growth but lacking the capital to invest in hardware are great candidates for IaaS solutions. Moreover, IaaS can also be advantageous to business with steady application workloads that simply need to reduce some of the routine operations and maintenance included in managing infrastructure. Besides, other benefits may include the following:
Pay for What You Use: Fees are computed via usage-depended metrics
Offload Capital Expenditures: IaaS is usually a monthly operational expense
Dynamically Scale: Easily increase capacity in peak times and scale down as needed
Boost up Security: IaaS providers invest heavily in security technology and expertise
Future-Proof: Easily access to state-of-the-art data center, hardware and operating systems
Self-Service Provisioning: Ability to access via simple internet connection
Reduce IT Resources: Free up IT staff for higher value projects
Reduce Downtime: IaaS allows instant recovery from outages
Increase your speed: Developers can begin projects once IaaS machines are provisioned
Enable Innovation: Include new capabilities and leverage APIs
Level the Playing Field: SMBs can compete with much larger companies
Disadvantages of IaaS
There are many advatages to using IaaS in an organization, but there are also disadvantages. Some of these challege can be deal with advanced preparation, but others present risks that a shoppers should weigh in on before deployment. The disadvantages may include the following:
Unexpected Costs: Monthly incurred fees can add up, or peak usage may be more than expected
Process Changes: IaaS may require adjustment to processes and workflows
Runaway Inventory: Instances may be applied, but not taken down
Security Risks: While IaaS providers secure the infrastructure, companies are responsible for anything they host
Lack of Support: Live help is sometimes difficult to come by
Complex Integration: Disadvantages with interaction with existing systems
Security Risks: New vulnerabilities may appear around the loss of direct control
Limited Customization: Public cloud users may have limited control and ability to customize
Vendor Lock-In: Moving from one IaaS provider to another can be complex
Broadband Dependency: Only as good as the reliability of the internet connection
Providers Not Created Equally: Vendor vetting and selection can be challenging
Managing Availability: Even the largest service providers experience downtime
Confusing SLAs: Service level agreements (SLAs) can be difficult to understand
Regulatory Uncertainty: Evolving federal and state laws can impact some industries' use of IaaS, especially across country borders
Vendor Consolidation: Providers may be acquired or go out of business
Third-Party Expertise: Lack of mature service providers, guidance or ecosystem support
IaaS Examples
Popular examples of IaaS which are
Amazon Web Services (AWS)
Google Compute Engine (GCE)
IBM Cloud
Microsoft Azure
Rackspace
Linode
Cisco Metacloud
Digital Ocean
Vultr
Oracle Cloud
2. What Is PaaS?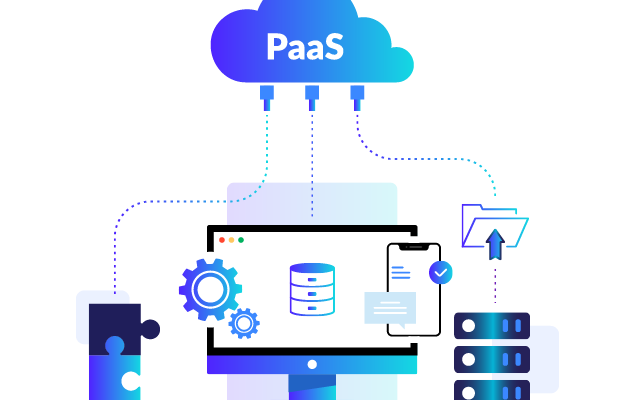 PaaS means Platform-as-a-Service. The platform that can be accessed through the internet supports developers with a framework and tools to create apps and software. This technology is best suitable to the organization's individual requirements.
Furthermore, PaaS can be considered as a scaled-down version of IaaS. Just like IaaS, the shoppers have access to servers and data centers which are maintained and managed by the third-party provider. However, they mainly use PaaS for developing custom SaaS applications.
Advantages of PaaS
No matter the size of your company, using PaaS provides numerous benefits which are:
Firstly, it is simple, budget – friendly development and deployment of apps
Also, it is scalable and highly available
Besides, programmers can customize apps without the headache of maintaining the software
Dramatically reduction in the amount of coding needed
Automation of business policy
Lastly, it supports an easy migration to the hybrid model
Disadvantages of PaaS
Although all of the aforementioned benefits associated with SaaS technology, there are a few weakness that users should be aware of before using SaaS:
Firstly, SaaS users are provided very little control. Similar to PaaS, SaaS does not support users access to infrastructure.
Also, SaaS users cannot "patch" an integration: only SaaS providers can implement that. In this way, users depend completely on their SaaS providers to provide up-to-date, rich – functional software experiences.
Besides, SaaS companies are also responsible for offering high-quality security measures. If a data breach does happen, SaaS users' sensitive data is at risk.
Users may encounter incompatibilities between their existing, apps, software, and the new SaaS platform.
These weakness highlight the lack of control that users have when using SaaS tools.
They also emphasize the re for SaaS providers to continually update and improve their applications in order to building a positive user experience.
PaaS Examples
Popular examples of PaaS which are
AWS Elastic Beanstalk
Windows Azure
Heroku
Force.com
Google App Engine
OpenShift
3. What Is Saas?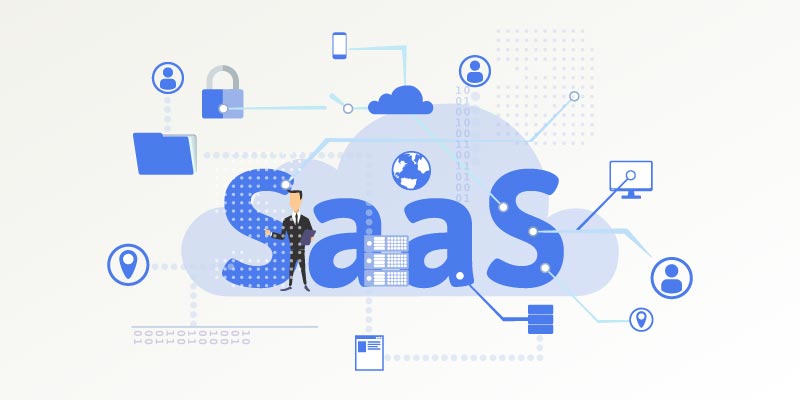 SaaS technology is among the most common cloud computing services which is appropriate for companies to build and grow businesses. SaaS is easy to utilize and manage, and it's highly scalable, as it doesn't need to be downloaded and installed on individual devices to deploy it to an entire team or business. This is specifically useful for distributed global teams who don't work in close proximity.
Advantages of Saas
The biggest benefits of using SaaS technology is how easy they are to set up and start using. Because SaaS tools are cloud-based, all you have to do is log online to start accessing the applications, without need for locally hosting the software on on-premises servers. Some benefits which are
Firstly, you don't have to manage or upgrade the software. This is usually included in a SaaS subscription or purchase.
Secondly, it won't unitize any of your local resources, such as space on your physical server (if you have one).
It's really easy to find and purchase a SaaS product.
At lastly, your developers won't have to worry about the upkeep of a SaaS product.
Disadvantages of Saas
SaaS products are ease of use lends itself to a significant weakness: When you use a SaaS tool, you don't have the ability to control over the cloud-based infrastructure it runs on, so if the software provider experiences an outage, so do you. This can cause widespread website outage and problems that can, in turn, impact your SaaS-dependent business processes. Some more disadvantage include:
SaaS tools may be incompatible with other apps and hardware that are already in use at your business.
Integrations are commonly up to the provider, so it's crucial to "patch" an integration on your end.
You're at the mercy of the SaaS company's security measures — if a leak occurs, all of your and your business' data may be exposed.
SaaS Examples
HubSpot
JIRA: JIRA
Dropbox:
DocuSign
What's the Difference?
To start, let's begin with comparing iaas vs paas.
iaas vs paas
The most recognizable difference between IaaS and PaaS is that IaaS provides administrators more direct control over operating systems, but PaaS supports users greater flexibility and ease of operation.
Let's say we wanted to create a website. I would need an IaaS technology, like Amazon Web Services, to host it and its apps. If I wanted to create a custom function, I could use a PaaS technology like Google App Engine to design it and install it on my website
IaaS creates the infrastructure of a cloud-based technology. PaaS support developers to develop custom apps via an API that can be delivered over the cloud.
Think of IaaS as the foundation of creating a cloud-based service — whether that's content, software, or the site to sell a physical product. PaaS is the platform on which developers can generate apps without having to host them, and SaaS as the software you can purchase or sell to support software companies (or others) to get it all done.
Now, let's compare SaaS to PaaS.
SaaS vs. PaaS
As described above, Platform-as-a-Service is utilized as a way to create new products on top of your already existing network. But Software-as-a-Service helps to take this one step further. SaaS tools are completely managed by the vendor and ready to utilize by your teams.
So when should you select a PaaS product over a SaaS product? For instance: If you want to generate a payroll app that is appropriate for your HR requirements, Platform-as-a-Service offers all the tools you would need to succeed. Once your product is completed, it can be regarded as SaaS. However, if you prefer out-of-the-box ease of use, a payroll app like Quickbooks would be the better solution
IaaS vs. SaaS
With a Software-as-a-Service product, you are having the most service from your third-party supplier in terms of software management and maintenance. With Infrastructure-as-a-Service on the other hand, the supplier only supports and maintains core components such as servers or storage.
Which model is best suitable for your business highly base on what you are trying to have. Nonetheless, if you need a maximum amount of control within the cloud environment and want to prevent external management data problems that could compromise the feature or security of your data, IaaS is the best solution. However, if you don't need much flexibility and value ease of use, migrating to a small-scale SaaS technology is the better solution.
Conclusion
Apart from iaas vs paas and SaaS, there are also other evolving cloud computing models that might be of interest to you such as monitoring as-a-service (MaaS), Function as-a-service (FaaS), and Communication as-a-service (CaaS). Nonetheless, each of them is best appropriate for businesses who seek choose services to maintain competitive in a cloud-first market. Besides, if you have any questions or interest in developing an eCommerce website don't hesitate to contact us. We are one of the superior multi-platform web development services and eCommerce website themes providers in the world. With experienced developers, we commit to provide comprehensive eCommerce solutions for your businesses.