Magento 2 themes free: Top 10+ stunning themes to boost sales for your online store
If you are concerned about opening an own online shop, choosing a great theme is very essential. So Magento 2 themes free are the perfect pick for you to boost your sales. One amazing thing about Magento 2 themes free is you don't need to pay any fee for using them. That is the reason in this blog, I will review Top 10+ stunning themes to boost sales for your online store.
Among many Magento 2 themes free in the market, Molly is one of the best choices you should consider. This theme is a product of ArrowHiTech. Molly brings to users lots of features. The first feature I want to mention is Mobile Optimized. This function brings your online shop the stunning look on all devices like: mobile phones, laptops, desktops. Additionally, thanks to the Powerful Admin Panel, you are able to configure something as you want without any coding knowledge required. Besides that, you don't like current Google fonts. Don't worry. Using this theme, you can change Google fonts easily. Therefore, with Molly, creating an online shop has never been easier.
Unero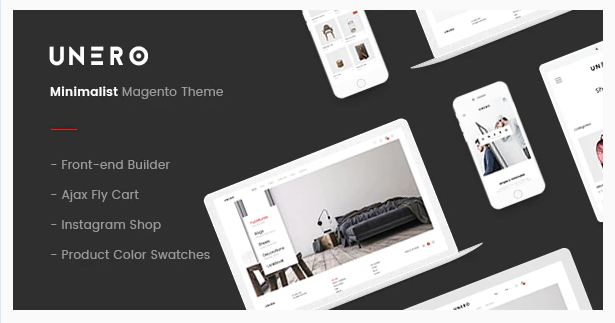 If you're looking for a free Magento theme for your ecommerce website, Unero is the ideal option. This free theme will provide your website the most striking appearance with its minimal but professional design. This is a terrific design for product-based online businesses. Furthermore, by keeping the design basic and focusing on the products, Unero will make your online store look more amazing and enticing to viewers. This theme is suitable for a wide range of e-commerce websites, including fashion, furniture and so much more. In particular, with Unero, you will be supported by ArrowHiTech with instructions for theme installation, audit performace and seo audit without any cost.
The second Magento free theme I want to mention in this list is Orson. Similar to Molly, Orson is also suitable for all devices. So this helps your customers to access your page easily. Come with a collection of modern and clean layouts, Orson designs make your website become beautiful to attract the customers. Moreover, by Enable/disable multiple options, you are allowed to show or hide summary or description. Besides that, Orson also brings to users lots of Google fonts. Therefore, you are able to change the font types. Additionally, using the unlimited colors style of Orson, you can change your website's color. So don't miss this amazing theme.
Hebes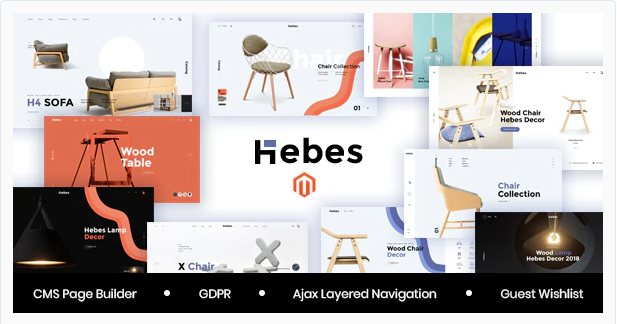 Hebes from ArrowHiTech is a multipurpose Free Magento theme that may be used for any form of ecommerce website, notably furniture retailers. With a multitude of features, this Magento 2 theme is rated as a modern, clean, and professional theme. With Hebes, you can freely choose the most flawless homepage layout from over 16 well-built ones. Hebes is also built with the most recent version of MGS Front-End Builder and a number of extensions. Some of them are: Ajax Layered Navigation, Guest Wishlist, Instant Search, Lookbook, Ajax Cart, Mega Menu, GDPR, etc. Not only that, you also get the enthusiastic support of ArrowHiTech's developers in setting up theme, auditing SEO and performance completely free.
Freego is a product theme of Softwin. Firstly, this Magento free theme has many clean design layouts to meet all user's requirements. And all of that is fully fully responsive on all kinds of devices. This theme arrived with Magento 2.0 compatibility. So all extensions of the Freego themes are also fully compatible with Magento 2.0 without affect Magento core files. In addition, Freego also brings to people a Featured Product List that shows your products on your online store in an eye- catching way. There are some other highlight feature of Freego:
Advanced Blog
Mega Menu
Product Zoom Pro
Responsive Banner Slider
Advanced Newsletter Popup
Advanced Testimonial
Code Standard
You want to find a stunning Magento theme that doesn't need to pay money, so UB Trex is a theme you must know. UB Trex is developed by Ubertheme. This theme offers lots of clean and modern homepages that suit especially for fashion online shops. With Handy Mini Cart, users are allowed to see and manage products without taking them out of their shopping process. Additionally, UB Trex will bring to your online store a bright gamut to show all key product information of your products with Purely Flat Homepages. Therefore, UB Trex will not make you disappointed.
Organie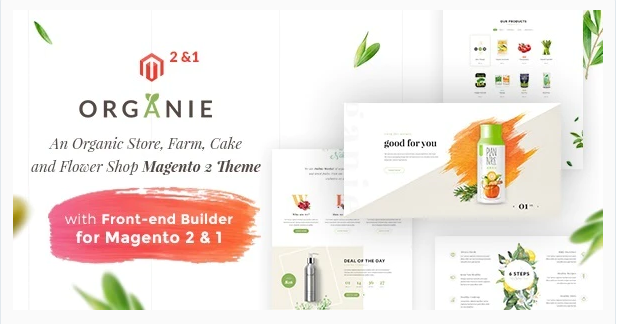 Coming to the next Free Magento theme you need to know is Organie from ArrowHiTech. This outstanding theme was designed with a user-friendly and elegant approach in mind. Its purpose is to provide an all-in-one Magento theme for Farm products, Cakes, Flower Shops, and any other type of store you can imagine. The best of Magento is that it makes sure to bring a high-performing and purely impressive online store. In addition, MGS Front-End Builder and a boatload of plugins were used to create this fantastic theme. As a consequence, you'll be able to turn your ideal shop into a wonderful digital manifestation. Most importantly, you will receive ArrowHiTech's additional help, including theme installation, audit performance, and SEO audit, to ensure that your site is constantly in top shape.
Bizkick is a perfect choice if you want to open a Fashion store, Accessories store, Shoes store, or Apparel store. With a collection of clean and classy homepage layouts, this theme will make your store become more professional. One more thing here is that this Magento free theme is optimized on all types of devices in an efficient way. Furthermore, users are able to attract the customer's attention on their new products, discount even deals by the Promotion Bar. Bizkick is also compatible with lots browsers like: Google Chrome, Safari, Firefox, Opera,… Additionally, Bizkick provides the best readability and user experience with Multi Language Support.
When it comes to Magento 2 themes free, we must mention the Ves Yume theme. Ves Yume is the first Magento 2.0 theme of VenusTheme. Not similar to the above theme, Ves Yume is not only fully responsive but it also comes with amazing features such as:
Ajax Cart
Off Canvas Menu and Header Link
Gallery Font Awesome
Image product detail
Looking for a stunning Magento free theme? Then, you should take a look at Ves Need. With lots of amazing functions, the Ves Need theme will definitely leave unforgettable impressions to users. This theme is a free magento 2 theme which is created with 100% responsive design. No matter which device the shopper uses, Ves Need scale to fit perfectly. In addition, Ves Need comes with the Fast Checkout function that helps you to reduce abandon rate better. Not only that, by optimizing for speed, your customers don't need to wait a long time to access your online store. Other functions that Ves Need offers to make your website become beautiful such as Powerful Admin Panel, Offcanvas Menu, Touch Optimized Slider,…So let's discover this amazing theme!
Amely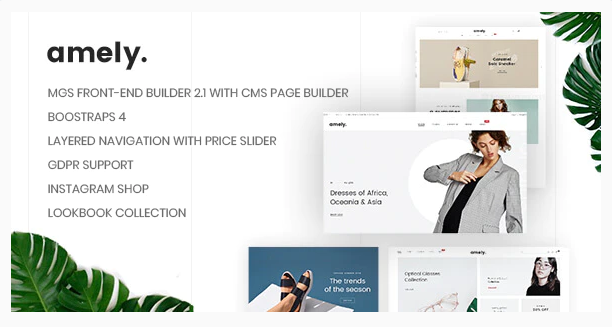 For newbies looking for a free solution to develop their own ecommerce store, Amely from ArrowHiTech is a great choice for you. In fact, Amely is a sleek and clean style created specifically for online shopping businesses. The main purpose of generating Amely is to turn your business dream into the reality. Besides, this worth-using theme was created with the most recent version of MGS Front-End Builder. Following that, it contains a number of extensions such as Layered Navigation, Guest Wishlist, Instant Search, Lookbook, Ajax Cart, Mega Menu, GDPR, and more. Furthermore, when you use Amely, you will be supported to set up theme, audit performance, and audit SEO.
Now coming to the next Magento 2 free themes called Ketty. Ketty offers a range of clean and modern designs that provides the perfect view for your online store. By this theme, customers who access your site via mobile will have an enjoyable shopping experience. What's more, Ajax cart allows your customers to add products to their cart without reloading the page. Furthermore, thanks to Website slider, your customers can see your highlight promos, new products or latest deals… easily. Therefore, let's Ketty help you to make your business more effective.
Including lots of amazing features, Pixtron will be a good pick if you are seeking the Magento 2 free theme for your electric stores, mobile stores, or digital stores.. Users can experience all features of Pixtron on any types of smart device like: mobile phones, laptops, tablets,… This theme is the combination of Unlimited color and Unique block design. Moreover, users of Pixtron can also use premium features including the PRO version. That is the reason why you should use this theme.
GemMart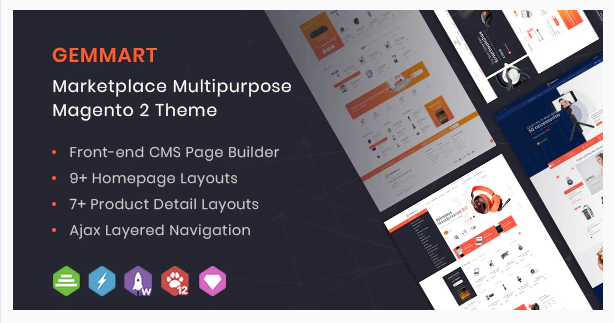 Don't miss GemMart if you are seeking a Free Magento theme for your ecommerce website. In fact, GemMart is one of the greatest Magento Free themes for any retailer looking to expand their business. It was created with multi-vendor markets, electronics stores, mobile phones, tablets, digital camera accessories and gadgets, and more in mind. This theme is perfect for anyone who wants to develop a one-of-a-kind website like Amazon, Lazada, or eBay. In particular, when utilizing GemMart, ArrowHiTech will ensure your website always work in the best status by supporting you to install theme, audit performance and audit SEO.
In case you need Magento 2 free themes for your online shop, you should consider Bentriz. This theme is designed specially for auto stores, cars & bikes, and tools store, auto spare parts. In order to help user's stores get high ranking in the search engines, the developers of Bentriz wrote the hand-code based on current Magento standards. Additionally, clean and classy designs of Bentriz will turn your boring online store into a fresh store to draw customer's attention. With the product tab function, you are able to show your key features of your products easily.