Magento Free Themes: Top 20 Robust Themes for Your Online Store in 2023
You want to sell your products to get revenue on Magento. However, you don't want to pay more money to build your online store. Hence, Magento Free Themes are the perfect choice for you. Don't need to pay a fee, Magento free themes will solve that problem. 
Therefore, in this blog, I will share with you the Top 20 robust themes for your online store in 2023
The first Magento-free theme in this list is Molly. Molly is known as Elegant & Clean Multipurpose Magento 2 Theme. This theme is developed by ArrowHiTech .Molly brings to users many features. Thanks to the Powerful Admin Panel, you are allowed to set up your web page as you want without any coding knowledge required. Additionally, with Mobile Optimized function, your online store has a stunning look on all devices. Besides, Molly also offers many Google fonts to meet your requirement if you don't like the current fonts. Another specific feature of Molly is Social Share. Thus, it is easy for you to share and bookmark your post to social websites like Facebook, Twitter, Youtube, Linkedin, Pinterest…Therefore, building an online store has never been easier. 
If you are seeking a Magento free theme for your business, Orson is really a perfect choice. Similar to Molly, it doesn't matter what devices you use, Orson is suitable for all those devices. Orson is an Ultimate Magento 2 Theme with a collection of modern and clean layouts. Orson designs make your online store become stunning to attract many customers. Furthermore, by Enable/disable multiple options, you have permission to show or hide summary, wishlist or description. Orson also provides many Multiple Google fonts. As a result, you are able to add custom font types. The next amazing thing about Orson here is changing your website's color as you want with the unlimited colors style. That is the reason why you should not miss this theme.
Unero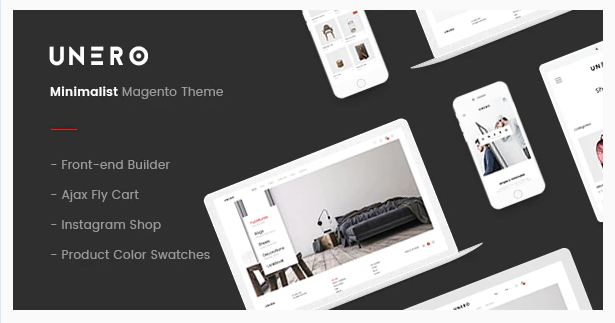 If you want to seek for a free Magento theme for your business, Unero is the best choice for you. With the minimal but professional design, this free theme will bring your website the most outstanding appearance. This is a fantastic design for online companies that sell products. What's more, Unero will make your online store look more spectacular and appealing to viewers by keeping the design simple and focusing on the products. This theme is appropriate for a variety of e-commerce websites, including fashion stores, furniture stores, and home decor stores. In particular, with Unero, you will be supported by ArrowHiTech with instructions for theme installation, audit performace and seo audit. As a result, your website will run smoothly without any cost.
Organie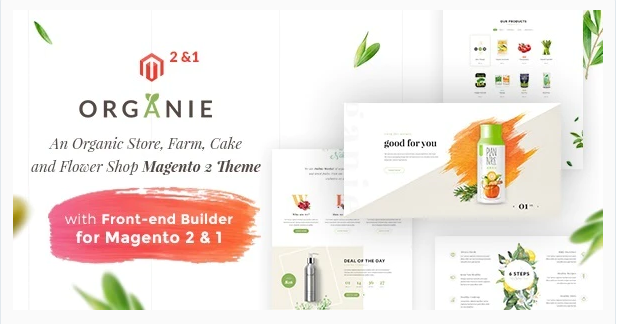 Another awesome free theme from ArrowHiTech, named Organie. The Organie Magento Theme was created with an intuitive and graceful approach in mind. And, its goal is providing an all-in-one Magento theme dedicated to Farm produce, Cakes, Flower Shops, and any other store you can think of. To represent a high-performing and purely impressive online store, the best of Magento is required.
Furthermore, this awesome theme is also built with MGS Front-End Builder and a slew of extensions. As a result, it will give you the ability to transform your dream shop into a magical digital outcome. Best of all, you will be received the support of ArrowHiTech, namely theme installation, audit performace and SEO audit to ensure your site is always in the best shape.
You want to find Magento themes that doesn't need to pay money, so F2 is a theme you must know. According to the latest web trends, this Magento free theme has many modern design layouts to meet all user's requirements. Therefore, your online store will have a trendy layout ideal. F2 's catalog page will make your website become unique. Moreover, the dropdown menu function gives your customers an overview of your site. F2 also supports some browsers such as Firefox, Safari, Opera, Chrome, Edge. Other highlight features of F2:
Various Product Types
Sticky header
Configurable swatches
Carousel product listing
In case you need a Magento free theme for your online shop, you should consider Ketty Magento 2 Beta Magento Theme. Ketty has clean design and modern style that provides the perfect viewpoint for your products. With its responsive designs, your website will look great on all devices like mobile phones, tablets, laptops or desktops. Another feature is Ajax cart. This feature allows customers to add products to their cart without reloading the page. Furthermore, thanks to Website slider, you also can highlight promos, new products,… To sum up, if you need a stunning and free Magento theme, Ketty might be a great option for you.
Amely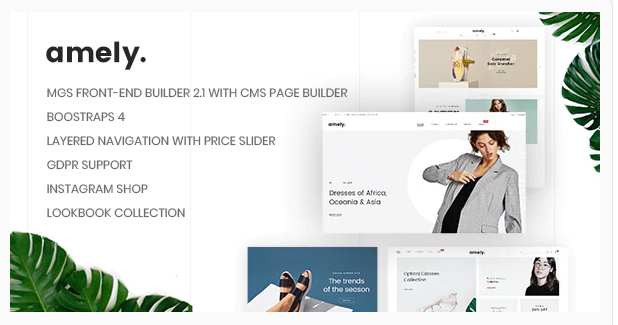 Can't help but mention Amely if you want to get a wonderful Free Magento theme. For more details, Amely is a modern and clean design designed exclusively for online shopping enterprises. In addition, Amely is also built on the latest version of MGS Front-End Builder, which includes plenty of extensions like Layered Navigation, Guest Wishlist, Instant Search, Lookbook, Ajax Cart, Mega Menu, GDPR, and more. This saves you more than $799 in total. As a result, it will give you the ability to transform your dream shop into a magical digital outcome. Not only that, when using Amely, you will be supported to install theme, audit performace as well as audit SEO. So, what are you waiting for without using this theme now?
.
When it comes to Magento free themes, you must mention to Next. Next is a Free Electronic Magento 2 Theme. This theme is designed for Electronic store, Mobile store, Digital store and TV store. It brings a powerful set of features. The first feature of this theme is Mobile Optimized. That is a must-have feature for any modern website. Another feature is the Promotion Bar that helps you to draw the attention of viewers. Besides that, Next combines a collection of unique block designs. Therefore, Next will help bring your store a stunning look that will have a great impact on your business.
Now coming to the next Magento free themes called Shopkart Lite. Similar as other Magento free themes, Shopkart Lite provides a range of business layouts like fashion, furniture, food,… Not only that, this Magento free theme also offers Multi Language to support viewers all around the world with different languages. Another feature of Shopkart Lite is Mobile Optimized. This function allows people to be able to reach your page even from their smartphones. Therefore, Shopkart Lite will make your business highly effective and improve revenue in the short run.
Hebes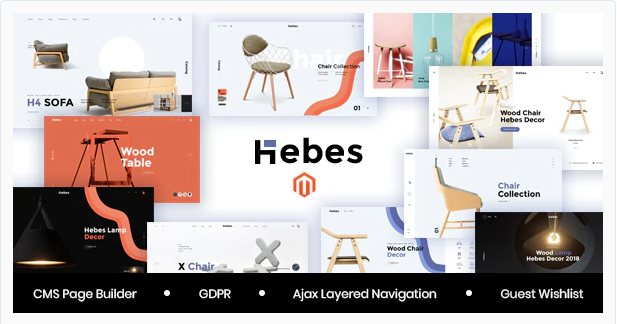 Coming to another multipurpose Free Magento theme for any typeof ecommerce websites, especially furniture stores – Hebes. This Magento 2 theme is modern, clean, and professional, with a variety of features. It comes with a total of 16 different homepage layout options. Hebes is also designed with the latest version of MGS Front-End Builder and a slew of extensions, like Ajax Layered Navigation, Guest Wishlist, Instant Search, Lookbook, Ajax Cart, Mega Menu, GDPR, etc. As a result, it will provide you endless power to turn your dream store into a magical and digital reality. Let's try this theme to receive enthusiastic support from ArrowHiTech such as: theme installation, performance audit and SEO audit.
SM MageTheme is ideal if you are looking for a Magento 2 free theme for your business. It is also suitable for a range of businesses like digital store, hitech store, fashion store,… This theme comes with a variety of layouts with 100% responsive design, unlimited colors, multi-language, newsletter popup, … Especially, with just one click, users can import any pages with sample content from the demo easily. It's bright and clean look will guide your customers to the checkout. Furthermore, SM MageTheme allows people to use extensions worth $200. As a result, this Maento free theme will create memorable shopping experiences for your customers.
EM Titany is another choice for you to build a stunning online shop. This Magento free theme offers many layouts and features that bring your store a fresh look. With several steps, users can install EM Titany quickly. As themes mentioned above, EM Titany is designed to be fully responsive. So your online shop theme will look amazing on all devices such as mobile phones, tablets, laptops, desktops,… With a lot of colors style, this theme brings users unlimited colors to customized color schemes in their website. Not only that, EM Titany also offers other functions. So let's try.
Couture Fashion theme is also a Magento free theme. First of all, this Theme was built specifically for fashion stores. With lots of homepage layouts and Google rich snippests, Couture Fashion becomes one of the best Magento free themes for clothing stores. Moreover, using this theme, users are allowed to add your brand logo ad testimonial into sliders of your website. Therefore, your online store will get better in drawing shopper's attention to your website – products.
GemMart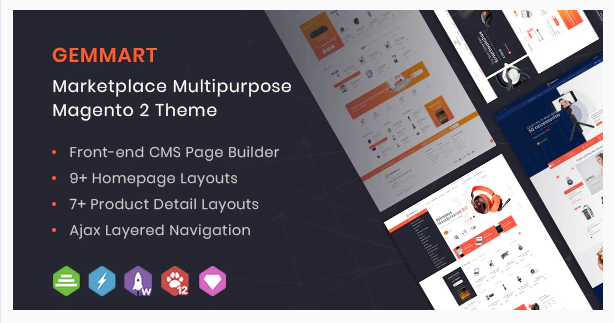 Do you want to use Free Magento themes? Do you want support for theme installation, performance audit and SEO audit without any cost? Why don't you use GemMart Magento theme from ArrowHiTech? GemMart is a multipurpose Magento 2 theme that is responsive, powerful, and modern. GemMart is one of the best Magento Free themes for any store owner to develop their stores.
It is specifically built for multi vendor marketplaces, electronics stores, mobile phones, tablets, digital camera accessories and gadgets, and more. This theme is ideal for anyone looking to create a one-of-a-kind website similar to Amazon, Lazada, or eBay.
You are seeking a theme with a fancy design to impress with your shoppers? Ves Minymart free theme can be a perfect choice for your stores. This Magento free theme is suitable for Fashion and Apparel shops. By special features, Minymart will bring the breath of fresh air to your online shop. Other highlight features of Minymart:
Imported with 1 click
Mobile Optimized
Ease of Customization
Unlimited Colors
Looking for a stunning, powerful and affordable Magento free theme? Then, you should take a look at Ves Udu. This Magento theme is highly easy to use. With all amazing functions equipped, you can optimize your website performance to increase customer loyalty and then boost conversion rate quickly. Ves Udu also supports Multiple Linguals & RTL Languages, SEO Optimization. Other functions that Ves Udu offers to make your website become stunning such as Page Builder, Mega Menu, Blog extensions,… So let's discover this amazing theme!
Ves office furniture is a theme that brings users impressive designs. As its name meaning, this theme is suitable for furniture stores. By optimizing for speed, your customers don't need to wait a long time to access your online store. Moreover, a collection of magical colors will make your store extremely impressive. Therefore, using this Magento free theme, your visitors can save a large amount of time and make your online shop gain high rank in search engines.
You don't know which Magento free theme is good? Don't worry. Because Frido is here for you. 8+ stunning Pre-defined Homepages will meet all your requirements about online websites Not only that, this theme also brings to you a collection of amazing features that suits for a range of fashion stores like: accessories store, boutique shop, men & women collections, kid clothing, shoe store,… Furthermore, thanks to Drag & Drop Mega Menu and multiple product category layout styles, you can make your website have a good look. So don't miss it.
Do you want to open an online store, especially fashion & apparel stores to make profits? You want your online store to be an attractive shop. So lets Ves 8PM Friday solve your problem. Don't need to pay the fee, you still can use its basic features. This Magento free theme comes with lots of advanced extensions.Moreover, some functions also added into Ves 8PM Friday. One thing is that Ves 8PM Friday is completely compatible with all devices and web browsers. Furthermore, optimized for SEO will help you beat other competitors to get the high rank in the search results. That is the reason why you should use this theme.
With fashion and fresh designs, Ves Swimwear is the best choice for people who want to build a swimwear shop. Ves Swimwear is designed especially for swimwear or other personal possessions such as sweatshirts, hoodies, tees & electric, accessories and watches. Moreover, 100% Responsive Design also makes your online shop look great on any devices such as smartphone, laptop, desktop. In addition, this theme allows people to access your website on any browsers such as IE10, Safari, Mozilla Firefox, Opera 9+, Chrome, etc. As a result, Ves Swimwear will bring you unforgettable experiences
Ves Havina is known as the most popular in the cosmetic theme. This theme provides users lots of helpful functions. Firstly, Dynamic Mega Menu is one of the best features I want to mention. Using this feature, your online page can show not only text but also images and videos for every product on the main menu. Besides, from 3+ Attractive Natural Cosmetic Homepages, creating a beautiful website becomes easier. Moreover, with Customized Product Block, you can choose the type of product display without any coding required.
Are you seeking a solution to turn your store into a stunning store? Then you should take a look at Ves Eveprest. Based on 5 unique Demos designs and elegant layouts, you can build your online store quickly and easily. There are lots of features users of Ves Eveprest are able to use with no coding knowledge required such as:
Instagram Integrated
The Best Page Builder with 50+ Widgets
Classic Submenus & Dynamic Menu
Multiple Category Layouts
Modern, User-friendly Mobile Optimization
Showcase Product List
Ves Floristy theme is created to meet the demand of flowers in special events like wedding, birthday, anniversary, funeral… This theme is the combination of Eye-catching Images Sliders and Unique Products Homepage. Therefore, your shop will appear with a stunning outlook and different from others. Additionally, this Magento free theme also allows you to view detail kind of flower image incredibly by Popup without leaving the category page. Therefore, your visits to the site increase drastically. So if you want to open a flower online shop, this theme is the best choice for you.
If you are looking for a theme that is suitable for your furniture store or decorative store , Ves Kasitoo is the perfect pick for you. By product tabs carousel by rules, this theme lets you show multiple types of product list like latest, new, mostview, bestseller. That is to highlight viewers of your products and help them to find out the products that they want. Besides that, thanks to Off Canvas Menu, your customers still have an overview of your online shop even using mobile phones. One more thing here is Ves Kasitoo is compatible with LandOfCoder MultiVendor Marketplace and other most popular Magento extensions.
Ves Flashshop will be a good pick if you are seeking a Magento free theme for your electric store. Including lots of amazing features, Ves Flashshop is one of the best Magento 2 themes. Thanks to the perfectly Responsive Design & Retina Ready function, users of Ves Flashshop still can experience all features on any kind of smart device like: mobile phones, laptops, tablets,… Below are some highlight features of Ves Flasshop:
Drag and Drop Page Builder
Header Styles
Beautiful Testimonial Showcase
Smart Blog Module Included
Hot Deal & Flash Sale
QuickView Pro
Powerful Admin Panel