Magento Quick View extension: Top 10 best ones to give a convenient experience for your customers
Magento Quick View extension is a must-have tool that helps shoppers add products to their shopping cart after reaching the product details through pop-up windows without loading pages. Therefore, it brings a convenient shopping experience. In this article, we will show you this great feature and some reviews of the top 10+ recommended Quick View extension
1. Mageplaza Quick View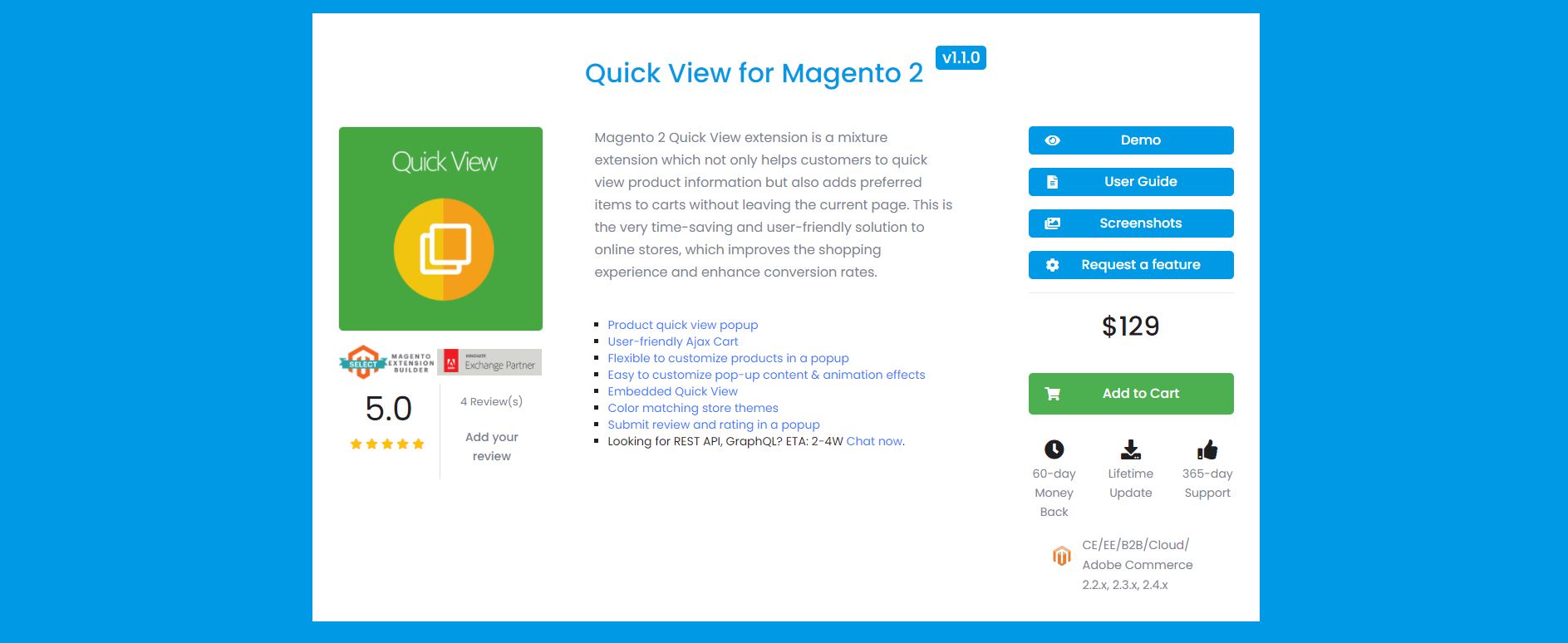 If you're seeking a trusted extension that can not only help you to enhance conversion rates but also enhance the user's experience, you can't ignore the extension from Mageplaza. The first noticeable feature of the Magento 2 Quick View extension is the quick-preview function. With this, customers can preview shortly the details of their concerned products quickly. Also, Add to Cart pop-up supports allows adding items quickly to the cart then reviewing the updated cart easily on only one page.
Quick product information preview via popups
User-friendly Ajax Cart
Flexible to customize products in a popup
Easy to customize pop-up content & animation effects
Allow customers to leave their reviews and/or rating quickly via the popup
2. Amasty Quick View for Magento 2

Our next recommendation is the one by Amasty, one of the most popular Magento extension builders worldwide. Amasty always provides solutions with the best quality that you don't need to worry about this aspect. The price of the extension is relatively high compared to others. However, Amasty has proved through many of its extension that it is worth investing in.
Preview product info on a category page
Add products to cart from the quick view window
Write and submit reviews from the preview pop-up
Customize quick view button
Improve product browsing process
3. Free Quick View by Bsscommerce

The next one will be a module developed by Bsscommerce, which is a "free to download" extension. With this extension, the admin can facilitate customers to conveniently view the product's details in the Quick View pop-up without leaving the current page.
View product information in Quick View pop-up without page load
Add products to cart in Quick View pop-up like Ajax Add to Cart
Easily add products to compare or wish list from Magento Quick View pop-up
Easily customize text and design of Quick View button
4. Wyomind Quick View

Wyomind Quick View contains a long list of optimal functions. For example, it permits your customers to get a quick view of your products from a completely customizable popup. Besides, customers can choose multiple attributes as well as add items to the cart right in the quick view pop-up without leaving the current webpage. Hence, quick view extension can be a great solution in speeding up the shopping process of users
Highlight features:
Make your customer's experience flawless!
Apply the Quick View to any page of your store!
Provide a Quick View pop-up completely responsive and customizable!
Take all benefits from the iFrame method!
5. MageArray Quick View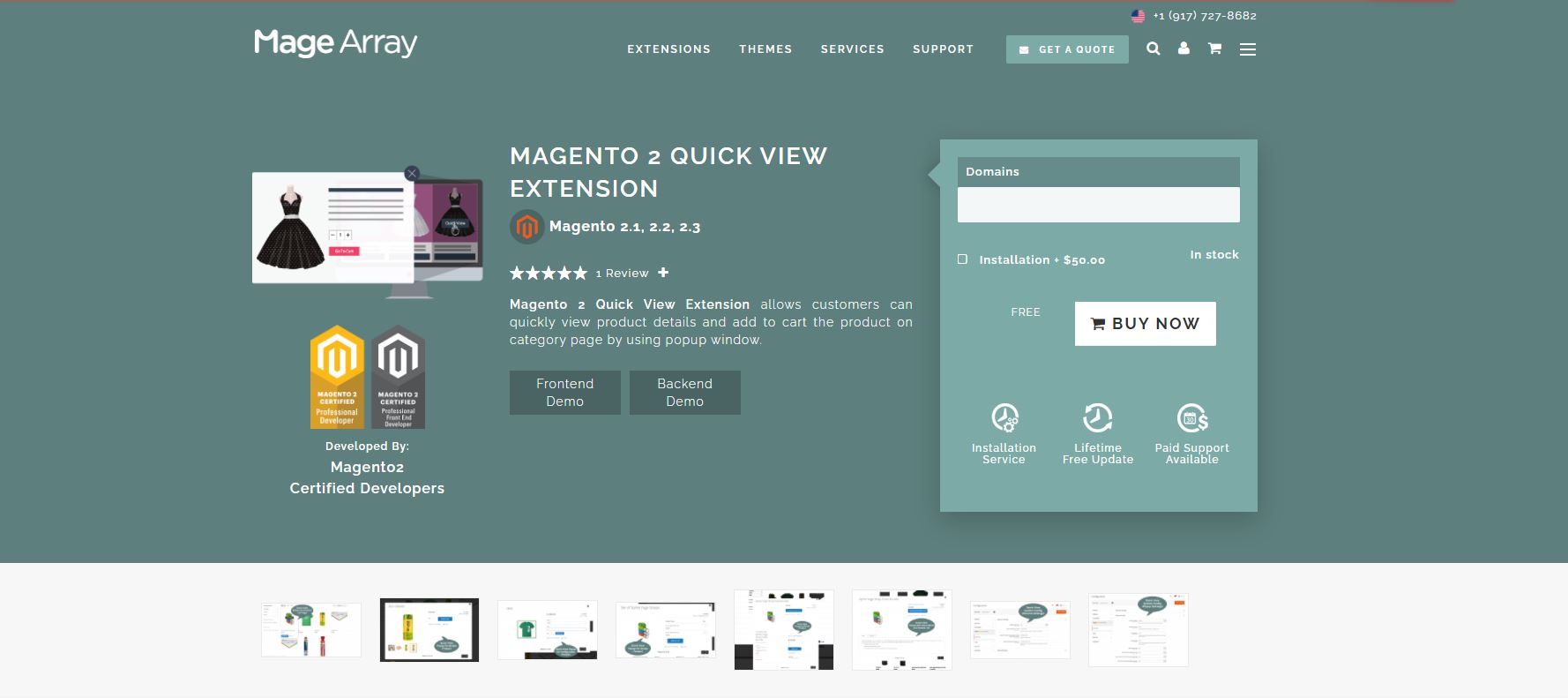 Another suggestion for you is from MageArray. This extension contains some basic features as other modules like shows product quick view in the popup window, add to cart from popup window. In terms of customer reviews, the extension has received many positive reviews. "Good quality, good services, no issue, highly recommended".
It shows product quick view in popup window by just simple click on the QuickView button below each product on the category page.
Besides, the product can be added to the cart from the popup window
This extension is suitable for both simple and configurable products
Also, it enables showing products option in popup if have any
The admin can change or select QTY from the popup
6. MageSpark Quick View

If you are looking for a Free Quick View extension, Magespark's extension is the most suitable solution for you. In detail, this module permits your customers to easily view essential information about the product. Likewise, it enables you to add the most preferred products to the cart without leaving your current webpage.
This extension helps your customers to get product information without loading the product page.
Besides, it provides all information like product price, images, colors, sizes, and product descriptions in the popup window.
It comes with some options to add to the cart, select quantity, or review products.
At last, this extension helps you to improve product browsing process
7. FME Quick View For Magento 2

This is a useful Magento quick view extension for Magento 2 stores when it supports many essential functions to provide your customers have a great shopping experience. In addition to the basic functions of a quick view pop-up, this module permits the admin to show the product quick view popup on the category page. Therefore, your shoppers acquires a bird's eye view of an item on a category without actually visiting its webpage
It supports the product quick view on the category page
Besides, this extension enables customers to preview details and add to cart
The admin is able to customize the quick view button
Also, it enables personalizing the product quick view popup
8. UB Quick View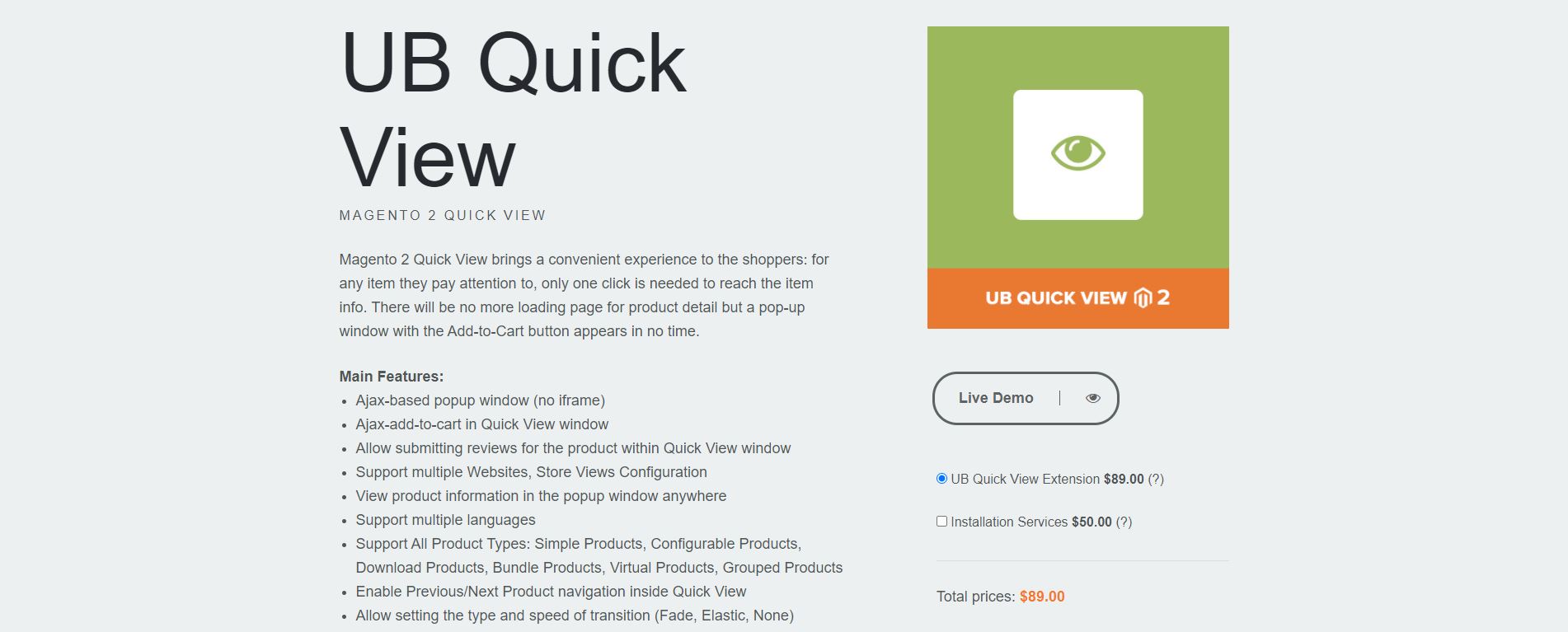 The next Magento Quick extension we want to recommend to you is one of the most powerful products from UB. First of all, similar to the Quick View extension, this extension will help to improve the customer shopping experience by helping them make purchase decisions much more quickly. Besides, this extension seamlessly operates with any of the product types such as simple, grouped, configurable, virtual, bundle, downloadable.
Your customer is able to view product information in a quick view pop-up
Besides, it supports the ajax add to cart in the quick view window
This tool supports multiple languages
Also, it allows your users to previous/next product navigation inside quick view pop-up
The admin can change the type and speed of transition
Customize the label of the quick view button
9. Cmsmart Quick View

Moving to another Magento quick view extension you should know to upgrade for your eCommerce site is the extension by Cmsmart. To be more specific, this extension allows your visitors have an overview of the product via a quick view popup window without reloading the webpage. Moreover, this Quick View window shows your customers the product's details such as images, descriptions, product materials as well as the price of each product. All provide the shoppers interesting shopping experiences.
Firstly, it supports the quick view products in Catalog Widget as homepage, categories pages, etc
Secondly, it comes with the ability to show a popup with all product information
Thirdly, this extension supports all product types as Simple, Configurable, Grouped, Bundle, and others
Besides, it supports multiple stores
Also, it is fully responsive on all devices
At last, the admin is able to allow showing all products in the quick view popup
10. Meetanshi Quick View

Quick View developed by Meetanshi is our last recommendation for today. Similar to other Magento builders, Meetanshi offers various great features in its extension. Notably, this extension allows a "quick look" popup on a category listing page, recommended products, or related products. Therefore, your customers can easily check the product details without loading the product page.
Quick View popup without loading the current page.
Customize the design and text of the popup button.
Improved customer experience
Above is all we want to provide about the Quick View Magento extension. We hope that this post will give you a better understanding of the topic, and you can select the suiltable module for your online business. If you need further information, or if you want to upgrade your Magento 2 store. Let's take a look at the helpful Magento 2 Extensions or Magento 2 Themes at our store