Premium Magento theme: Top 10 best themes to get perfect Magento 2 store
To build a successful online store on Magento, you need to choose a suitable Magento theme. However, there are nearly a thousand Magento themes out there. Thus, getting the right one for your online store might not be easy. To help you with this, we'll show you how to choose the perfect premium Magento theme for your online store. Also, we'll deliver the top 10 best ones for you to consider
What is Magento 2 theme?
If you're new to Magento, you need to know what Magento 2 theme is. Overall, it is a component of Magento application. It uses a combination of custom templates, layouts, styles or images to build a consistent look and feel for the entire application area. In other words, Magento 2 theme will be in charge of the look and feel of your Magento store.
Premium Magento theme is not merely a standard theme. It will deliver not only a stunning and exclusive look for your store, but also many advanced features. Thanks to this, you will be able to build a powerful and eye – catching Magento web store
How to choose the right Premium Magento theme?
As mentioned above, there are hundreds of Premium Magento themes to choose. In this part, we will show you how to choose the best and most suitable Premium Magento theme for your website. Here are some factors you should take into consideration
Appearance
Magento 2 theme is responsible for the look and feel of your website. Therefore, when it comes to choosing the right Premium Magento theme, appearance is one of the most important factors. The look of the themes greatly depend on the type of your online stores. However, they should fulfil these following requirements
Have professional look
Suitable for your business. For example, if you want to run a kid's clothes shop, your theme should be bring and colorful
Clear visual hierarchy. This helps customers easily look through your website
Suitable fonts and color
Beautiful and professional Premium Magento theme can make a good impression on customers instantly. This will encourage customers to stay on your website for longer and increase your revenue
User – friendly
When building an online store, you must take your audience into account. If your website is hard to use, slow and buggy, needless to say, customers will leave your store and move on to other websites. Therefore, your chosen Premium Magento theme should have a user – friendly interface, easy navigation buttons and so on. Also, make sure your theme has Magento speed optimization. This helps you avoid slow page and low customer satisfaction
Business Requirements
You'd better choose a theme that greatly reflects your business vision and objectives. For instance, if you want to open an online store for teenagers, a dynamic and energetic – looking theme will be a great choice for you. On the other hand, if you're running a B2B store, this type of theme might not be appropriate
Responsive and Cross – browser compatible
Nowadays, a solid Magento theme should be responsive and cross – browser compatible. This allows shop owners to approach a wide range of customers to raise their revenue. Moreover, the number of mobile users is increasing dramatically. As a result, more people use their mobile devices to make purchases online. Thus, your website should look good not only on desktop, but on every device and browser.
Powerful technical aspects
As mentioned above, a Premium Magento theme will not only make your website look beautiful, but also make it powerful and well – functioning. Therefore, you must take the themes' technical aspects into account. In particular, your chosen Magento theme should be equipped with the latest technologies like SASS, Bootstrap 3 or HTML5. This can ensure high and stunning performance of your website
SEO – friendly
SEO, or Search Engine Optimization, is a great method of digital marketing. It allows you to approach more customers without spending too much.
Magento itself is SEO – friendly. However, to boost your business and increase your revenue to the next level, you should choose a SEO – friendly premium Magento theme. In particular, the theme that you select should have an organized HTML/ CSS coding and the standard codes.
On the other hand, if your Magento theme is not SEO – friendly, it might lead to poor search engine visibility and traffic.
Blocks and banners
Blocks and banners are the crucial elements for every Magento theme. Choose a Magento theme that has promotional blocks and sliding banners at the right place. This can make your website look a lot more professional and modern
Social Media Friendly
Billions of people are using Social Media nowadays. According to some research, there are over 2.74 billion people on Facebook alone. Therefore, Social Media is such a great channel for you to reach more new customers. As that said, your Premium Magento theme should be Social Media Friendly to push conversion process
Customizability
There are millions of online stores on Magento these days. Therefore, to remain competitive in your market, your website should stand out from the rest. As a result, you should choose a Premium Magento theme that is highly customizable. It allows you to freely make changes and edit your website. For instance, you can take over the color theme, fonts, or layouts without touching a single line of codes. Depending on your business requirements and audience, you can customize the theme as you need.
Support blog
Blogs are a great way to build a brand, generate leads and solve niche issues. Moreover, when writing blogs on your webstore, you dedicate a lot of helpful content to Search Engines like Google or Firefox. Thanks to this, Blogs also helps you with SEO as well. Then, your Premium Magento theme should well support blog
Fast loading speed
Slow web pages will not only lead to poor customer satisfaction, but also increase bounce rate. Needless to say, this will negatively affect your business performance. Therefore, you should choose the Premium Magento theme that is optimized for speed
Support multi language and RTL ready
If you want to sell internationally, then the Magento theme you choose must support multi languages and currencies.
Reviews and ratings
This is one of the most common ways to assess the Magento theme. Of course, the higher the rating, the better the theme seems. However, you also shouldn't skip the lower – rated Premium Magento theme. Instead, you should see how the theme's developers handle negative comments. For instance, do they reply and solve the problems instantly, and how well they solve them.
Top 10 best Premium Magento theme
Now, we'll deliver you the list of top 10 best Premium Magento themes. All the themes below can greatly meet your requirements and needs. All of the popular Magento themes below are rated based on Arrowtheme scores, sales, social metrics and ratings. Let's begin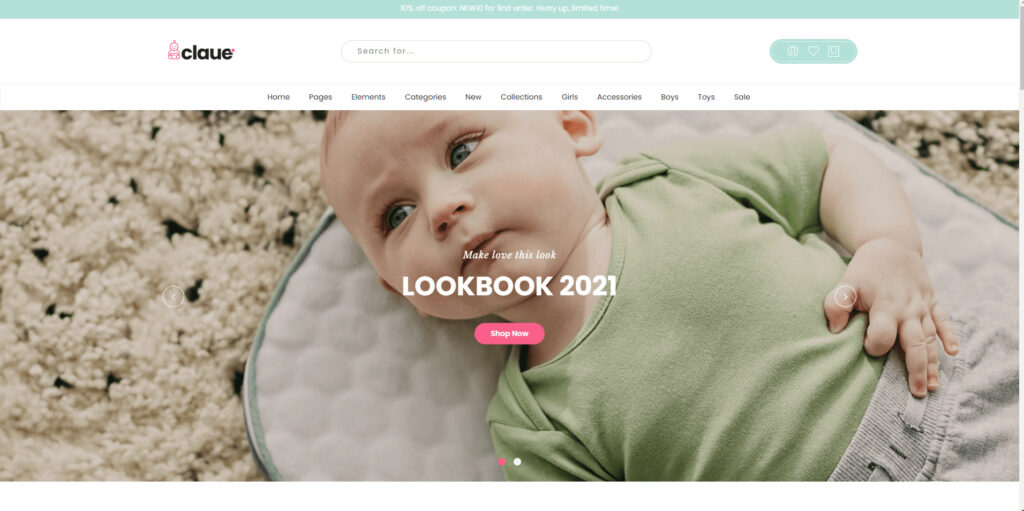 In this list, we want to recommend you one of the best Premium magento theme- Claue. With over 4,000 sales worldwide, this theme is well-known on Themeforest. Moreover, it comes with 4.76/5 stars from 193 ratings. So now let's explore why this Premium magento theme is popular.
Firstly, to bring the clean and minimal look. Claue comes with the main background color. Therefore, it can highly focus on your products, not on other elements. For that reason, your customers can see your products immediately even when they browse your online shop. Besides that, Claue is also suitable for many kinds of store such as: Apparel, Baby store, Furniture, Accessories, Pharmacy…
More importantly, our Premium magento theme also bring to you lots of awesome features like:
One step checkout: this feature will optimze your checkout page. Moreover, it supports both shipping methods. Not only that, your customers are able to leave their comment on your process.
Shop by brand: thanks to this feature, your store can show unlimited products
Layered navigation: it provides you the Ajax loading page, Price slider as well as Multi-filters
Social Login: your customers can login your online store quickly by just one click to login their social accounts.
Auto- related products: you are able to cross-sell and up-sell with ease.
Ajax search: with this feature, your customers can see the images and prices even on the search result. Furthermore, it supports all languages.
Claue 2.0 is the upgraded version of the Claue Magento theme 1.0, which has some differences from the previous version. Therefore, if you're running Claue version 1 and wish to upgrade to Claue 2.0, you'll have to develop a new website instead of updating from the old one.
What are the advantages of Claue version 2 over Claue version 1?
The Luma theme is used.
Meet with Magento Theme's requirements.
Significantly higher performance
Most third-party extensions are compatible with it.
Magento 2.4.x and Claue 2 are fully compatible.
Clean and minimal design has been the trend of 2020, and this trend is likely to continue in 2021. Then, if you're looking for a Premium Magento theme with minimal design, Molla will be a great option.
This Magento theme has standard UX/ UI. What's more, Molla has clean layouts and well structure. Therefore, it can display your products beautifully. This will encourage customers to make purchases on your online store.
Similar to Claue, Molla is a multipurpose Magento theme as well. Thus, it can be used for many types of stores, from Clothes, Fashion to Accessories. There are more than 20 exclusive demo concepts for you to choose. If you need to make some changes to them, you can easily do that with drag – and – drop editor. No coding required. Moreover, Molla is fully responsive. Thus, your website will look stunning on every devices, from mobile phones for desktop
Other highlight features of Molla
Google AMP is available
This Magento fashion theme includes Quick View Popup. Therefore, customers can quickly see the product without going to the product page
Includes Product videos, Instant Search, Mega Menu and so on
Coming to Amely – a minimal, elegant and well – functioning Premium Magento theme. This Magento theme can be used for many types of online stores thanks to its eye – catching layouts. What's more, Amely includes 11+ homepage layouts for you to choose. Each one is different and exclusive, but all of them are clean, modern, product – focusing and customizable. In case you need to edit or make some changes to those layouts, you can easily do that without touching a single line of coding
Best of all, Amely provides you with a 360 degree image view. As a result, you can fully show customers every aspect of your products. This will not only improve customer experience, but also reduce misunderstanding with customers
Other highlights of Amely
Powerful admin panel: one click install, import homepage, etc.
Fully responsive and mobile optimized. Thanks to that, your website will look great on any devices
Amely comes with Ajax Layered Navigation. Thus, you will be able to filter by multi-select and price slider
Coming to Supro – a powerful and stunning Premium Magento theme. It has standard UI/ UX and product – focusing design. Thus, Supro can help you increase conversion rate and attract more customers. Above all, this Magento theme use separated Mobile Theme to better help you with selling on mobile device
Supro comes with 18 beautiful and modern demo layouts. Furthermore, you can easily customize them for any store online. No coding required. Also, this Magento theme can grant you great web performance with Accelerated Mobile Pages, or AMP. This will not only increase your conversion rate, but also customer satisfaction as well
Other highlights of Supro
Front – end CMS page builder with 36+ block elements. Then, you can easily edit CMS page at front end and preview the results
Dark theme option available
Besides, it has the fastest Ajax Quickview extension and fly Ajax Cart extension
Included advanced Magento extensions such as Blog for Magento 2, Mega Menu, Shop by brand, etc.
When it comes to the Premium Magento theme, we must mention Porto. With more than 20,000 websites using it, Porto is one of the most well – known Magento themes in the world. No need to say much, Porto can deliver you almost everything you need to build a solid Magento website.
This Magento theme comes with 30+ stunning homepage layouts. All of them are customizable. Therefore, you can easily edit and customize the themes as you like without touching a single line of codes.
The best thing about Porto is that it constantly keeps up with the technology. In particular, the theme has super high performance, compatible with top Magento Extensions and Powerful Admin Panel. This will not only increase customer satisfaction, but also your revenue as well
Market is a premium Magento theme that is suitable for a wide range of online stores, especially multi – categories stores. The best thing about the Market is that it can handle a variety and a lot of categories without any issues. As a result, this Magento theme grants outstanding web performance.
Also, Market can deliver you many advanced and helpful features, including Flexible layouts, Icomoon, RTL and Modify homepages. Furthermore, this Magento theme is integrated with Instagram shop and other social platforms. Thanks to this, you'll be able to reach a lot more new customers.
Right from the name, Fastest indicates that it can deliver outstanding web performance. In fact, this premium Magento theme scored 97% on PageSpeed Score and 80% on YSlow Score. As a result, you hardly need to worry about slow or buggy websites when working with Fastest
Besides stunning performance, this Magento theme can bring you gorgeous designs. Thanks to its clean structure and color combination, Fastest will display your products beautifully. Moreover, you'll receive a lot of advanced extensions and features when working with Fastest such as Google AMP Extension, one step checkout, Shop by brands
With all of those outstanding and powerful features above, Fastest is one of the best selling, popular Magento themes on themeforest with 3,800 sales.
Infinit claims to deliver the best quality, and this is not merely a claim. First of all, it can bring you almost everything you need from a great Premium Magento theme, from Page builder, product filter to deal countdown timer. Moreover, Infitnit comes with 15+ unique and exclusive homepages layouts. All of these layouts are optimizing and customizable. Thus, you can easily customize them to meet your requirements. For example, you can easily split columns ( from 1 to 24) or combine different layouts in one page.
Infinit will bring you a lot of great functions. But the best thing is that Infinit's developers constantly update and perfect it. Therefore, you'll never be out of date when working with Infinit
Martfury is a multipurpose Premium Magento theme. Therefore, it can be used for a wide range of online stores, from Fashion, Clothes to Furniture. Martfury comes with 6+ unique homepages. With a neutral background and clean structure, this Magento theme will bring a sleek, professional and modern look to your website.
Moreover, Martfury is highly customizable and flexible. It was built based on the Magento 2 engine. Therefore, you can easily install this theme to your website with just a few steps. Besides, you can easily re – use elements of all Layouts with CMS Contents like Blogs, Widgets, etc. Other helpful extension in Martfury are Ajax Filter, Ajax Search, Newsletter Popup and so on
Moving to Ayo – a powerful, multipurpose Premium Magento theme. Ayo offers 10+ stunning pre – made demos for you to choose. All of them are customizable. Therefore, you can easily customize and edit these demos to meet your business requirements. What's more, this Magento theme comes with all powerful eCommerce functionality like Responsive and Retina Ready, Mega Menu support and multi language support. It also bring you other advanced extensions like Store Location, Blog Module, etc.