Shopify Jewelry theme: Top 15 luxury Shopify Themes to create reputable online store
Are you looking to create an eCommerce store to showcase and sell jewelry? These Shopify Jewelry theme are exactly what you need to showcase your jewelry business and sell your products online.
1. Lusion – $19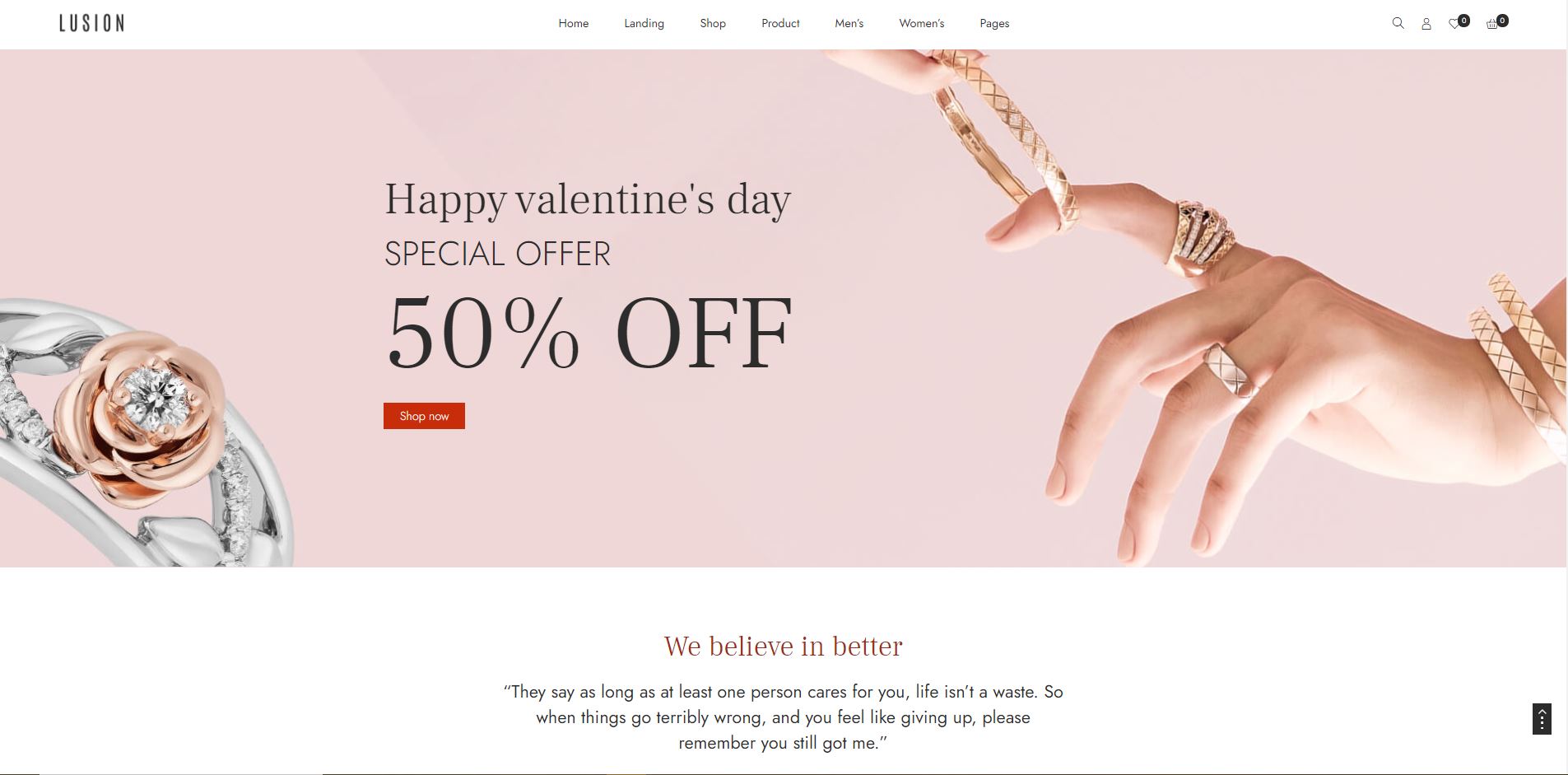 Lusion is a Best Premium Shopify Theme designed and developed by ThemeForest's Power Elite Author. With a minimal and focus design on the products, Lusion will make your online Jewelry store look more impressive and attractive to viewers. With a whopping collection of 22 + Pre-made demos, this sophisticated Shopify theme is for everyone.
Full Customizability: modifying is more simple because you don't have to write any new coding
Theme also is optimized for Dropshipping
Fake Sales Popup: Easy way to convince visitors stay around
Recommend products: Highlighting the products that helps increase conversion rate
Native Shopify Quick View: Allow users to get a quick look of products without opening the product page.
Product 3D, as well as AR Model
Unlimited header layouts
AJAX Search Autocomplete
One-click Demo Importer: one theme importer already offers pages, posts, sliders, widgets, and so many more
Unlimited Colors: easily change can combine different color palettes
Theme also offers best plugins including Google rich snippest structured Data, MegaMenu, ajax search autocomplete, native shopify quickview, ajaz product filter..etc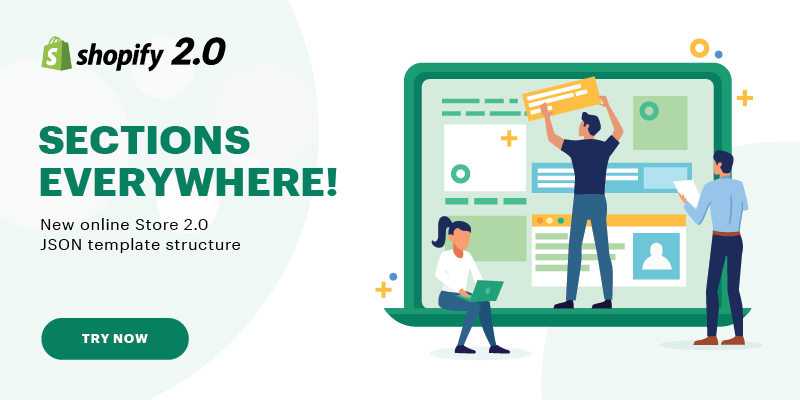 Great news! Lusion theme is now fully compatible with latest Shopify 2.0. It comes with new features and enhancements providing easier and more flexible customization options for merchants. Some new features you'll get when choosing Shopify 2.0 theme
Sections are available on every page like the Home page, product page, collection page, collection list page, cart page, etc.
App Block supports you to relocate or move Shopify apps within the template without touching the code files.
Shopify Metafields permits you to add dynamic information about your products, variants, collections, customers, orders, blogs, and many more in your store.
Collection and search filters support you to filter products and search results by availability, price, vendor (brand), color, and many more.
2. Atlantic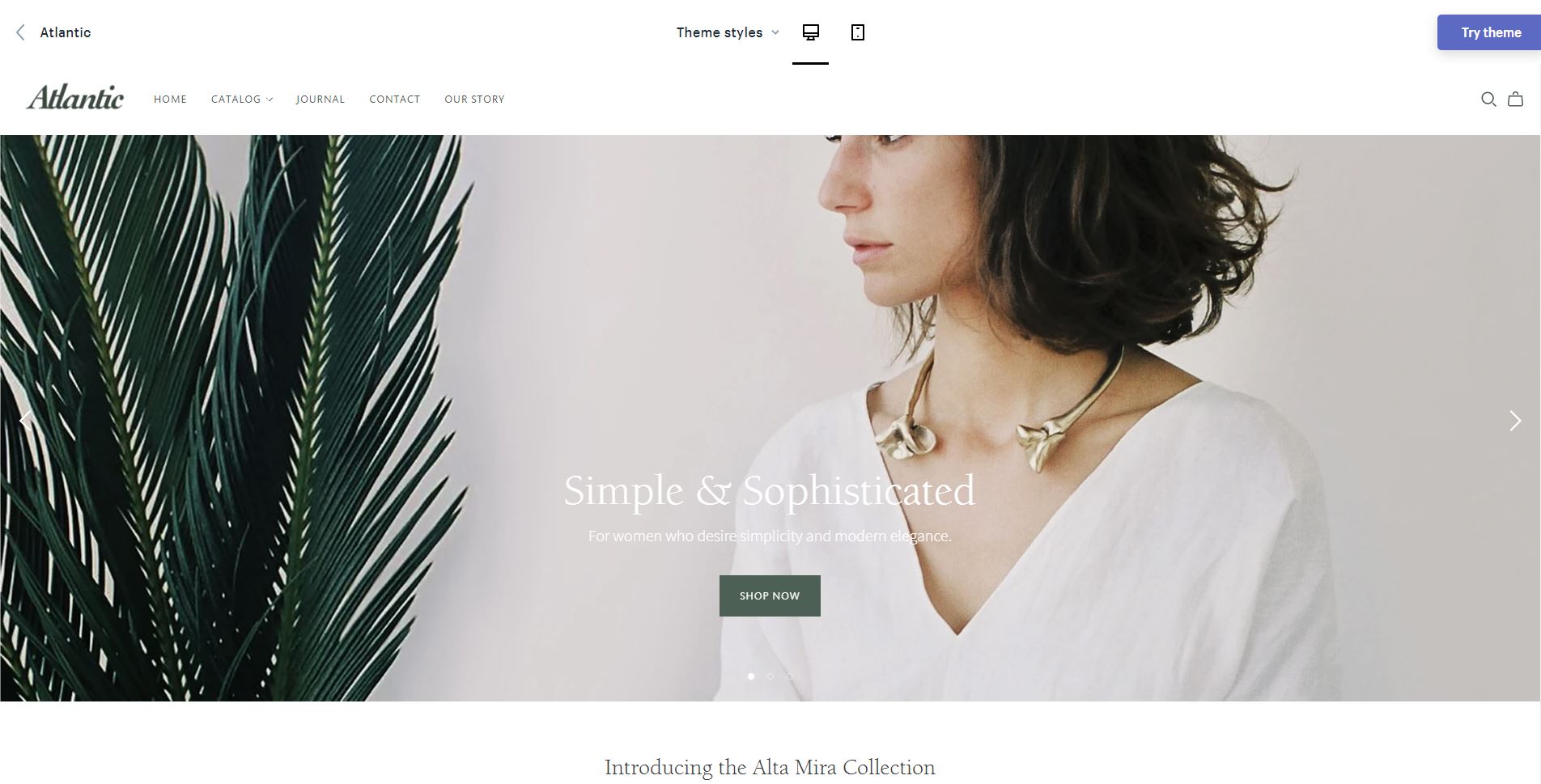 This Shopify jewelry theme is trendy and functional, showing your products in a way that will wow everyone. In short, Atlantic will generate a strong and memorable impact on everyone who visits your website. Not just that, but with the attractive look that it offers, you can also experience a boost in conversions, which, of course, everyone strives for.
The design and the awesome look of Atlantic is one thing, but there are also all these benefits that come with the theme for you to put into practice. Atlantic works with a huge numbers of items, too, but keeping things more boutique works as well.
3. Editions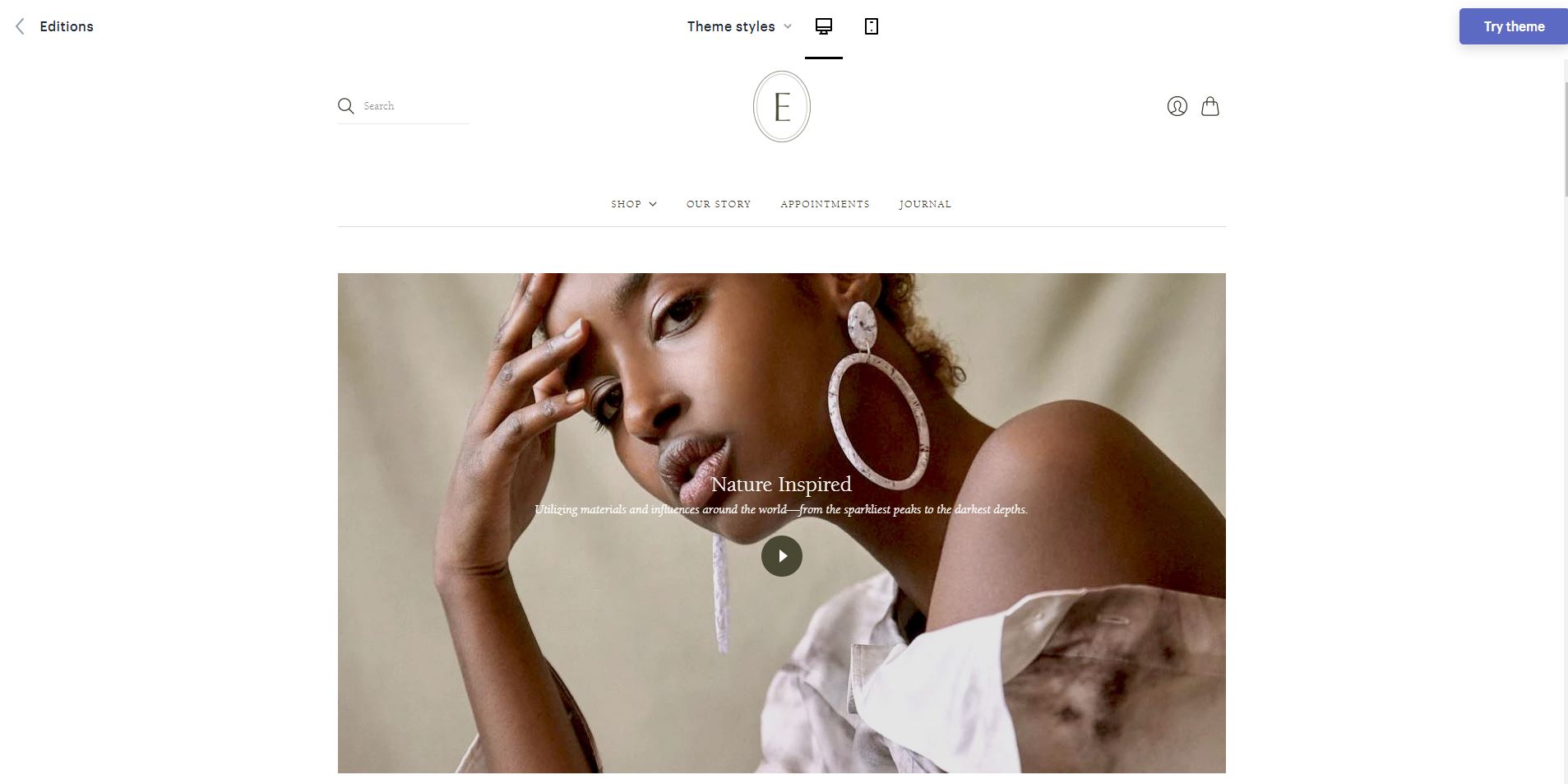 There are no limits when it comes to Editions. Sure, it might be a great choice for beauty and cosmetics, but you can also greatly benefit from all its functions for selling jewelry. With the modern and attractive design, everyone will have a blast browsing through your content, checking what's hot and making purchases. In short, it is safe to say that Editions is a striking Shopify jewelry theme that will get you going with efficiency.
4. Modular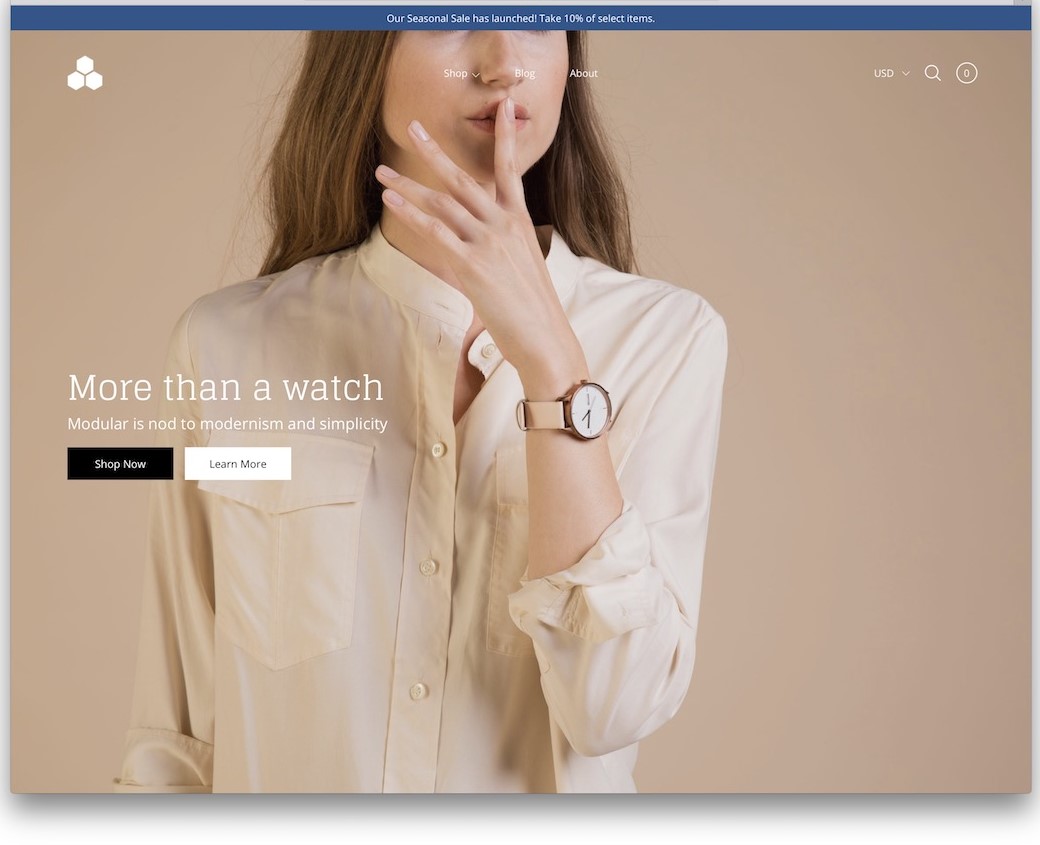 Whenever you find yourself in doubt with the type of design to go with, do yourself a favor and stick to a more minimalist approach. Simplicity and cleanness is always the perfect combination when showcasing your business and your products online in a distraction-free way. Modular is a great example that equips you with the ideal design for your jewelry website. A Shopify theme that is a little breeze to use, yet the outcome will be nothing short of spectacular.
5. Expression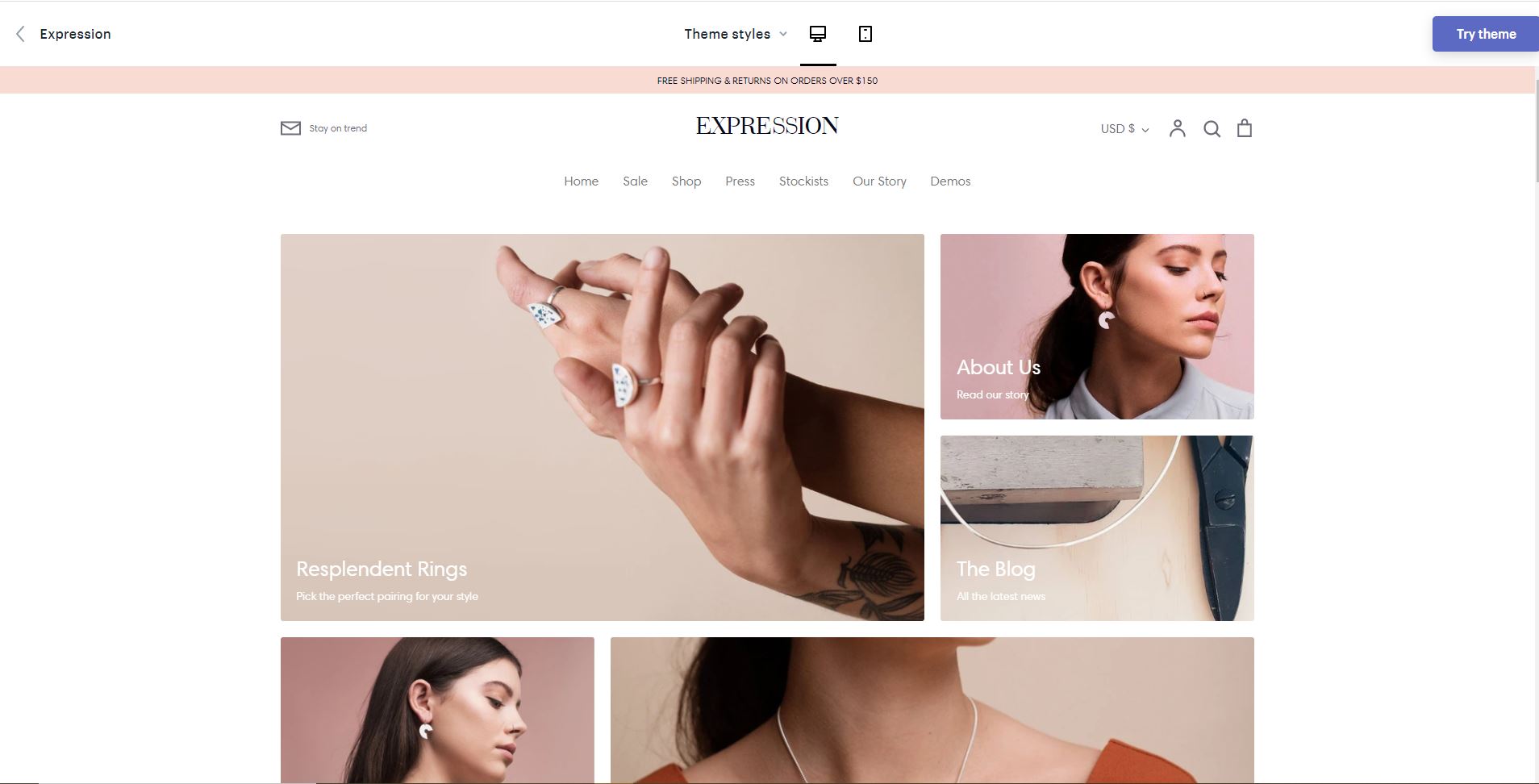 If you are seeking for a free alternative to all the other premium Shopify jewelry themes, here we have Supply. Even though the tool costs you nothing, your eCommerce store will not be half-baked – not even close! Supply still ensure an outcome that will turn heads, showcase your brand on the web professionally and boost the sales While theme comes with two demos to select from, Light version comes ideal for jewelry and accessories.
6. Envy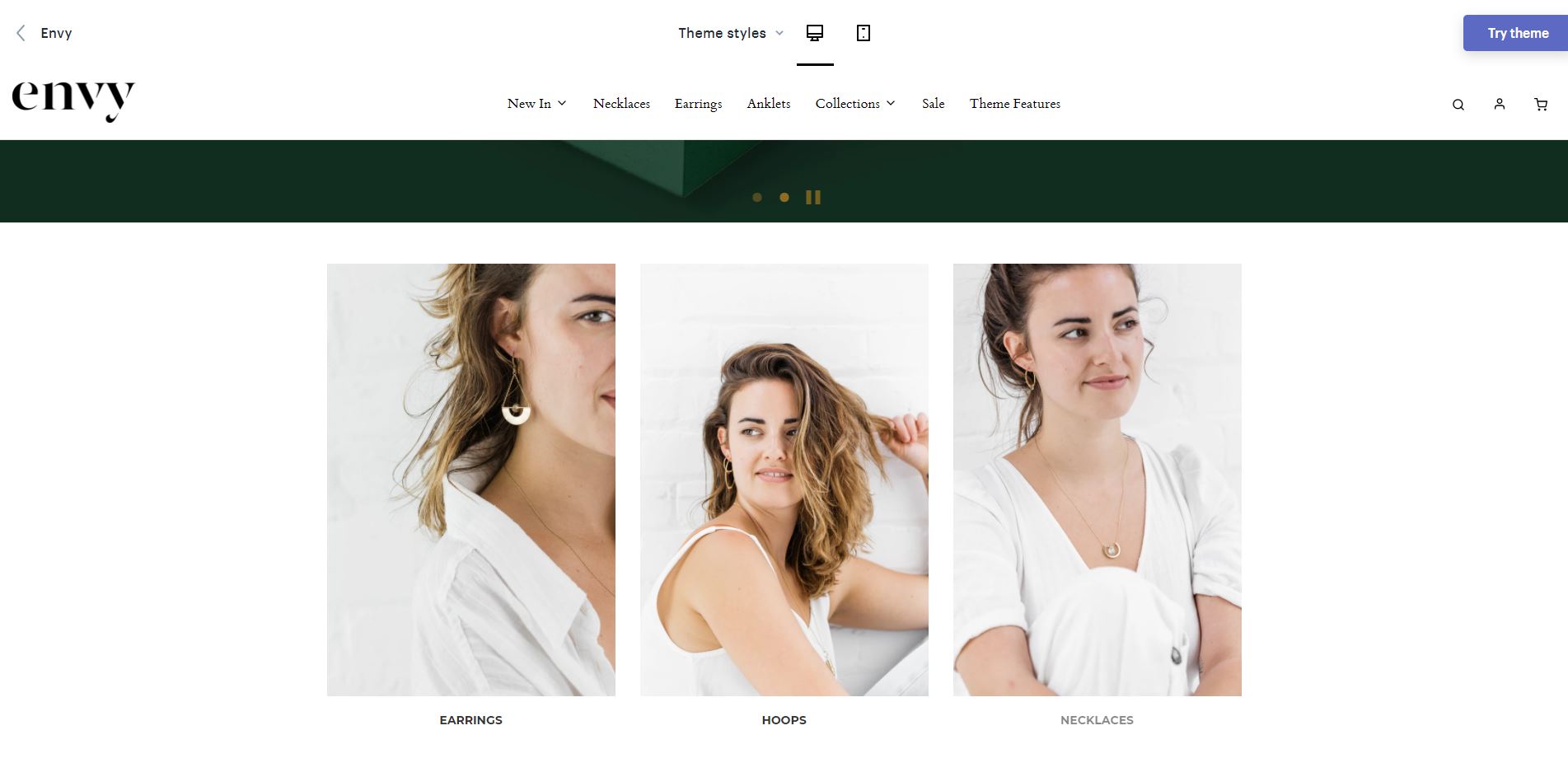 With Envy, your customers will be envious of your absolutely phenomenal online jewelry website. It is a perfect Shopify theme that gets you going immediately, assisting you to set things up fast and effectively. With no coding knowledge, you can now start with your online business, selling jewelry on a local or global scale. While there is one style that will be perfect jewelry and accessories flawlessly out of the box, Envy also offers three additional demo homepages for you to consider.
7. Famiza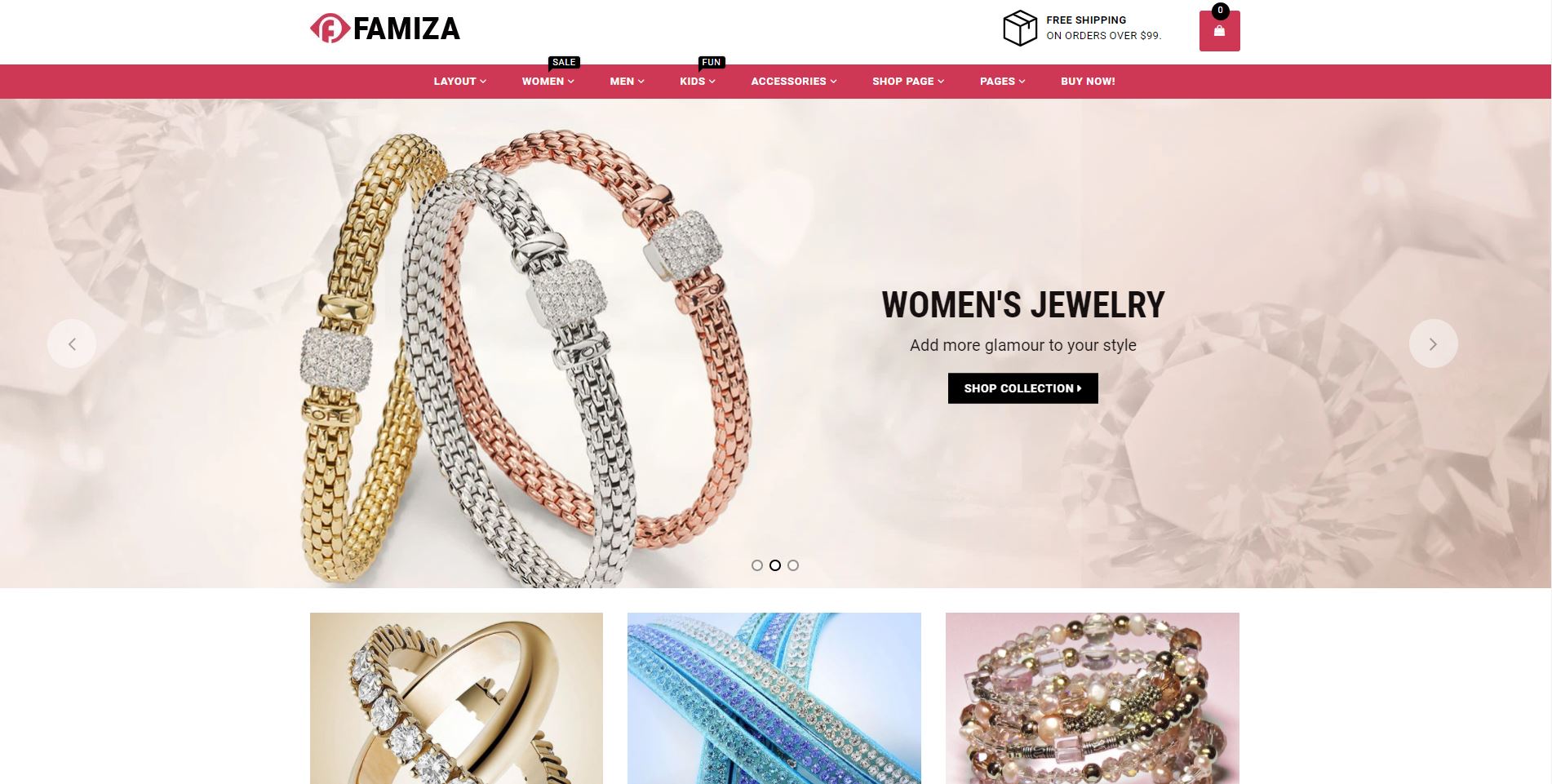 Ap Twices is perfect solution for you to start with an online business packed into one kit. This Shopify theme offers ideal for an array of different aims and intentions, such as jewelry, accessories, watches, you name it. There are multiple various front and internal page layouts for you to mix and match according to your needs. In total, you have more than 1200 options with Ap Twices, easily chosing the right look for your dream website.
8. Lezada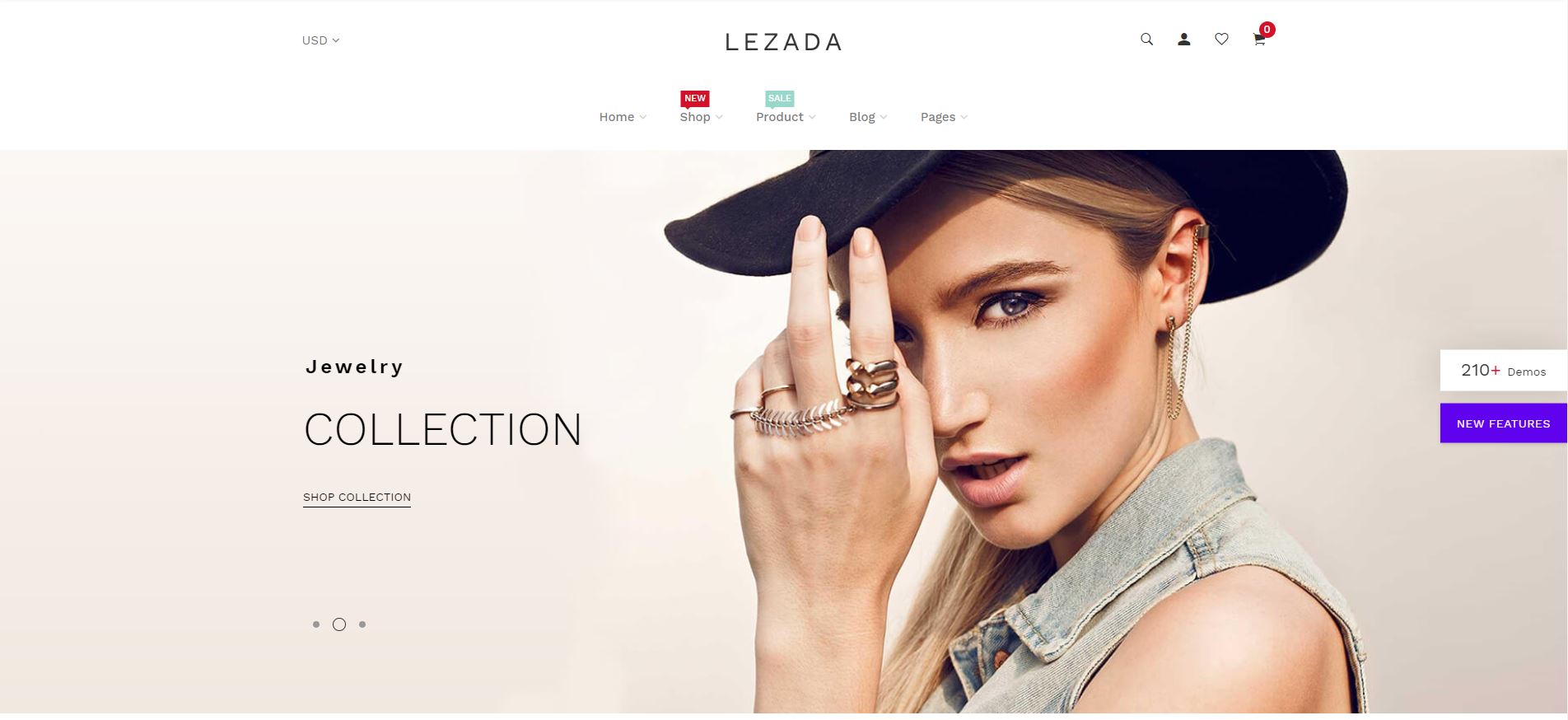 Lezada – Multipurpose Shopify Theme is an attractive website demo that you can use to build all kind of eCommerce store. To note that, eCommerce is the most growing kind of website today, and to compete in this tough race a quality website is essential
On the other hand, to create a brand in eCommerce industry, Lezada is a great gateway. You can uitize Lezada theme for selling Electronics, Digital Products, Fashion Products, Hats, Sunglasses, Accessories and all kind of retail products
9. Corano Jewelry Shopify Theme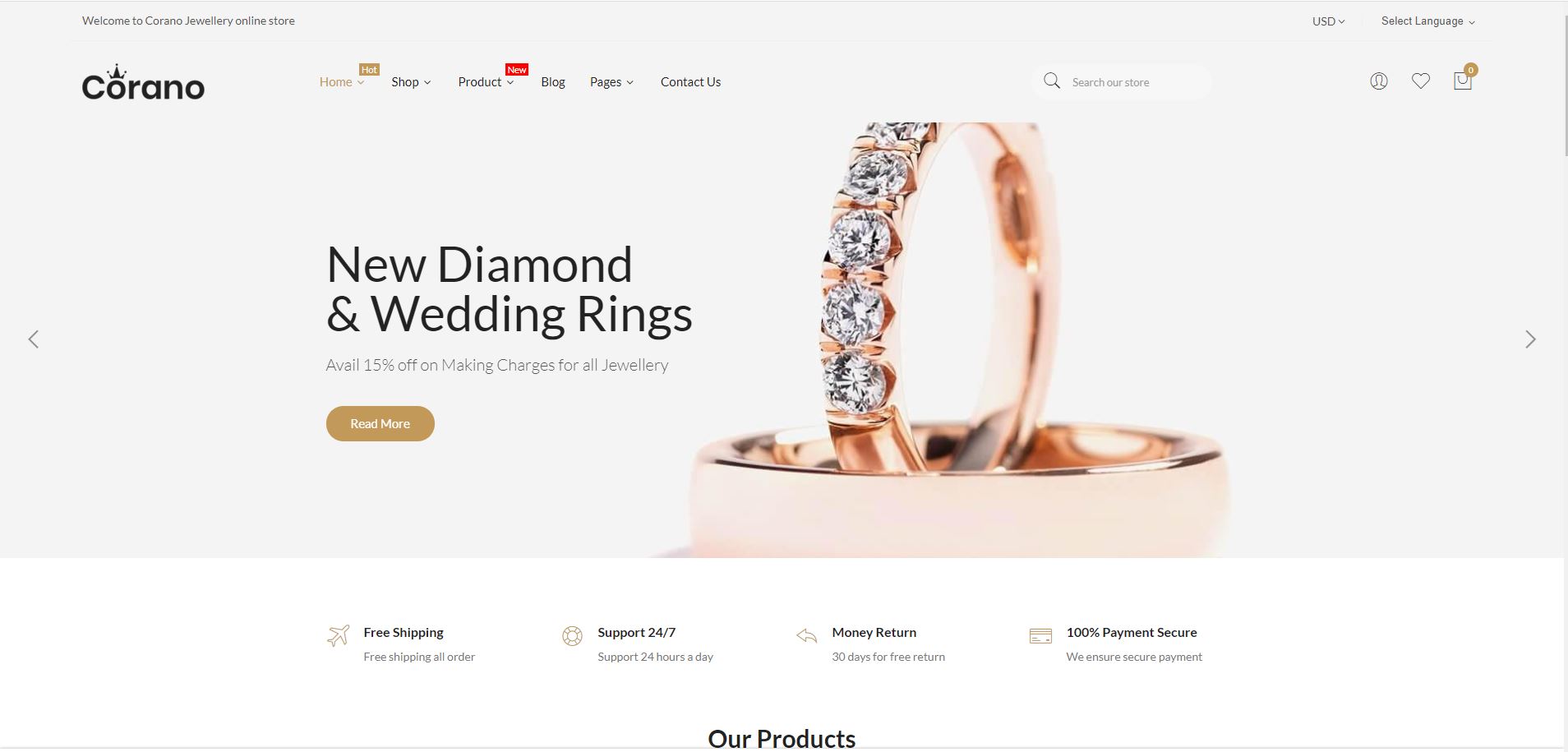 Kicking off a new, modern and functional jewelry store happens quicker than you might think with the use of Corano. This striking Shopify theme takes care of all and everything for you. First, it provides you five various home page designs, as well as a full-blown RTL layout. Speaking of RTL, Corano is also entirely translatable and supports multiple currencies.
Moreover, the theme also offers a dark version. By means of the RTL (Right-to-Left) support, you can work your jewelry e-commerce site in languages like Arabic, Persian, Urdu, Hebrew, etc. where letters start from right to left.
10. Ap Twices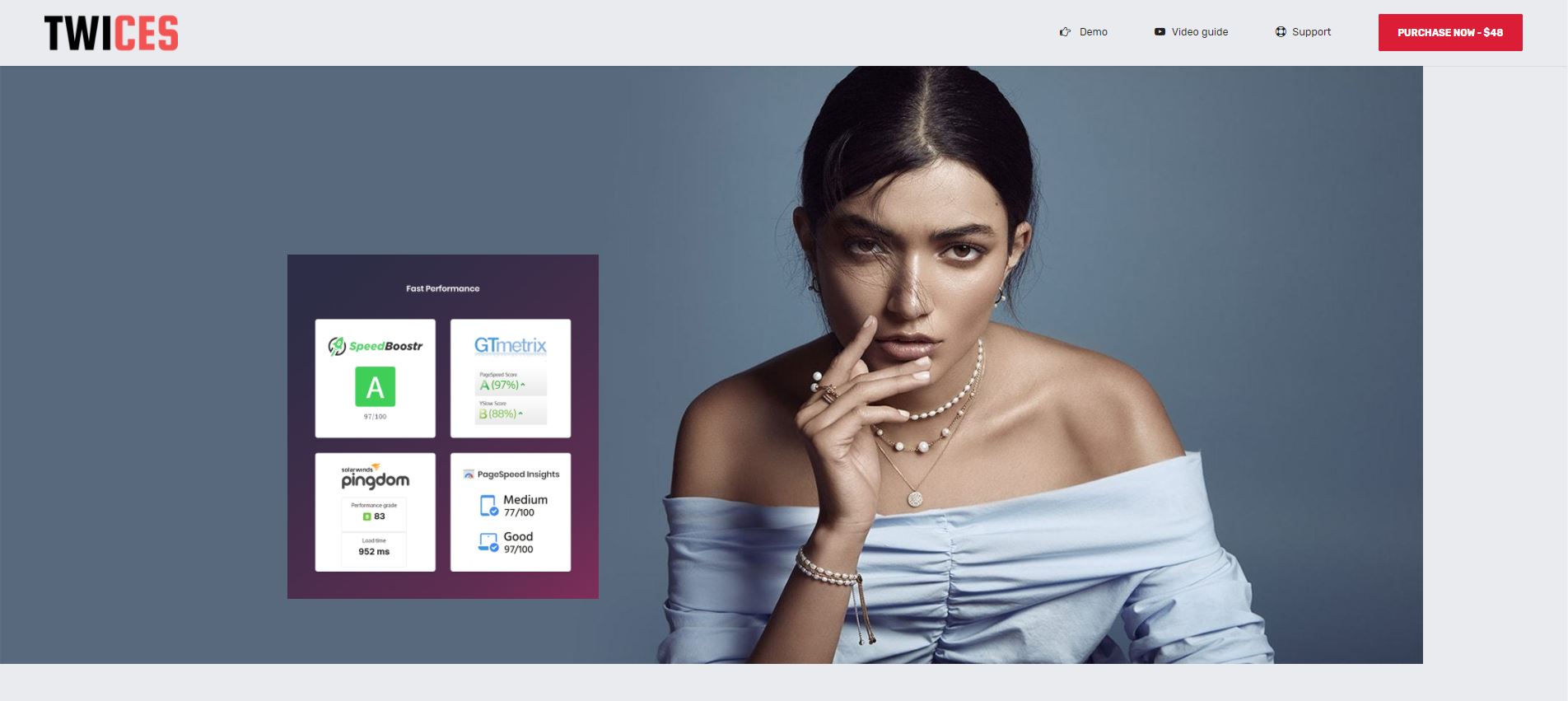 Ap Twices is all and everything you need to start with an online jewelry store packed into one kit. Besides, this Shopify theme provies ideal for an array of various aims and intentions, such as jewelry, accessories, watches, you name it. There are multiple front and internal page layouts for you to mix and match according to your wishes. In total, you will be equipped with 1200 options with Ap Twices, easily finding the right look for your dream store.
11. Jewelry Responsive Shopify Theme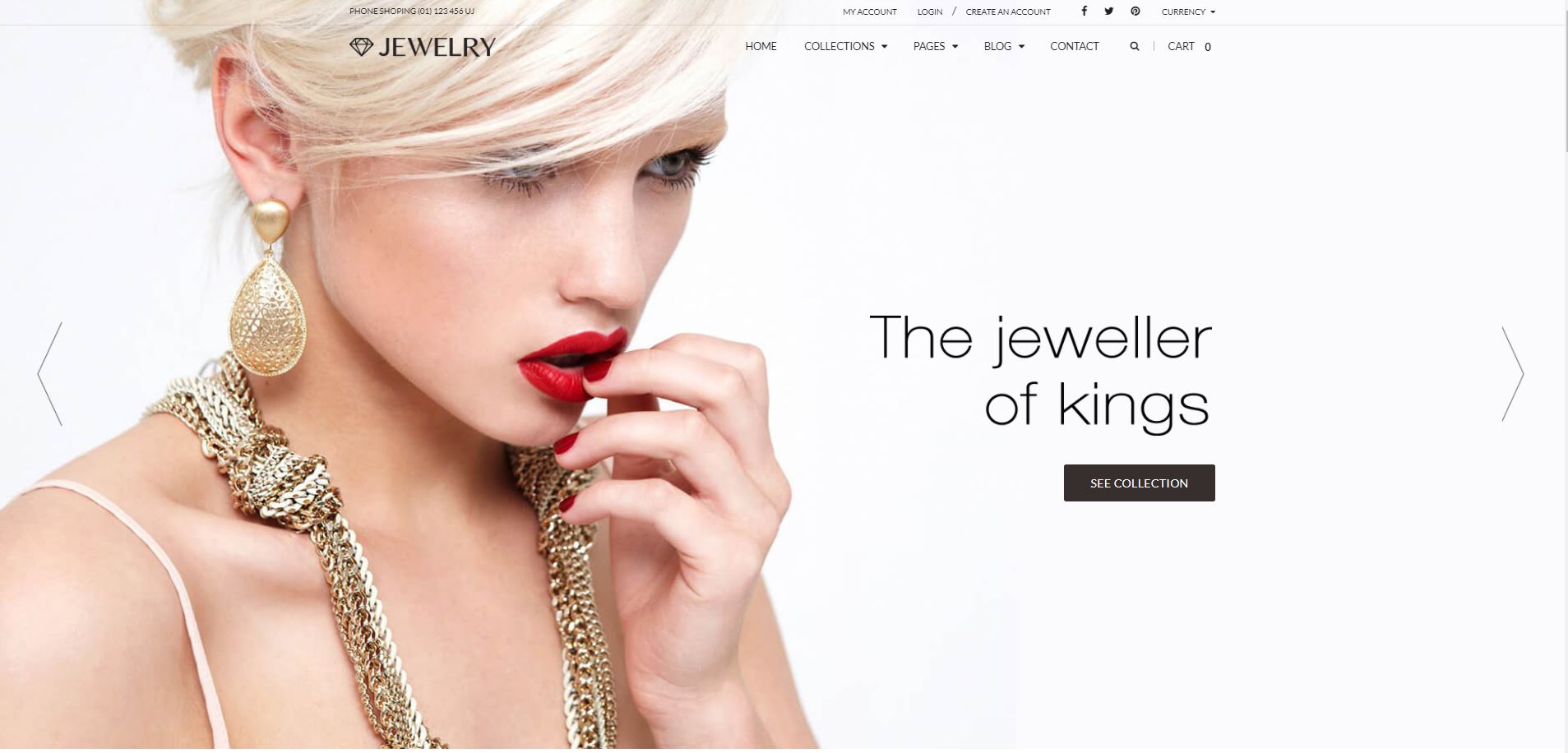 If you are seeking for an perfective Shopify theme for your luxury jewelry and accessories, you should not miss Jewelry This spectacular site canvas is a real eye-pleaser, thanks to its clean and contemporary design. Immediately, you get to select from five various home page samples. And there are even more to provide upcoming theme updates. Moreover, Lartique offers other internal pages, too, to set up an eCommerce online store quickly and effortlessly.
12. Jewelry Shopify Theme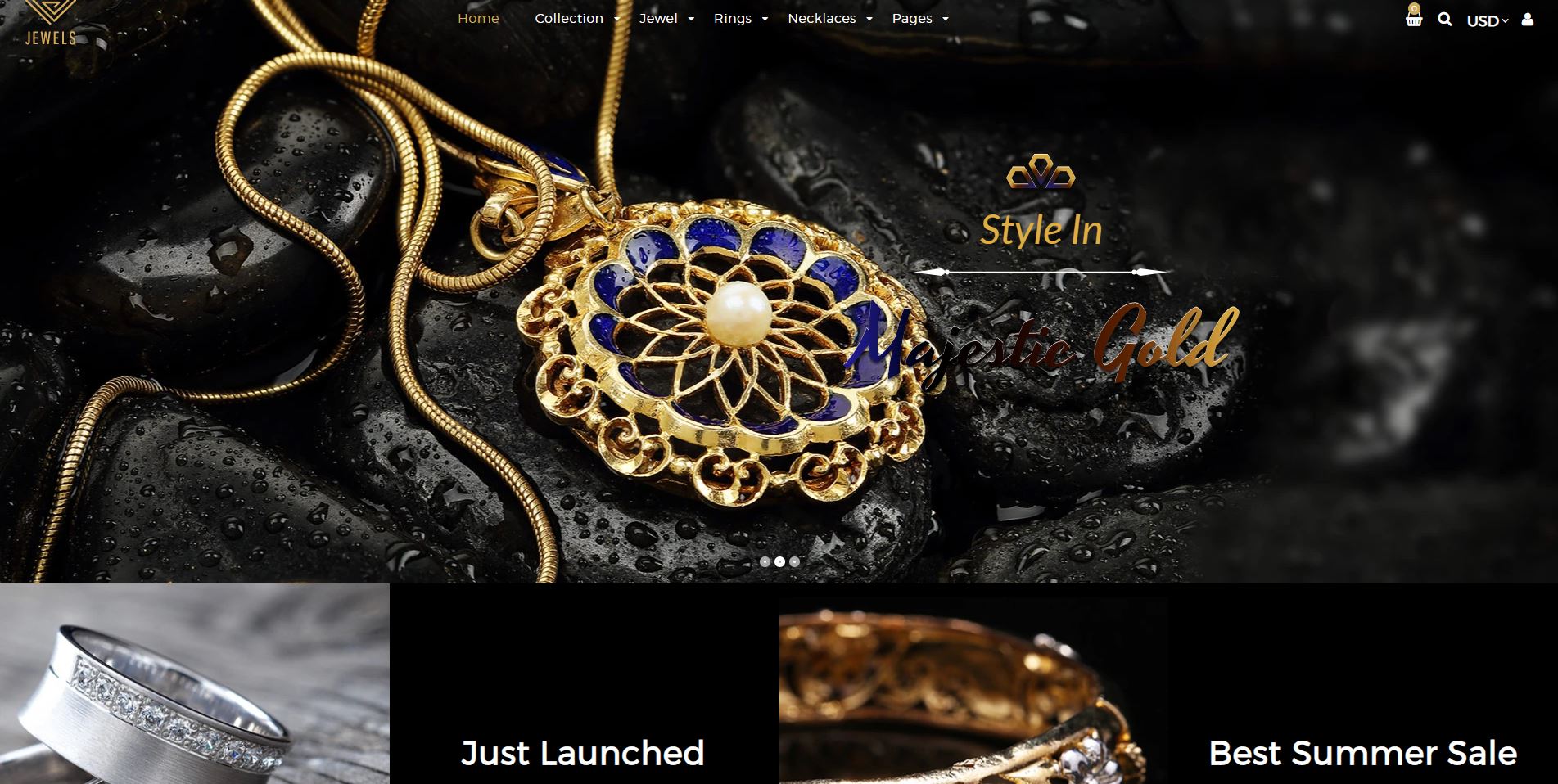 Jewels is a clean, professional, responsive theme for your Shopify store that stands out of the crowd. This stylish and fashionable Shopify theme is perfective for generating a Jewelry store, gift shop, mobile store, clothing store or any fashion industry related shop or any other type of e-store
13. Diamic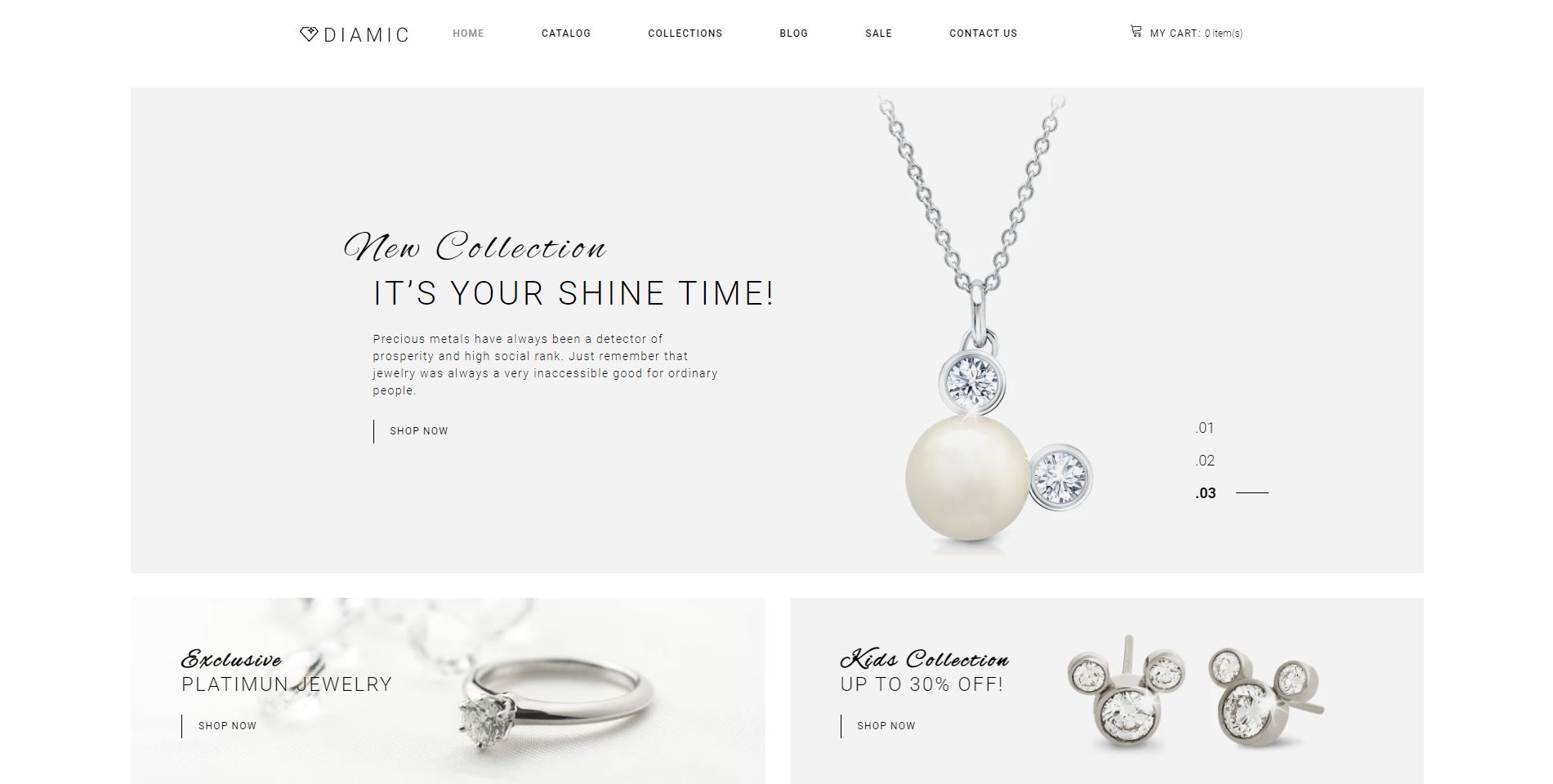 Seeking for a creative and multifunctional Shopify jewelry theme to ensure the best user experience and functions? if yes, Diamic is perfect for you. This out of the box Shopify theme is a great solution from its appearance to functions, all of the elements are professional and astonishing. You will found all your desired elements here to decorate your online store effortlessly.
Moreover, the clean and professional design help to boost the conversion rate as well.
14. Logancee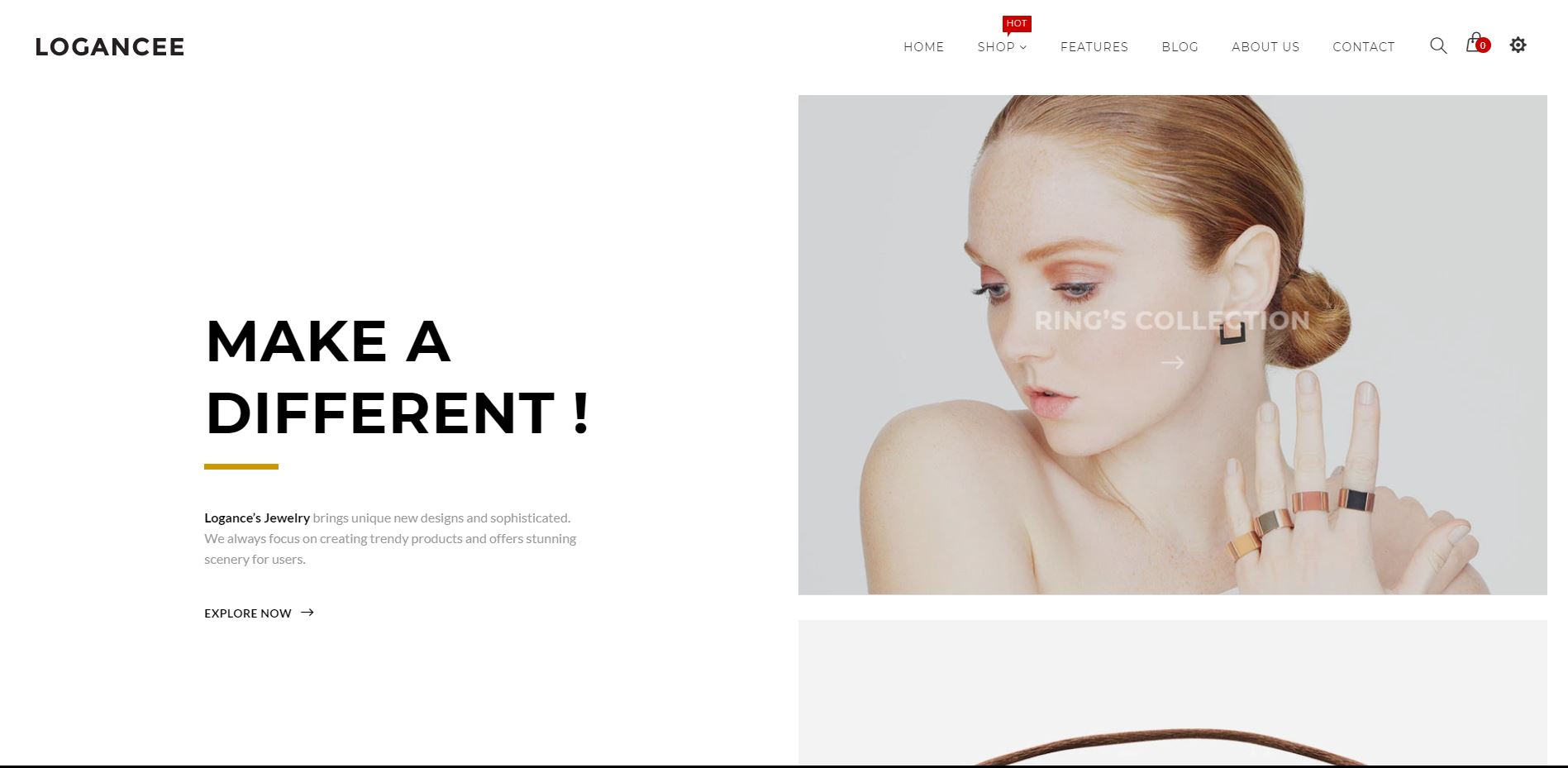 A perfective combination of robust functions and creative design makes a theme worthy and alluring. Logancee is a similar kind of responsive eCommerce theme that is crafted by passionate and talented designers to ensure the best user experience.
By the way, Logancee is perfective for both the professional web developer and business owner to establish an astonishing present in the online store. This one includes a large number of flexible funtions to solve multiple types of projects.
15. Kalles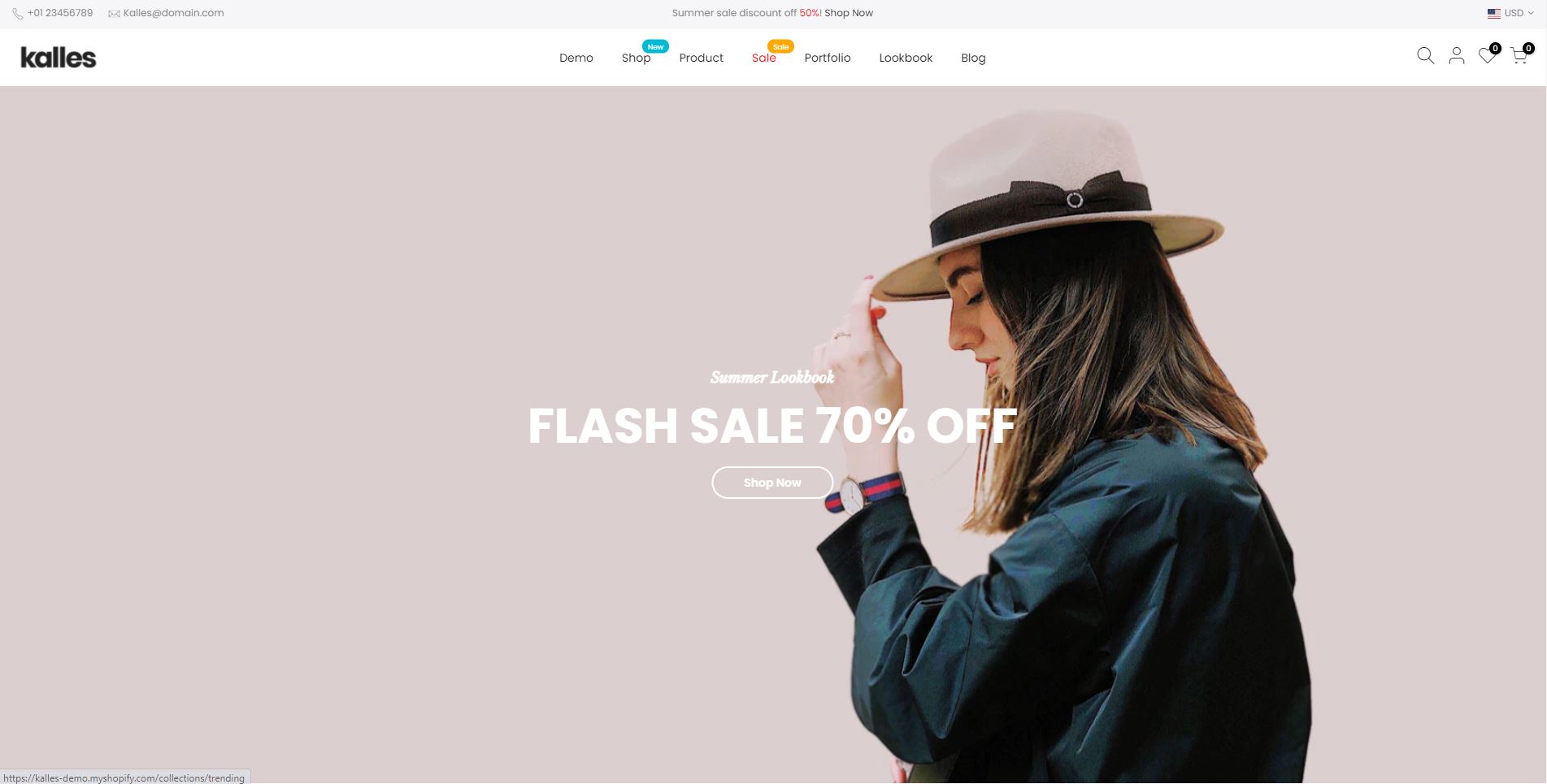 In the case of luxurious products like modern stone and jewelry products, you must makesure a luxurious presentation of your products to get the expected conversion. From this perspective, Kalles is one of the best Jewelry Shopify themes in this list. However, this one is the last product in this deliciated list of responsive jewelry Shopify themes. You can exclusively promote your jewelry website especially precious stone and ornaments through this beautiful themes