Shopify product recommendation app: Top 10 best free and premium apps for your Shopify store
Shopify product recommendation app is a smart method to retain your customers, recommend new products, improve the average order value, and increase overall sales. And to help you with that, Arrowtheme have compiled a list of top product recommendation apps on Shopify.
1. Product Recommendation Quiz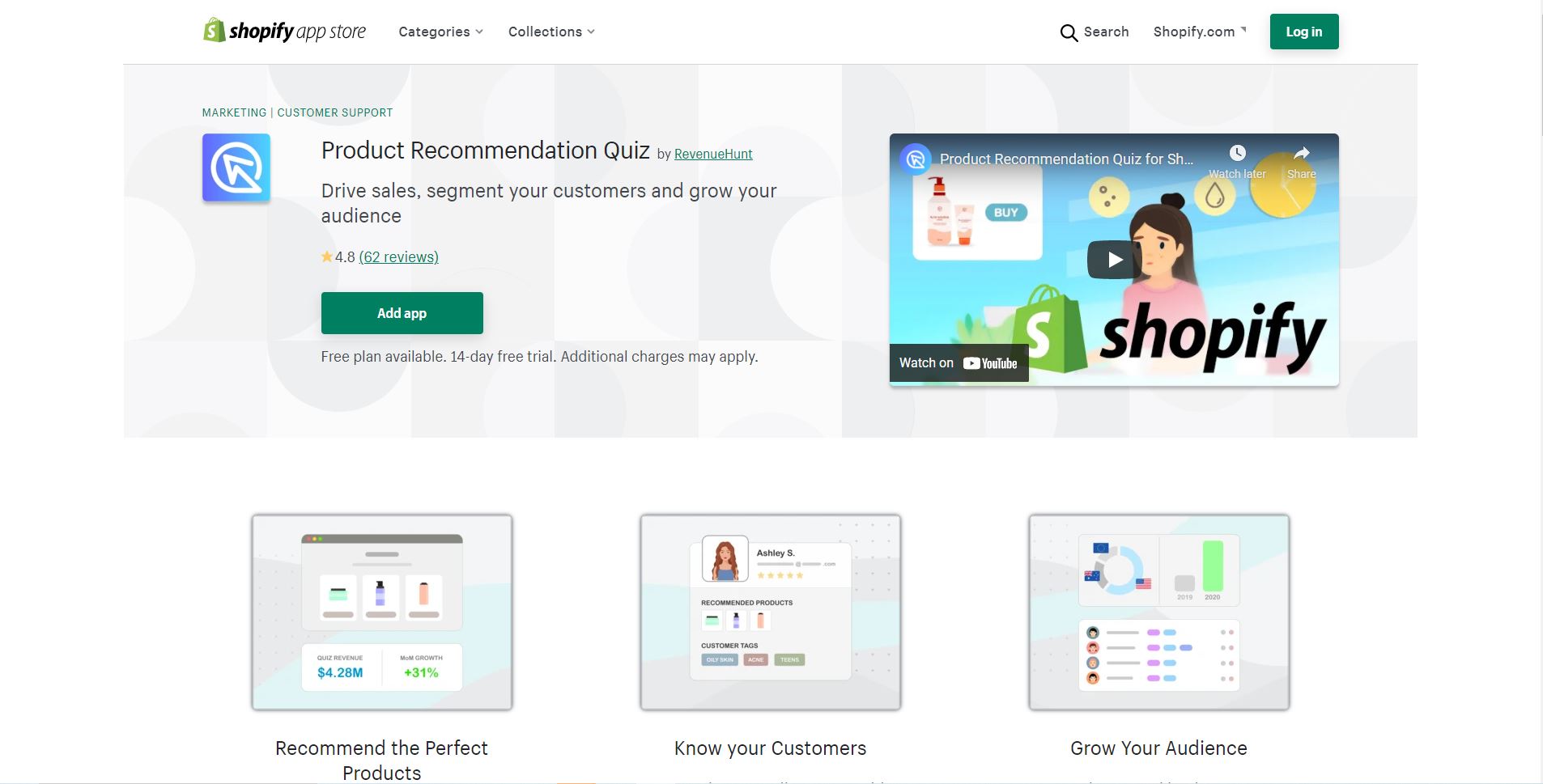 Product Recommendation Quiz is one of the most specialized product recommendation apps perfect for recommending the relevant items to your customers. Especially, the app uses a salesperson-like algorithm that asks personalized questions. Hence, you can use conditional logic and customize quiz questions to boost sales and decrease the cart abandonment rate.
The most prominent features:
Fully customize your quiz design with multiple display modes, fonts, and palettes
Generate human-like personal interaction using conditional logic
Helps to gather the customer information for lead capturing (i.e. re-targeting)
Works with a wide variety of niche stores
Integrates with popular CRMs for using quiz-based customer data in customer marketing campaigns
2. Personalized Recommendations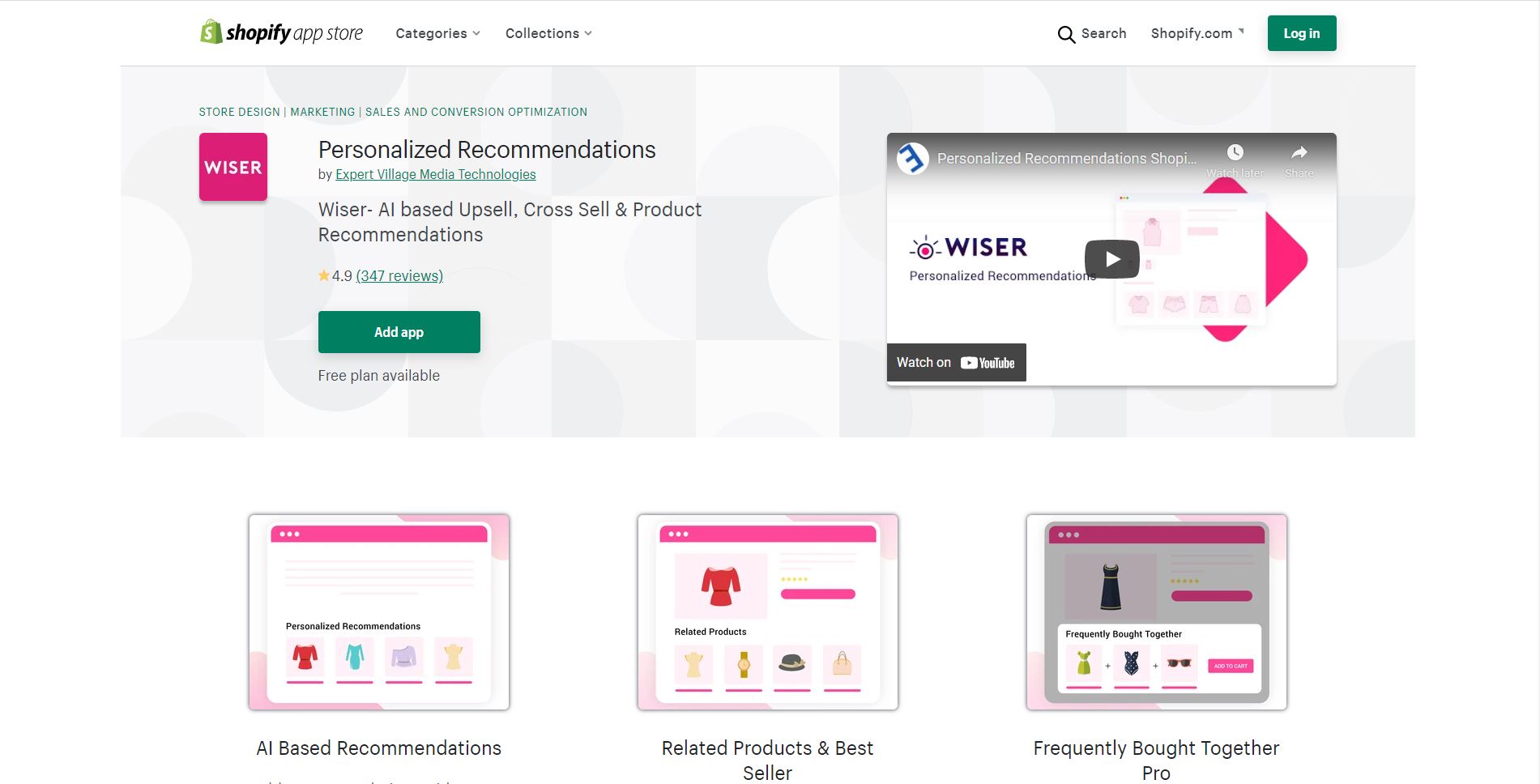 Wiser is one of the best Shopify product recommendation app specifically for improving average order value using upsells and cross-sells. Besides, this app offers multiple ways to recommend products.
The most prominent features:
Provide the personalized recommendations, thank you page recommendations, pop-up based, browsing-based, and more
Custom product conditions like collections, tags, vendor, or type
Send email recommendations using Klaviyo or Mailchimp integrations
Awesome analytics dashboard for tracking conversions
3. Ai Product Recommendations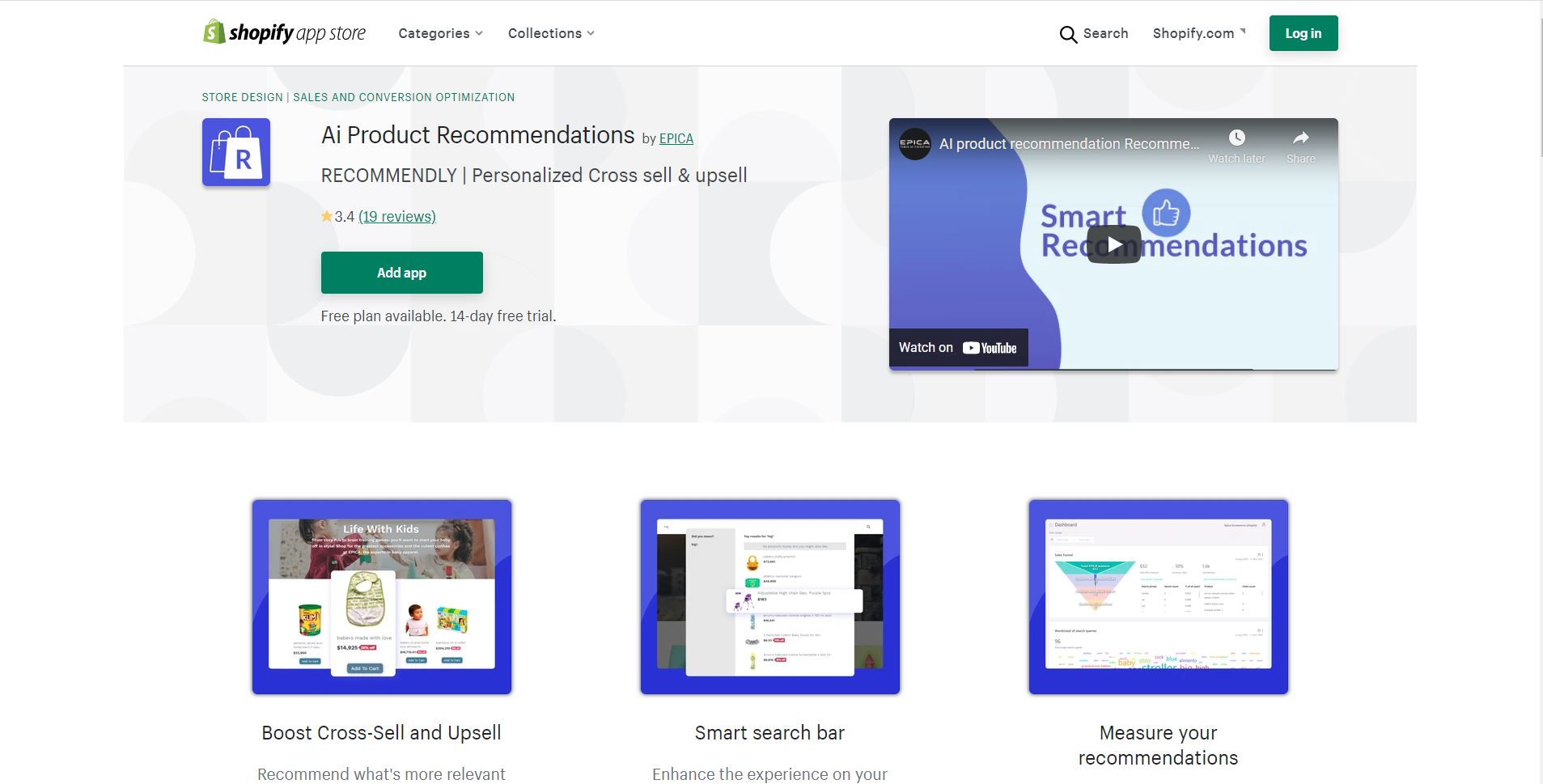 As a business owner you know the better experience you provide to your customers, the higher are the chances to improve the retention and boost your sales. Hence, AI Product Recommendations is a robust App drive-by EPICA artificial intelligence that helps you to provide each customer a personalized experience on your site.
The most prominent features:
Fully customize your recommendation widget to fit your brand style
Smart search bar for auto-complete, quick suggestions, synonyms, and recommendations
Real-time analytics to check performance
Show recommendation products as new arrivals, best sellers, trending, and so on
4. Also Bought Shopify product recommendation app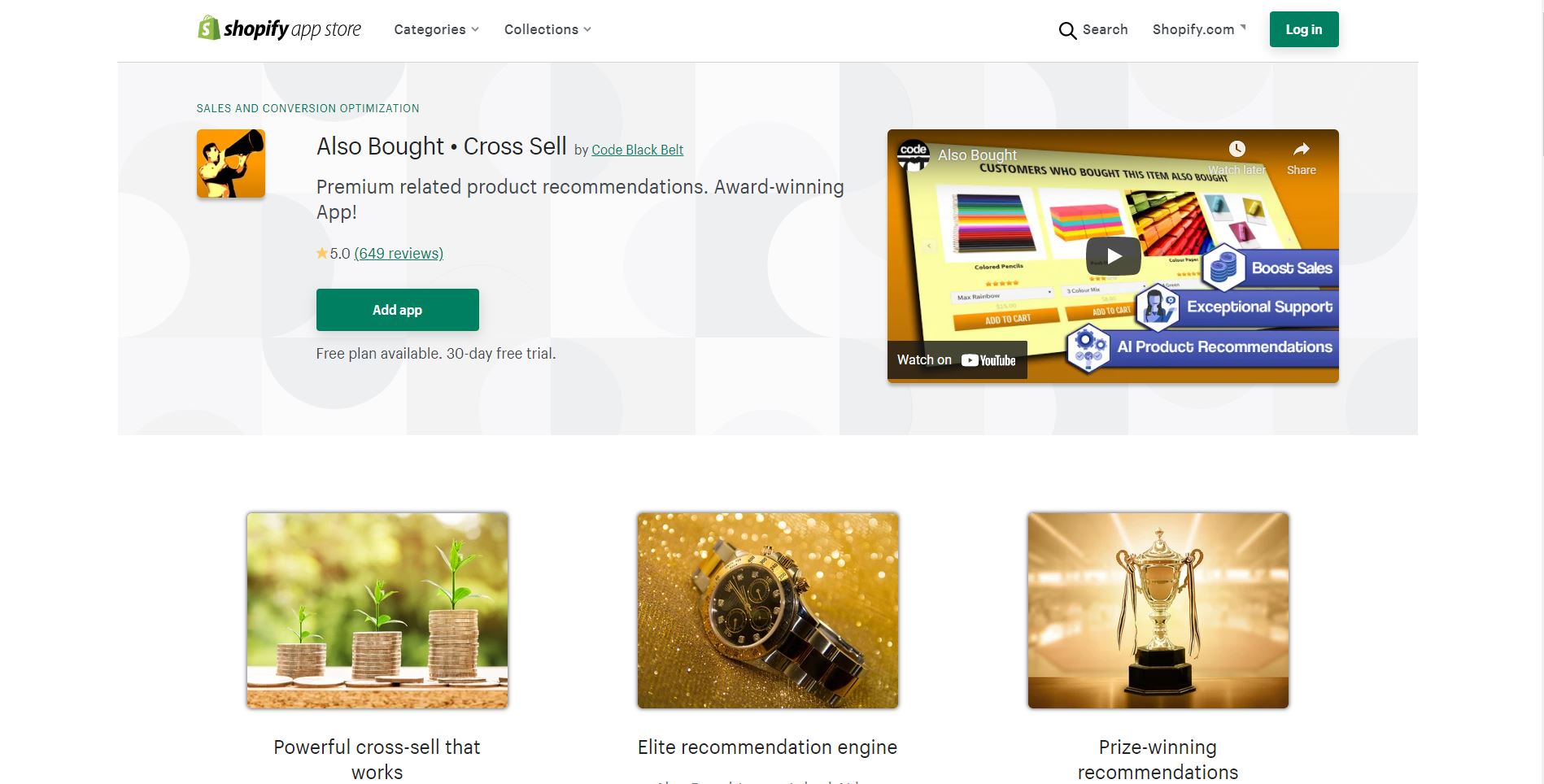 Also Bought is designed to boost average order value using cross-sell recommendations. What is exciting about it is that its Amazon-like recommendation system featuring "customers who bought this item also bought" suggestions. Beside, it equips you with a lot of helpful features such as
The most prominent features:
Automation recommendation system based on a data mining algorithm
Customize widget position or design
Showcase product ratings below recommendations using popular review apps
Setup manual recommendations for handpicked products
5. Cart Convert‑Upsell Cross‑sell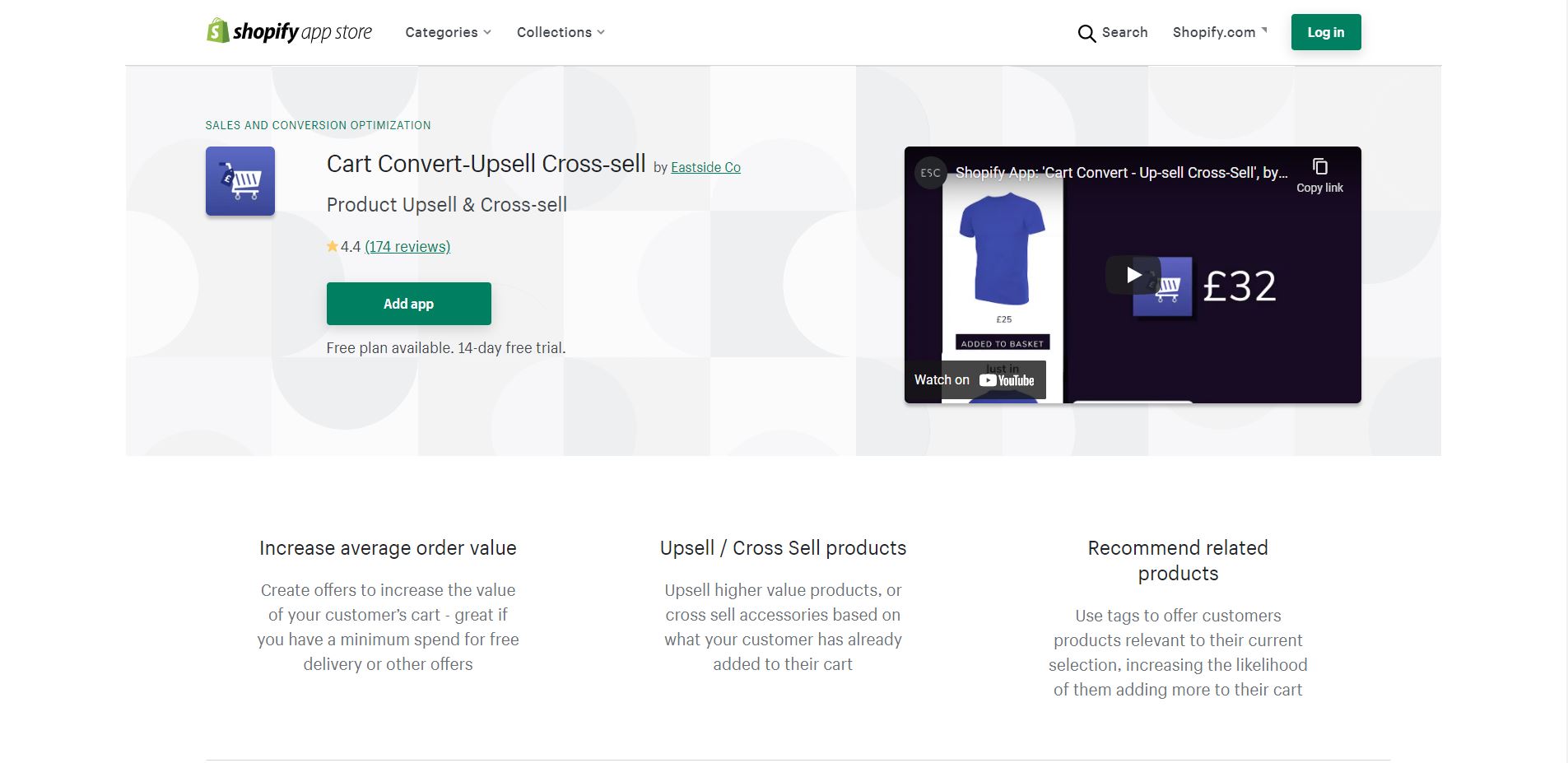 Cart Convert supports you to improve your product upsell and cross-sell abilities. Firstly, it helps you generate a group of recommended items based on customer spend and likelihood, and also set a spend thresholds for it. After that, these recommended products will be showcased on the cart page once they have spent that amount, which could lead to an increase in your up-sell chance.
The most prominent features:
Easy to use and set up
Offer unlimited carts
Great customer service
Free plan available
6. Recommendify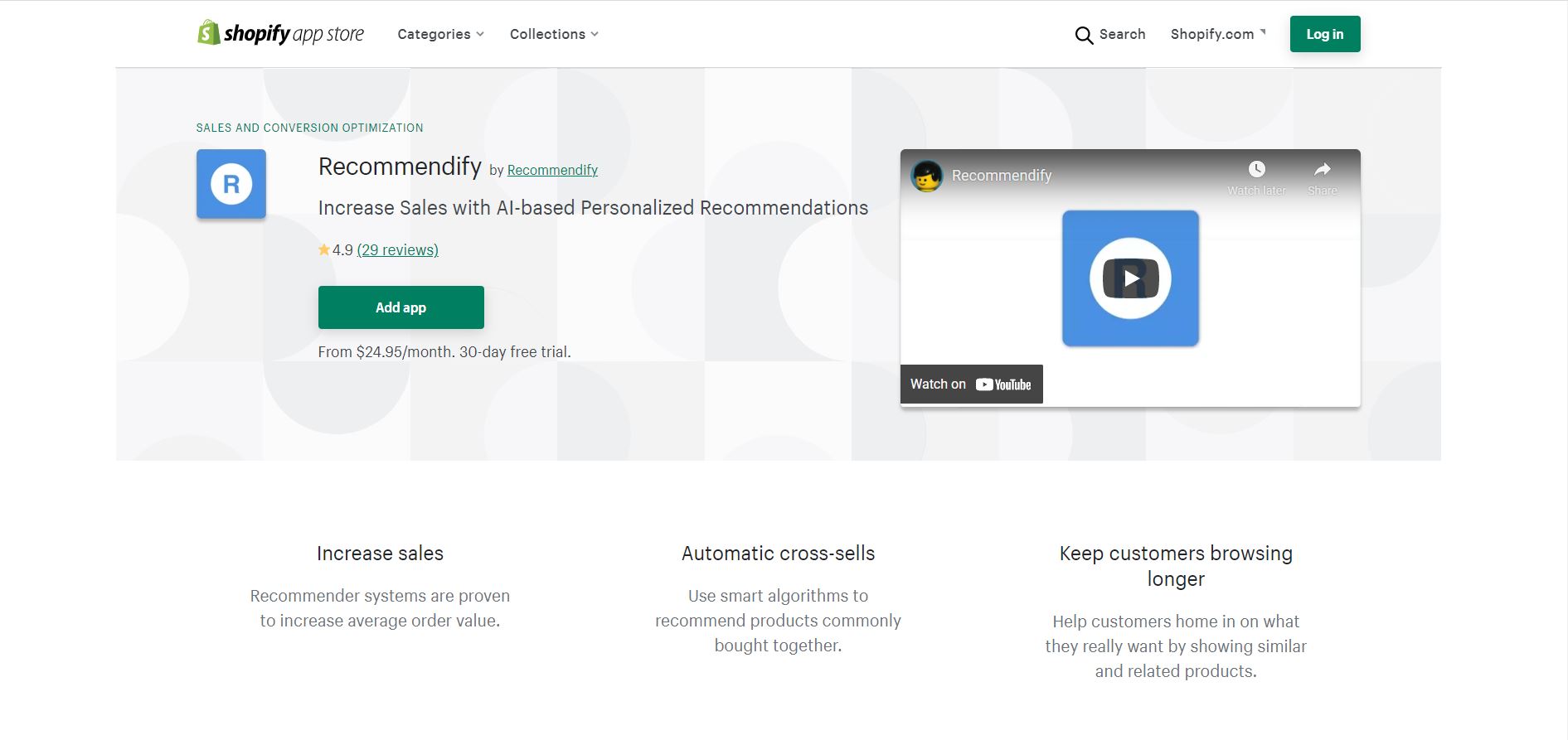 Recommendify is a Shopify app designed to support you boost sales and conversion rates by automatically recommending products combination. Besides, you could also easily manually hand pick products for suggestion. On top of that, this app make sure its effectiveness is recorded with a clicks and conversion tracking system.
The most prominent features:
Recommend products combination that are frequently bought together using smart algorithms
Showcase related or similar products
Manually choose products for recommendation
Tracks clicks and conversions
Push a product across your whole store with a few clicks
7. Directed Edge Recommender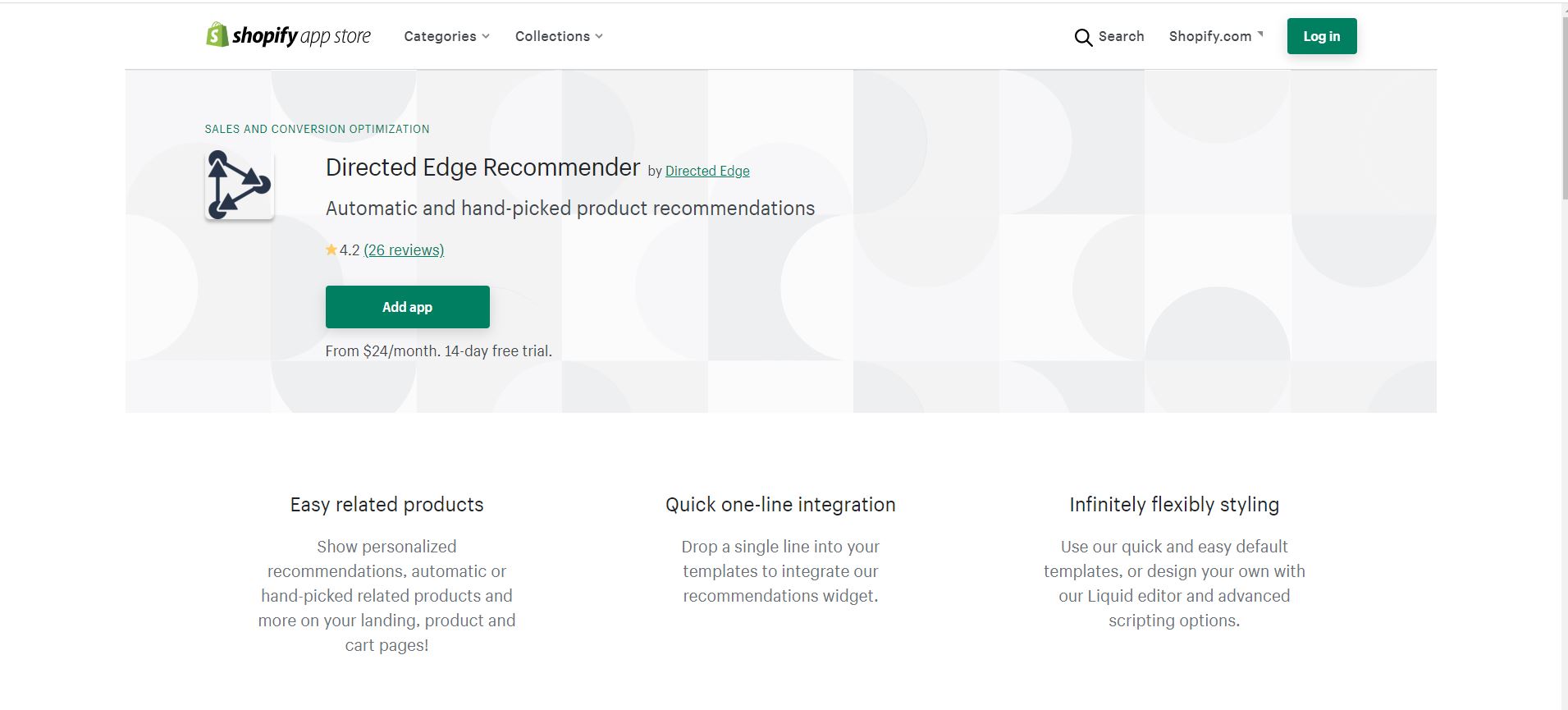 Directed Edge Recommender is a perfect solution if you are looking for an app providing you with the ability to increase your sale. Firstly, this app can personalize the recommendations shown to shoppers. It will analyze what they exactly need by their searching history and suggest the related items. Secondly, this app lets you to integrate recommendations feature just by dropping a single line into your templates. Thirdly, it also comes with quick and effortless default templates for you to use.
The most prominent features:
Personalize the recommendations shown to customers
Allow you to integrate recommendations feature simply
Offer quick and effortless default templates for you to use
Enable you to make your own templates
Display top items and recently viewed ones to clients
8. Upsell Recommendations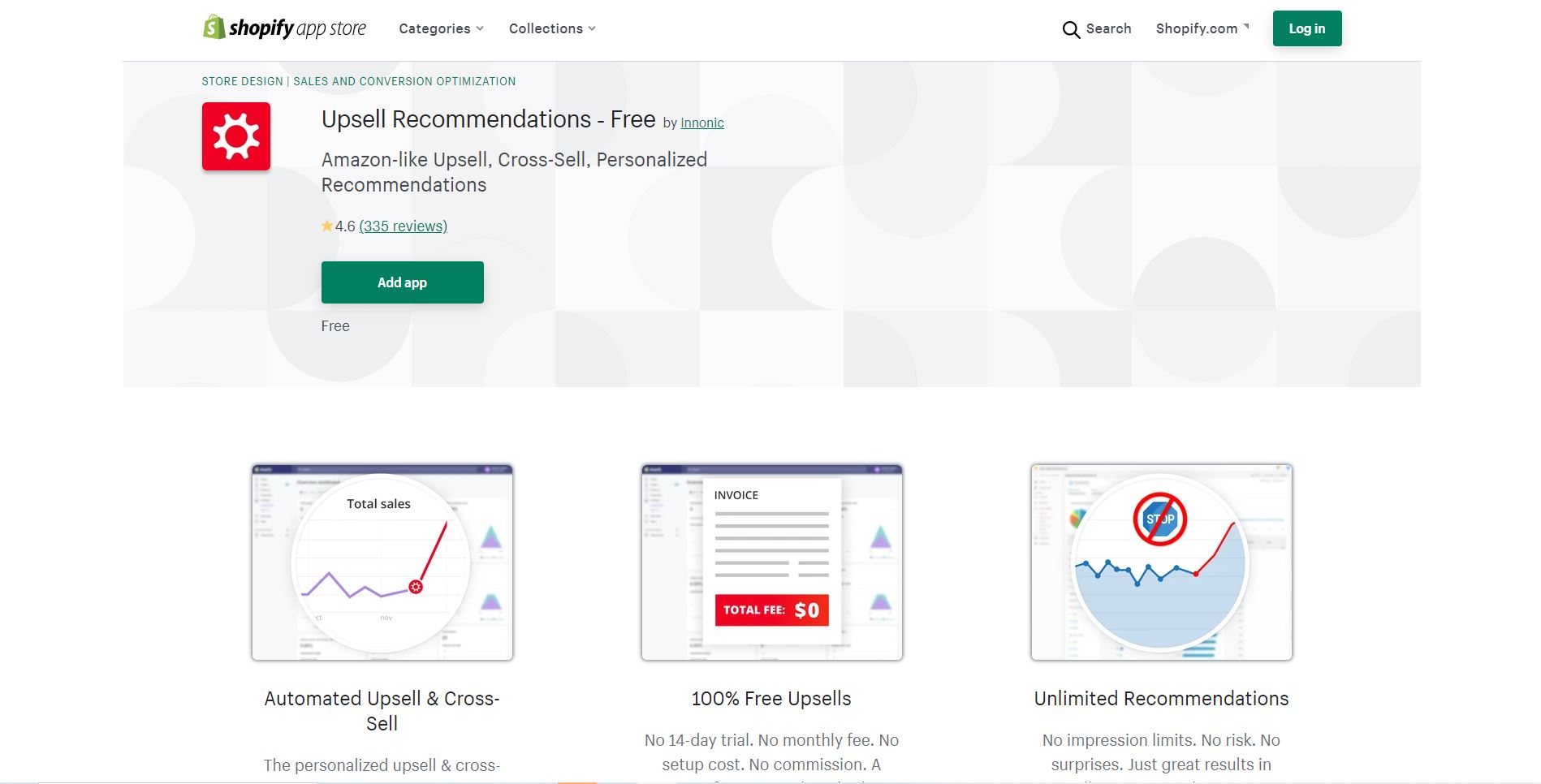 This free app supports you to add the related products and 'also bought' products to store pages across your site. Besides, this tool allow the owner stores to improve the chances that customers will order more products within one transaction. In that way, it also helps to increase order profitability, which is very important when it comes to those who offer free shipping.
The most prominent features:
Upsell Recommendations is a fast app, allowing you to have a fast website that will help keep user experiences great.
Will analyze the behaviors of the past customers on your store to predict trends and get the right product recommendations to customers.
Uses the very familiar Amazon-style to make customers feel more comfortable.
Can customize the widget and place it in three different locations.
9. Personalized Recommendations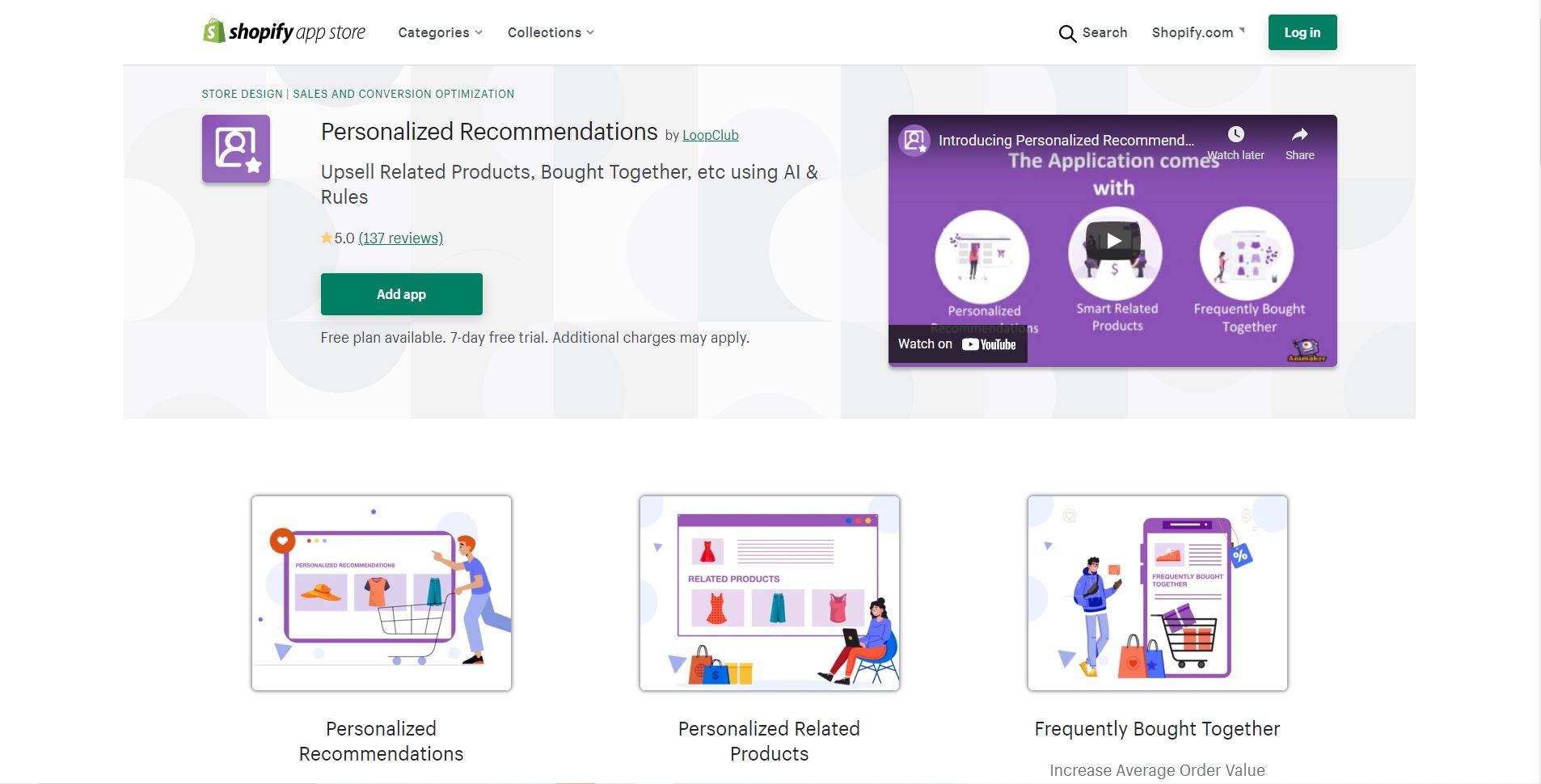 With Personalized Recommendation plugins, your store increase sales by showing personalized product recommendations. It 's designed to generate personalized recommendations using proprietary algorithm. Besides, this module allow you to manually configure the recommendations to meet your specific needs.
10. Better Recommendations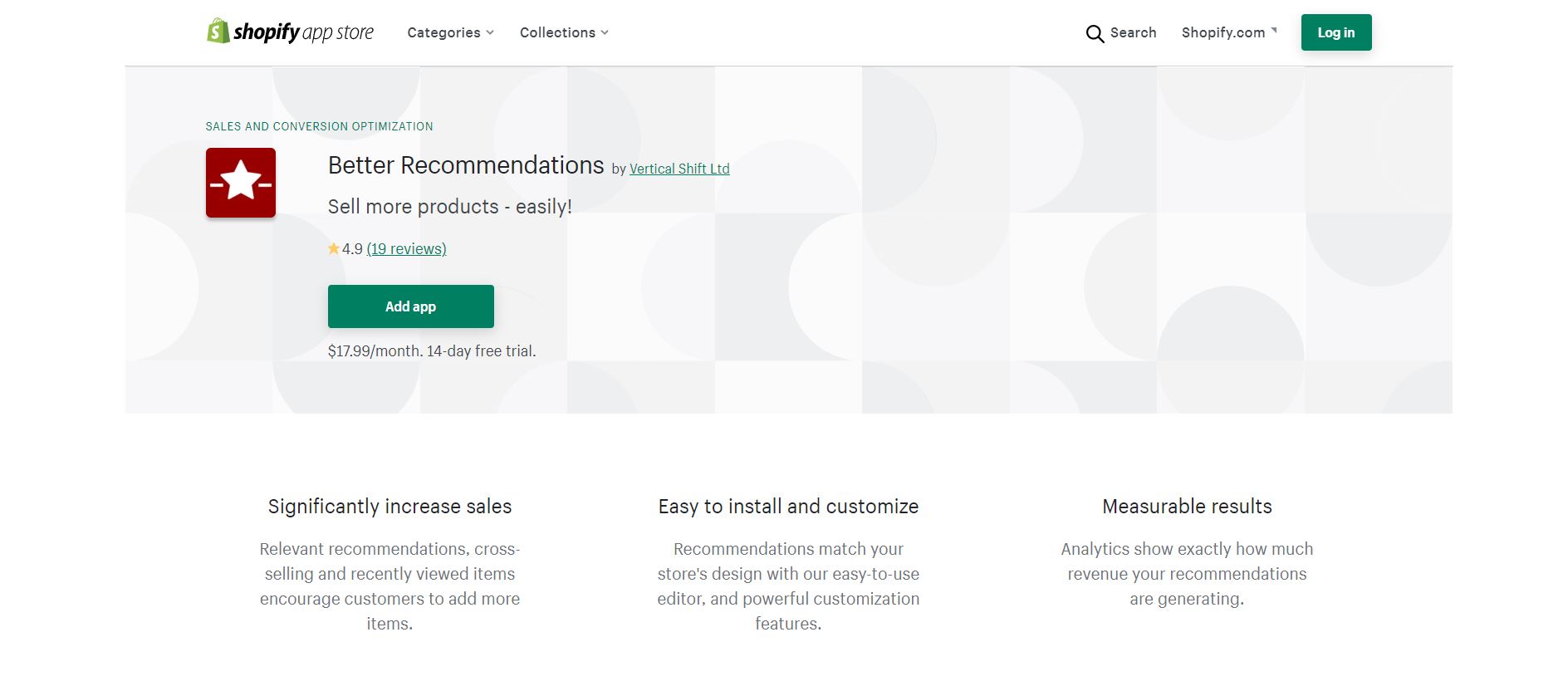 Better Recommendations is a Shopify app designed to help you with cross-selling by providing relevant product recommendations in the form of a displayed list of recently viewed items, or items that are frequently bought together. With its stage-of-the-art product recommendations algorithms, you could not only boost your sales but also fulfill customers' shopping experience. Plus, this module allows you to keep track of the exact amount of revenue generated by your recommendations.
The most prominent features:
Cross-selling: provide relevant product recommendations
Display list of recently viewed items
Stage-of-the-art product recommendations algorithms
Customizable to best match your store's existing design
Keep track of the exact amount of revenue your generated by your recommendations
Final Word
Recommended products played an important role in navigating, suggesting the customers as well as boost the sales for your Shopify store in the most sensible and wise way. By using a Shopify product recommendation app, you can improve the order value for most orders. Besides, choosing a Shopify theme with full functions of e-commerce site is perfect solution for your business.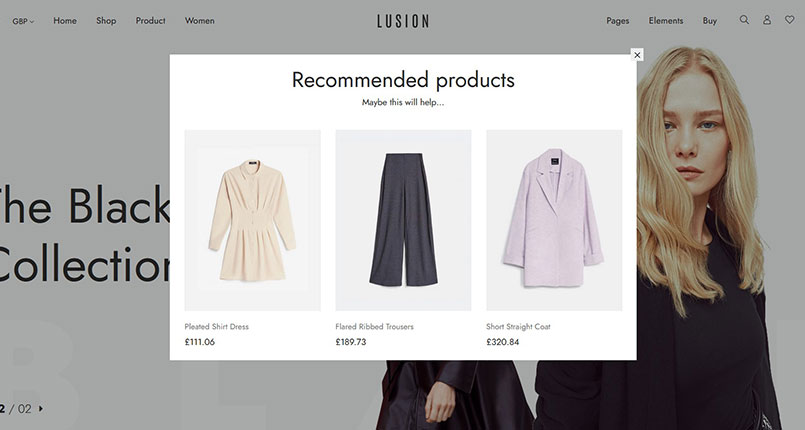 Lusion a great choice for anyone considering a shop online with clean and modern design. Also, it also integrated with recommended products module which allows you easier to showcase related products to the customers. In this way, the customers will find it much easier to find the necessary products that they don't even know they need. Furthermore, theme also comes with a lot of prominent features including:
The most prominent features:
The newest feature: Product 3D, as well as AR Model, Google rich snippets structured Data, AJAX Search Autocomplete
Theme is optimized for Drop shipping.
24 + Pre-made demos
Compatible with top plugins including MegaMenu, ajax search autocomplete, native Shopify quick view, Ajaz product filter..et
One-click Demo Importer: one theme importer already offers pages, posts, sliders, widgets, and so many more
Fake Sales Popup: Easy way to convince visitors stay around
Full Customizability: modifying is more simple because you don't have to write any new coding
Want to see more information on the Lusion theme, let check it out via the Themeforest!
Wrapping up
If you are considering a suitable Shopify product recommendation app for your store, you should look for professional help from us. At Arrowtheme – we provide the integration and customization service for Shopify to help merchants improve the customer experience. Especially, our packages are ready to provide you with 30 % OFF !!! You can check our Shopify service at Here. We'll be happy to provide you with a free consultation.