Shopify sales tax app: Top 10 best free and premium apps for Shopify stores
Basing on the app store rating, the number of reviews, the app's unique features, and other subjective parameters, Arrowtheme have curated Top 10 best free and premium Shopify sales tax app. We hope this list will help you in your research to pick the best suitable app for your Shopify store.
1. TaxJar Sales Tax Automation

TaxJar is a powerful sales tax automation app help to save you hours on calculating tax and filing reports. With some simple clicks, this module will automatically fill in your tax forms and send it to the states on behalf of you
Because being connected to top marketplaces such as Amazon, eBay, TaxJar Sales Tax Automation is a great place for you to organize your sales tax obligations. Also, the data of your Shopify store also keep updated automatically everyday to prevent confuses and surprises at any stages. More than that, this app will also provide you a comparison table to show you how to gather the right amount of sales tax as well.
2. Exemptify

Exemptify allows the store owner to use their tax rules by configuring the prices excluding VAT while visually adding the VAT back to the prices in Shopify store. Besides, this app also offers a Geo IP database and make it possible for you to show prices including or excluding VAT based on the customer's physical location. On top of that, it also enables you to validate EU VAT IDs in real-time and sell VAT-free to other EU businesses.
3. Invoice Falcon


With Invoice Falcon app, you may generate any of those files without creating an order on Shopify. You can make an order to send a bill that's truly and singularly yours. Especially, you can easily customize your invoice's colors, add your brand, create a thanks message for customers, and upload your social media hyperlinks. More than that, this app will automatically sends a PDF invoice to the customers' email to cope with as quickly as. In short, this Invoice Falcon acquires straight payments for any order via connecting the app to Stripe. With quick installation, you can have this robust app and take benefits of it.
4. Tax Exempt Manager

Tax Exempt Manager is a distinctive app that allow the store owners to comply with the rather complicated European Union tax laws. As you know about the problem that B2B clients in other EU countries can or must purchase without VAT. This is not that easy since it is only the case if a shopper transmits his VAT ID to you and can then also buy tax-free in the shop. Needless to say, this app works completely without a customer account. So your clients don't have to register and login to take advantages from the VAT exemption.
5. Duty and Tax


Duty and Tax is a powerful app which enables you to calculate and gather duties and taxes on all your international orders. This module comes with some unique features which can simplify the fees calculating process of your Shopify store. Firstly, it counts various types of fees including duty, tax, VAT, brokerage, disbursement, etc. And the duty and tax will be added in the shipping amount. Besides using the Shopify Ship API, this module also calculates the international shipping rates. As a result, you can enhance the experience of users and decrease the number of shoppers who refuse to pay duty and taxes. In addition, this module also allow you to calculate the shipping rates for various carriers such as express carriers, postal carriers, and LTL.
6. Dual Price Display PRO

If your clients are both B2B and B2C, or if you sell to businesses and individuals, then this Dual Price Display PRO will help you showcase prices correctly to all your clients. With the support of this app, you can easily display both prices in your home page products, catalog products, searched products or product details. Moreover, you can even display both prices for all product variants in product details. Similarly, you can easily charge the prices after any of the variants are chosen.
7. Quaderno ‑ Taxes Automation

Quaderno is a robust tax app for Shopify store owners to struggle to meet tax deadlines and maintain compliance internationally – and who want to make life a little easier. In addition to that, this app allows store owners to maintain compliance around the globe. At the same time, the store owners enjoying the peace of mind that the main tax, invoicing, and bookkeeping concerns in their businesses
8. Sales Tax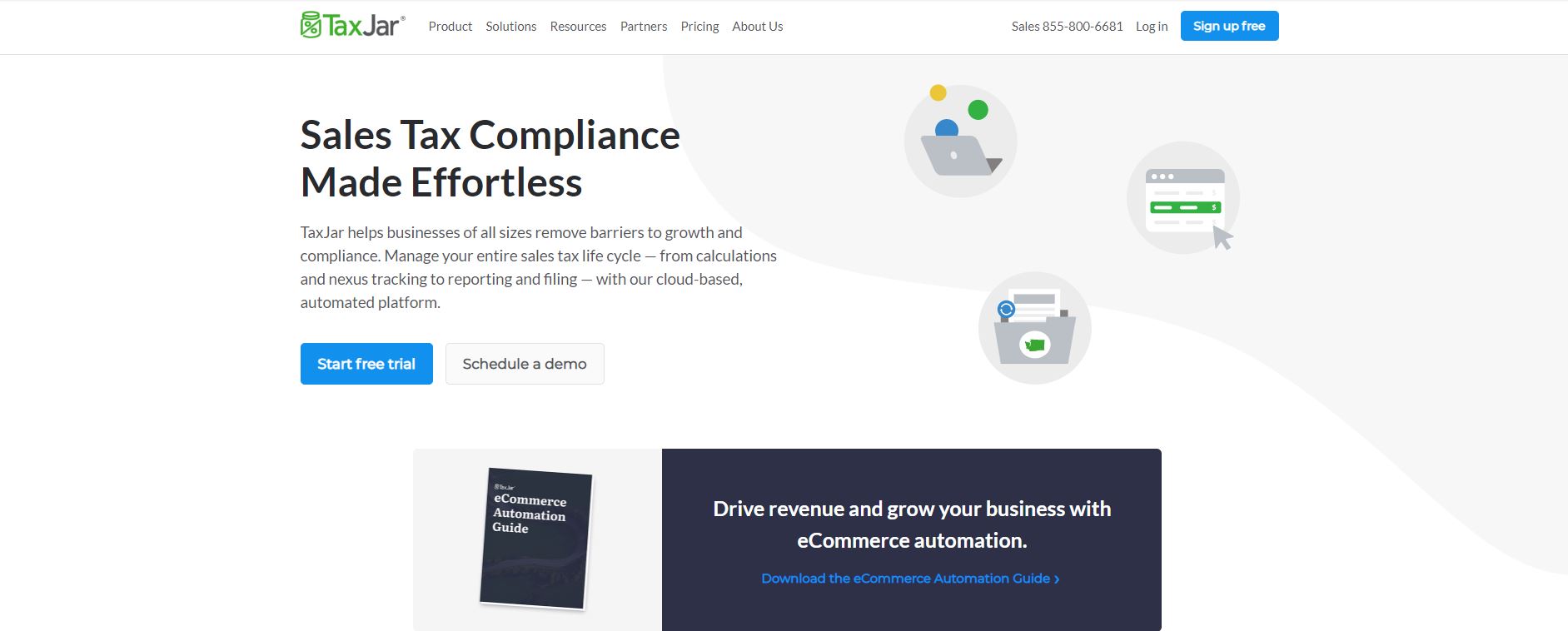 TaxJar is a useful Shopify sales tax app with the potential features to save you hours on calculating tax and filing reports. Besides, this app support you with the red tape of running your business, make sales tax collection and reporting easier, and make sure you never again miss a due date.
9. Tax Receipts

Tax Receipts app also support the store owners to donate their amount of money back to the society. Also, this app allows the customers to choose the products receiving tax receipts and how many percentages for partial donations.
At the same time, with the customizable tax receipts, the users can easily design the receipts before sending to the customers or select to transfer the receipt to the PDF. Besides, store owners can helps the customers to donate to society by purchasing charitable products in the Shopify marketplace. On top of that, this app enables the sellers to customize their design of the Shopify stores, so they can create their own stores with the best performance.
10. Hurdlr ‑ Expense Tracker

Hurdlr is a simple expense tracking app for Shopify users like you who don't need a complex accounting system. Moreover, smoothly tracks all of your Shopify sales, expenses, fees, refunds, mileage and tax deductions in real-time, on the go — saving you valuable time and improve your sale.
Wrapping up
If you're already doing a Shopify website, it's likely that you're at least reaching some app to power up your website. But remember, it is always much better to have the best support for experts. You can find a technology company to do integration and customization for your website. At Arrowtheme, we provide the professional service to help merchants improve the customer experience. Want to know more about our Shopify service? Check it out
In particular, for all of our Shopify services, we are running a discount program that gets up to 30% off. !!! You can check our Shopify service at Here. We'll be happy to provide you with a free consultation.