Top 10 best wholesale app for Shopify with advanced features
The best wholesale app for Shopify can help you increase your average order values by offering discounts to your wholesale customers. The following are the top 10 powerful apps to take your website to the next level
1. Wholesale Club by Pixel Union

Developed by Pixel Union, Wholesale Club app can restrict discounts to only selected collections and products. Also, this app offers multiple pricing points and a members-only pricing functionality. This plugin starts at $24 per month for a 300 monthly orders cap, and $49 per month for unlimited orders. It has a 7-day free trial.
Tier your customers
Ultimate compatibility
One-time setup
Offer "Net" payment options
2. Wholesaler

Wholesaler allows the store owners to easily select which customers should have the access to wholesale prices. The approved wholesale shoppers are the only ones who can see wholesale product prices when they're logged in. Besides, this module also comes equipped with a lot of robust features like NET/TERMS checkout and shipping / tax overrides for the wholesalers. With no variant duplication, you will never have to worry about integration with inventory management systems or various sales channels. Set the fixed price or the % off of the retail price and you're good to go.
Net / Terms checkout
Tax overrides for wholesalers
Shipping overrides for wholesalers
Bulk product price uploads
3. Wholesale Gorilla

Wholesale Gorilla uses customer tags to discount products for customers who are logged in to your online store. You can generate tags manually, or tags can be created automatically by the app when a new client signs up. Simplify your life by merging wholesale and retail into your existing Shopify website.
Integrates smoothly into your website without generating duplicate variants.
Set wholesale prices for your entire website, specific collections, products, or variants.
Generate prices as a percent off the original amount, or set a new fixed price.
Set a minimum order value for wholesale orders.
Including wholesale prices to orders created manually in your Shopify admin.
Easy to use interface – no coding required.
4. Wholesale ‑ All in one

Wholesale All In One allows you create tiered discounts for specific groups of items and customers. Besides, it enables you to easily create discounts for VIP or wholesale customers. Similarly, you can apply the discount across your entire store, or for a specific collection, product or variant.
Create multiple wholesale pricing to variants, items, collections or store-wide
Provide multiple volume discounts to variants, products, collections or your entire store
Set special shipping rates and apply minimum order limits
5. Wholesale Personalized Pricing

As a store owner, you might want to set up the different prices for different clients. Customer loyalty only translates to more sales after all.
Your regular and loyal clients like it when you as the store owner notice their importance and offer them perks and advantages that other shoppers don't have. By setting a special purchase price for certain customers, is the biggest step towards customer personalization for any store and we all know the importance of customer personalization in today's competitive world.
Set different price for each customer
No limit to customer-price pairs that the store owner can add
Multiple pricing tiers for bulk purchases
Give a discount to guest customer/visitor
Offer flat rate custom product prices discounts to customers
Works with Simple and Variant products
6. Wholesale Simplified

Wholesale Simplified helps any merchant to provide discounts for different groups of customers. With the app, users can use the same store for wholesale and retail customers. Additionally, the app enables merchants to set up different price levels. For instance, VIP customers can get about 15 percent off T-Shirts or 30% off pants. Moreover, there are no extra variants automatically created by the this module, and you can feel easy to set a discount rule by discount tags and rates.
Offer discounts for users' groups for different collections' products
Set up different price levels
Enable users to set minimum quantity in orders to get discounts
Check and maintain product inventory without extra variants
Set discount rules with discount tags and rates
7. Wholesale Pricing Manager

Wholesale Pricing Manager is one of the best wholesale app for shopify to turn your current store into a wholesale store. It provides you tons of helpful features to solve your work in an automatic and easily way. Firstly, this app equips you with unlimited wholesale statuses. You can select one which makes you feel suitable. Secondly, you can use this module to set a discount rate by percentage, or else, by money amount. Your customers will feel it more profitable and convenient when they purchase products from a wholesale shop as yours. Thirdly, this module sets numerous price levels for the same product. It's to encourage the shoppers to buy more. The more they purchase, the more discount they will have. Finally, you will have a notification letter instantly if there's a new status assignment.
Equip you with plenty of wholesale statuses
Set a discount rate by percentage or by money which has the same value
Set numerous price levels for the same product automatically
Send notification letters to inform users of a new status assignment
Allow customers to purchase products with discounts for separate collections
8. Wholesale Catalog Maker

The Best wholesale app for shopify helps you to make the wholesale items become your online store's products. With this, you will experience lots of beautiful features to increase your sales. First of all, it is not only customizable but also beneficial. You are provided with the most multifunctional tool named Catalog Maker Studio to make your custom e-catalog. In addition, you can use it to design your own templates for your page or products. The second special widget is that this app encourages your clients to make more purchases to get more discounts. The same product may have different discount levels. If the amount is smaller, the discount for it is also lower. Hence, to ensure their own benefits, they will make purchases as much as possible. Finally, this app simplifies the order process so that the customers are able to buy products more quickly and easily.
Provide you with plenty of templates to customize this app
Allow you to sell the wholesale products on your online store
Encourage your clients to make more purchases to get more discounts
Simplify the order process for the clients to buy products
Provide you with the most multifunctional Catalog Maker Studio
9. Wholesale Club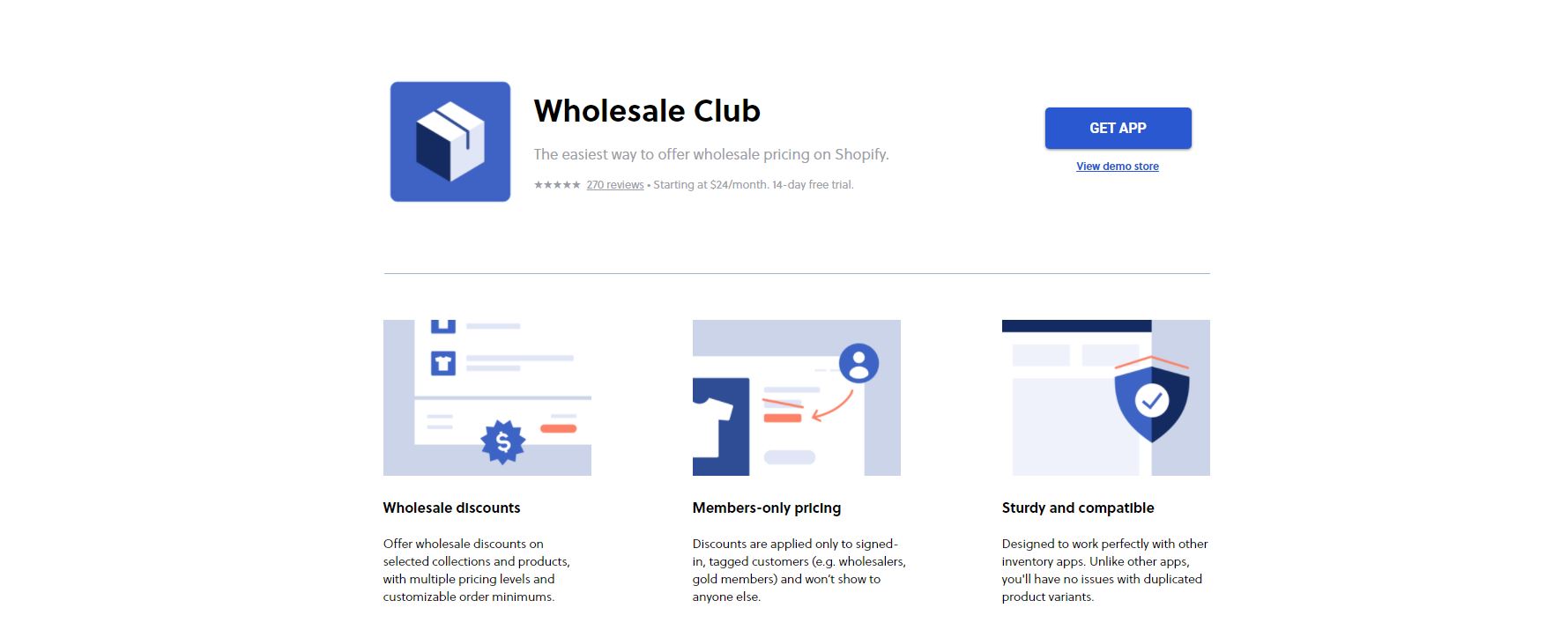 This Shopify app allows you to reward and encourage your customers by offering the discount. As far as we know, the customers like to get discounts when they make purchases because they will feel beneficial. As a result, they will buy a large amount with each order, you can sale many products at once. Secondly, you can generate numerous levels of discount rates. This will encourage the customers to buy more and more. In addition, this module also prevents items or variants from being duplicated. On top of that, this Wholesale Club allows your shoppers to create an unpaid order is the third outstanding widget.
Help you to reward and encourage the clients by offering discounts
Help you to generate diversified levels of the discount rates
Prevent products or variants from being duplicated
Enable customers to create an unpaid order and pay back in the time frame
Allow you to group your shoppers into many different tiers
10. Wholesale by Bold
Bold Custom Pricing is a helpful Shopify app that comes with several wholesale and tiered pricing for your products. The module automatically set pricing rules. Also, it automatically upgrades dealers to wholesale levels with special discounts as they purchase in bulk. Additionally, the app does not create any duplicate variants or hidden products, so security is always ensured.
Provide several wholesale and tiered pricing for your products
Set automated pricing rules
Auto upgrade dealers to wholesale levels as they buy in bulk
Provide bulk discounts to your customers
Create no duplicate variants or hidden products
Conclusion
With the above the best wholesale app for shopify list, we hope Shopify store owners can boost sales and also spread their business in the wholesale section. 
If you're already doing a Shopify website, it's likely that you're at least reaching some app to power up your website. But remember, it is always much better to have the best support for experts. You can find a technology companies to do integration and customization for your website. At Arrowtheme, we provide the professional service to help merchants improve the customer experience. Want to know more about our Shopify service? Check it out
In particular, for all of our Shopify services, we are running a discount program that gets up to 30% off. !!! You can check our Shopify service at Here. We'll be happy to provide you with a free consultation.