Digital commerce: Challenges, upcoming trends and effective strategies with examples
The digital commerce industry is becoming more and more popular. The global pandemic of Covid-19 made digital commerce to be necessary for both B2B and B2C buyers, prompting half of shoppers to purchase things they had never purchased online before, with 70% purchasing more than usual. Therefore, to meet your curiosity about Digital commerce, in this blog, ArrowTheme will give you useful information on Digital commerce: Challenges, upcoming trends and effective strategies with digital commerce examples. That is the reason why you have to read this article carefully. Make sure that you are ready. Because we will start now.
What is Digital commerce?
This question can be answered in a variety of ways. However, to be the simplest to understand would be – Digital commerce (D-commerce) is defined as the purchasing and selling of products and services through digital channels such as the Internet, mobile networks, and commerce infrastructure.
Therefore, let's take a look at some Digital commerce examples below.
Digital commerce examples
People, methods, and technologies that execute the offering of development content are all part of the marketing efforts that support these transactions.
Promotion and analytics
Pricing
Acquiring and keeping customers
Throughout the consumer purchase journey, at all touchpoints, provide a positive customer experience.
Digital Commerce Classification
Active Digital Commerce: Active digital commerce refers to businesses which are actively selling goods and services and also accepting payments online.
Passive Digital Commerce: Passive digital commerce is defined as businesses which market their products and services online but take payments offline.
What is the motivation for Digital Commerce?
Providing the best customer service
According to Qualtrics research, more than 65% of customers believe a company's app or website influences their overall experience. Therefore, these individuals described the internet experience as "extremely crucial" in recommending a brand. In recent years, this has been a popular concept among traders and retailers that want to increase their order with less work. This is an important solution. Through this method, several distribution channels with inventory and fulfillment sites are centralized.
Coming up with the evolving competition
If you aren't currently thinking of a customer journey plan, you should definitely consider doing so. Because your competitors' digital business are likely to include this. Moreover, you should concentrate on moments of customer relationships that drive brand loyalty. So you may start to recognize exactly what makes a customer want to suggest your brand experience to other people.
The Advantages of Digital Commerce for Businesses
Easy to expand
Traditional businesses have difficulty of by their physical location. However, developing a business using digital commerce can be quite simple. Choosing a location for a traditional store or recruiting in-office workers can take a lot of time, money, and effort. Digital commerce can also help service-based businesses expand their operations.
Assists in offering a good customer experience
It's really no shock that, Ecommerce's proportion of total global retail sales was only 7.4% in 2015. It's expected to increase to 22% by 2023.
Therefore, the following are some of the reasons why should use digital commerce:
Customers can shop from the convenience of their own homes.
They don't have to deal with upselling salespeople.
Customers don't have to deal with the stress of shopping in a crowded environment.
They would be able to avoid long traffic congestion and the difficulty of finding a suitable parking spot.
There are no long lines for customers to queue in.
Returns and exchanges are simple to complete.
It is simple to browse, order, and search for products.
Live chats are available to help customers with their problems.
Customer Data Insights are simple to obtain.
Thanks to Digital Commerce, keeping and collecting customers' information is quite simple. Because when people buy or browse your store, you naturally get to know their preferences, age, or email address. So you can keep track of consumer interactions as well as their purchasing patterns.
Moreover, with each item that a consumer looks at but does not purchase can help you obtain actionable insights about that customer. As a result, it allows you to improve your consumer experience.
Personalization and targeting are becoming more important.
The more information you have about your customers, the better you will be at customizing and targeting. Because digital commerce allows you to monitor each customer's purchasing behavior. And then you can receive insight into how to design promotional campaigns.
With digital commerce, targeting based on region, gender, and cart abandonment rates is simple. Because you can make suggestions for add-ons while they are purchasing a specific product, online cross-selling and upselling. This is not irritating or uncomfortable for the buyer.
Advertising and marketing at a low cost
The strength of visual channels is the most important marketing tool for ecommerce marketplaces. Because videos, good quality and aesthetically pleasing photos, and infographics presented can use as advertising methods to give color to their products.
Moreover, creating personalized promotions, coupons, and sponsored adverts can also be effective.
Furthermore, Email and content marketing are two other marketing and advertising channels that might be used.
As a result, this form of marketing can be a low-cost and efficient approach to share stories about your company and set yourself out from the competition.
Rent and staffing costs are reduced.
Many business operations can be automated using digital commerce. As a result, the cost of human resources can be reduced. Furthermore, many ecommerce businesses hire people who work from home or part time. Therefore it is a significant cost-cutting opportunity.
When you have fewer people working on-site, you don't need as much space for your office. Therefore, it helps you save money on rent. Because your major focus is on having a nice online business, you may also save money on store upkeep such as inventory design, store design, and so on.
Purchasing process that is faster
Nowadays, everyone wants to get things done quickly. The same is true when it comes to purchasing via digital commerce. Because customers go online, look for a product, receive a quick answer, read the reviews and description, put the item to their cart, and purchase it almost instantly.
These processes take no time at all. Moreover, the customer is glad to have ordered anything. Because they don't have to go too far and standing in long lines or spend too much time in actual offices or stores.
Reach new clients
The physical shop may only be able to contact a limited number of potential customers. They may begin delivering to clients' houses. But their reach is still limited.
On the other hand, digital commerce allows you to gain new clients from all over the country or the world at a comparatively minimal cost. You can also reach out to new demographics and do research into various target markets and segments.
The Challenges of Digital Commerce
To provide customers with a consistent experience
Customers' expectations change on a regular basis. You should use advanced algorithms, and also customer analytics technologies. So it will improve a digital business strategy. They also ensure that all components of the purchasing experience are consistent. Because it consists of delivery options, search options, and items.
Furthermore, retailers must use a strategic way to customer data tracking. So they can find regions that are performing successfully. The more consumer behavior is understood, the more each experience can be customized.
Meet expectations with the latest technologies
Because devices are constantly upgraded, you have to update your campaign's objectives on a regular basis. Remember that while looking for the perfect brand before purchasing a product, people prefer to use a variety of digital channels.
Updating digital business trends will allow you to provide great purchasing experiences. Visual lookups, video marketing, advertising, and artificial intelligence are among these themes.
Relevant traffic
These are just a few examples of how your e-commerce business might create visitors using digital channels. The best approach to address this problem is to invest in a technical solution that includes all aspects of digital commerce. Therefore, successful digital businesses used SEO, PPC, email, social media, display advertisements, retargeting, cellphones, shopping engines, and affiliates. Therefore, they can drive targeted visitors to their online stores.
Expansion of a business using technology
Retailers who want to grow with digital trade should be built on solid foundations. Therefore, analytics, email applications, cart solutions, inventory management apps and CRM systems are just a few of the things to think about. Thus, invest in the correct technical options to keep your company from failing.
Key Digital Commerce Trends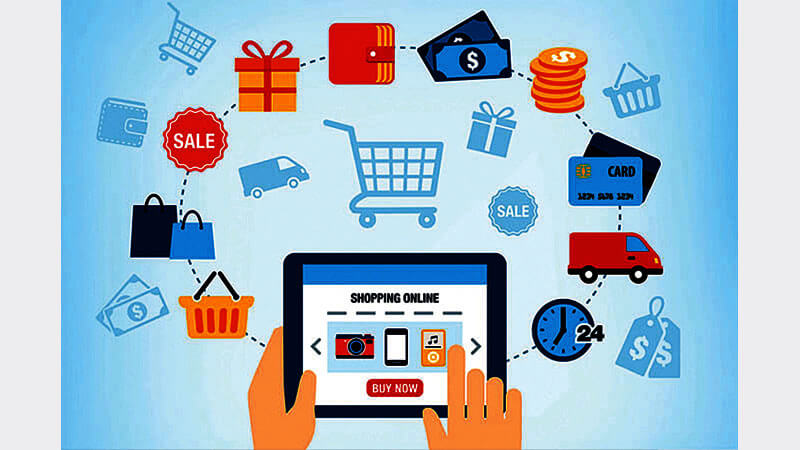 Omnichannel Content and Commerce
Media businesses can get their audiences without basic advertisements. Because they have to combine content and commerce. Buyers can make a purchase by clicking an affiliate link or going directly to a customer's website after reading item features. Content must inspire and educate in order to be successful in content commerce. Therefore, your material will be shared and your brand's visibility will grow.
Personalization
Using advertising that is dependent on an individual's online activity is the best way. Because every individual of your target audience feel like they have a close connection with your business.
According to Instapage, 78% of internet users in the US buy a product with personally relevant marketing material. This form of content is usually targeted at a person or a small group of people.
It's important to do your study on the people you're trying to reach. Discover what makes your audience tick, as well as their purchase habits, and adjust your content accordingly. So Customer relationship management (CRM) solutions can help collect visitor data in this case.
Subscription commerce
Customers who sign up to receive items are part of the subscription ecommerce business. This sort of digital commerce grew by over 100% between 2012 and 2018. Subscription commerce has become popular for recurring business in a variety of industries, including spirituality, food and drink, literature, beauty, health and wellness and fitness.
Enterprise marketplace
"The enterprise marketplace is a new business model in which enterprises modify their ways of doing business, create bigger ecosystems, develop new skills, and produce new sources of revenue," according to Gartner, a major research and consultancy firm.
Moreover, according to Gartner " By 2023, 15% of medium- to high-gross-merchandise-value digital commerce businesses will have launched their own markets, so creating an altogether new digital ecosystem"
Honeywell, a multinational business, also announced the establishment of a new marketplace for enterprise apps in March 2019. Honeywell believes that its enterprise marketplace venture would provide the firm with a platform. That platform will provide customers with an end-to-end service. As a result, it will become a leader in the software area.
Augmented reality
Augmented reality (AR) is a kind of technology. It stimulates the senses by overlaying visuals onto a person's view of the environment. Effects that replicate genuine sounds, feelings, sights, and smell may be used in augmented reality. Therefore, the idea is to create an emotional connection with the customer. Therefore, customers can purchase a specific product.
Furthermore, Sephora, L'Oreal, Perfect Corp., and Facebook are among the companies that have used this kind of technology to expand their reach.
Artificial intelligence
Artificial intelligence are computers and technologies. It mimic the cognitive functions of humans. Therefore, it can handle problems and think new information. So when AI is linked into digital commerce, it analyses user data such as age, gender, and interests. And then it will send highly targeted sales material to customers.
A Gartner survey showed that 59% of respondents were looking for ways to improve their AI strategies. Therefore, it highlights the benefits of AI. Besides that, the other 41% have already implemented automated solutions as part of their digital commerce strategy. This year, AI handled 80% of clients in business interactions.
Progressive web apps (PWAs)
According to a survey, over 20% of individuals lose interest in an app after going through the steps of searching it, downloading, installing, and opening it. Therefore, PWAs is appealing to both retailers and customers. So this type of progressive app can be used in cooperation with the browser on which it is installed.
PWAs can be used to re-engage consumers days, weeks, and months after their initial experience with the software by delivering offers and reminders.
Clients analytics
Analytics support businesses in making their marketing activities more efficient. Customer analytics can help businesses better understand consumer's changing behaviour. Therefore, monitoring algorithms using analytics software may also help businesses enhance their social media marketing strategy for the return on investment.
Conclusion
That is enough for understanding the term of Digital commerce. However, if you have NOT YET understood about any ideas in this blog, you can let us know at the CONTACT FORM. More importantly, in case you are seeking assistance for your ecommerce business. So don't forget that ArrowTheme also provides Magento, Shopify, WordPress Themes for your business. Besides that, we also bring to you the best Shopify Packages. Let ArrowTheme help your business to succeed.