Fishing store shopify theme: Top 10 responsive themes with modern design for your online store
In reality, building a professional e – commerce website in order to gain high profits is not really extremely hard if you have a smart strategy. Well, it is a long process with the first step is choosing the suitable theme. A best theme not only makes your website outstanding compared to the other opponents in the similar business area, but it also marks the position of your site in the customer's mind. Any product all needs a theme, and the fishing store is also. If you're looking for a responsive Fishing store shopify theme with the modern design, you can find it in this blog below. In this blog, Arrowtheme delivers Top 10 wonderful shopify themes. Let's explore right now!
Top 10 Fishing store shopify them
Maybe you haven't ever heard of Lusion suitable with Fishing store. However, because of a powerful multipurpose shopify theme, it can adapt to every type of online store, including Fishing one. The reason why we highly recommend this shopify theme is due to the impressive and well – structured design. As a result, your e – commerce website will have a stunning look and then it can capture any customer at the first glance.
Besides, Lusion comes with more than 30 homepages templates for you to select. What's more, this fishing store shopify theme is 100% responsive and friendly with the mobile version. Therefore, your website will have a perfect appearance and run smoothly on any device. Having sales up to approximately 300 ones on Themeforest, Lusion is always on the best – selling theme top in the market. Not only flawless in appearance, this theme is also perfect in functions. For example, "360 degree view product" allows customers to see your items from every aspect, then, you can
conquer the most demanding customers. Best of all, you can take advantage of a lot of additional apps integrated in this theme without needing any help from a third – party.
HOT!!!! We've just updated Lusion Shopify Theme 2.0 with a bunch of improvements and exclusive features.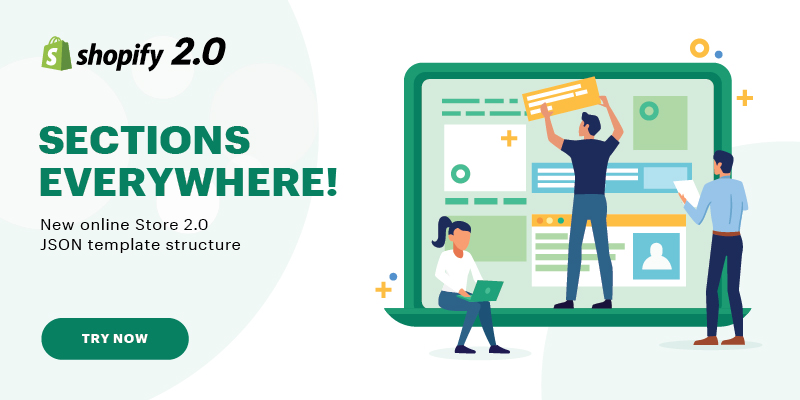 Here are some new benefits you'll get when choosing Shopify 2.0 theme
Sections are available on every page like the Home page, product page, collection page, collection list page, cart page, etc.
App Block supports you to relocate or move Shopify apps within the template without touching the code files.
Shopify Metafields permits you to add dynamic information about your products, variants, collections, customers, orders, blogs, and many more in your store.
Collection and search filters support you to filter products and search results by availability, price, vendor (brand), color, and many more.
In case you're in search of a wonderful fishing store shopify theme with the modern design, you should have a glance at eBait. Firstly, this theme is extremely exceptional and friendly to users. Besides many beautiful available layouts, this theme also offers a wide range of stylish page layouts and sections. Hence, you can release creativity to build your own unique website with some simple drag and drop. Moreover, eBait features multiple Mega menu allows you to navigate your site with ease as well as improve its modern attraction. Best of all, SEO optimization is a significant function of this theme. Following that, your site will get more chances to enhance its ranking on search engines as well.
You might know Furrie is a shopify theme for the topic of pets. However, this theme is also suitable for selling fishing products with the eye – catching design. In order to make your site stand out from the rest, you can absolutely customize anything according to your favourite just by a few simple operations. Besides, it is fully responsive design. Hence, your site has the adjustable ability to fit with any size of every modern device and compatible with almost all browsers.
Other highlight features of Furrie:
Coded with HTML5 and CSS3
Popup newsletter
Quick view option
Sidebar Ajax Filters
Multi – currencies allows you to trade all around the globe.
If you're planning to launch a fishing online store, don't ignore SeaJetty. Can say, SeaJetty includes everything you expect to develop a professional store in the shortest time. Besides, this fishing store shopify theme never limits your imagination because you have many freedom to customize from the homepage to inner pages as you want. Best of all, if you have no knowledge of coding, you can still absolutely use this theme with ease without touching any line of code.
Other outstanding functions of SeaJetty:
Effortless installation and activation
Newsletter subscription form
Shopify Visual builder
Powerful Admin Panel
Ajax search, Wishlist block.
Using the Adventure Store theme and you will be surprised with significant outcomes it brings. With the modern and clean design, this shopify theme corresponds with fishing stores and websites for adventure activities. Addition to, this fishing store shopify theme is 100% responsive design. As a result, your website will have a stunning appearance as well as great performance on every type of device. What's more, Adventure Store also supports Multi – currency and multi – language. Therefore, it brings you a lot of opportunities to access foreign customers and then boost sales easily.
Multifly is a perfect example of friendliness and correspondence with all types of products. This is because it is a flexible multipurpose shopify theme. Firstly, it comes with 11+ magnificent skins for many different topics, including fishing online stores. Not simply a retailer, Multifly is exactly a useful tool that helps you to boost sales as well as reflect your brand in customers' minds. What's more, this fishing store shopify theme is also equipped with various advanced sections and functions. Some of them are: Mega menu, Parallax animation, Dropshipping, etc.
Let's move to another awesome fishing store shopify theme you must know to open an effective store – Paws Pet. Designed according to the UX/UI graphic trend standards, we believe that your site will have a perfect look. Then, customers can't keep their eyes off at the first glance. What's more, the integration of over 20 smart sections will support you to do anything you want on your site with ease. Besides, no need to understand or know about coding, you still activate this theme without touching any line of code.
Don't misunderstand its name, although it names related to Pet, it is still corresponding with many kinds of products, especially Fishing. This theme helps you to showcase your product in the attractive and easy – to – see way. Besides, thanks to the "Shopify Visual Builder" feature, you can effortlessly make changes for your layout just by a few simple operations such as: adding, removing or reordering. Let's brain your storming to make your site as flawless as possible. Not only that,this fishing store shopify theme is optimized extremely well. With friendly SEO optimization, your site will level up its rankings on search engines to approach more and more customers in the shortest time.
Right from its name, Fishing store is built only for selling goods related to fishing. Firstly, this fishing store shopify theme is easy to download and optimize to satisfy your business requirement. Besides, with "Theme color Switcher" includes unlimited color options, you can easily change the palette of your website's appearance to ensure it is more perfect than any competitor. Furthermore, this fishing store shopify theme will bring the best experience for customers because they can immerse in the 2D environment thanks to the "Parallax". And then, it will stimulate customers to come back with you many times in the future.
Other highlight features of Fishing store:
Responsive Web Design
Multi – currencies
Product Badges
CrossBrowser
Mega menu to create a more eye – catching interface for your website.