Google tag manager Magento extension: Top 6 best ones to improve your conversion rate effectively
Google tag manager Magento extension is definitely a must-have tool for all websites to save more time in managing your store and improve the website performance. In this post today, Arrowtheme will introduce you to great features and the top superior extensions you can try to manage your online business effectively.
1. Mageplaza Google Tag Manager

If you are looking for a user-friendly and powerful extension to simplify the management of GTM tags, this Google Tag Manager Extension is the best option for you. This is a Magento extension with rich functionality that is simple to use. One of the most outstanding features of this extension is the Enhanced E-commerce Data Reports. This supports the admin stores to track customers' behaviors with every detail via the 5 powerful reports. Besides that, it comes with a flexible admin configuration and friendly interface.
Top features
Firstly, this extension supports 70+ tag types
Also, it supports dynamic remarketing
It enables you to track the e-commerce data
Besides, this extension comes with a flexible admin panel
At last, this tool includes Facebook Pixel
2. Magepal Google Tag Manager

Our next recommendation is the one by Magepal, one of the most popular extension suppliers worldwide. With this module, you can add tags and code snippets easily on your website without changing any code. Furthermore, managing the transactions of your store becomes easier and quicker.
Top features
Easy to customize
Tag Management Integration Made Easy
Enhanced E-commerce made easy
Manage all your third-party integration in one place
Integration made easy without editing Magento templates
3. Anowave Google Tag Manager

With a reasonable price, the Magento Google Tag Manager extension brings you an excellent solution to gather the depth data about your customers, their shopping behavior, your product performance. Besides, this extension will help your website to integrate Google Adwords, Google Analytics, and Facebook Pixel, from which you can take control all through the site
Top features
Covers EVERY aspect of enhanced ecommerce tracking for
Works with Google Tag Manager
Install Google Tag Manager through the extension itself
Supports the new splitted approach of inserting GTM snippet in both head and body
Track product clicks
4. Free Google Tag Manager 2 by Yireo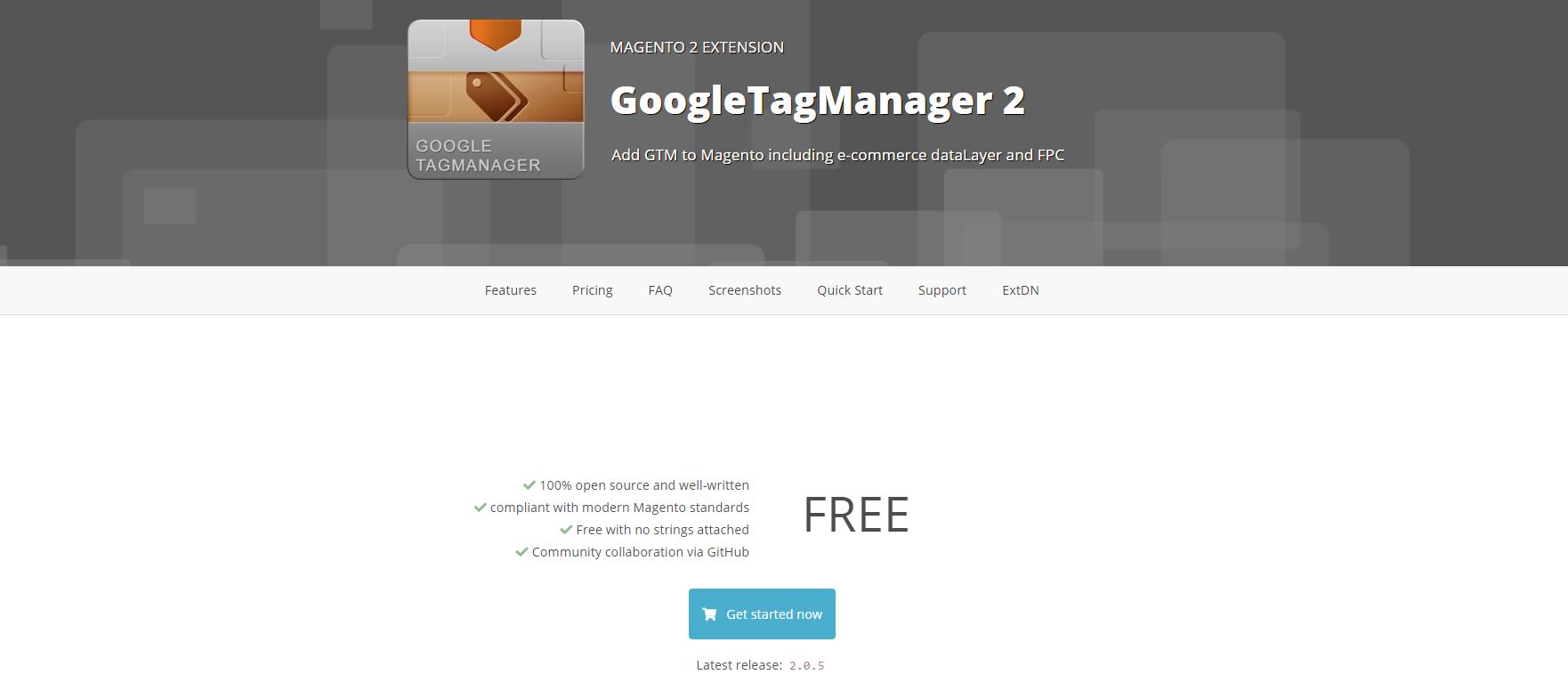 Moving to another Google Tag extension you should know to upgrade for your eCommerce site is the extension by Yireo. Despite it is a free extension, it comes with a lot of powerful features. Basically, this extension allows you to manage the e-commerce store effectively. Moreover, this extension helps the shop owners to control all tags on your site easily and quickly. Try to download this free extension and feel it!
Top features
Enable inserting extra vars to data layers via HTML templates
Ability to add via observers or XML layout
Easily use and install
Support Friendly interface
5. Weltpixel Google Tag Manager

The next Google Tag Manager extension comes from Weltpixel, one of the most trusted Magento Extension providers. This module assists you to get fully enhanced eCommerce tracking implemented within minutes so you can start collecting crucial data and make data-driven decisions. Besides that, this extension also helps the shop owner to manage all transactions and actions from the online store effectively.
Top features
Firstly, this extension helps you easily manage the information about the Related, Up-sell, and Cross-sell products
Besides, it comes with the ability to add to shopping carts
Also, this extension enables removing from the shopping carts
At last, it is very easy for users to configure and customize
6. Scommerce Google Tag Manager

The last extension of the top best Magento 2 Google Tag Manager is the Scommerce extension. With the help of this extension, the admin can easily add tags and code snippets to your online store without changing any code. Furthermore, managing the transactions of your website becomes easier and more effective
Top features
Firstly, it allows you to implement Google Enhanced E-commerce Tracking
Secondly, this extension enables using Google Adwords and Dynamic Remarketing Tracking
Besides, it supports you with the Facebook Pixel, Facebook Conversion, Pinterest Tracking…etc
Also, this extension enables you to implement cookie-based tracking
Lastly, the admin can easily tracks Backend/Admin Orders
Each Google tag manager Magento extension itself has strong and weak points; choosers should know about the policy, support, and custom competence between providers to determine which is the most suitable extension. Looking for more effective modules to upgrade your Magento 2 store? Check out exclusive Magento 2 Extensions or Magento 2 Themes at our store