How to cancel Shopify account and cancel your subscription: Quick guide (2021)
Shopify is one of the most attractive eCommerce platforms all over the world. However, you may feel that this platform is not unsuitable for you. So many people wonder if they can cancel the Shopify account. The answer is exactly yes but you may face difficulties with this process. Therefore, Arrowtheme will instruct you on how to cancel your Shopify account and cancel your subscription in detail.
Some important notes before cancelling Shopify account
You can choose to Pause your store or Cancel your store.
If you want to close your Shopify account, you have 2 options including "Cancel your Shopify subscription, close your Shopify store" and "Sell your store on Exchange Marketplace."
In case you want to pause your store, there are also 2 choices "Pause temporarily" or "Pause permanently". Note that you only have the right to pause when you use a paid plan (after 60 days from the free trial)
If you want to cancel Shopify account, read the following rules carefully
Shopify does not support you with a refund policy when you cancel your Shopify account.
Make sure that you paid all the bills.
Export CSV file to save all your information.
If you offer gift cards, you may have to deal with unpaid cards. You can get a CSV file with the information you need to settle any outstanding gift cards from your business.
Let's remove all the apps that requires payment to prevent you from being charged. You need to remind that you will be charged for the full first month after installing these apps. So you may consider to put off the cancel day until the next period. Also, if you manually install apps of the third party, you need to cancel every billing documents with the providers. Because closing your Shopify account does not automatically cancel these agreements. In addition, Shopify supports you credits with a downgrage plan. However, you won't receice these payments in case you close your store.
If your Shopify store has a custom domain name and used the 'connect domain' option to link a third-party provider, all you have to do now is delete the domain from your Shopify domain list and modify the DNS settings with your domain registrar.
If your domain belongs to Shopify or acquired a domain through Shopify, you must transfer the administration of your domain to another domain registrar or hosting platform.
How to cancel your Shopify subscription and close your Shopify store
To ensure security, Shopify does not help you cancel your account. So you need to do it yourself. However, don't worry because the process seems easy to do. Here are the detailed instructions for you.
#1: Open Shopify Admin, click on Settings> Account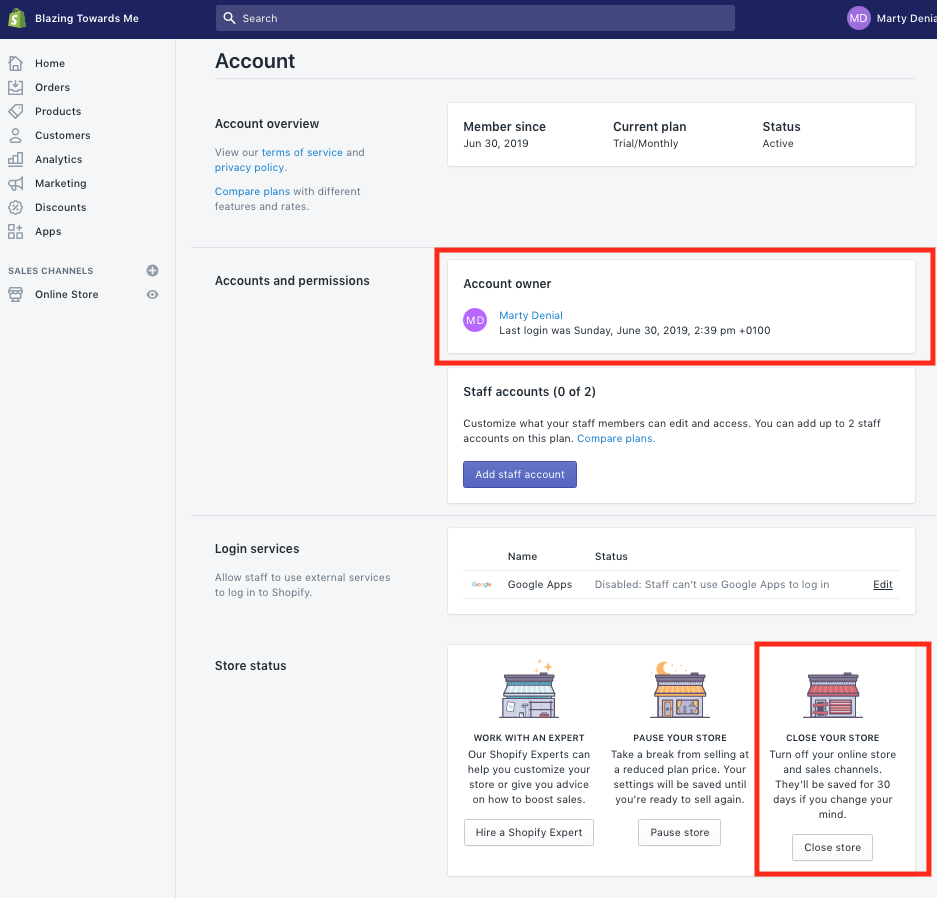 #2: At the bottom, you can see Store Status. Click on Close store.
#3: There will be a dropdown list for you to choose the reason. You just tick at your reason and click Close store again.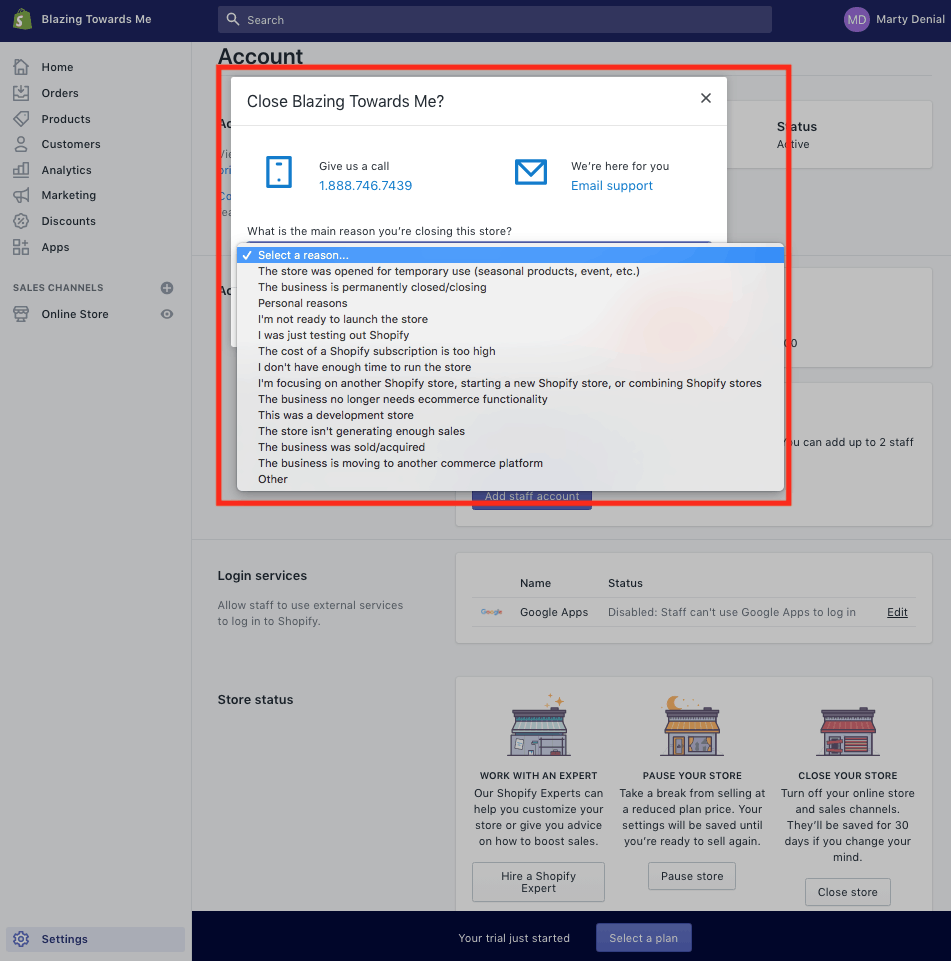 #4: You will receive a confirmation from Shopify. In case you log in to your Shopify account, you will see this message below.

Sell your store on Exchange Marketplace
In case you don't tend to reactivate your business, you may think about selling your business. Access Shopify's Exchange Marketplace to display and sell your business. Also, Exchange Marketplace has a partner Escrow.com to help the transaction process more securely and faster. Additionally, if you use Shopify Plus or in the free trial, you can not sell your business.
Alternative choice of cancelling – Pause your store
Instead of completely closing your store, you can pause your store. The difference between cancelling and pausing is that your store is still visible in the storefront but it disables the checkout process in the pausing time, while your store disappears fully when you cancel it. There are 2 options for you to pause the store:
"Pause and Build" Plan
"Pause" Plan
What is "Pause and Build" Plan?
For a lower monthly price ($9 USD/ month), the Pause and Build plan allows you to pause your shop while continuing to work on it. Your Shopify admin is accessible, and you can manage your store and update your goods, but your checkout is locked. It means that your clients can come into your business and look around, but they won't be able to buy anything.
The Pause and Build strategy might be the best option for
Seasonal Stores
Stores that operate in a specific time
The Pause and Build plan applies to customers who use paid plan over 60 days after the free trial.
What is "Pause Plan"?
The Pause plan allows you to put your business on hold for three months without having to pay dues. You may take a break from your store and focus on other things while you're paused.
In this plan, you can't access the Shopify admin like the Pause and Build Plan. Guests to your site are notified that it is temporarily closed. You may gather customer email addresses to notify them when our business reopens, as well as for any other future contact.
By registering a new plan, you can reopen your business at any moment during three months. If you don't reopen your business within three months, you're automatically promoted to the Pause and Build plan, which has a lower membership price. Your shop will remain closed to customers once you've updated, but you may log in to Shopify and work on it.
How to pause your Shopify store
#1: Open your Shopify admin, click on Settings> Account
#2: At the bottom, you can see Store Status. Click on 'Pause store'
#3: Click on 'Pause store' again on the popup.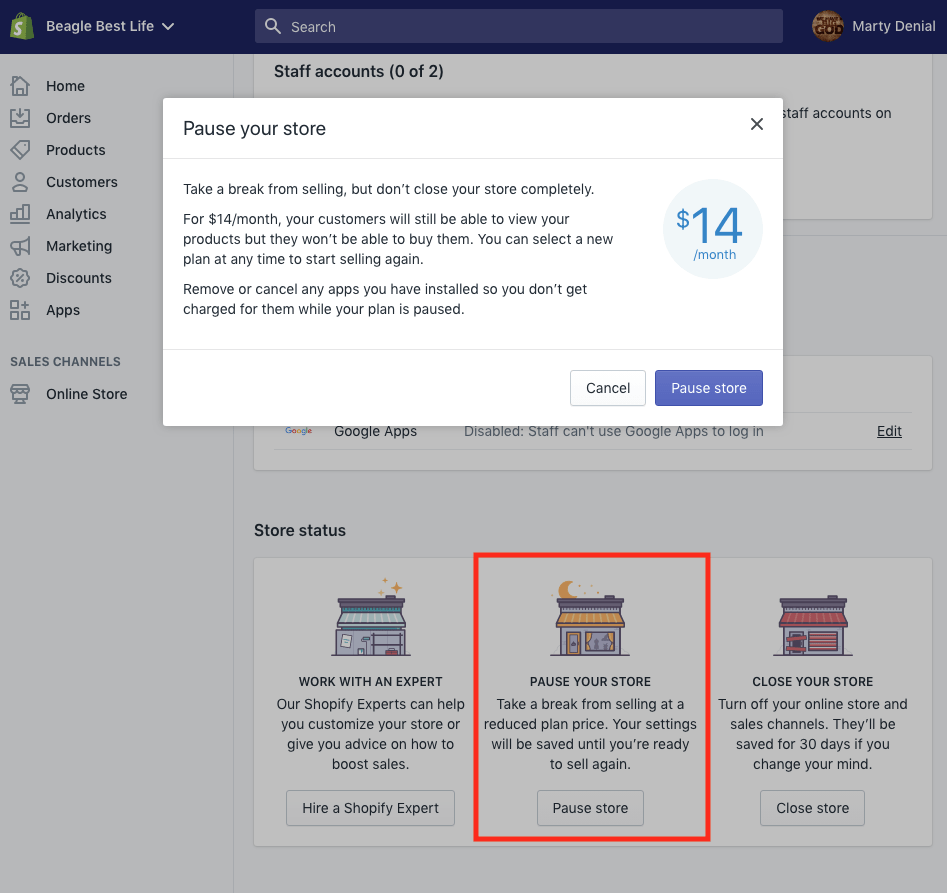 #5 Fill in your information and confirm the billing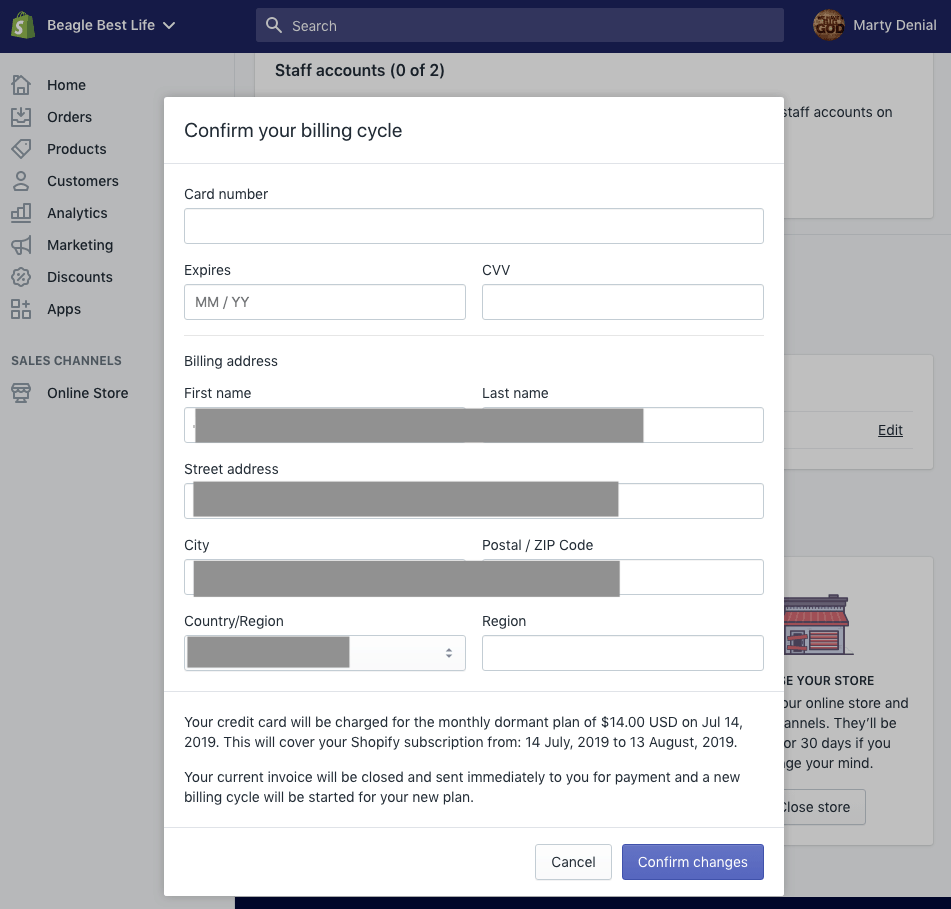 In case you want to stop pausing your store, navigate Settings> Accounts> Compare plans. As your previous plan is not available, you will have to select the new ones. The "Compare plans" function helps you to clarify differences among plans. You need to choose the plan to use from now and fill in all the billing information. After that, your Shopify store will be enabled.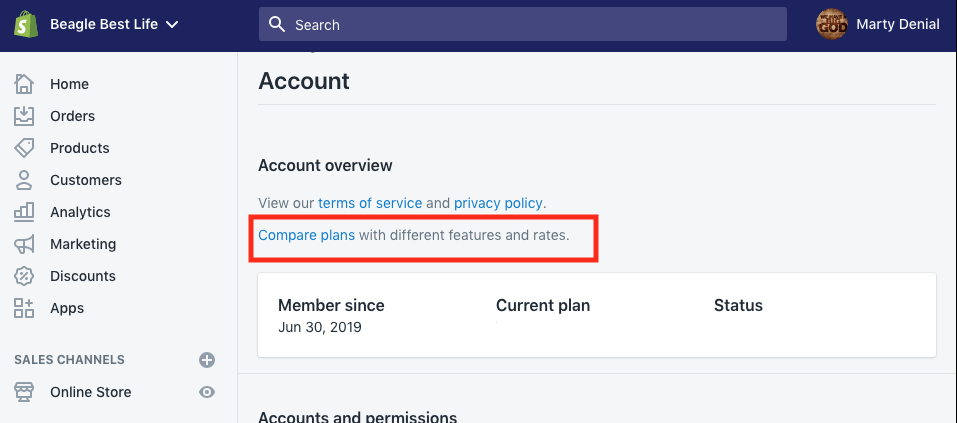 We hope that you understood how to cancel your Shopify account and subscription. If you have any technical problems, you can contact us for more support. More importantly, if you also are looking for a fully solution to make your ecommerce website more effective, our Shopify Packages are the fantastic choices for you. Our different options will help you a lot. Coming with 3 options of packages: Basic, Standard, and Advance, they will meet the needs of your company. Our Basic package is perfect for anyone who wants to open a low-cost online store. Or our Standard and Advance packages are appropriate for building an Ecommerce Website with advanced features
Read more useful blogs about Shopify here.