Lookbook app: Top 10 greatest apps for Shopify ecommerce stores
With an online Lookbook, you sell not just a product but the whole story and lifestyle of a product. Ultimately, you allow the customers see the possibilities that the products are used, how to combine them with other products in your website, and how they fit into their home or lifestyle. And to help you with that, Arrowtheme have compiled a list of top Lookbook app for Shopify store
1. POWR Photo Gallery

POWr app is so simple to install and easy for new starters. You can create your Gallery, and add it to any page of your web page within some minutes.
One of the outstanding features in POWr that you can take your product and organization pics come to existence with a beautiful Pinterest-style Gallery. Besides, you can choose from several computerized image cropping patterns and layouts so you don't ought to manually crop/arrange individual photos. Add titles and caption textual content. Use name-to-action buttons to direct users to any other page. Moreover, you can add alt textual content to every picture to optimize photos for SEO. This app also allows a lightbox popup slider to helps customers take a more in-depth study of your pictures.
Last but not least, the like button can be added so customers can like your photos more. Therefore, you can install this app with free cost to enjoy these amazing features.
The most prominent features:
Easy to create customized product grids
Offer call-to-action buttons
Provide social sharing buttons
Use image resizing automatically
Supports text in any language
2. Spify Lookbook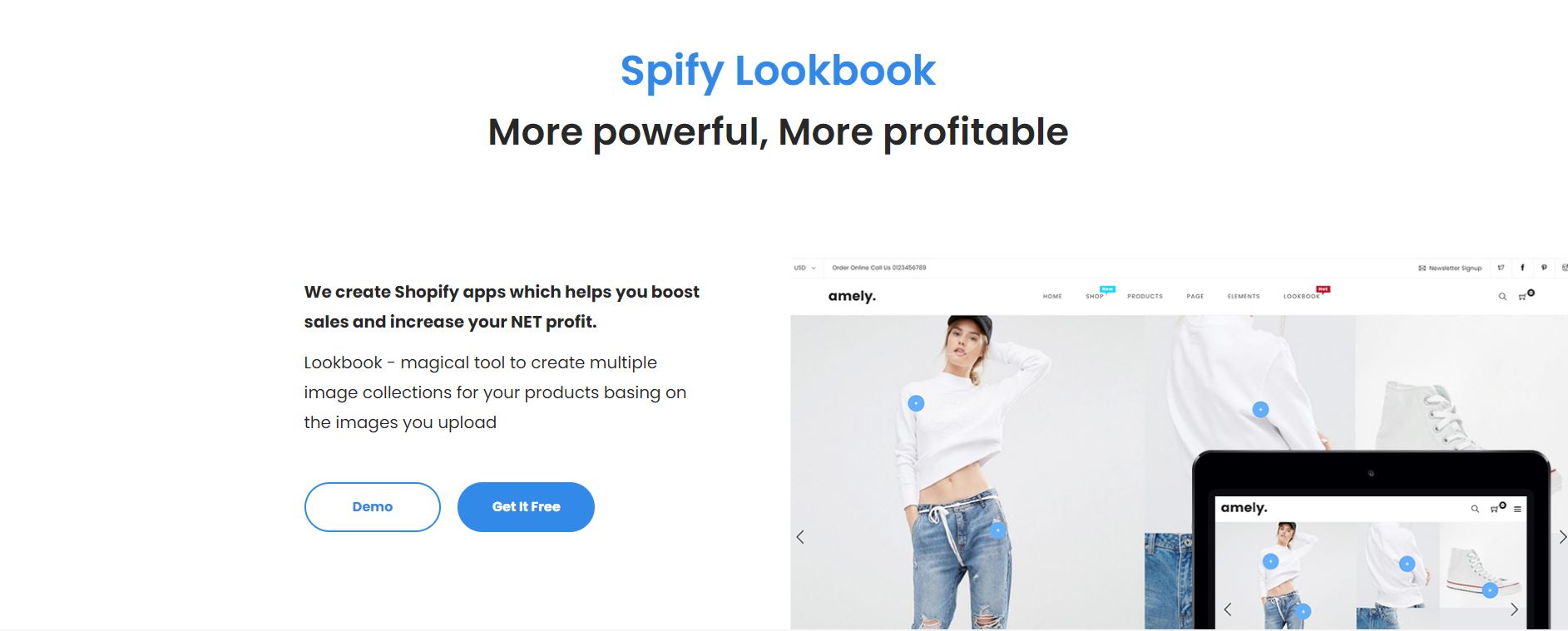 Lookbook is an effective and interesting tool to give each item in the collection a separated tag to put their description. Also, you can easily the product you want to attach by its SKU code through our search engine. Likewise, the admin are able to pin that extra "note" anywhere suitable onto the image. On top of that, Lookbook will generate a slider with smooth automation and beautiful effect which is available for admin to create an impressive slider.
The most prominent features:
Create a product collection just with an image
Work easily with pinned attachment
Smooth lookbook slider
Easily display lookbooks at any position & any pages
Allows store owners to set the start time & end time for the lookbook
>>> Read more: Shopify donation app: Top 5 best apps – beneficial way to increase conversion rate
3. Lookbook ‑ Shoppable Galleries

With lookbook image gallery, you can showcase your products based on main types including masonry view, slideshow, grid view, list view. Besides, just click on the section of massive upload, you can successfully post your favorite images for the marketing campaign with time and effort saving. Moreover, tag feature is installed for online stores to add brief information about the prices and discounts about items. On top of that, to optimize customers' feeling, the app has established the function of immediate purchase if customers are satisfied with the displayed photos and given information.
The most prominent features:
Generate galleries with hundreds of photos
Add links to relevant products
Launch effective marketing campaign
Provide a lot of types of albums
Boost the number of customers' visit
4. Lookbook ‑ Shop by Gallery

Lookbook gallery – Gallerify is a helpful tool for all Shopify e-commerce administrators to gennerate a lookbook image gallery. With Lookbook gallery – Gallerify, you easily have a lookbook gallery by using sliders and list masonry layouts. Moreover, there are various built-in layouts coming together with this app such as Slider lookbook gallery, Square Grid Lookbook Gallery, Landscape Grid lookbook gallery, List lookbook gallery, Portrait Grid lookbook gallery, Collage lookbook gallery, Carousel Slider lookbook gallery, and more.
The most prominent features:
Able to release lookbook galleries infinitely
Help you definitely boost your sales
Easy to customize to match your theme's style
Upload all once only
Easy to re-arrange the photos in your gallery
5. Lookbook


Lookbook enable you to generate Lookbooks or Catalogues complete with product rollovers and links directly to your products to support users' purchase steps in an easier way. In detail, you can easily make the main image to launch your Lookbook and stick pages to your Lookbooks. Moreover, in order to showcase your products attractively, you can select the methods and markers following your Lookbooks. This app also allow you to create your lookbooks suitable with all devices with multiple themes.
The most prominent features:
Create main image to launch your Lookbook
Choose the methods and markers to present your products
Link your lookbook to your navigation
Suitable with all devices with multiple themes
Coding not be required to make multiple Lookbooks
6. Nitro Lookbook


Nitro Lookbook brings you many robust features to make your store looks more professional and attractively. Firstly, this modules enables you select the area of a complex lookbook. As soon as customers come to your page, they are attracted by the appearance of your store. Secondly, Nitro Lookbook assists you to showcase lookbook as masonry or grid. Thanks to this, you can showcase lots of beautiful banners to customers. In addition, it equips you with a big banner with clear lookbook. Finally, you can easily customize text, color, iframe, etc to fix your own needs
The most prominent features:
Allow you choose the area of complex lookbook
Enable you to display lookbook as masonry or grid
Offer a big banner with clear lookbook
Allow you to customize text, color, iframe, etc
Make your Shpify store looks more professional
7.Vitals

Vitals is an all-in-one sales and marketing platform. It equips you with the outstanding features which helps online merchants optimize and grow their stores. Besides, the platform brings together 40+ Shopify apps to build trust, capture leads, boost conversion rate, and average order value.
The most prominent features:
All apps in Vitals work flawlessly together.
All enabled apps are loaded at once, dramatically increasing load speed.
Almost all Vitals apps are fully translatable.
Works with all standard themes. Support for custom themes is added in 1 business day.
8. Shoppable Fashion Galleries

Customer Lookbook is a superb way to show matters, clothes, or any other objects purchased to your customers. Moreover, it will likely be possible with a special page to enable traffic seeing accredited pix. Besides, Shoppable fashion Galleries offers our rich picture editor, so you can generate the lovely and effective appears, with many alternatives.
The most prominent features:
Show your products in a new way
Customer can upload their photos with products
Can upload Upload photos from compute
Fully responsive on both mobile and tablet
Can check the analytics report
9. Good Galleries
Good Galleries Lookbook app by GoodApps is a multi functional gallery app that enables you to showcase photo galleries in your Shopify store quickly and easily. Moreover, you can use this app to add custom image galleries to your pages, products, and blog posts. On top of that, it's designed to be very easy to use with a drag and drop feature for uploading and managing galleries.
The most prominent features:
Mobile responsive
Lightbox gallery
Sliding images with smooth animation
Show curated instagram photos
Product style and lookbooks
Display customer submitted photos
Show browsable product manuals on help pages
Plus many more possibilities
10. Shoppable Photo Gallery Maker


Lookbook app is one of the powerful apps that help your store improve your product lookbook to boost sales through stunning images.
First of all, in order to improve the level of your PDF catalog, flyer or brochure. Also, with Lookbook Maker, you can easily link product tagging to drive traffic to your Shopify store that can convert your visitors to buyers immediately. With the purpose of attracting more followers, this app enables you to share your new collection lookbook through email and social media and style your own layout with custom resources. In that way, your shoppers are more likely to order inside the lookbook contemporarily with "Shoppable" tags to the lookbook image. Specially, you can add discount and custom pricing for VIP clients that make your sales channel more high-qualified.
The most prominent features:
Change PDF file to digital lookbook
Link product tagging to drive traffic to your store
Style your own layout with custom resources
Allow ordering inside the lookbook
Provide discount and custom pricing for VIP customers
Lookbook app is an excellent solution for your upselling and cross-selling strategies. With this plugin, you can tag products on images and allow customers to shop from lookbook images easily. If you have any ideas or features that you'd like to see, then we'd be more than happy to hear about them
Wrapping up
If you're already doing a Shopify website, it's likely that you're at least reaching some app to power up your website. But remember, it is always much better to have the best support for experts. You can find a technology companies to do integration and customization for your website. At Arrowtheme, we provide the professional service to help merchants improve the customer experience. Want to know more about our Shopify service? Check it out
In particular, for all of our Shopify services, we are running a discount program that gets up to 30% off. !!! You can check our Shopify service at Here. We'll be happy to provide you with a free consultation.