Magento 2 free themes: Top 5 best themes for your Magento store to download in 2021
In recent years, online business has become a popular trend for everyone in the world. Almost all products can be sold on the internet. This is because online business is more effective and saves more money compared to traditional business. In fact, there is no denying the importance of Magento themes in opening an online shop. Therefore, in this article, Arrowtheme will review Top 5 perfect Magento 2 free themes for you to build your store effortlessly and gain high profit in the shortest way.
Top 5+ outstanding Magento 2 Free themes
The first theme in our list is Molly theme from ArrowTheme. Although it is free, it is not inferior to any paid version. In fact, Molly is one of the most elegant and flexible Magento 2 free themes in the market. Besides, Molly comes with well – made 10+ homepage layouts and all of them are suitable with every type of online store. Moreover, thanks to "Powerful Panel Admin", you can customize your website according to your favorite. Best of all, this theme doesn't require code knowledge as well. What's more, your website will look stunning and run fluently on any device thanks to "Mobile Optimized" feature.
Highlight features of Molly:
Multiple Header and Footer layouts
Unlimited Colors
Pages Setting: Home layout builder & Setting
Amely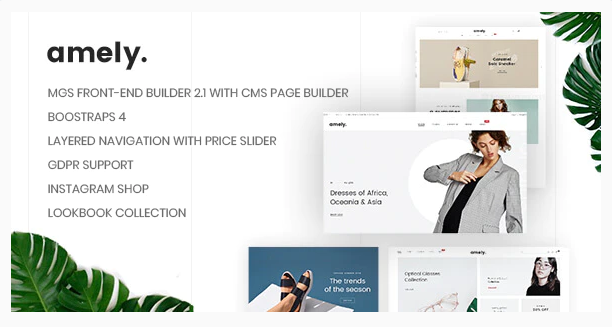 The second Magento 2 free theme we want to suggest you is Amely from . In fact, the free theme is the most ideal choice for any new ecommerce store to build a perfect website. Amely is, in reality, a modern and clean design. The primary goal of creating Amely is to make your business vision a reality. Furthermore, the most recent version of MGS Front-End Builder was used to develop this useful theme. Layered Navigation, Guest Wishlist, Instant Search, Lookbook, Ajax Cart, Mega Menu, GDPR, and other extensions are included after that. Furthermore, if you want to use Amely, Theme will also assist you in setting up a theme, auditing performance, and auditing SEO.
If you aim to create a modern and excellent online shop to increase sales, you should have a glance at Orson – one of the best brainchilds of . Orson delivers you a collection of over 15 available homepage layouts for you to choose. All of them are designed clean yet professional, so you can sell anything you want. In case you want your website unique compared to competitors, Orson will help you. Thanks to "Unlimited color styles" and "Multiple font", you can effortlessly edit your site as you want in the quickest way.
Unero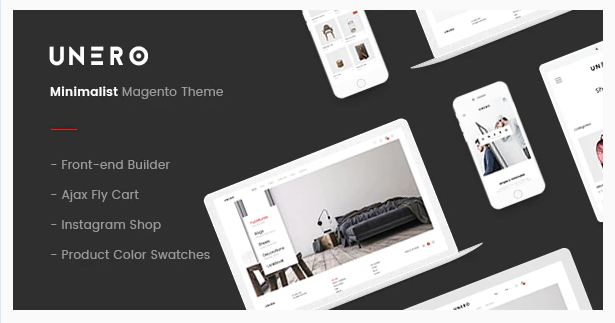 Unero is a great option if you're seeking for a free Magento theme for your ecommerce site. With its minimal but professional design, this free theme will give your website the most outstanding impression. This is a fantastic design for internet firms that sell products. Unero will also make your online store look more stunning and enticing to viewers by keeping the design simple and focusing on the contents. This theme is appropriate for a variety of e-commerce websites, including fashion, furniture, and more. In particular, with Unero, will provide you with free instructions for theme installation, audit performance, and SEO audit.
You're looking for a magento 2 theme yet don't want to waste tons of money? Then Ketty is for you. Firstly, it is a 100% responsive design. As a result, your website can adapt to any screen size of device. Another modern feature is "Website slider" that allows you to display best – selling products or anything you want in order to capture customers' attention in just a glance. Above all, with outstanding design as well as advanced features, it is surely to help you increase the traffic and enhance the conversion rate into buying customers.
Hebes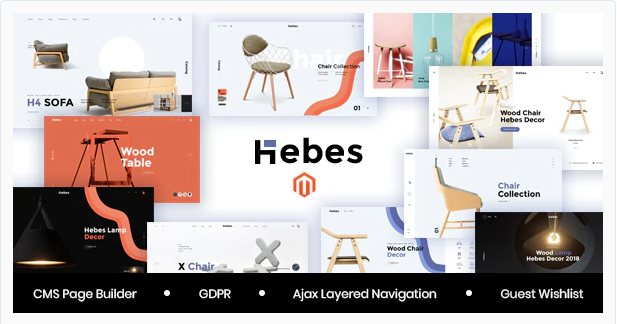 Coming to Hebes – a multipurpose Free Magento theme by ArrowTheme that may be used for any type of ecommerce website, including furniture stores. In reality, it is indeed a modern, clean, and professional theme with a plethora of features. With Hebes, you may pick the most perfect homepage layout from over 16 well-designed options. Hebes includes the most recent version of MGS Front-End Builder as well as a variety of extensions. Ajax Layered Navigation, Guest Wishlist, Instant Search, Lookbook, Ajax Cart, Mega Menu, GDPR, and so on are just a few of them. Not only that, but you will also get free help in setting up a theme, assessing SEO, and improving performance.
When it comes to the Free magento 2 theme, we can't help but mention BizKick. Firstly, you can download this theme easily, just by one click. Additionally, BizKick is mobile responsive design as well. As a result, it will make your online shop look great on any devices such as smartphone, laptop, desktop, etc. Best of all, BizKick is really a well – done optimized search engine as well. 
Organie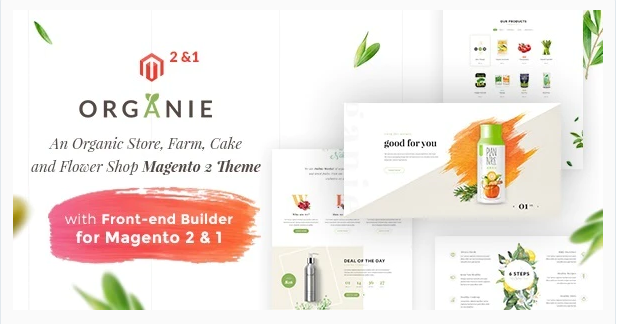 Don't forget Organie if you want to build an effective website with an awesome Magento free theme. This amazing theme was created with an elegant and user-friendly approach in mind. Its goal is to create an all-in-one Magento theme for Farm items, Cakes, Flower Shops, and any other type of business you can think of. Magento's best feature is that it ensures a high-performing and visually stunning online store. MGS Front-End Builder and a slew of plugins were also used to develop this great theme. As a result, you will be able to transform your dream store into a fantastic digital embodiment. Best of all, the most crucial reason why we suggest you to use this theme is because 's developers will support you in installing theme, auditing performance and SEO.
Coming to F2 – one of the most amazing Magento 2 free themes you have to know. To meet all user's requirements, this Free Magento 2 theme not only offers a wide range of latest web trends, but it also brings many wonderful layouts for you to choose. Besides, if you want to increase your brand awareness, F2 will support you with "Custom page design" feature.
Other highlight features of F2:
Catalog page
Image slider
Configurable swatches
Carousel product listing.
GemMart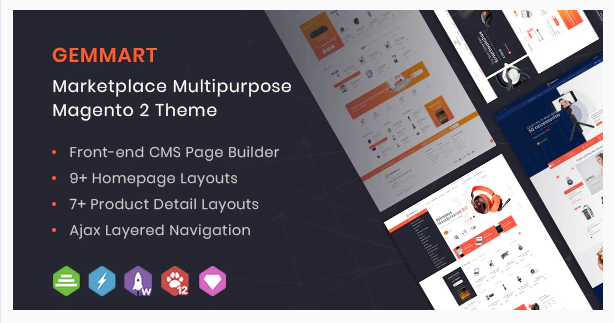 In case you want to take advantage of a Free Magento theme to build your own website, let's take a look at GemMart. GemMart is, in reality, one of the best Magento Free themes for any shop trying to grow their business. Multi-vendor markets, electronics stores, mobile phones, tablets, digital camera accessories and gadgets, and more were all considered when it was designed. This theme is ideal for anyone looking to create a unique website similar to Amazon, Lazada, or eBay. When using GemMart, ArrowTheme will ensure that your website is constantly in top shape by assisting you with theme installation, performance auditing, and SEO auditing.
Final Word
Above all, Free doesn't mean not good. Despite free themes, all of them are extremely good and worth using. Let's install right now and give us your experience!