Magento accounting extension: Top 10 best ones to helps you manage your accounting administration efficiently
Magento accounting extension is a powerful extension that will help you easily and efficiently manage your accounting administration. In this post today, Arrowtheme will introduce you to great features and the top superior extensions you can try to manage your online business.
1. Magento 2 accounting extension by Webkul

Being the first Magento 2 for Image, Webkul's extension is your smart choice. With this accounting extension, the shop owner is able to easily create store orders' sales receipts. Besides, the admin can select to automatically or manually sync the orders.
Top features
Sync orders from your store to the Quickbooks automatically
Enable synchronizing Magento 2 store's orders manually
Sync the information like the name of the customer, email, billing address, order date, etc.
Set the time to create Sales Receipt in Quickbooks
2. Mageplaza Accounting Extension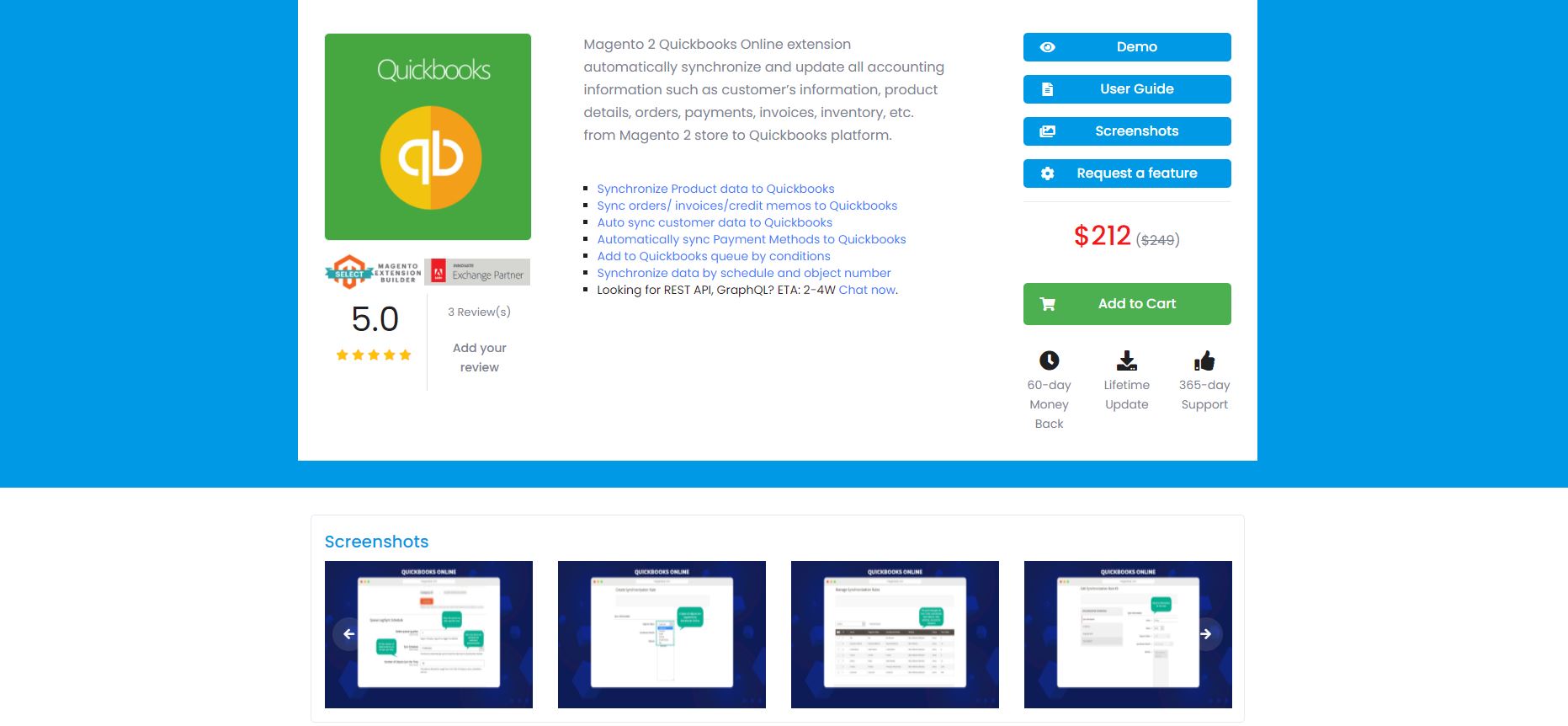 If you are looking for a user-friendly and powerful extension to manage your accounting administration efficiently, this Accounting Extension is the best option for you. To be more specific, this tool helps to synchronize automatically and updates every accounting data such as customers' information such as product details, orders, payments, invoices registration, etc. from your store to the Quickbooks platform. Therefore, you can better manage your online store as well as accounting data more effective.
Top features
Synchronize invoices/orders/credit memos to Quickbooks
Synchronize product/customer data and payment methods automatically to Quickbooks
Add to Quickbooks queue by conditions.
Synchronize data by object number and schedules.
3. Accounting Extension by Magenest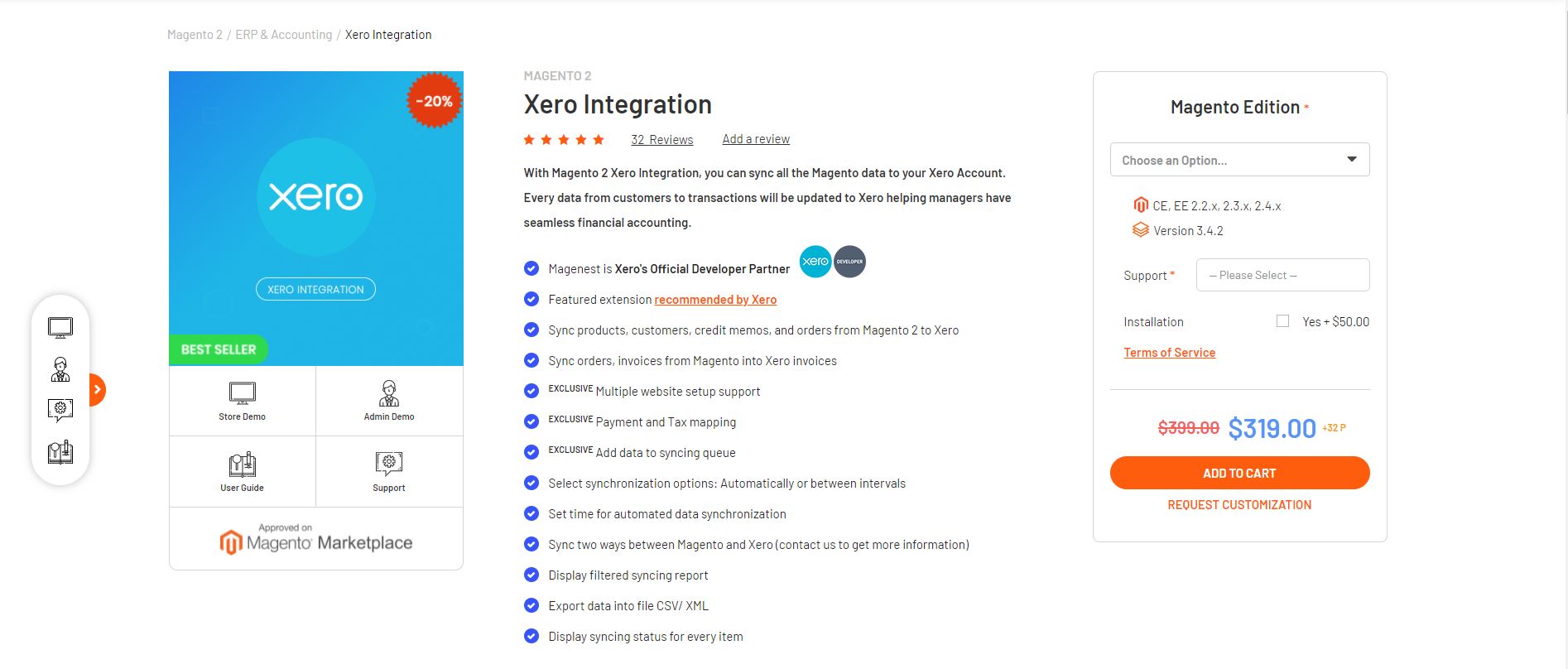 Our next recommendation is the one by Magenest. With this extension, you can sync all the Magento data to your Xero Account. At the same time, all information of customers to transactions will be updated to Xero. This will help managers have smooth financial accounting.
Top features
Firstly, this extension enables syncing products, customers' data credit memos, orders, and invoices from Magento 2 to Xero invoices.
Secondly, it supports 2 synchronization options
Thirdly, the admin is able to set a time for automated data synchronization.
Also, it supports you to synchronizes two ways between Xero and Magento.
Besides, this extension supports multiple website setups.
At last, it helps the admin to showcase filtered syncing reports and syncing statuses for all products
4. Accounting Extension by Fooman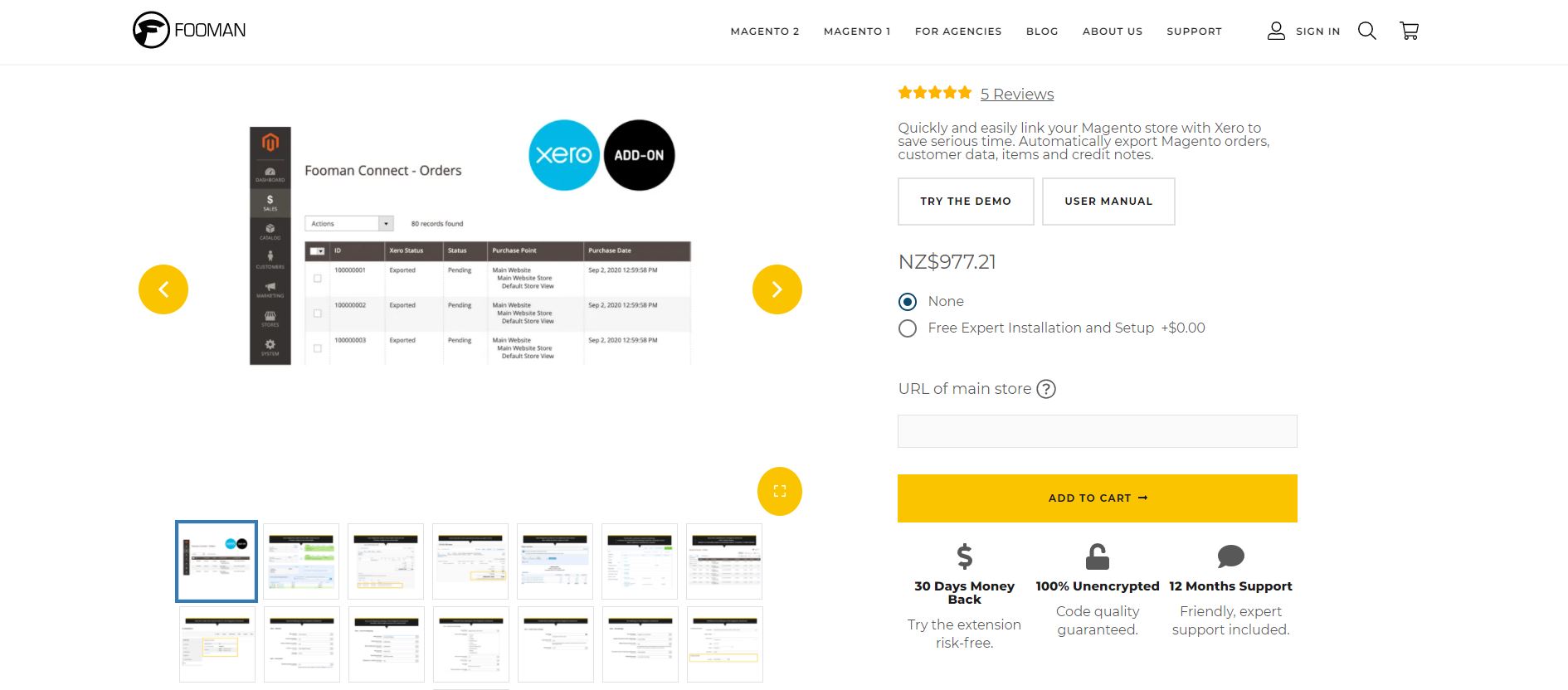 Moving to another Magento image extension you should know to upgrade for your eCommerce site is the extension by Fooman. This module allows you to integrate the Magento store with Xero. This helps shop owners easily export Magento orders, products, customer data, credit notes to Xero. Especially, this automatic process would assist you to reduce the mistakes and improve the accuracy of your information. As a result, you can prevent wasting a considerable amount of time on updating your records in Xero.
Top features
This extension supports the auto-export orders, credit notes, customer data, and selling products from Magento to Xero
Besides, it determines which order status will trigger the export
Automatically match the invoices to customer records in Xero
Track Sales of Magento store in Xero
Reflect your Magento tex setting accurately in Xero
5. Magento Accounting by Commerceshop

Coming to another powerful, well–functioning Magento Accounting by Commerceshop. This is trusted accounting software with the ability to save time on accountancy and paperwork. Besides, it's a budget-friendly module that supports the plan of your balance sheets, profit, and loss statement. Furthermore, this extension helps you to efficiently manage your enterprise finances and generate valuable business reports to make decisions.
Top features
Synchronize all financial data from Magento 2 to QuickBooks Desktop to precisely determine your revenue.
Automatically sync your customer data & product data, along with orders, invoices with taxes, shipping fees, discounts, and payment methods
Map tax charges of Magento 2 orders to QuickBooks Online
6. Accounting QuickBooks Integration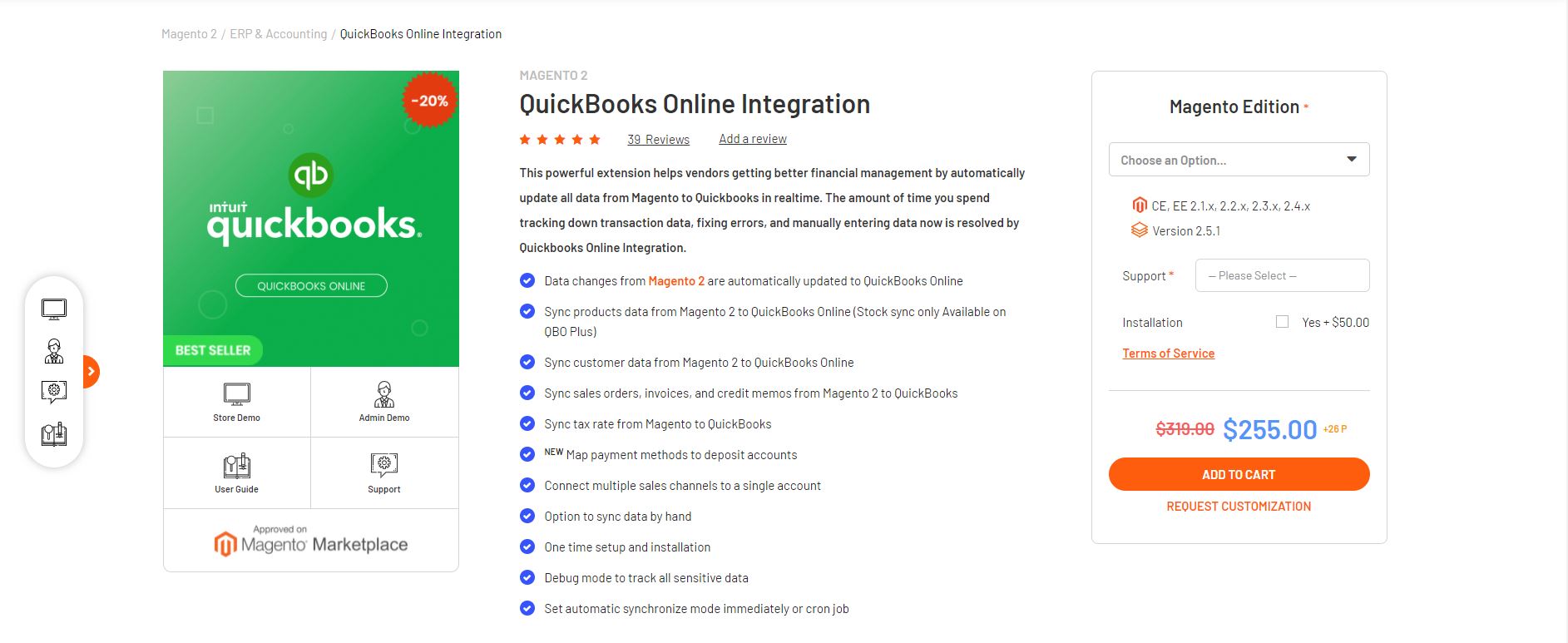 This extension by Magenest contains a long list of optimal functions. For example, it permits vendors to get better financial management by automatically update all information from Magento to Quickbooks in real-time. Moreover, the amount of time you spend tracking down transaction data, solving errors, and manually entering data now is handled by Quickbooks Online Integration.
Top features
Data changes from Magento 2 are automatically updated to QuickBooks Online
Enable Syncing products data from Magento 2 to QuickBooks Online
Sync customer data from Magento 2 to QuickBooks Online
Sync sales orders, invoices, and credit memos from Magento 2 to QuickBooks
7. Accounting Extension by PowerSync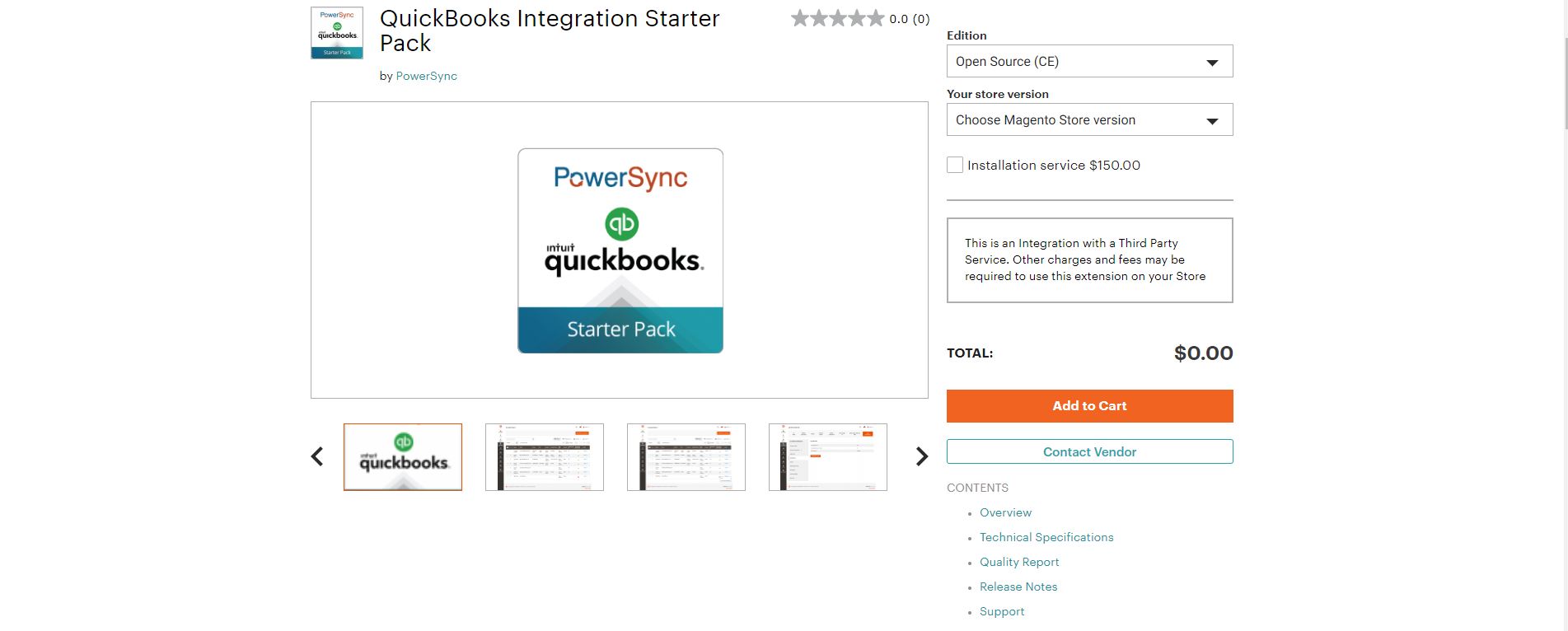 The next Accounting Extension we want to recommend to you is one of the most powerful products from PowerSync. First of all, similar to the extension, this extension will offer a workable solution for small and medium business to manage their store. Besides, it is responsive on all devices such as computers, iPad, or mobile phones. More importantly, this extension enables you to track and report the costs, pay bills, deal with payroll. By using this extension, you can eliminate various unnecessary data entries when you manage your online store.
Top features
Firstly, it enables you to Auto-synchronize customer and address information
Secondly, it contains the normalized data which is duplicate from the prevention mechanism
Thirdly, it supports real-time synchronization and on-demand synchronization are supported
Lastly, this extension provides customizable OpenSource code
8. Accounting Extension by Cedcommerce

Moving to another Magento image extension you should know to upgrade for your eCommerce site is the extension by Cedcommerce. This is a powerful tool that helps you automatically synch all accounting data like clients' information, products, invoices, Taxes, product quantity, and other accounting data from your Magento 2 store to your QuickBooks Online.
Top features
This extension provides one-way synchronization from the Magento 2 store to QuickBooks only.
Besides, it supports the automatic synchronization of product inventor, price, and invoices from Magento 2 to QuickBooks.
Cron job automates the process to upload all data Magento 2 Stores to QuickBooks
9. Accounting Extension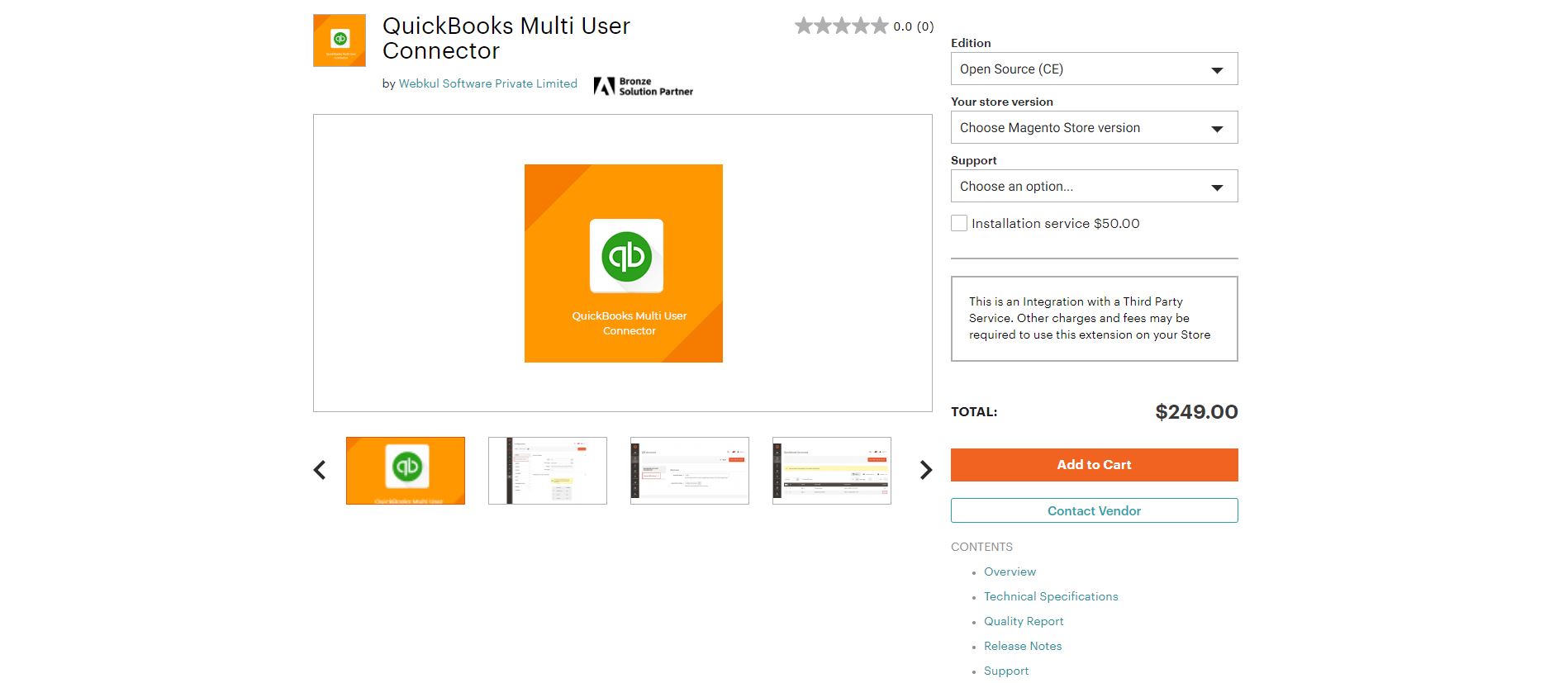 The one developed by Webkulis a user-friendly module. Like other extensions, the primary purpose is to help the merchants who have large businesses and manage more than one QuickBooks accounts. Furthermore, if you own multiple store views for global customers, you can easily sync the sales records with different QuickBooks accounts.
Top features
Firstly, the store admin can manually import credit memos from the store on QuickBooks with products and customers.
Also, it permits multiple accounts can be created and the admin can assign a store view to each account.
Besides, the account is authorized with QuickBooks.
Lastly, it facilitates order export synchronization to QuickBooks.
10. Accounting Quickbooks Integration by xtento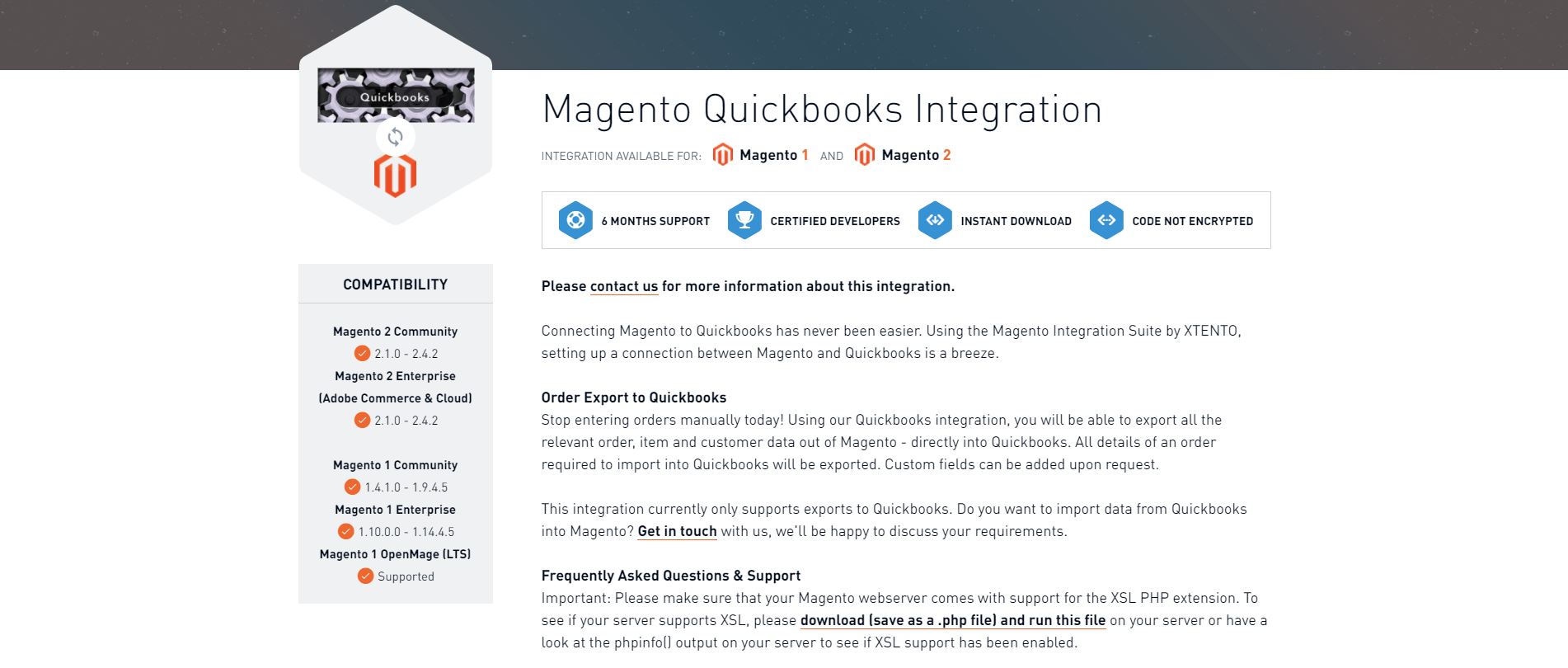 The Magento accounting extension by Xtento is our last recommendation for today. Similar to other Magento builders, Xtento comes with various great features in its extension. Notably, the extension permits the admin to connect your online store and sync all important data such as the product details, orders, inventory and etc. to QuickBooks. Therefore, it facilitates you to effectively manage your accounts and finances.
On the journey of development and growth, the best Magento accounting extension will do wonders for your online business. Besides, you can refer to other exclusive Magento 2 extensions as well as Magento 2 themes to improve your site