Magento banner slider extension: Top 10 best ones to increase customer attention and drive more revenue for your Magento 2 stores
Magento banner slider extension provides you a powerful solution for product marketing with banner sliders. This tool helps you to increase customer attention and attract new customers to the ad campaigns on the slider and boost the revenue for your store.
1. Banner Slider by Amasty ($139)

Magento 2 Banner Slider is an effective choice for your e-store. With this app, you can provides great shopping experience for the customers when they visit your homepage. Besides, it equips you with the beautiful carousels to attract visitors' attention to a particular item or service advertised.
2. Magento 2 Banners by Magesolution (Free)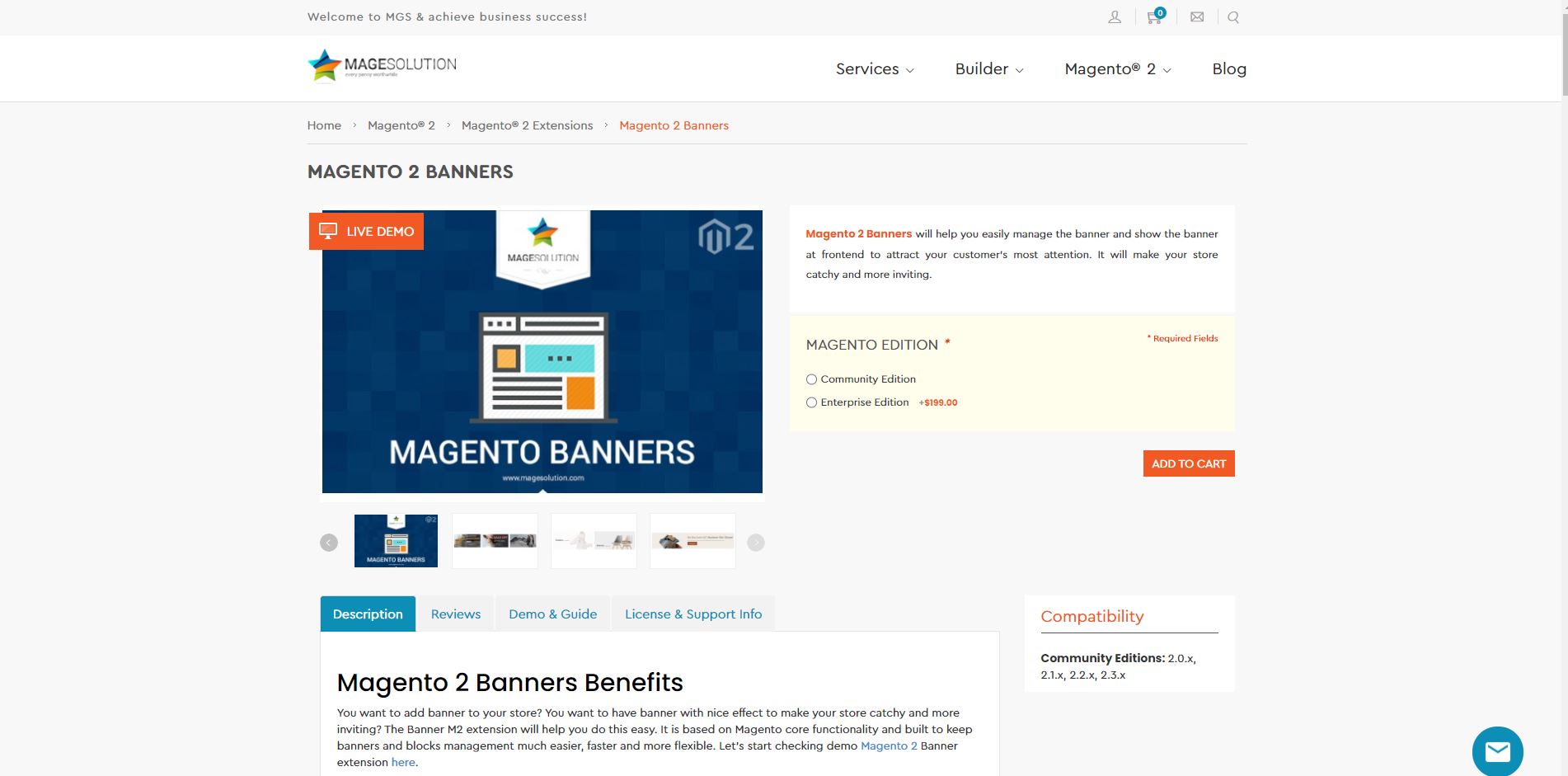 Magesolution is trusted by thousands of the Magento shop owners. There's no doubt that their Magento 2 Banners is one of the most trusted names among similar products. This extension is completely Free that includes a lot of features to increase customer attention and drive more revenue for your Magento 2 stores.
First of all, you will fall in love with the tool for its simple configuration. Secondly, it offers you the various types of banners, from the design (Banner, Single Slider, and 2 Sliders – Slider Sync) or the content (button, text, HTML). Thirdly, this extension also allows the sliders to show at multiple places so your visitor can quickly access product detail pages. Lastly, since the URL is directly linked to the banners, the shop owners can navigate the traffic to wanted items.
3. Rich Banner Slider by Aheadworks ($149)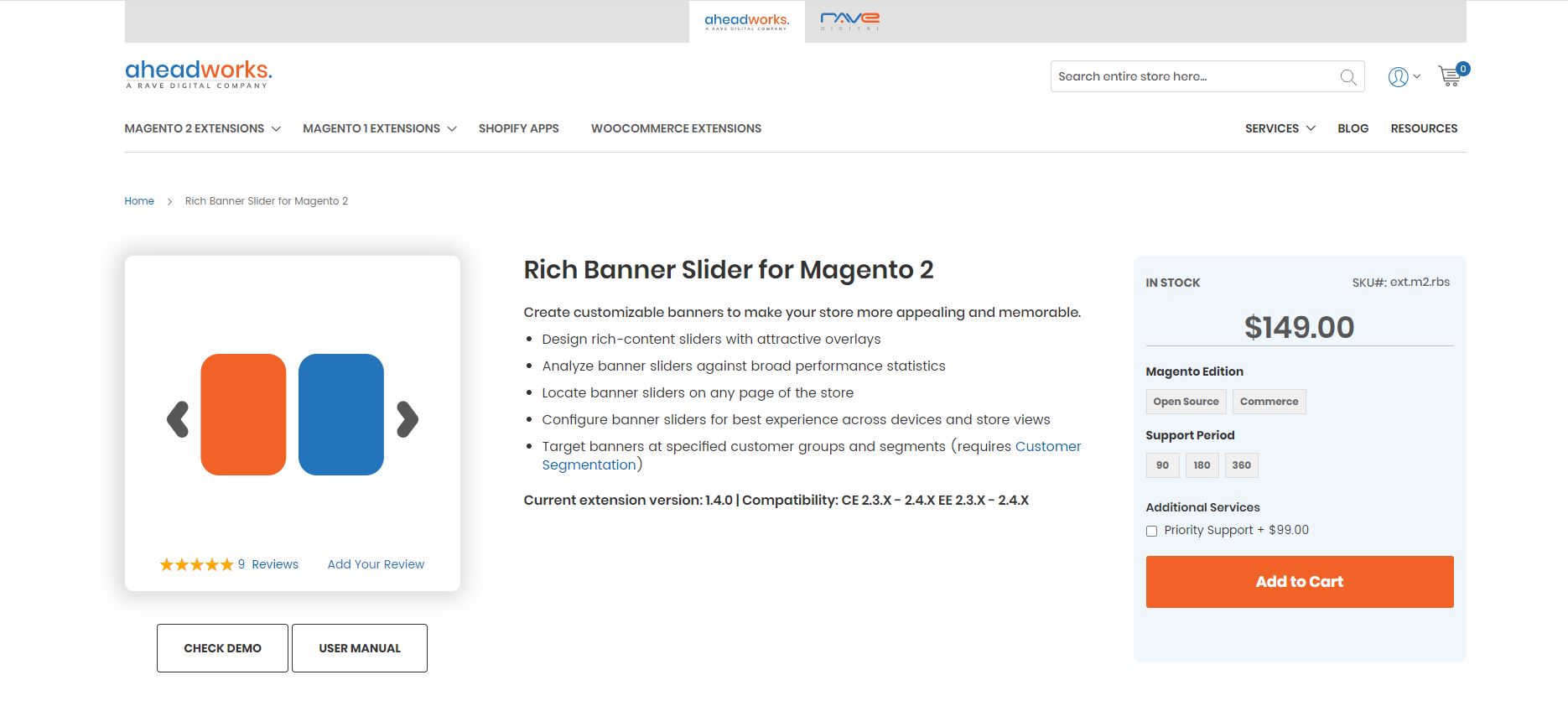 With this Magento 2 extension, you are ability to create appealing carousels and put on any places on your web page. Also, it supports multiple website and integrates the banners into the Magento 2 theme. From that, your site have a consistent and responsive appearance. Moreover, the banner extension makes it easy for visitors to follow the interaction of the banners since it supports you with the statistics relating to the carousels, such as the rate of click or pause time.
4. Banner Slider by FME (Free)

If you are looking for a powerful extension to change the appearance of your website, so this extension will be a great choice that you can not ignore. This free tool allows you to show various banners on multiples webpages in an appealing slider through the easiest and convenient method.
5. Banner Slider by Mageplaza (Free)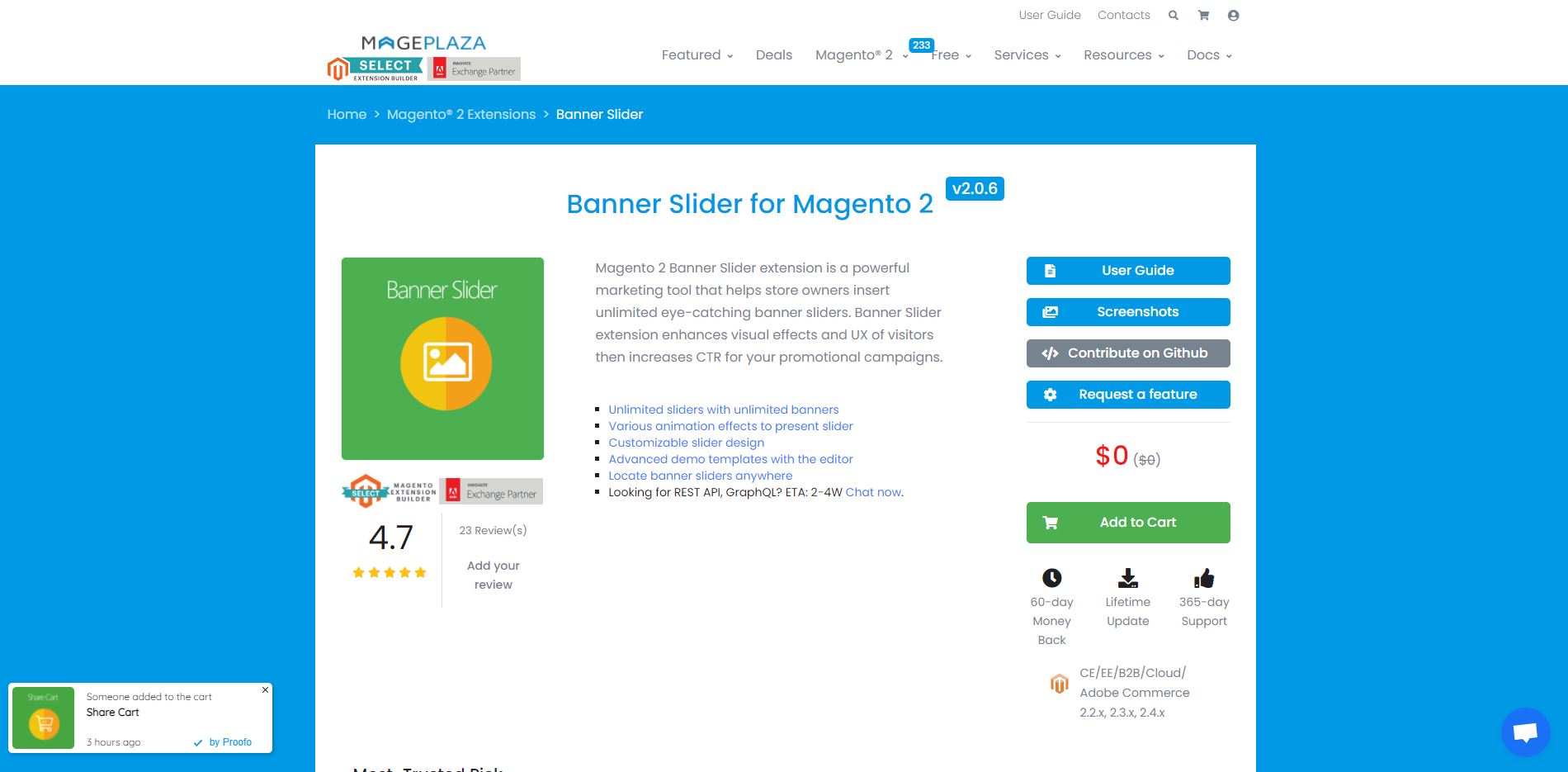 With this Banner Slider extension, you can be easy to create multi appealing animation slide for your banner. Also, you can choose over 30 placements to show for the banner. After installing this extension, you can custom the banner as you desire to attract your users when they arrive on your site. As a result, it will help you to encourage more shoppers' purchase and boost your sales for the store.
6. Magento 2 Image Slider (Free)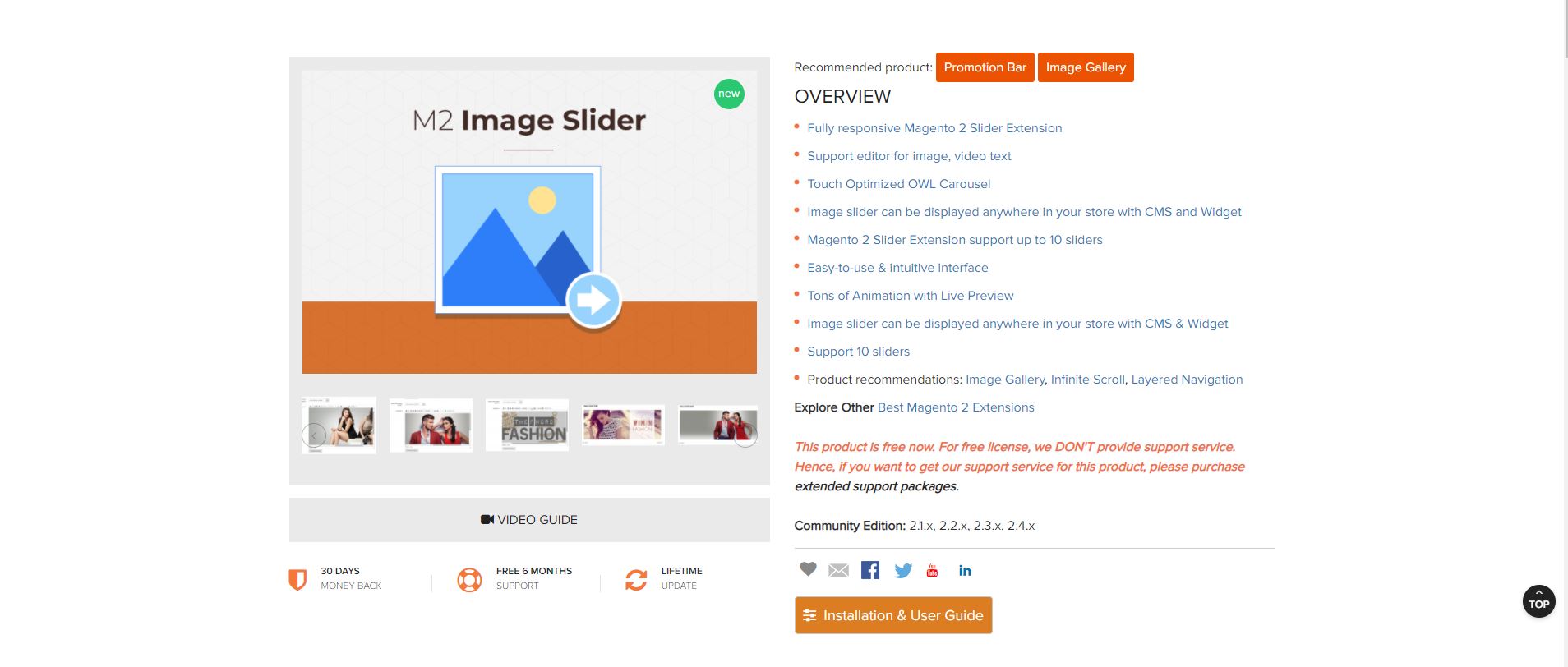 Magento 2 banner slider extension allows you to generate unlimited resource maps, banners and sliders. Besides, you can add multiple banners to a specific resource map and slider. Also, it's very convenient for you to customize banner slider design and display appealing sliders by including the widget to any page. What's more, multiple eye-catching banners, you can attract visitors at the first sight and make them interested in your messages. The longer users view banner sliders, the longer average time on website increase.
7. Responsive Banner Slider by Solwininfotech ($49)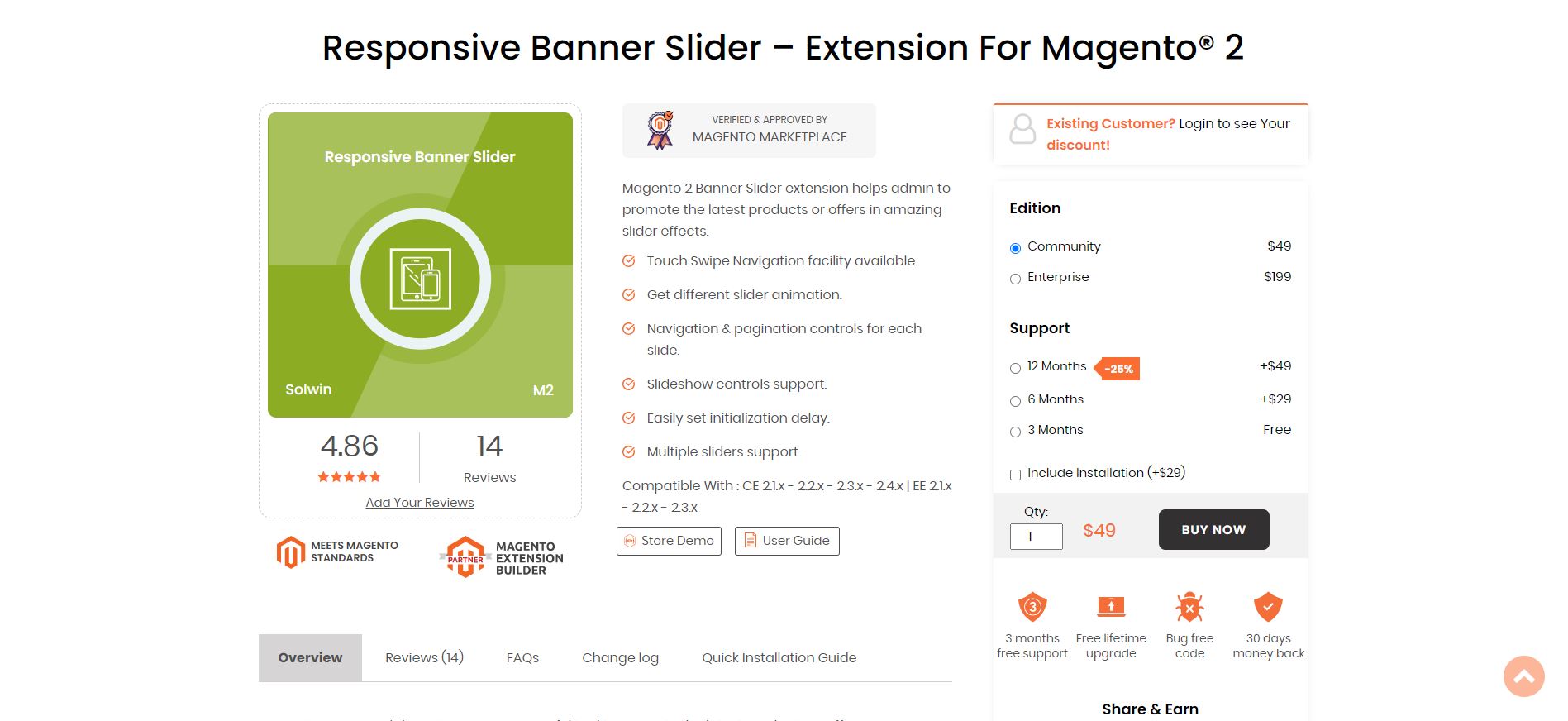 Magento 2 Responsive Banner Slider by Solwin Infotech is an amazing extension to highlight your design. It offers multiple sliders with a wide range of settings such as various animations, slideshow control, and direction control (horizontal or vertical). Moreover, this Magento 2 extension allows you to generate navigation to other webpages. More importantly, you can select between a keyboard or mouse wheel navigation. When shoppers hover on a banner, it'll pause so they can read more information.
Lastly, this Magento 2 extension also allows admin to customize the banners to match different devices, that provides your customers the best experiences.
8. Banner Slider by MageAnts ($69)

With the banner extension allow the shop owner to enable or disable the modules anytime depended on their marketing campaign. Similar to other module, Magento 2 Responsive Banner Slider helps you generate and take control of multiple banners.
Furthermore, it's easy to customize new slides since you can upload different pictures and set up particular settings depended on your own requirements. What's more, this extension allows admin to utilize shortcodes to make the configuration easier
9. Banner Slider by Magenest ($49)

Banner Slider for Magento 2 encourages more actions from visitors by interacting and mesmerizing carousels in the storefront. Thanks to attractive animations, you can make your items stand out anywhere on the website. It's up to your imagination to design the most appealing carousels.
10. Banner Slider by Mconnectmedia ($19)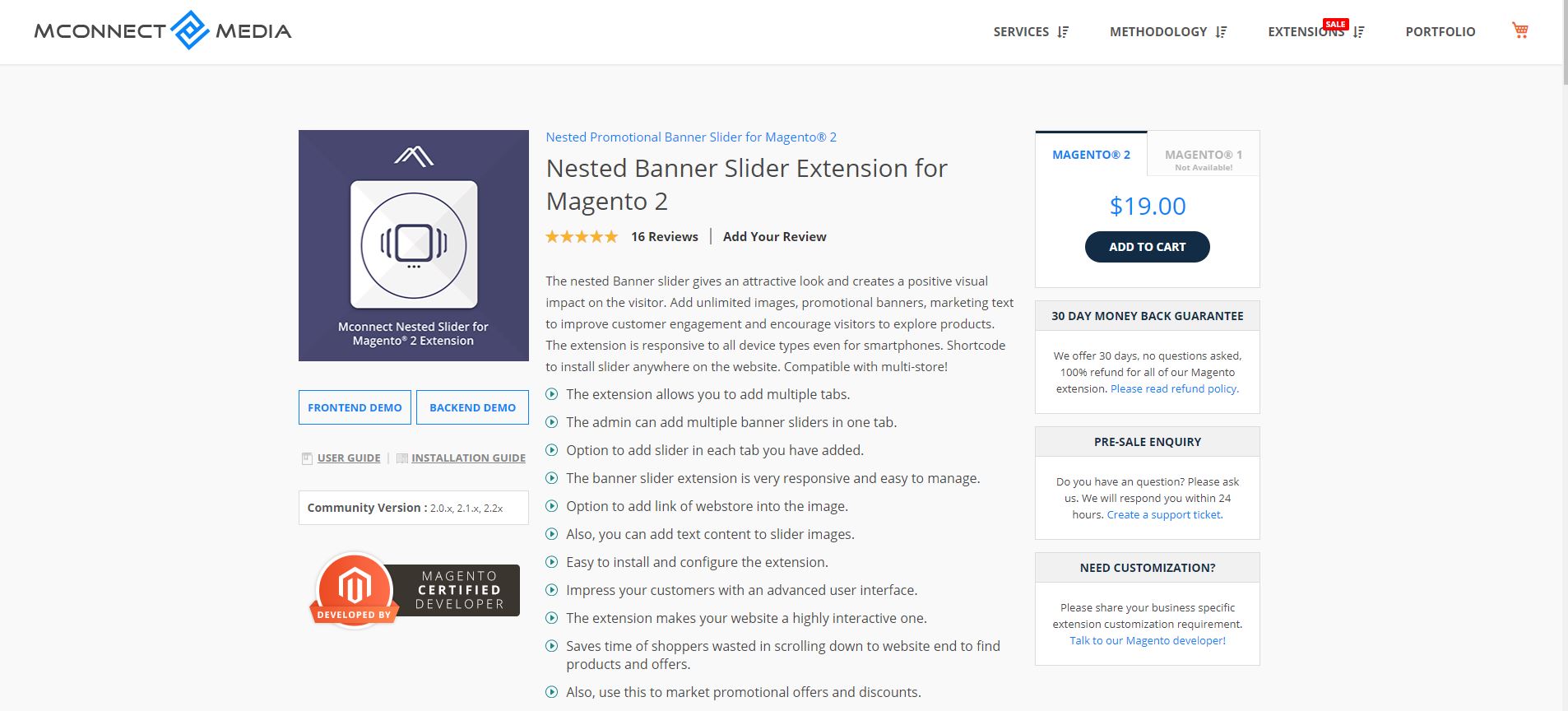 Banner Slider is a must-have tool for your Magento 2 online store. The attractive banner slider will make the customers curious and want to discover your store. From that, your store has more visiting of customers and increases in purchases.
Wrap – Up
These are top 10 outstanding Magento 2 banner slider extensions. We hope you find this list works out well for you. Also, explore more powerful Magento 2 extensions and Free Magento 2 themes at our store