Magento advanced reports extension: Top 9 best ones to help you make strategic decisions for your Magento 2 stores
One of the most important things for every Magento 2 stores is to measure the effectiveness of the business. From that, store owners can make the right decisions. Hence, advanced reports extension was born to help you keep track of your performance. Today, Arrowtheme will introduce the top 9 best Magento advanced reports extension to help you make strategic decisions for your Magento 2 stores
Magento 2 Advanced Reports by Magesolutions is a must-have advanced reports extension for any Magento stores to make strategic decisions. Most importantly, this robust Magento extension is fully Free, so you can integrate it to your website easily without paying any fee. This extension allows you to select the report by one or multiple stores or all. You can select "custom date range" options available in dropdown-box such as Today, Yesterday, Last 7 days, Last week (Sunday – Saturday), Last business week (From Monday to Friday), This month, Last month, … This drop-down box is available for all types of report and it's an advanced feature for you.
Besides, you can filter the report by order status. Presently it's providing 8 report options for you to select including reports on sales by country, sales by product, sales by customer group, sales by coupon code, sales by hours, sales report, sales by day of week, and report about new customers and returning customers.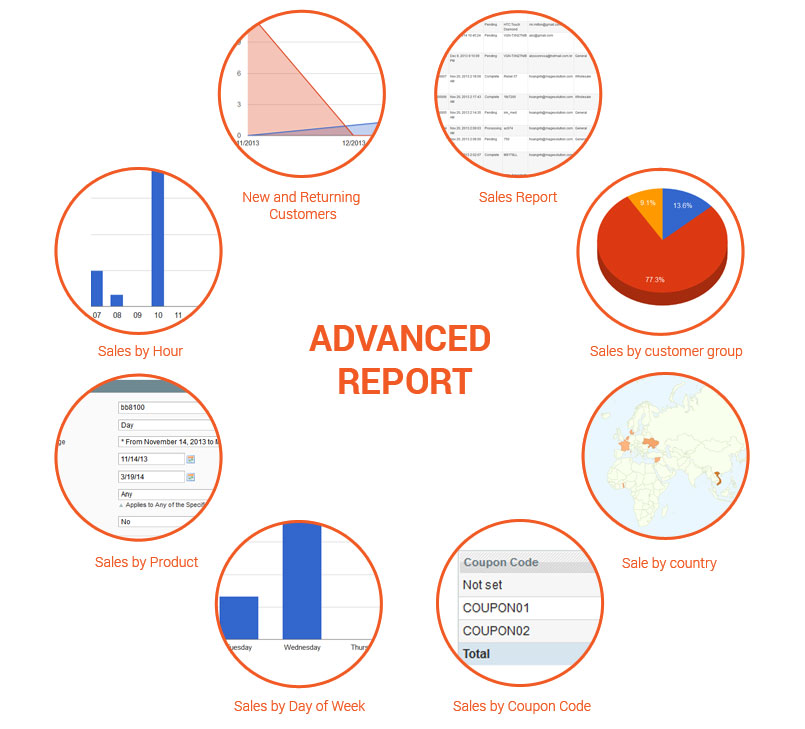 Other features:
100% open source code
Delivered with the full extension package
Full user-guide document
Easy to install and configure
Price:
Free
Magento 2 Reports Extension by Mageplaza provides you with statistical data about your products, customers, orders and so on. All the informative data is displayed in beautiful graphs and charts. Therefore, Magento admin can easily read the data and make decisions. Moreover, Magento 2 Reports Extension customizes and compares your report among periods, locations, products, … Also, for pro editions, admins can filter report elements by selecting the status. For example, you can filter sales report by steps such as processing and shipping. Last but not least, you can fix the layout of the dashboard and save it for future use.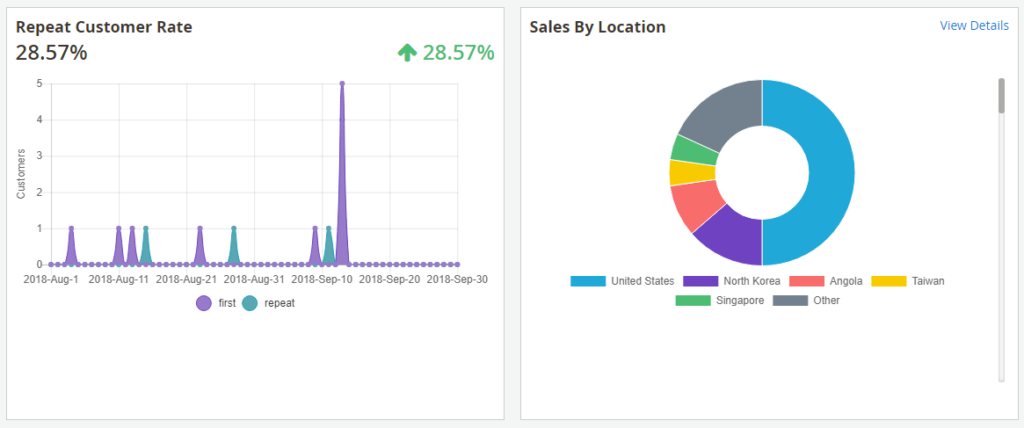 Price:
Free for the newbies
$199 for the professional
$299 for the ultimate
Advanced Reports for Magento 2 by Mirasvit helps you manage all the data by providing detailed reports, customizing your reports and using a powerful dashboard. For the detailed reports, it shows all the necessary data and KPI in tables, charts and separate value. You can use 20 premade reports like sales overview, order overview, new and returning customers, product performance and so on. Besides, you can customize your reports by adding or removing the column, changing the order, filter variable, and switch time frame. Additionally, you may export a CSV or an Excel XML file to have a backup. At last, you can use the dashboard to see the comparison and trend lines in a period. Or you can even share the dashboard with a third party.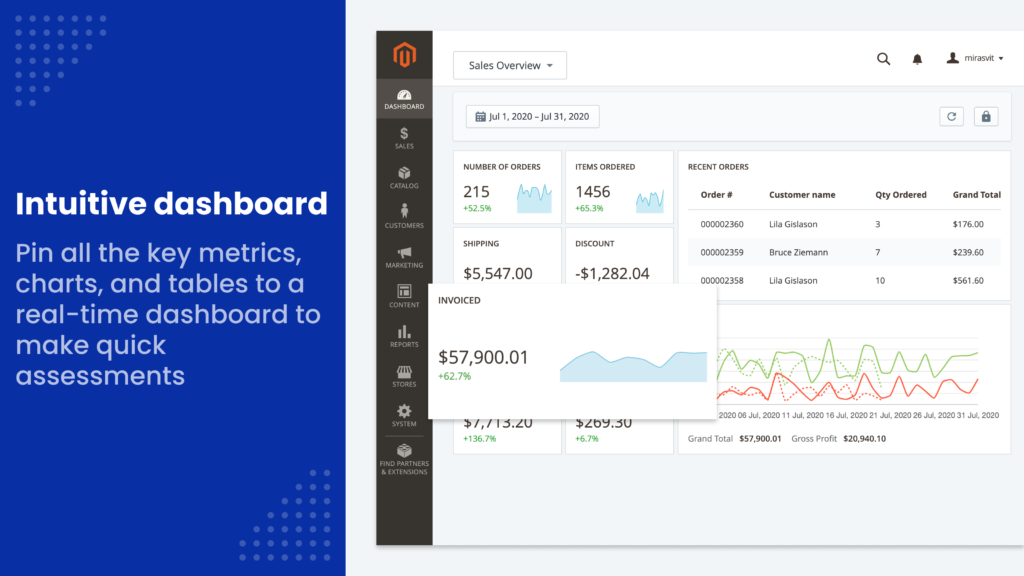 Price:
$169 for the Community edition
$368 for the Enterprise edition
Service:
Support free for 90 days
Free update in all lifetime
30 days money-back guarantee
This extension gives you 5 types of reports including revenue, customer group, geolocation, sales reports and bestseller reports. Firstly, you can view revenue reports by date. This extension will express the revenue between today and yesterday correlation by percentage. Hence, you can compare the performance of each period. Secondly, it groups the customer's data and shows the sales corresponding. So you can know the target customers group of your business. Thirdly, geolocation reports show you the sales data based on locations. Next, best seller reports are displayed in a bar chart so you can easily compare each product.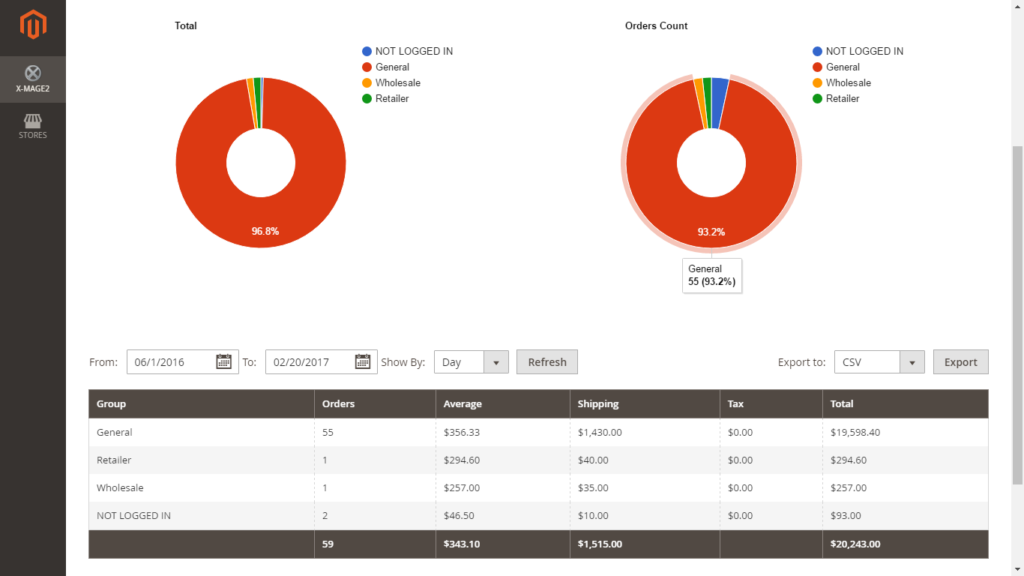 Price:
$39 for a regular license
$195 for an extended license
Magento 2 advanced reports extension by Aheadworks brings to you 13 reports with adjustable graphs and tables. Also, all the data can be exported in CSV and Excel files. By using the dashboard panel, you can see an overview of the key sales metrics with a list of reports. Moreover, this extension supports you to calculate the profit in each category of products. Besides, it monitors the purchase rate and remaining merchandise volumes to make a prediction about how soon you will be out of stock. Additionally, you can send your report to others via email by simple steps.
Price: $159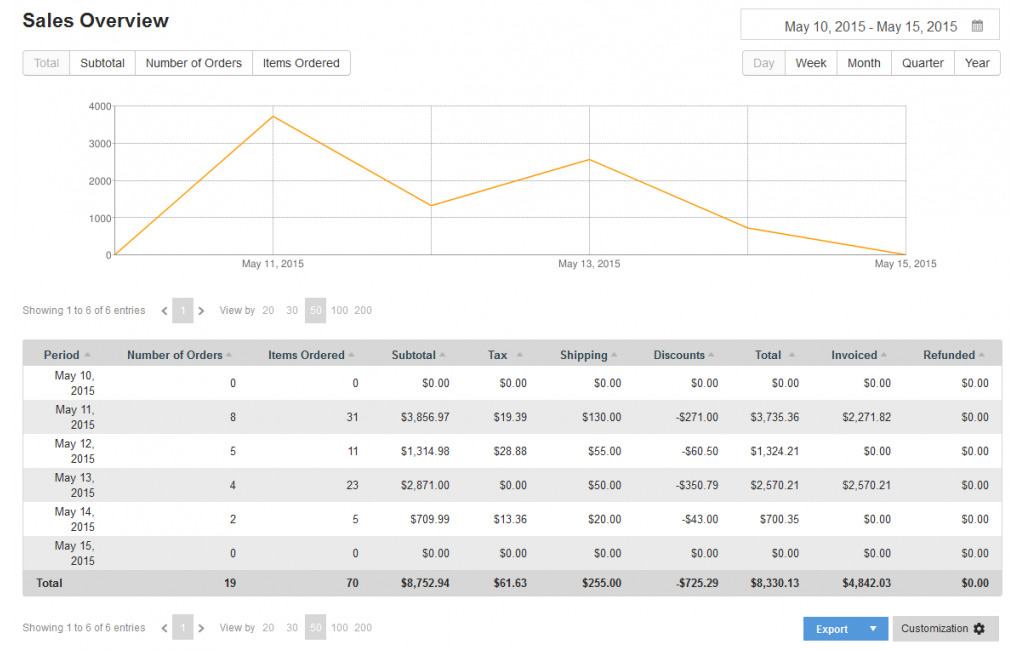 Marketplace Advanced Report System For Magento by WEBKUL allows you to see all the reports about sales and revenue and the presentation in graphs. In addition, you can filter the reports by selecting different options such as categories and order status. From the reports, owners can know exactly the best customers and top-selling products.
Furthermore, you can create a report on the basis of order status or product category. You also choose the interval for your need. For the mobile application, Webkul also provides the Mobile Marketplace for Magento 2.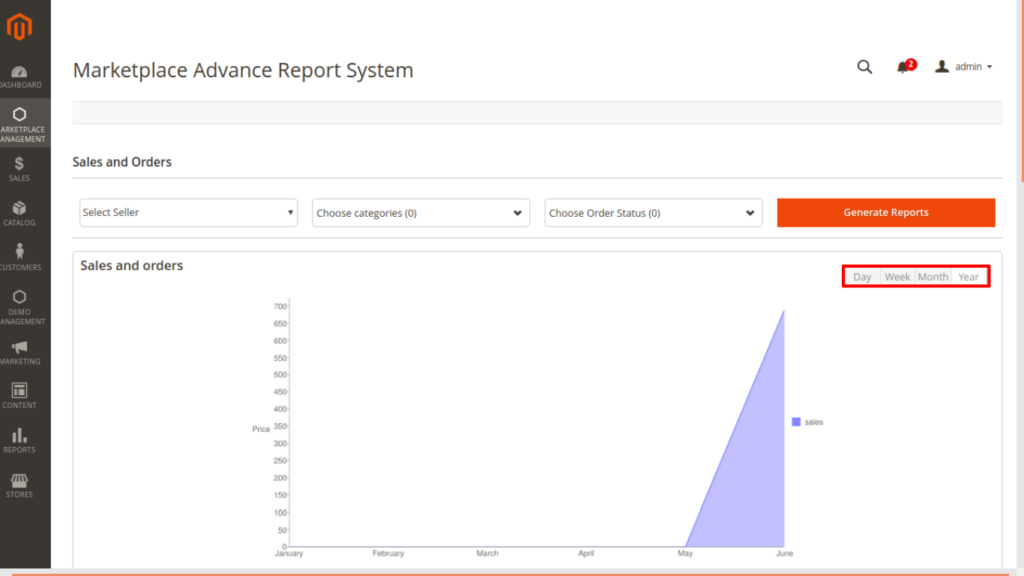 Price: $199
Advanced Report by Magestore gives you an overview of your current business through inventory reports and key sales metrics. It collects all data about sales every day, every week and every month. Therefore, it can calculate the profitability metrics such as COGS, Profit, Profit Margin and promotional effectiveness metrics: Discount, Refund. From that, you can evaluate your performance.
Besides, it also records the status of inventory. So you can adjust and predict the sales volume. Moreover, this extension shows the contribution of sales staff. Hence, you can reward and give a bonus to them.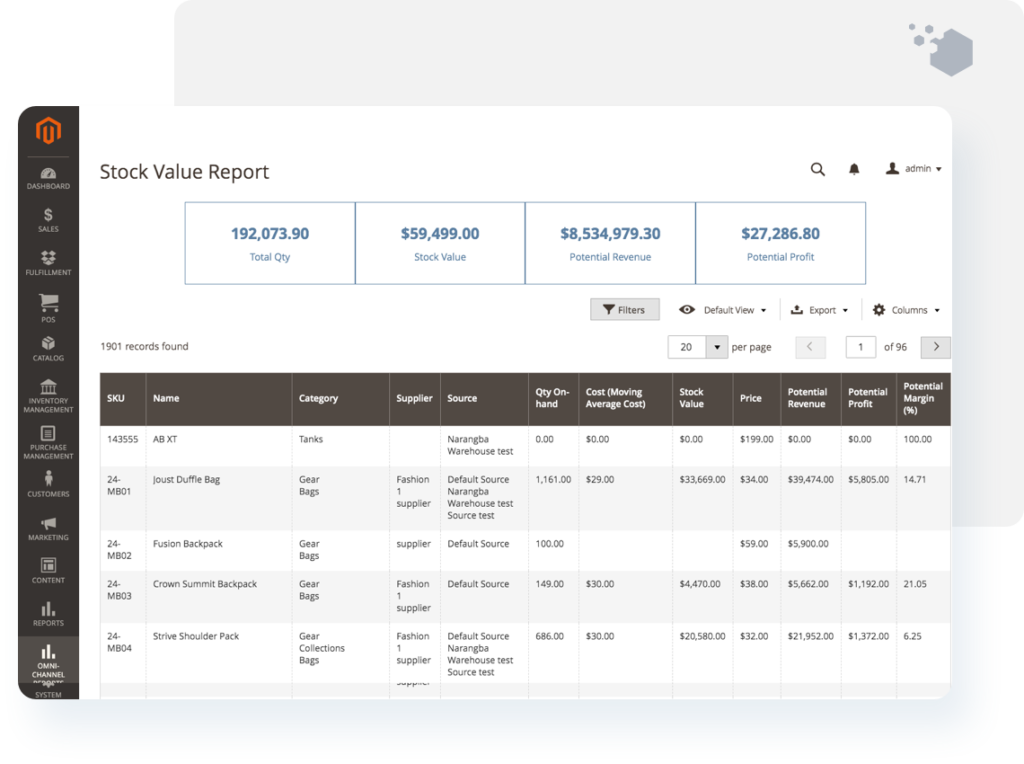 Sevice:
Solution building is free
Guarantee for 365 days
Free lifetime update
Free support in one year
Advanced Reports by Amasty provides you with all key metrics and detailed reports. From that, you can know customer demands to boost sales, then build sales strategies effectively. Besides, this extension shows interactive charts to understand sales trend. Also, you can customize rule-based reports and select filters for searching. Furthermore, it schedules the reports emailing to you.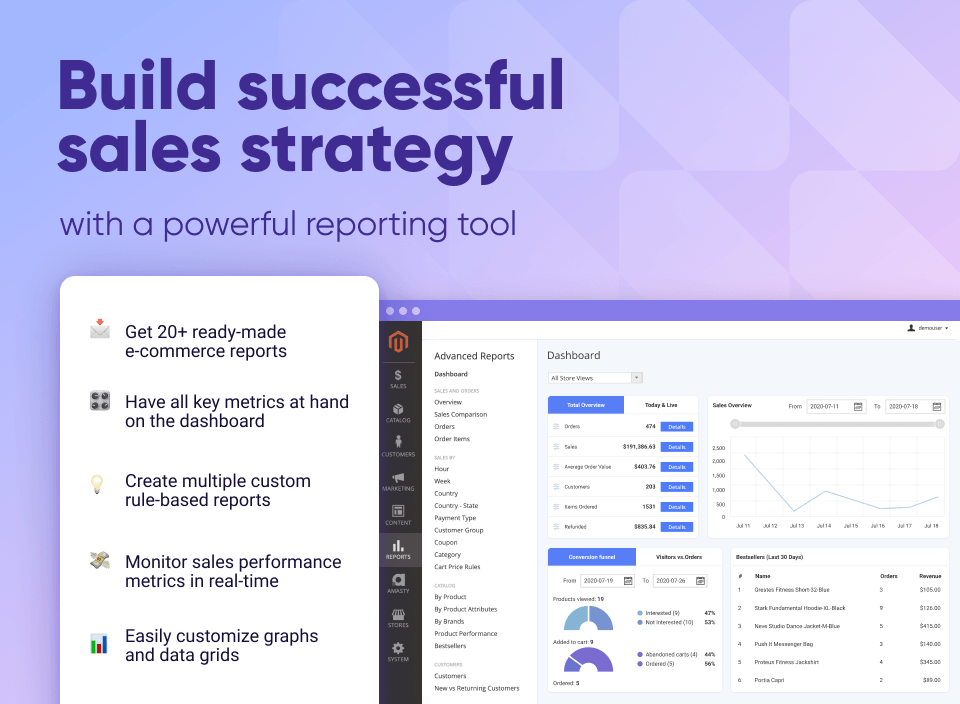 Price:
$319 for the community edition
$619 for the enterprise edition
Service:
60 days money-back
Free lifetime update
Free support in 90 days
Advanced Reports by Apptha gives you reports about the time that customers purchase, sales in a specific period, revenue for each product, and product transaction reports. Also, it allows you to export all reports in CSV/XML formats. Additionally, you can view the graphs and data at any time by viewing options. Moreover, you have the option to customize front end visibility and backend functionality to better access customer details.
Price: $149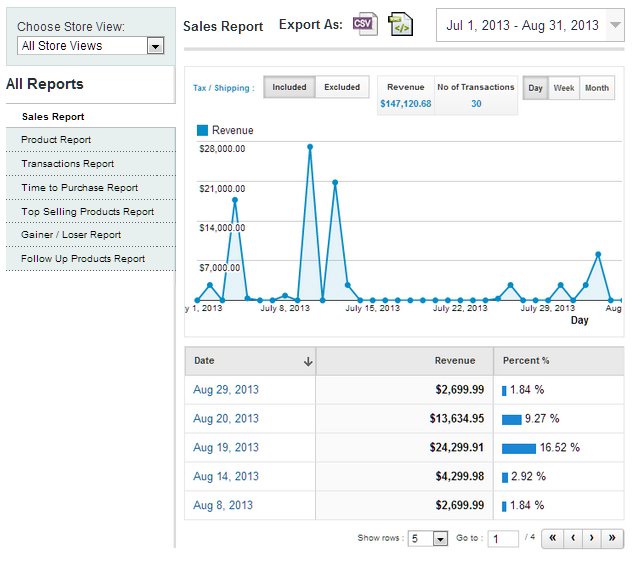 In conclusion, Arrowtheme hopes that our review is helpful for you. Besides the Magento extension reviews, Arrowtheme also provides a lot of eye-catching Magento themes. Let's come here with us!