Magento image gallery extension: Top 10 best ones to draw customers' attention for your eCommerce stores
Magento image gallery extension is a smart tool to make your online store more aesthetic and appealing. In this post today, we will introduce to you this awesome feature the top best extensions you can try to improve the customer's experience and boost sales. Let's check them out!
1. Image Gallery by Magenest – Free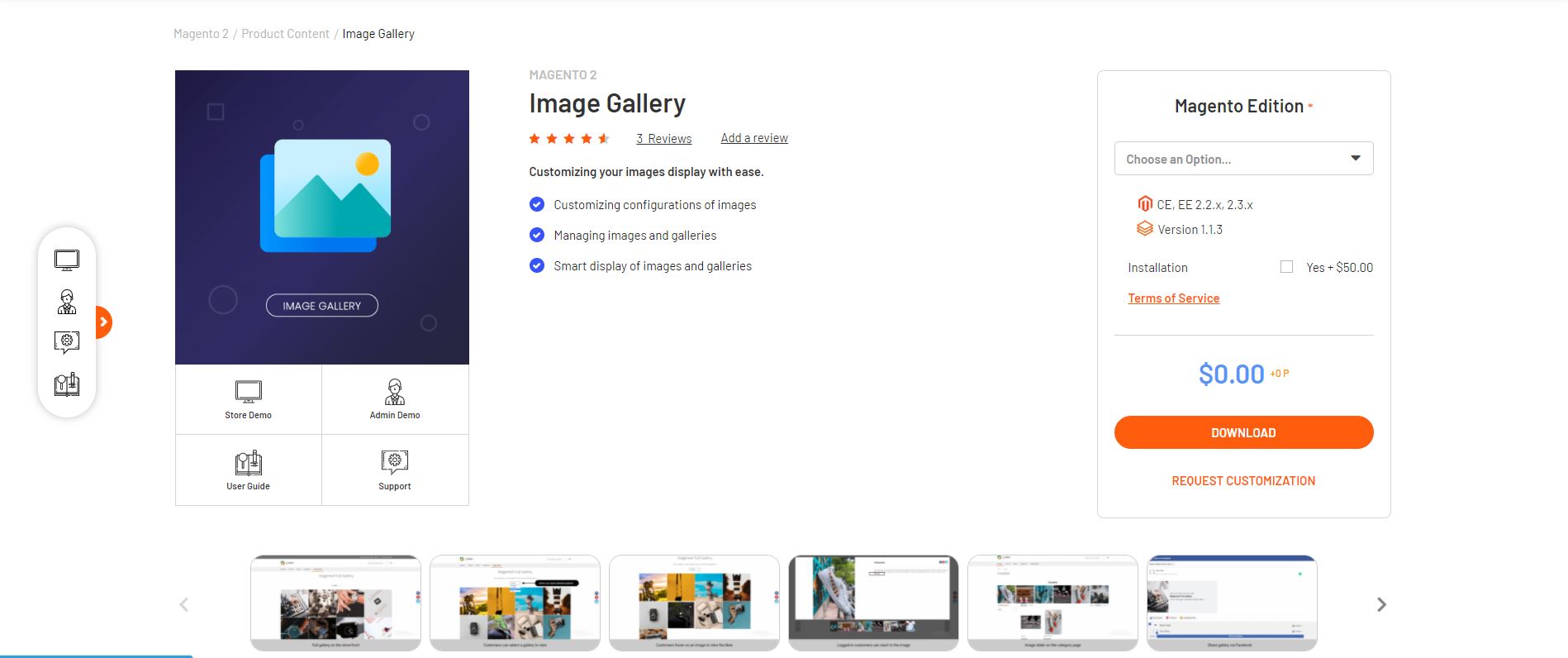 The first one will be a module developed by Magenest, which is a "free to download" extension. With this extension, the admin can generate eye-catching photo galleries into different categories according to requirements. Moreover, the admin can easily manage image albums and categories on the online store.
This extension allows the admin to add and manage images into various galleries
Besides, the admin can add new images, delete, change status, and use filters, etc
The admin can manage galleries and images
Aso, the admin can customize the gallery settings
User can easily see the products' images and galleries
2. Image Gallery by MageArray – $49

Being the second Magento 2 for Image, MageArray's module is your smart choice. Just like other Magento photo gallery extensions, this extension provides merchants with the ability to publish photo albums of the business's products, services and lookbooks, etc. However, MageArray's Image Gallery doesn't support adding videos to the gallery.
Display and organize multiple images into different categories and gallery pages
Offer a range of features to show galleries in different views
Get complete control of all photo galleries at the store's backend
Offer the settings for the image's ratio, title, thumbnail, description,
3. Lookbook for Magento 2 by Magesolution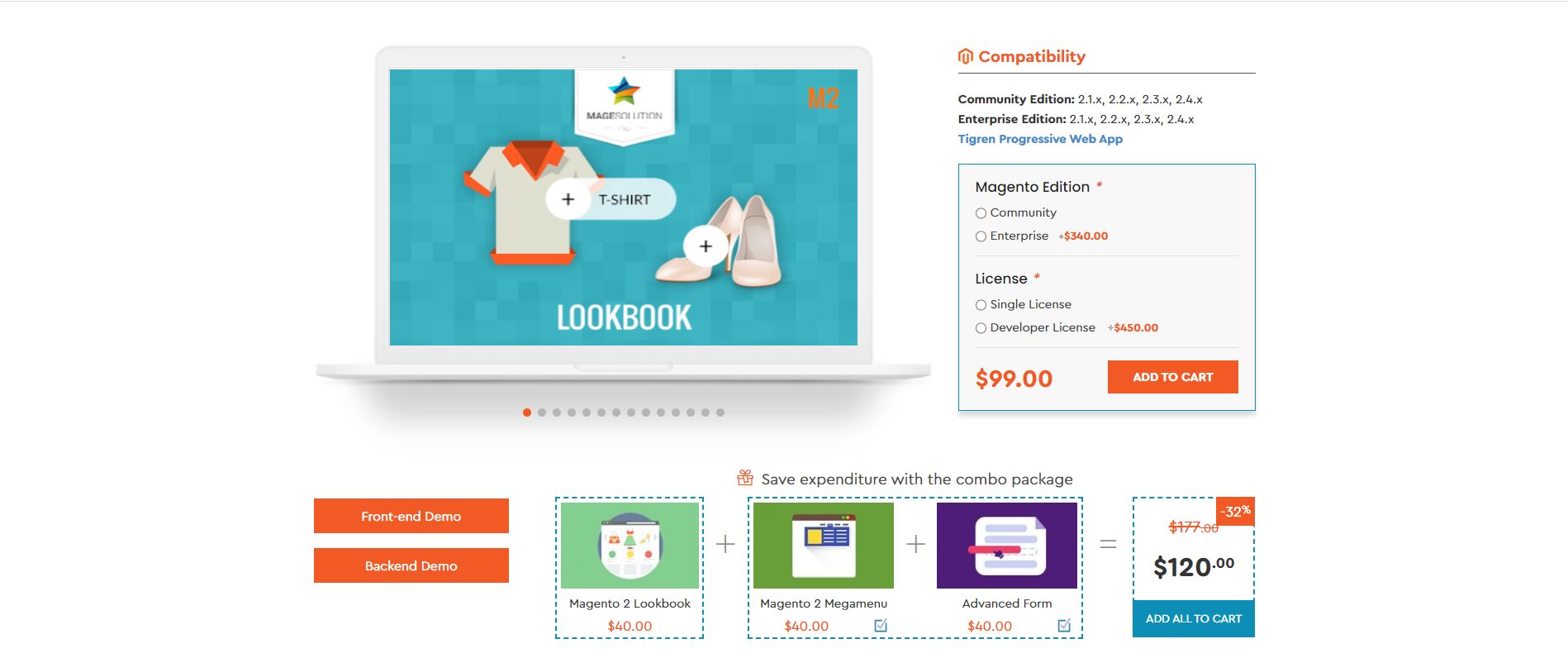 It is a fact that not many shoppers know how to mix and match certain items in certain situations. Do you think they need a solution that always comes up with something attractive and applicable? With the Lookbook extension, the shop owner can bring customers a product collection just with an image. It is a smart solution to give each item in the collection a separate tag.
Bring customers a product collection just with an image
Motivate customer to buy the product in combo package or in set
Easily work with the pinned attachment
Support 2 kinds of pin: product detail and custom text
Add All to Cart button help customers save time for buying all products
Easily gather lookbooks as a smooth lookbook slider
Administrator-friendly operation configuration panel
4. Magento 2 Gallery by bsscommerce – $79

Coming to another powerful, well–functioning Magento image gallery extension by Bsscommerce. With this extension, you can create an image and video gallery & manage product images with ease. At a reasonable price, this plugin will provide you an excellent gallery fitting all screen solutions and devices.
This extension enables adding video to the photo gallery
It also allows you to change the meta title and meta description of each photo gallery
This extension comes with 2 layouts for displaying the gallery:
Photos on the album will be represented in lightbox
5. Magento 2 Image Gallery By WebKul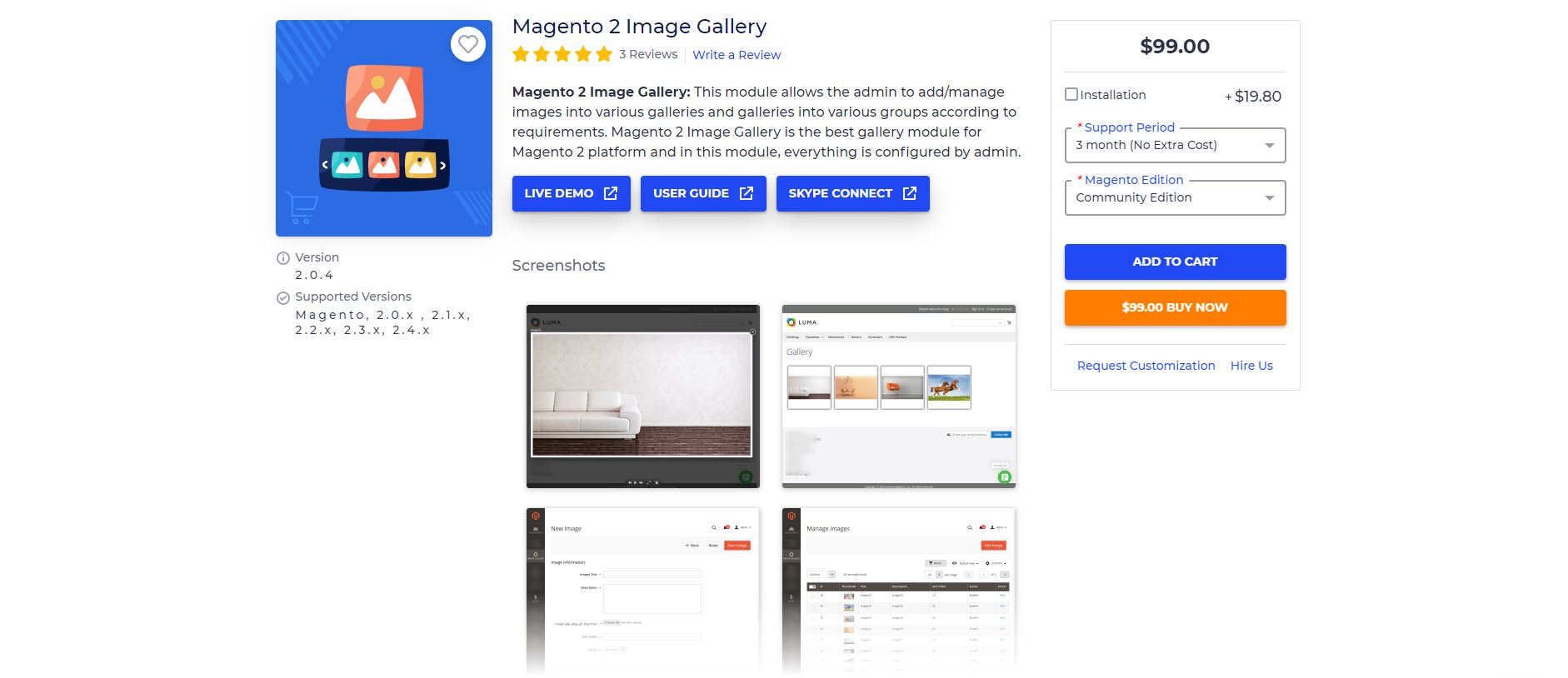 The next Magento image gallery extension we want to show you is one of the most powerful products from WebKul. First of all, similar to the image gallery extension, this extension will help to highlight the best products and gain customers' attention at the first sight. Besides, this extension allows the customers can view the images and the video on your website clearly and smoothly.
Highlight features
This extension allows the admin to enable to add and manage images into various galleries.
It also assigns galleries into various groups.
This extension permits you to add various effects for display images.
This tool allows you to zoom or change images using mouse enter, etc
6. Image Gallery by Magezon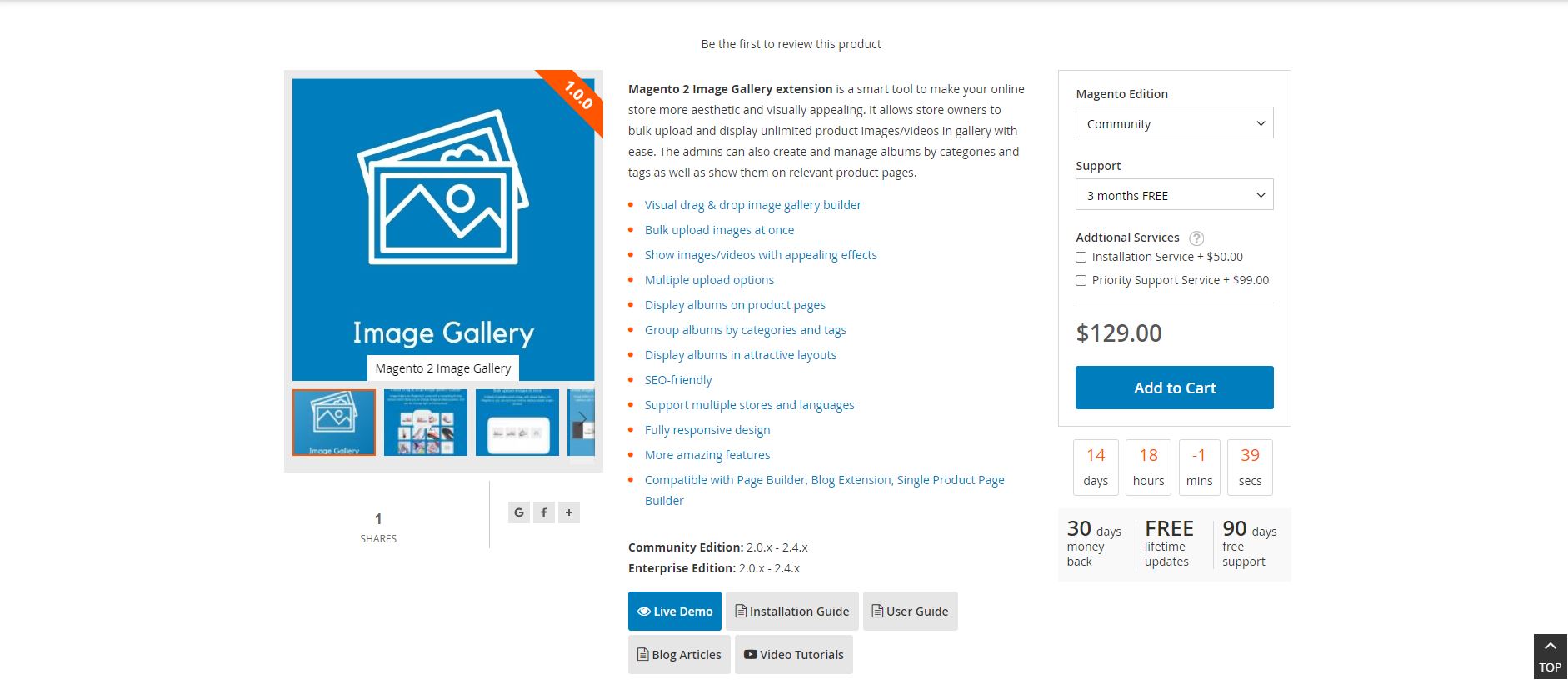 This Magento image gallery extension is a great solution to make your website more aesthetic and visually appealing. In particular, this extension offers a visual drag & drop feature that permits you to adjust the images and videos' position. Through this, the admin is flexible to arrange images & videos order in an album as you wish without coding skills.
Highlight features
Support visual drag & drop image gallery feature
Enable bulking upload images at once
Allow showing images/videos with appealing effects
Support multiple upload options
Display albums on product pages
7. Gallery View by Mconnectmedia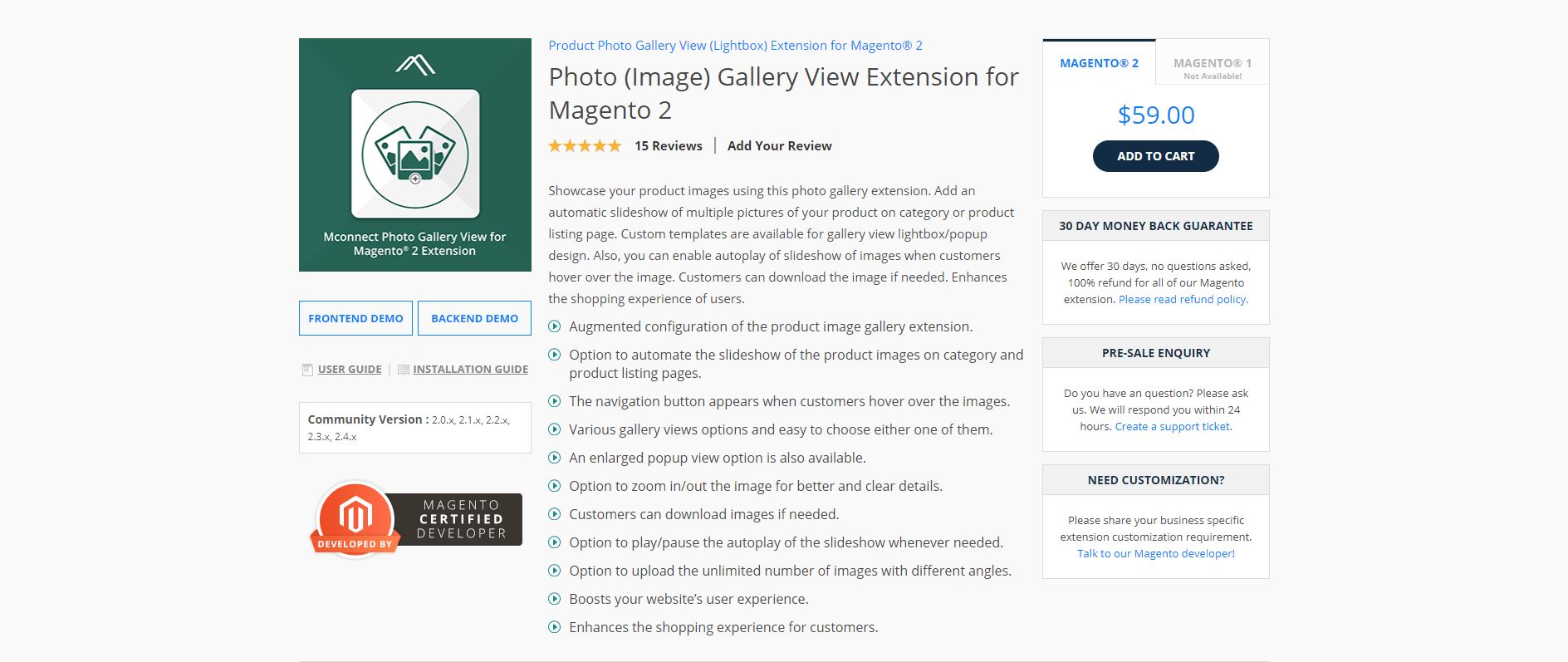 The next extension we mention on this list is an extension by MConnect Media. Compared to other modules, this extension actually costs a much higher price. With that cost, this module enables you to get out of the same extension in some aspects with more enhanced functions. For example, your customers can zoom in or zoom out the images for better viewing. Likewise, they can use the navigation buttons when hovering the photos, etc
Firstly, this extension supports the automatic slideshow of the product images on the product list page.
Besides, it comes with the next and previous image options when hovering on the image.
Also, this extension supports different types of gallery view options.
At last, it suports enlarged image pop up.
8. Magento 2 Lookbook By Landofcoder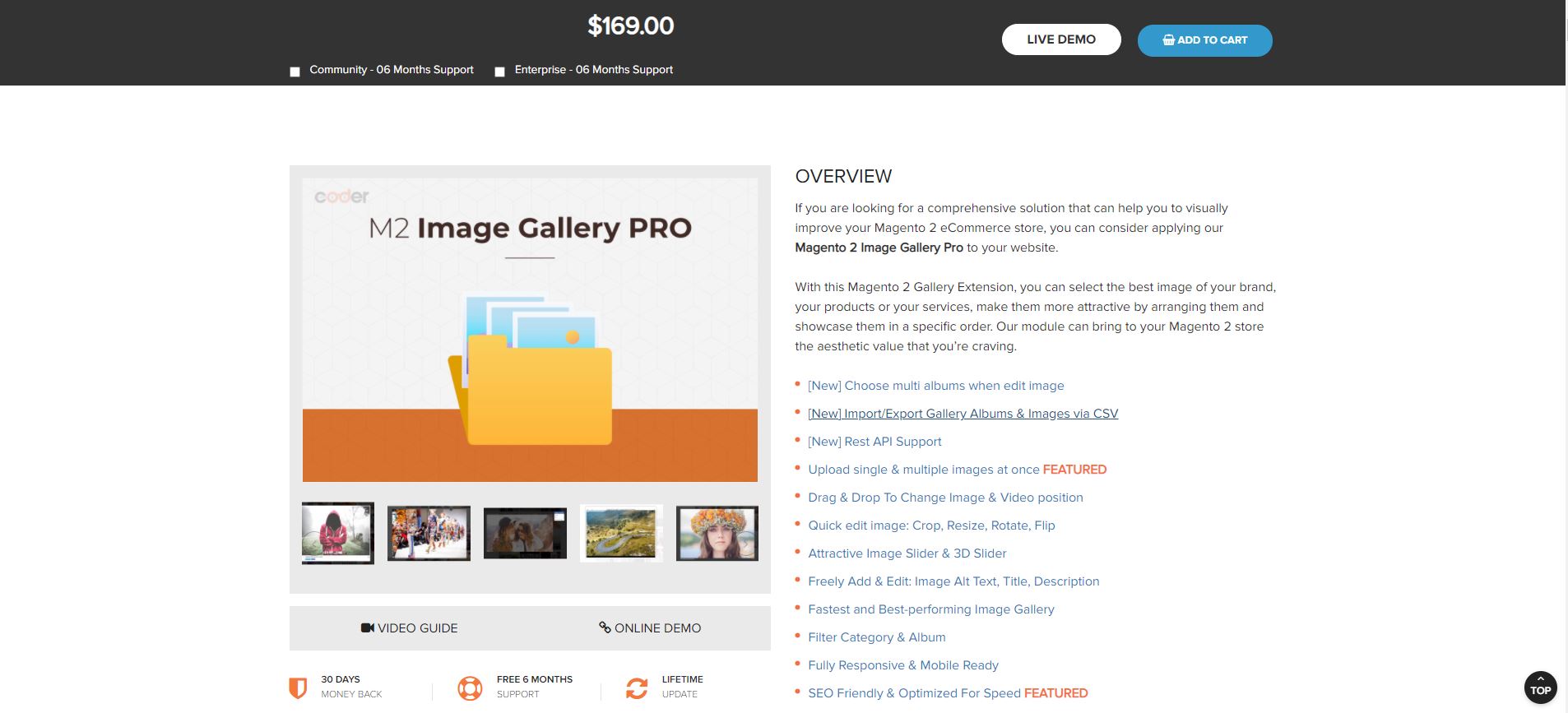 With this brilliant Magento 2 extension, the Magento 2 store owners can choose and showcase the most stunning and attractive images to the website; thus buiding a professional and eye-catching vibe that can help to attract more customers and boost more sales.
Firstly, it enables showing images in an eye-catching lightbox and slideshow
Secondly, the admin allows displaying various photo galleries with multiple layouts
Thirdly, the admin can add video from Youtube to a photo gallery at the backend with no difficulty
Also, you easily add and edit photo descriptions, metadata for all images and pictures
At last, the admin can assign photos into various galleries as well as attach an image gallery on a photo gallery page
9. Image Gallery by FME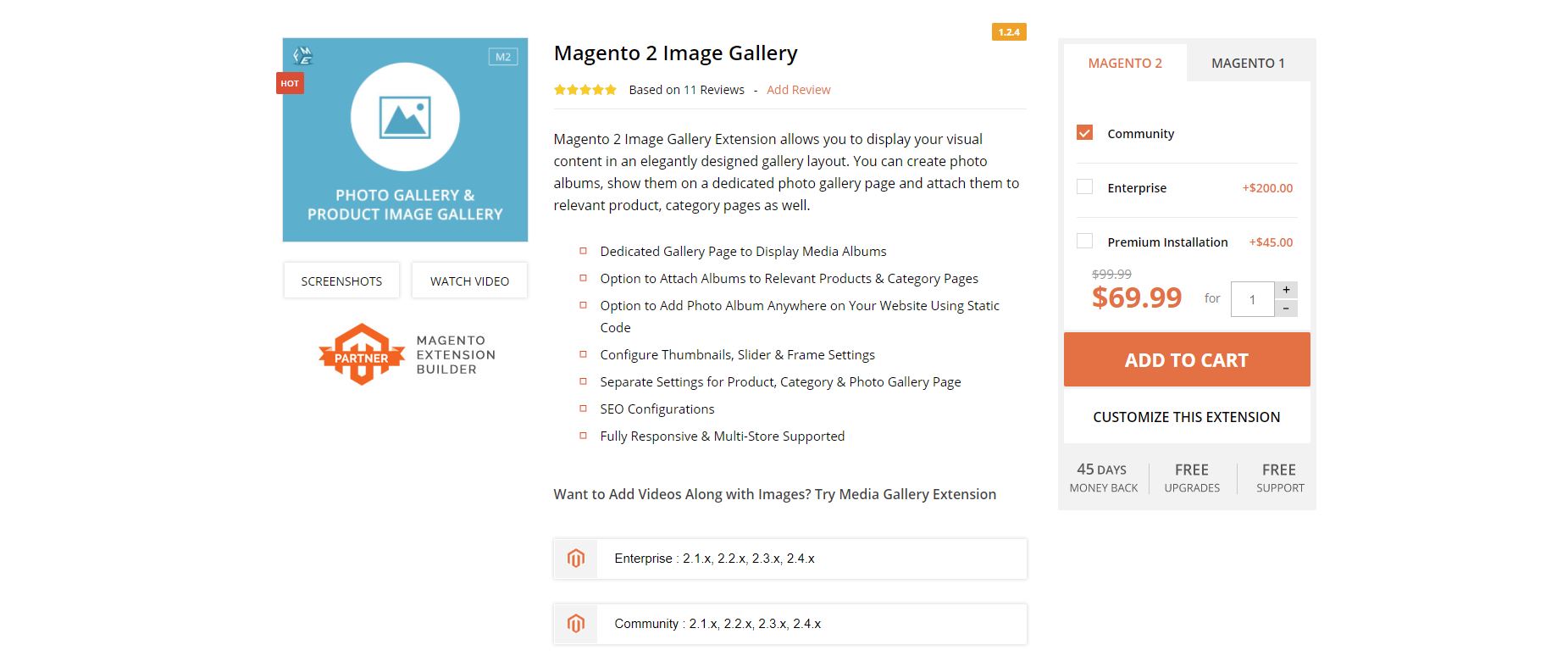 If you are looking for an extension at a reasonable price, FME's extension is the most suitable solution for you. In detail, this extension allows store owners to show the visual content in an elegant gallery layout. Besides, the admin can easily create photo albums and show them on a dedicated photo gallery page with multiple layout types.
Firstly, it allows displaying album on the dedicated gallery page
Secondly, it supports attaching albums to relevant products & category Pages
Thirdly, the admin can use code to add photo album anywhere on your website
Besides, you are able to allow configuring thumbnails, slider & frame settings
At last, it allows you to separate settings for product and category
10. Image Gallery by MageAnts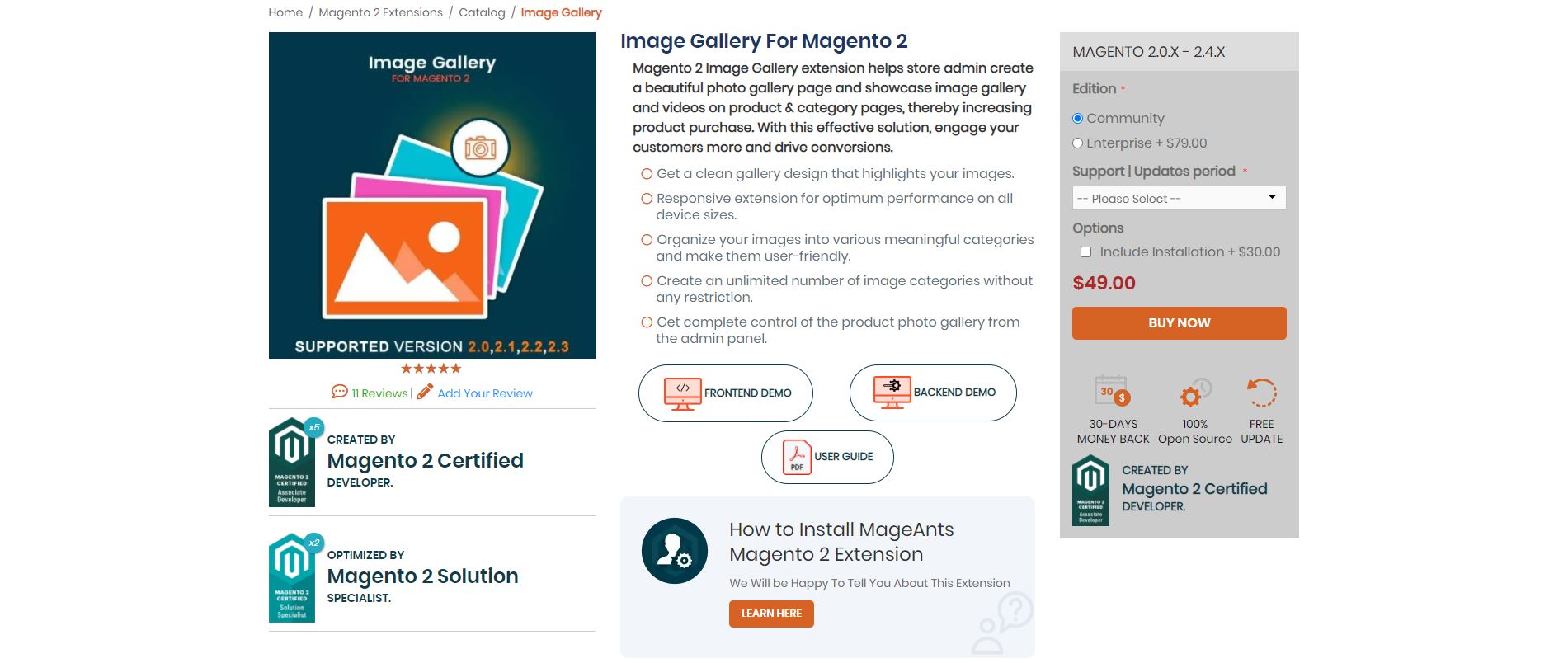 The last one is MageAnts 's extension that comes with a wide range of useful features. To be more specific, this extension gets out of the same plugin because it can show an automatic slideshow of product photos on the product listing page or category page. Furthermore, it supports a clean gallery design that highlights your product pictures.
Firstly, it provides a clean gallery design that highlights your images.
Secondly, it is responsive for optimum performance on all device sizes.
Besides, this extension allows you to organize your images into various meaningful categories and make them user-friendly.
Also, it helps to create an unlimited number of image categories without any restriction.
At last, the admin can get complete control of the gallery from the admin panel.
Looking for more effective tools to improve your Magento 2 store? Check out robust Magento 2 Extensions or Magento 2 Themes at our store