Magento one step checkout extension: Top 10 best ones to minimize cart abandonment rates and increase sales
Magento one step checkout extension helps the shop owners to simplify the checkout process by decreasing the number of steps to only one. Thereby, it supports your shoppers to buy the products in just a single tap. In this article, Arrowtheme will introduce to you the top best extensions on the market to help you to make better choices.
1. One Step Checkout for Magento 2 by Amasty

If you're looking for a great solution that helps you increase the conversion rate through a better checkout design, let's consider this extension from Amasty. Firstly, this extension turns the 4-step default Magento 2 checkout into a user-friendly one-page that gathers all the necessary information. Moreover, the store admins can select out of 5 layouts and 2 themes to find the design that perfectly fixes their store.
Core features:
Firstly, the store admins can easily tailor the fields of the checkout page according to your shop's needs.
Also, they are able to re-organize the fields using the drag and drop interface.
Besides, the store admins can save details (address, payment methods, etc) of registered customers.
This extension supports an option for enabling gift options for purchases.
The admin can add checkboxes to get people to sign up for your newsletters, or use discount codes, etc.
You can also change order information from the admin panel.
2. One Step Checkout by Magetop

Magento 2 One Step Checkout by Magtop will allow shoppers to complete the checkout process without spending time turning to a separate page for payment. Besides, it equips you with all the useful features of the cart page into the checkout page. With this, your customers can adjust the quantity and remove products on the same page using ajax.
Core features:
Complete checkout steps on one page.
Responsive design, optimized for PC, laptop, mobile, or tablet.
Billing & Shipping Details, Shipping & Payment Section.
Allows/Supports Gift Wrap, Gift Message, Comments, and Delivery Time.
Order review and change quantity section.
3. One Step Checkout by Webkul
One Step Checkout provides a convenient shopping experience for your customers with a single-page checkout. To simplify the checkout process, this tool will combine all complicated default steps to show on one page only. Thereby, it brings your customers a simple and fast checkout journey to purchase the products in just a single click.
Core features:
Single Page Checkout
Works For Customers & Guest Users
All Checkout Steps On Single Page
Customizable Layout Design & Title
Multi-Shipping Address Support
4. One Step Checkout by MageDelight

One-step checkout by MageDelight also provides a simple and clean checkout design. Thereby, it helps the shop owners to accelerate the whole shopping experience and enhance customer satisfaction. Although some functions like add gift cards, analytics, and, address suggestions are missing, it brings you all the basic features needed.
Core features:
Smart single page to complete all the checkout steps
Customer Registration at the time of checkout
Enable customers to choose delivery date and time
Extra fees option available at checkout
Allow the admin to write a gift message for the order
Show the static blocks as custom header/footer on the checkout page
Provide the drag & drop feature to swap the checkout steps
5. One step checkout by Landofcoder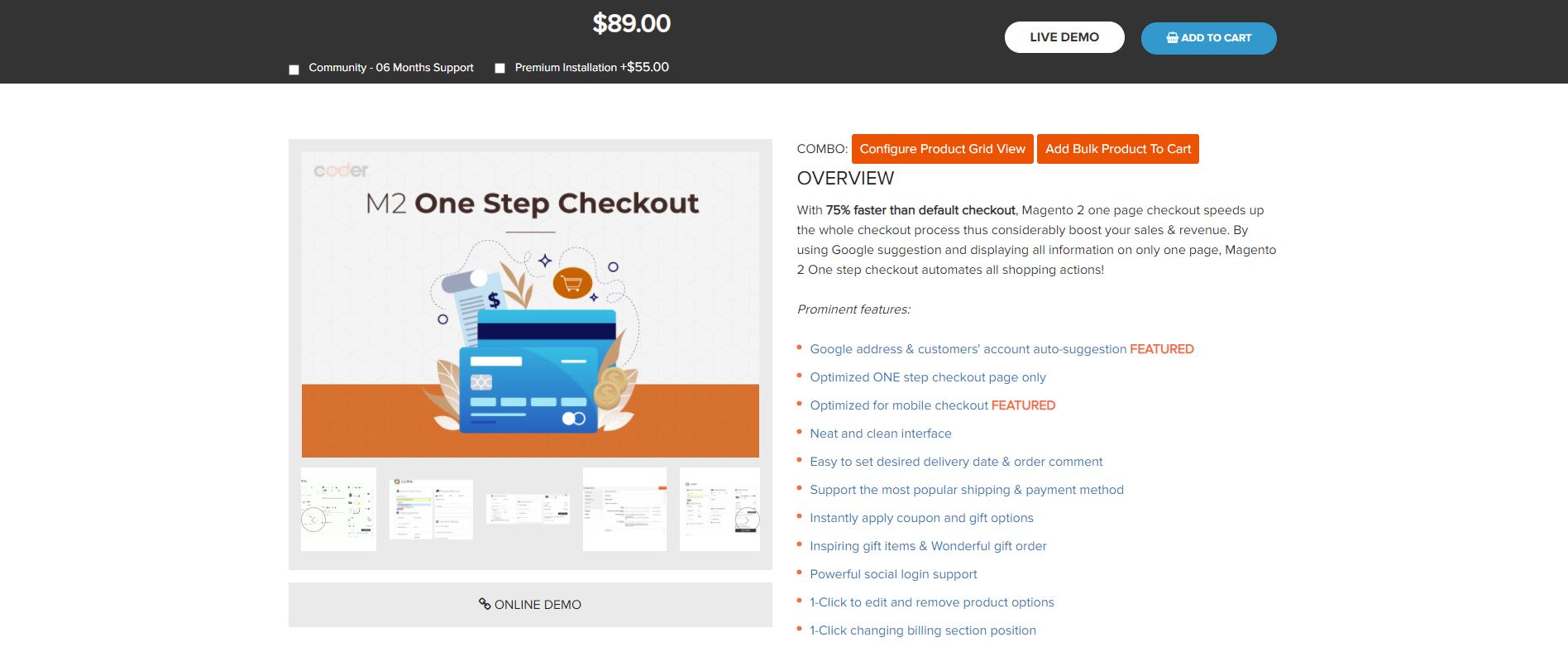 LandofCoder's extension is designed to provide a great shopping experience for both Magento merchants and store customers. Moreover, by using Google suggestion and showing all information on only one single page, this one-step checkout automates all shopping actions!
Core features:
Firstly, this extension integrates Google Maps address suggestion and Find Me to help customers fill in address details accurately and swiftly.
Also, it offers Geo IP that can detect shoppers IDs
Besides, your shoppers can set the desired delivery dates.
They also use social login as well if they aren't willing to type in long email addresses or other details.
Lastly, it supports some options to add gift cards, coupon codes, newsletter subscription button, etc.
6. Magento 2 One Step Checkout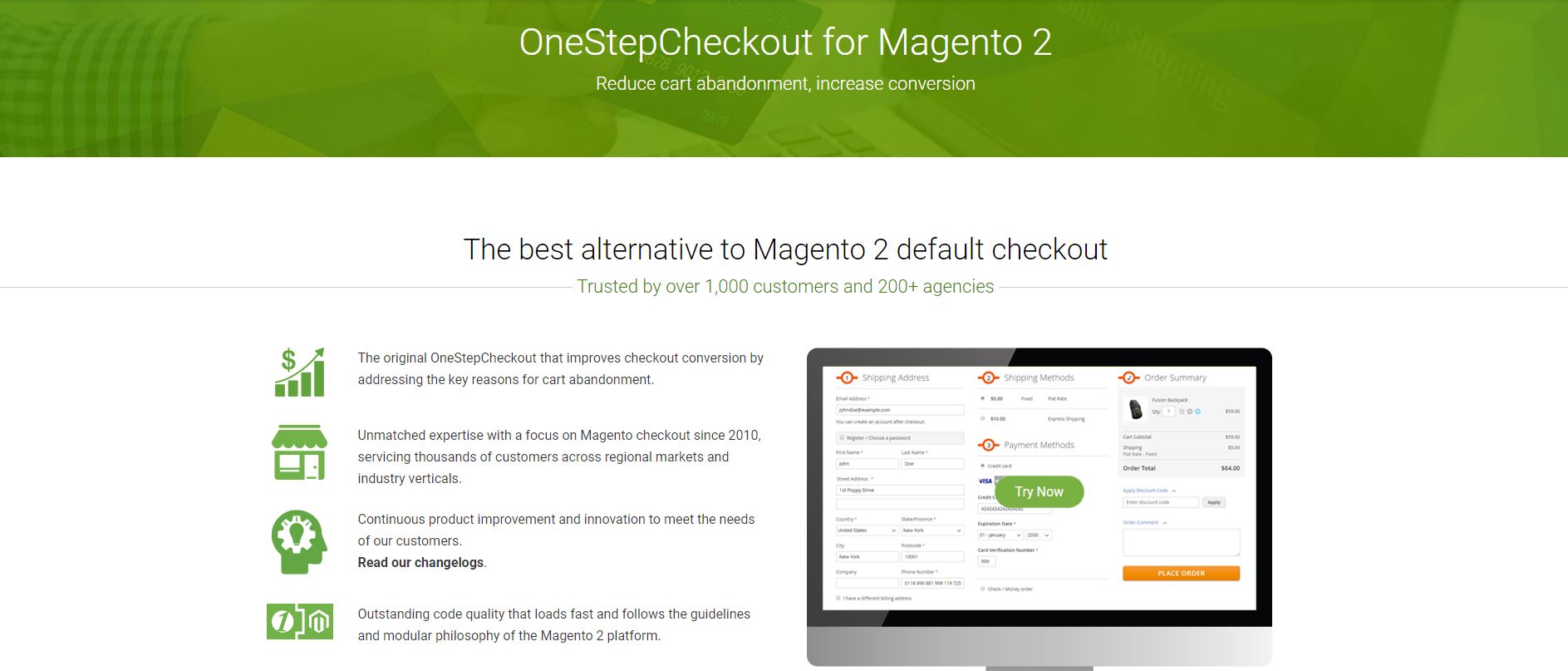 With the Magento2 One Step Checkout extension, your shoppers just only checkout in one step instead of 6 steps in default Magento. Moreover, with the composer feature, this module is now more convenient to update so you can keep up with the evolution of the Magento Ecosystem and take benefits of all the latest innovation and enhancements.
Firstly, it supports a single-step checkout page
Also, it helps the admin to have the dynamic updates of order totals and tax information;
Besides, this extension supports for gift cards and discounts on the checkout page;
Addresses autocomplete via Google Places;
Lastly, it is responsive on all devices.
7. One Step Checkout by Bsscommerce

One Step Checkout by Bsscommerce not only helps your website to have a faster checkout page but also provides a responsive checkout page on all devices. Moreover, this tool supports adding the delivery date and comment at the checkout page. Therefore, your customers now can choose suitable times to receive their orders.
Firstly, this extension comes with Geo IP and Google address suggestions.
Also, your shoppers can easily set delivery dates and times and also add further comments related to the order.
It supports all payment methods with trust badges
Lastly, this extension provides a lot of features like Ajax carts, Gift cards, and newsletter subscription box
8. One Step Checkout by Mageworld

Magento 2 One Step Checkout by Mage-World fastens the checkout process for your online store by combining all 6 steps checking out as normal into only one step on the checkout page. Thereby, this module helps to decrease the cart abandonment rate as well as improve customer satisfaction.
Firstly, it fastens the checkout process via only one page
It comes with responsive design and mobile-optimized
Besides, this extension redirects automatically to the checkout page when adding a product to the cart
It supports a configurable layout
Lastly, it supports the address suggestion
9. One Step Checkout by Aheadworks

With One Step Checkout for Magento2 from Aheadworks, your shoppers don't take a lot of time to checkout. Thereby, it also helps your online store to increase its conversion rate.
Firstly, you can customize the checkout page and all its fields.
It provides In-built analytics to monitor cart abandonment rates, conversion rates, checkout field completion.
Also, this extension also provides store credit, refunds, and reward points.
Besides, your shoppers can easily enable gift cards and messages.
Shoppers can edit order details and cart items without moving to other checkout page.
Lastly, shoppers are able to add additional notes at the end of their orders, which can be viewed on the admin panel.
10. One Page Checkout by Magebees

If you want to simplify the checkout process, check out this module by Magebees. First of all, this extension is very easy to install and provides multiple advantages in the form of faster checkout. As a result, it helps your business to reduce the cart abandonment rate. At the same time, it brings to your customers a better shopping experience and improved sales number.
Firstly, it supports all checkout steps on a single page
Also, you easily create a fully responsive checkout page
Besides, it supports guests and registered customers
Auto-update shipping method and payment method
Customers can review and edit cart on the checkout page
Lastly, it offers auto-fill shipping address for logged-in customers
Looking for more solutions to upgrade your Magento 2 store? Check out top best outstanding Magento 2 Extensions or Magento 2 Themes for your store or contact us to receive personalized consultation on your business development.