Magento payment gateway extension: Top 11 best ones you should consider for your e-commerce business
Choosing the right payment gateways is hugely important for new and existing Magento 2 websites. In this post today, Arrowtheme will introduce to you the top 11 Magento payment gateway extension you should consider.
1. Magento 2 Payfort Payment Extension

If you are looking for a solution to integrate the Payfort gateway to e-commerce stores to help customers' payment process much faster and more conveniently, an extension from Aalogics is an ideal choice for you. Firstly, it's a customizable extension that allows you to configure easily. Besides that, it supports the payment process faster and easier. Also, all transactions will be controlled effectively.
Highlight features
Firstly, this extension supports hide authorization
Also, it provides you the ability to pay the various credit cards
Besides, it supports capturing
Lastly, the extension also supports Magento online refund.
2. NMI Payment for Magento 2

The next extension we want to show you is one of the most powerful products from Aheadworks. In reality, this extension provides a sustainable customer-centered experience for your store. Firstly, this module satisfies your customers with shipping address multi-select, credit card memory, country specification, and more. Moreover, this extension also offers ultimate security, intuitive usability, and exceptional stability.
Highlight features
Firstly, this extension provides full compliance with PCI Security Standards
Also, it offers explicit NMI gateway features
Besides, it allows using previously saved credit card information
It supports the checkout with multiple shipping addresses
It is compatible with the latest Magento 2 versions
Lastly,No billing data is stored on your, our, or Magento servers, but for those of NMI
3. Stripe Payment Gateway

This Stripe Payment Gateway is a proper one for the store owners who want to helps customers to checkout fast and simply from anywhere in the world with Stripe. As the Official Partner of Magento 2 and Stripe, Magenest provides the best integration for your Magento 2 website that insurances all the online payments are secure.
Highlight features
Support IFrame Checkout, SEPA Direct Debit
Prevent fraud with smart payment filter Stripe Radar
Support direct refund & partial refund
Checkout with Apple Pay, Google Pay, and Microsoft Pay
Support multi-currencies
4. Sage Pay Integration for Magento 2

Let's take a look at Sage Pay Integration for Magento 2 and your purpose of simplifying the payment process will easily come true. To begin, Sage Pay Integration for Magento 2 will help connect your web store to the Sage Pay gateway to assist the payment process easily and convenient. Moreover, this extension also prevents frauds as well as improve your revenue dramatically.
Highlight features
Firstly, this module accepts the most popular credit cards
Also, it allows tracking transaction status
Besides, it accepts Gift Aid donations
This tool let users pay by MOTO
It provide the surcharge extra fee
Lastly, it enbale to set payment restrictions
5. Magento 2 Paya Payment Gateway Extension

The module provides your customers a great solution to make purchases using credit cards with Paya Connect – one of the most popular payment service in the US. Besides, as the Official Partner of Paya, Magenest supports an excellent integration between Magento 2 and Paya with the latest powerful suite of Paya Connect.
Highlight features
It uses tokenization and saved cards
This module supports direct refund
Be able to choose Authorize Only/Authorize and Capture
Allow restricting payments from specific countries
Easily delete Account Vault Paya when deleting a card from Magento
This extension enables managing all Paya transactions easily
User-friendly Paya payment from
6. Stripe Payment for Magento 2

Still, you want a better option? Get "Stripe Payment for Magento 2 by Amasty"This Magento extension helps your shoppers access to their credit card data without leaving your website. Moreover, the administrator can easily take the control of all seamless transactions effectively.
Highlight features
Provide your payments flow with comprehensive security, including 3D Secure support
Benefit from the support of Apple Pay and Google Pay
Offer real-time payments via automatic invoicing
Efficient configuration management and flexible refund issuing options
Adapt to different screen sizes (from desktop to mobile) and invoke the numeric keyboard where relevant
7. Magento 2 Payfort Payment Gateway Extension

This extension is a great solution for you to simplify the payment process of your Magento 2 store because of its online refund and void support. As a result, merchants can provides their shoppers with a secure and streemly shopping experience.
Highlight features
Firstly, it offers online refund and void
Also, it includes partial invoices
Besides, this tool allows the admin order on behalf of customers
It support iFrame and PCI compliant
8. Magento Braintree Payment Gateway

With the number of features it delivers, no doubt, Payment Gateway by Webkul is a popular extension ready to take care of your online business. To be more specific, with the support of this module, admin can easily integrate Braintree Payment Gateway to online store. Besides, the admin can do transaction with the trustworthy payment gateway. Apart from that, the Braintree supports eCommerce businesses with the ability to accept payments online.
Firstly, Braintree provides the best and secure methods by fluent transactions.
Besides, it allows the admin to check the transactions done by Braintree payment methods.
Also, with Braintree refunds are just another easy process to do.
Lastly, it offers regular notifications for automated events via Webhooks.
9. Magento 2 Payeezy Payment

Coming to another helpful extension in our list is "Magento 2 Payeezy by Meetanshi". In reality, this extension is the great tool that offers seamless payment experience between your Magento 2 store and the Payeezy Payment Gateway.
Highlight features
Firstly, it supports the security with 3D secure checkout
Also, it allows directing payment method
Besides, it keeps the security from hackers and frauds with 3D secure checkout.
Lastly, you can select countries to allow pay using the Payeezy payment method.
10. Stripe Payment Method by Landofcoder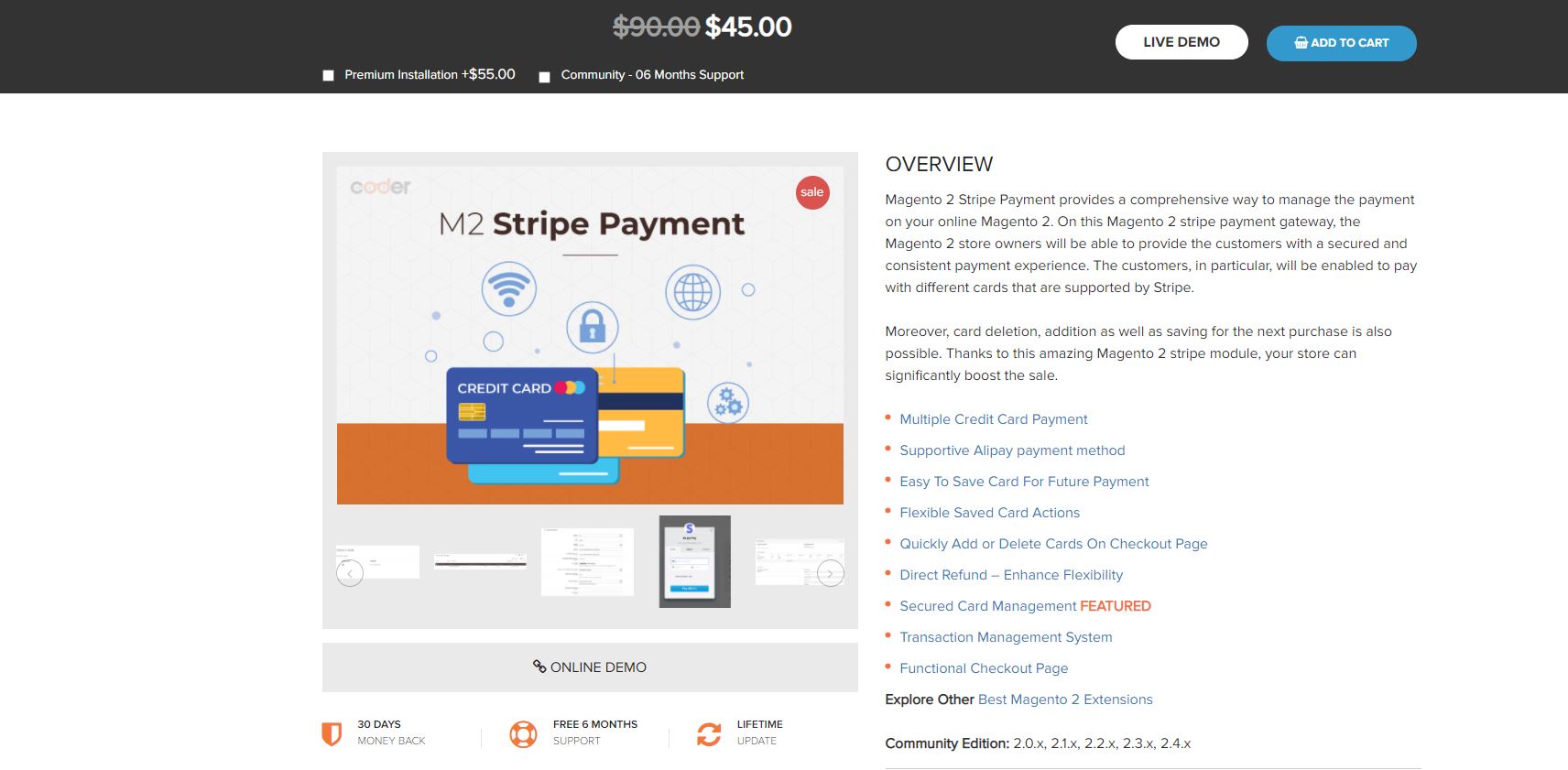 If you want to improve your sales and attract more new customers to take payments on your website, you should try integrate Magento 2 Stripe Payment Pro by Landofcoder. This extension enables customers to use multiple cards and save the cards for the next payments.
Highlight features
Firstly, this extension allowa customers to pay by different cards
Also, it supports Alipay payments
Besides, it is easy to save the card for the next purchasing
It allows to manage any saved cards
Lastly, it allows to keep track of card's actions
11. Magento 2 payment gateway by Magenest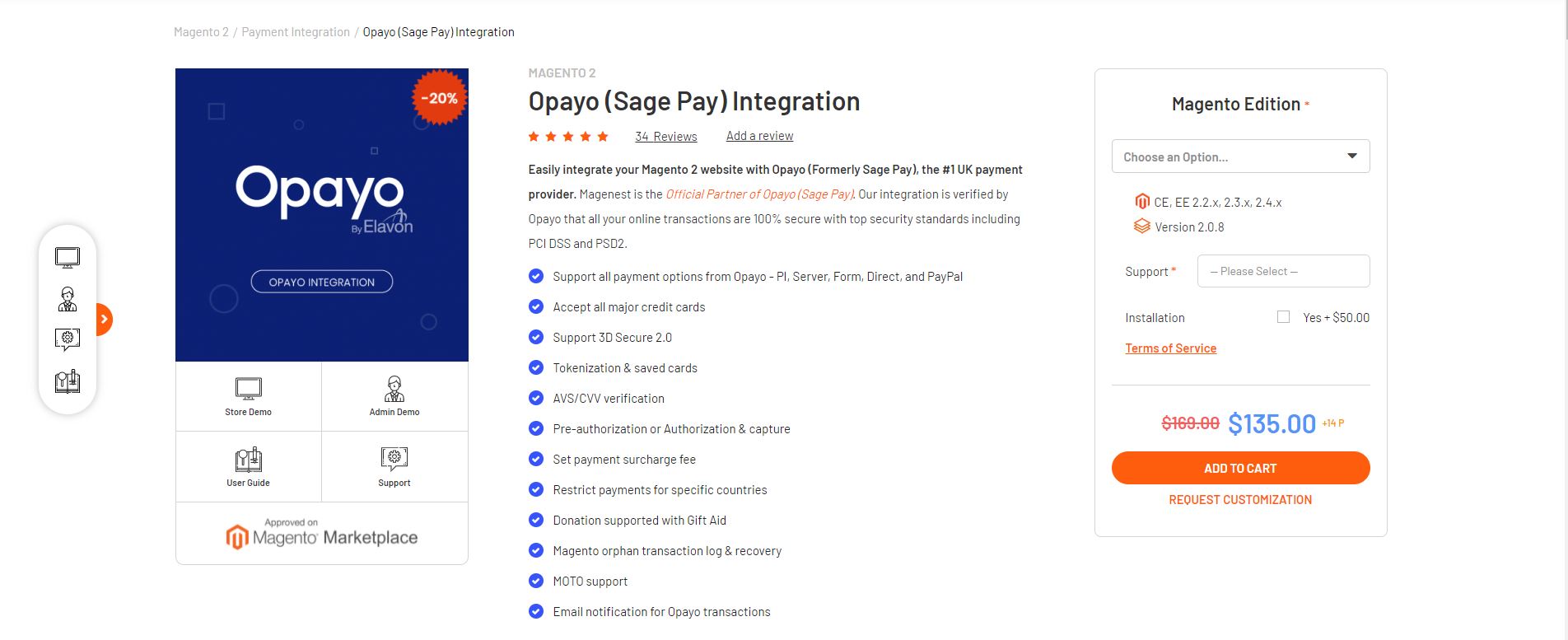 Magento 2 payment gateway by Magenest is one of the great choice we would like to recommend to you. This extension provides the various options of payment gateway that helps merchants to improve the purchasing experience and increase conversions.
Are you looking for more effective solutions to improve your Magento 2 store? Check out robust Magento 2 Extensions or Magento 2 Themes at our website or contact us to get personalized consultation on your online business.