Magento store locator extension: Top 10 best ones to increase in-store sales for your Magento 2 shop
Magento store locator extension is a great tool for your e-commerce store. It's integrated with Google Maps, which helps customers can find your offline store more easily. In this post today, Arrowtheme will introduce you to this powerful tool and the top best extensions you can try to increase the customer's shopping experience and boosts sales.
1. Store locator extension by Magesolution – Free

Magesolution is developed a lot of high-quality extensions for Web development and one of these must be noticed is the free Store Locator extension. This module allows your customers to easily find and see the full list of your stores even the nearest stores to your client's location. Besides, this tool incorporates Google Maps for the premise experience with locating.
Key features:
Your customers could search stores by country, state/ province, city & zip code and search stores by distance
Besides, it enables to view full stores list with custom pin icon on Google map
Switch view mode seamlessly between map and satellite
View detail store with store information and store on map
You are able to add all needed store information such as an address, contact info, website, tags, images, etc
Allow the admin to set store's open times & days off flexible
Enter address or latitude and longitude to get the location on the map or click on the map to choose location
This extension permits you to show the store locator link on top links or not and Change the title of the top link
2. Store Locator by Magecomp – $125

Another extension we want to mention in the list is "Store Locator" by Magecomp. The extension generates a separate frontend store locator page that enables your shopper to enter their location and find a nearby store. Also, your shoppers can quickly get directions to the chosen store.
Key features:
Firstly, it allows setting custom meta information & page URL
Secondly, you are able to use an official Google Map API to display nearby store & direction
Thirdly, the shop owners can set custom page layout & style Map if needed
Also, you can easily set default latitude, longitude, and default zoom value for the map
Lastly, it supports the backend grid to manage different store information
3. Locator Google Map by Mconnectmedia

Locator Google Map by Mconnectmedia assists the store owner to provide the different store locations in the district or state to their set of customers and customer groups. Besides, it offers GPS and Google Maps which help your customers to find directions absolutely easily. Apart from that, the totally responsive feature too will support the customers to process freely on their smartphones, tablets, or computers.
Key features:
Firstly, it permits you to add all the physical stores' locations and addresses.
Secondly, this extension comes with the option to show all addresses on a single page or on separate pages.
Thirdly, the users can see the entire list of the stores with the address and the base image.
It makes it easy for customers to reach your offline store with the help of Google Maps.
Shows store location with custom icons on Google map.
Option to choose from the satellites or map for getting the store location view.
4. Store Locator by Magetop – $69

Magento 2 Store Locator Extension help customers quickly find the nearest offline stores with your products by displaying them on a handy Google map. Moreover, it specifies additional information for each store location to maximally streamline shopping process.
Key features:
Firstly, it allows to search store within radius, by zip code or by city/state.
Secondly, the admin is able to create, edit, delete store location details like address, images, URL, Description, contact info.
Also, the admin is able to display store opening and closing time with lunch breaks.
Besides, it supports the mobile & user-friendly user interface.
Lastly, this tool supports the meta insertion option makes it SEO-friendly.
5. Store Locator by Wyomind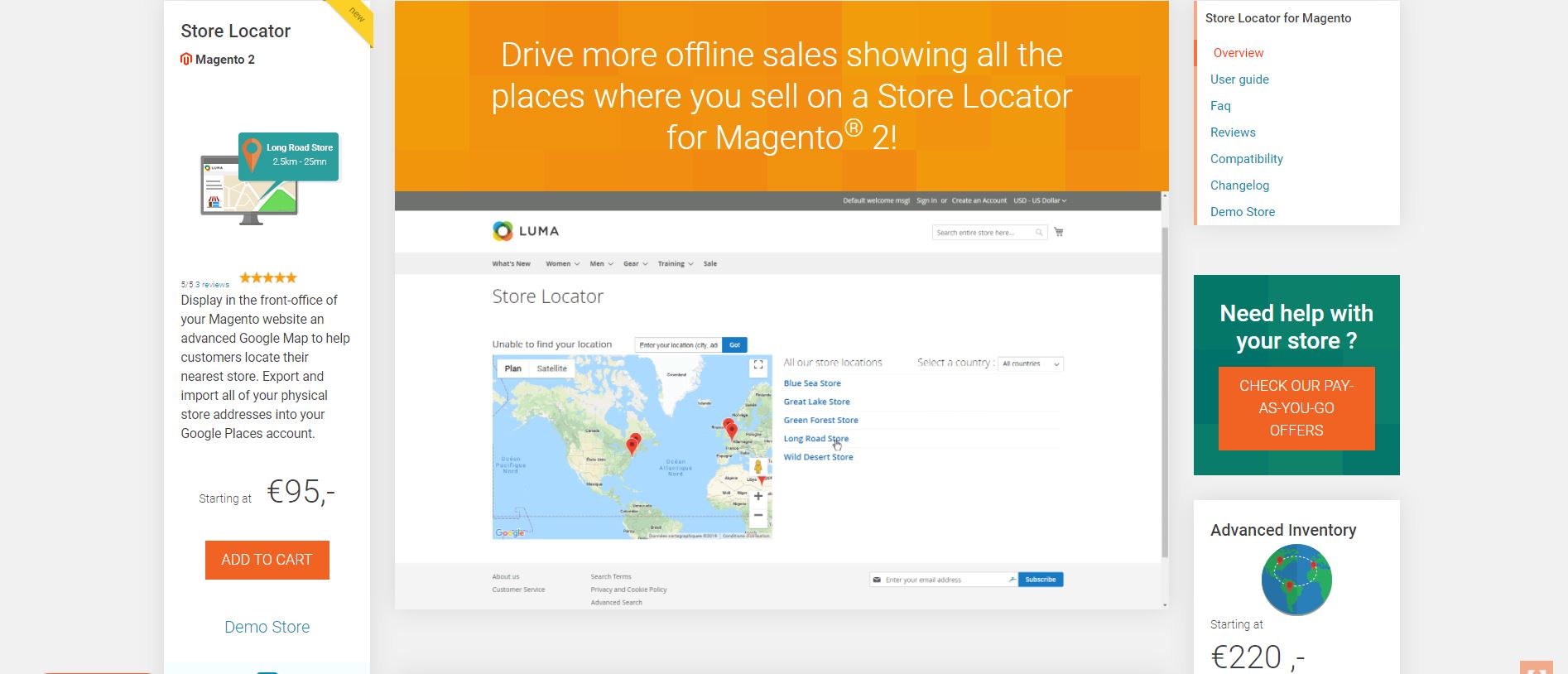 Magento 2 Store Locator extension helps your shoppers find the nearest physical stores locations in few clicks and get the driving directions. Besides, Google maps integration enables you to show your store locations on map and permit customers know the basic details about store name, timings and its products.
Key features:
Firstly, this extension allows displaying all your stores on a Google map
Besides, it supports the store details and additional information displayed
Also, Images can be added to the stores
Lastly, the admin is able to configurate the opening and lunch hours for each day of the week
6. Store Locator by Aheadworks – $249

By integrating Google Maps, Store Locator extension by Aheadworks is an effective solution for your Magento 2 store. With this, your customers can easily find your store to make a purchase. Besides, it also allows the admin to upload the image to mark, which gives your shoppers the ability to search the store quickly.
Key features:
This extension allows the admin to add the information on any store location
Besides, it is easy to search the store via Google Maps
The admin is able to upload an image to mark on the map
Google Maps supported
7. Store Locator by MageDelight – $99
If you are an intelligent shop owner, there's no any reason why you don't select Store Locator extension for your online store. It is so easy to attract your shoppers thanks to Google Maps integration. Besides that, the shop owners is able to add images, addresses as well as contact information to their website quickly, which facilitates your shoppers easily in finding the offline store.
Key features:
Firstly, this extension enables searching stores based on Zip code, state, city, etc
Besides, it provides the ability to add/edit/remove store location details as images, address, contact info
Also, it enables displaying the opening and closing time
Lastly, the admin is able to import/export the store's data via CSV file
8. Store Locator by Landofcoder – $199

With the support of Store Locator extension, your shoppers can easily find the nearest store to buy your products. Besides that, it's an easy and effective way to boost the sale of your online business as well as improve the interesting customer's experience.
Key features:
Firstly, it comes with a nice and user-friendly interface
Secondly, it allows the shop owners to display multi stores in an only single map
Besides, it enables displaying exact results when searching stores
Also, it also allows searching by current location
The customers is able to search the closest store
At last, it provides the ability to integrate social network
9. Store Locator by MageAnts – $89

You have a powerful site and a chain of stores, it's so hard for your shoppers to approach your website easily and make a purchase. It's time to intergrade Store Locator extension by MageAnts. Thanks to this, it will address all problems you are facing and drive the sales for your shop in the shortest way.
Key features:
Create unlimited store locations for your brand on your website.
Make your website more informative for the viewers with better insights.
Add information like store images, assign products to stores, etc.
Add the Google Maps location for the listed stores.
'Search by distance' feature to locate an outlet at a specified distance.
Allow customers to search location on the map.
Access the longitude and latitude value of the listed stores.
10. Store Locator by Amasty – $199

The Magento 2 Store Locator extension helps shoppers quickly find your way to your offline store. With a useful Google map display, it's simple to navigate your shoppers to the store's closest locations, supports customers save time and provide them a great shopping experience.
Key features:
Show multiple store locations on a map
Automatically show the nearest offline shops
Offer filters to find stores according to certain criteria
Show product availability in particular shops
Add store locator map to any page of your website
Set metadata for each location page
The bottom line, Magento store locator extensions is cheap and become a passive marketing tool that enhances your overall omnichannel. . There's no reason why you not. Looking for more effective solutions to improve your Magento 2 website? Check out robust Magento 2 Extensions or Magento 2 Themes at our store