Online payment solutions: Top 10 outstanding systems for ecommerce stores in 2021
The main goal of a business is to gain profit. So every online business must have a payment gateway. For eCommerce businesses, one payment gateway is compulsory, but many eCommerce payment methods can be a plus point for your store. As there are many available payment options nowadays, selecting some good ones is very critical. So Arrowtheme suggests to you the top 10 outstanding systems for eCommerce stores in 2021 as a reference.
What are online payment solutions?
In the first place, it is important to understand some basic definitions of online payment solutions. Online payment solutions are known as eCommerce services that take care of your payment process for your online stores. There are some common terms that you need to know.
Firstly, ACH payments refers to Automated Clearing House. They are electronic credit and debit transfers. Customers can use ACH payments to pay for utilities, mortgage loans, and other bills directly from their bank accounts. Many payment processors allow customers to use ACH options for monthly or subscriptional transactions. Many online payment solutions use ACH to minus or plus money to customers accounts.
Secondly, a payment gateway enables merchants to securely transmit credit card information from customers to merchants and conversely. So the payment gateway acts as a link between the merchant and the bank that sponsors them.
Thirdly, a payment processor is a corporation that handles credit card transactions for a business. Payment processors use anti-fraud procedures to protect both customers and businesses.
Fourthly, a merchant account is a bank account of your business. It enables customers to accept credit or debit card payments. Also, merchant suppliers must follow regulations by card associations. Many processors serve as both a merchant account and a payment gateway.
At last, PCI compliance means that you make sure conditions in the Payment Card Industry Data Security Standard (PCI DSS). As a result, PCI compliance makes your data more secure and prevents fraud.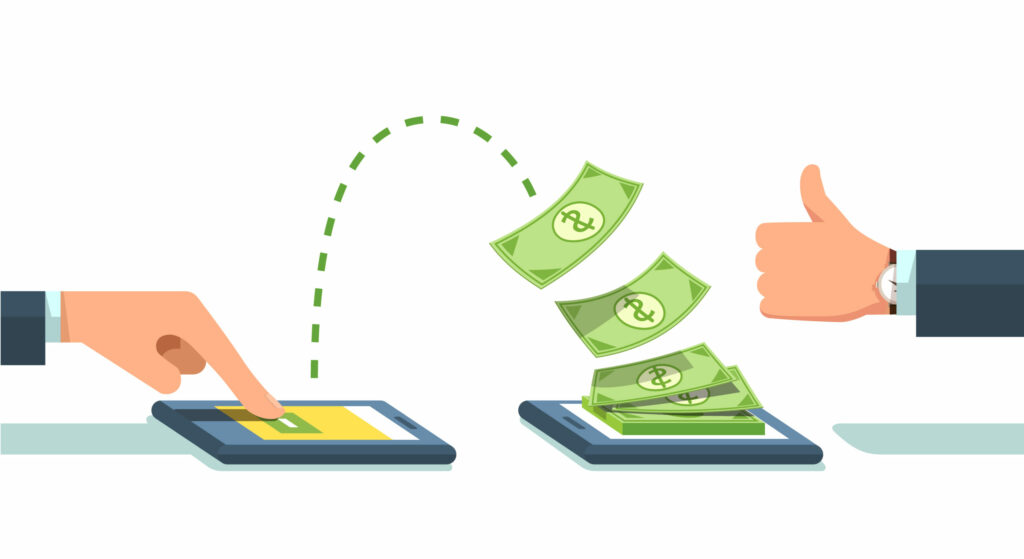 Benefits of online payment solutions
In the second place, there are many benefits of online payment solutions that are over traditional ones.
Reach to global customers: As many stores want to scale up all over the world, online payment systems allow business to receive payments flexibly.
Ensure payment security: Since payment providers must comply with PCI, it can protect all data of transactions.
Better customers experience: Many customers quit out during checkout process because it is lengthy. So online payment solutions save time for customers and create a seamless experience.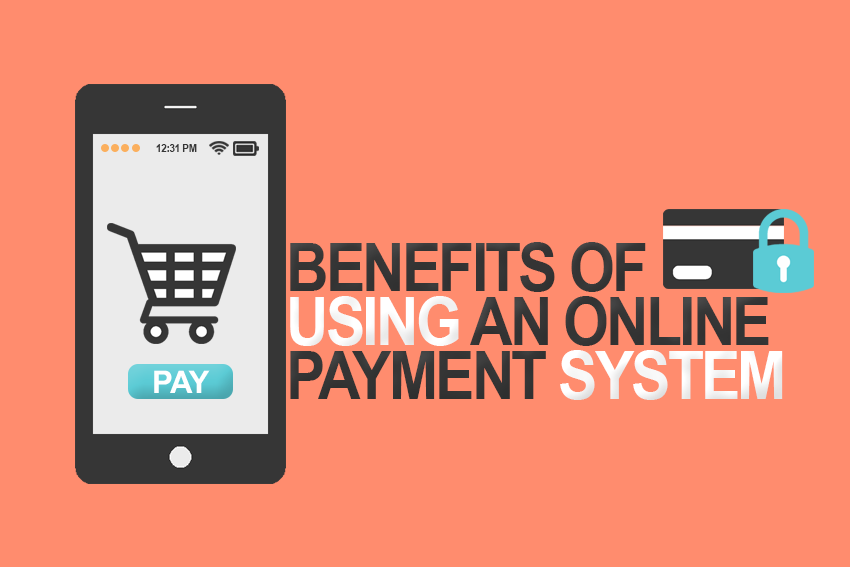 Importance of multiple online payment solutions
As mentioned above, instead of only one payment method, online businesses should have multiple ones. It can be explained based on the customer view. Nowadays, customers expect to have their favourite payment method on the website to pay for the products. They don't want to spend too much time filling in billing information by different methods. So they tend to love the brand with their favourite payments. In addition, with the development of mobile devices, many customers are likely to come with websites which allow them to pay directly via their smartphones. You can find more information about mobile ecommerce.
As a result, many online stores try to vary their payment method to attract more customers.
Top 10 outstanding online payment solutions for ecommerce stores
Paypal is one of the most popular online payment options. The site has a user base of over 250 million people. So many customers tend to make a purchase on your website if you accept Paypal. Besides, there are over 15 million businesses using Paypal. In addition, businesses said that customers who check out with PayPal convert at an 82 per cent higher rate than those who don't.
Customers can make a payment with a credit card or an existing account. Then, money can be sent to an email address directly, requiring customers to create a new PayPal account. Moreover, PayPal users can send money via Paypal, which is a function that only a few payment providers offer.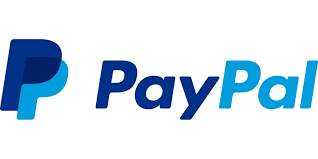 About the price, Paypal charges 30 cents and plus 2.9% per transaction. Additionally, it has no installation or monthly fees.
Google is so familiar with millions of Internet users all over the world. So making a purchase through Google Pay is very beneficial. Through Google accounts, customers can use Google Pay to pay for goods and services. Like the other alternatives, Google Pay offers a straightforward process on both PC and mobile, as well as top-notch security through encryption. Besides, customers can also use Google Pay to build loyalty programs, digital gift cards. In addition, Google Pay integrates with PayPal and Visa Checkout to expand its reach.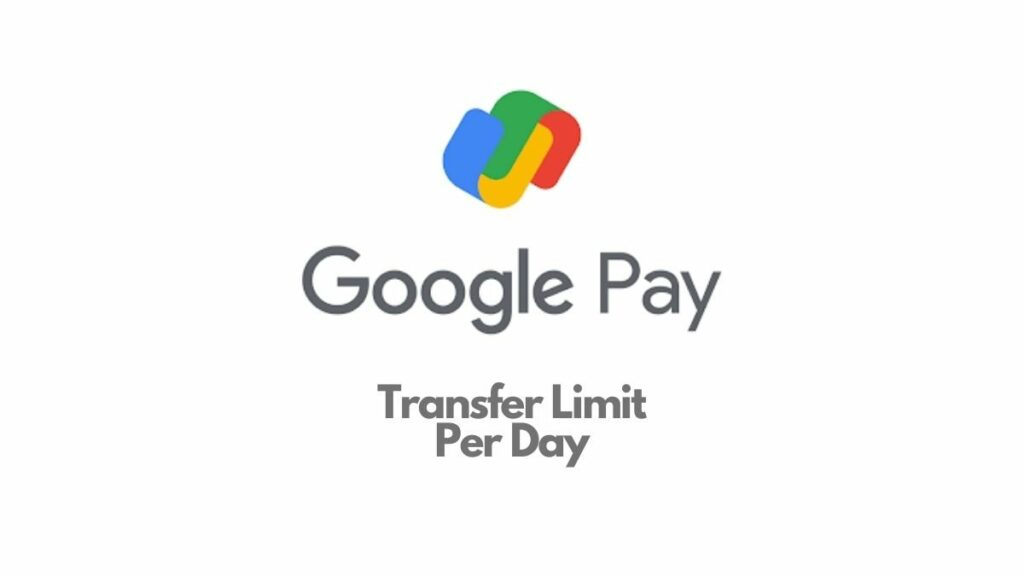 About the pricing, Google Pay is free for both customers and businesses. It means that there are no additional fees for each transaction.
3. Amazon Pay
Amazon Pay provides payment methods for customers who have an Amazon account. Online stores can put an Amazon Pay button on their checkout processes. So customers can easily check out without filling in information. As Amazon has hundreds of millions of customers, you can delete payment barriers for them. Besides, Amazon Pay ensures to prevent fraud. Also, it is interactive on mobile devices which creates a wonderful customer experience.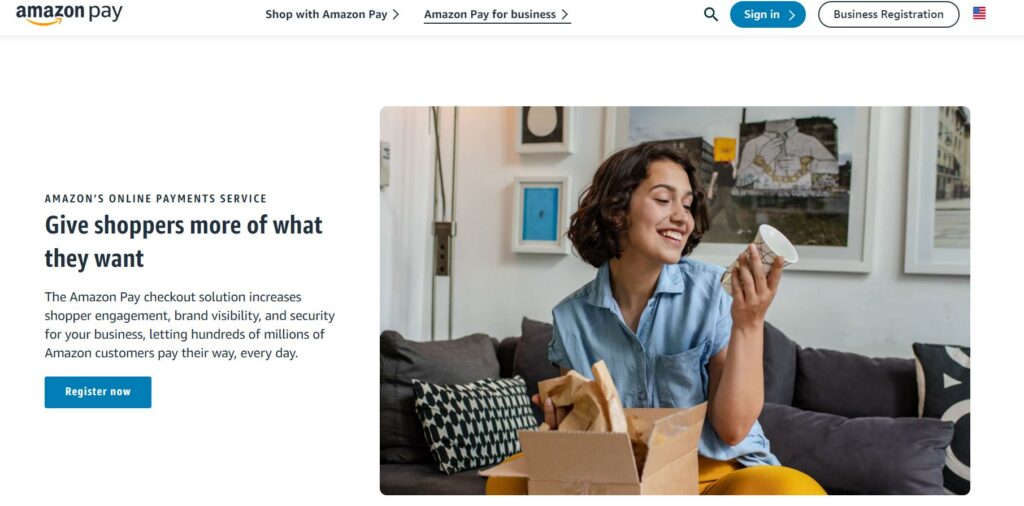 About the price, Amazon Pay charges 2.9% per transaction plus $0.3 of the authorization fee. For example, if the transaction amount is $10, the transaction fee will be $0.59.
4. Apple Pay
Apple Pay serves as a mobile wallet and a one-click payment option on websites that accept it. As Apple customers account for more than 64 percent of people in the United States, Apple Pay is very attractive. In addition, customers may even use their touch identification to check out using Apple Pay on their mobile devices.
Tokenization is a security feature of Apple Pay. That means after a user enters their credit card information, the device works with the bank to generate a randomly generated number (or token) to represent that card. This hides the information from hackers, keeping customers' financial information safe while allowing them to work swiftly.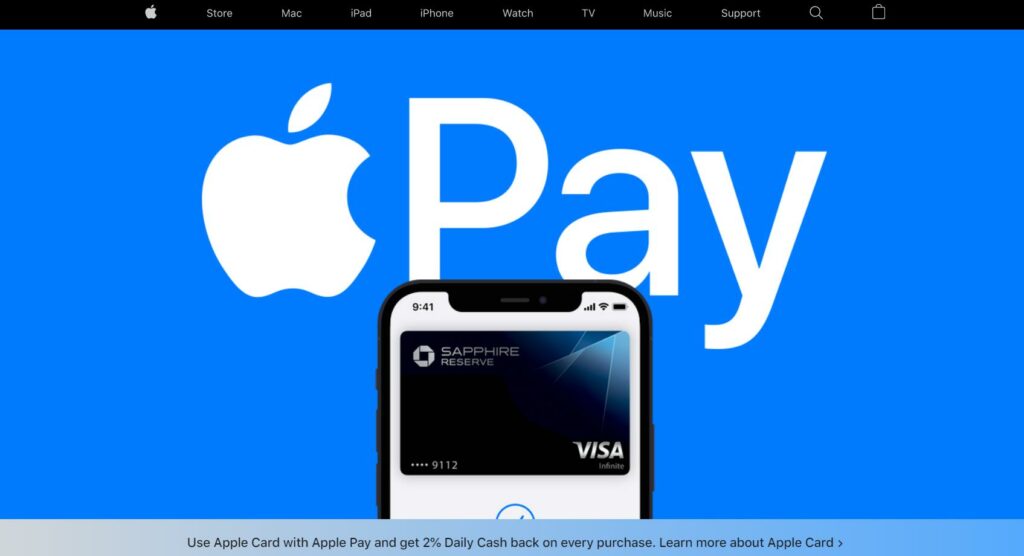 About the price, Apple Pay doesn't charge any fees for both customers and merchants.
Stripe is a feature-rich payment processing platform. It accepts payments from a variety of sources (credit cards, digital wallets, ACH transfers, and different currencies). They also give you many options for checking out. If you don't know how to code, you can use one line of Javascript to add their embedded checkout to your site. Or, you can construct a custom checkout. While other options above are solely add-ons checkout pages, Stripe provides an excellent foundation for other online payment methods.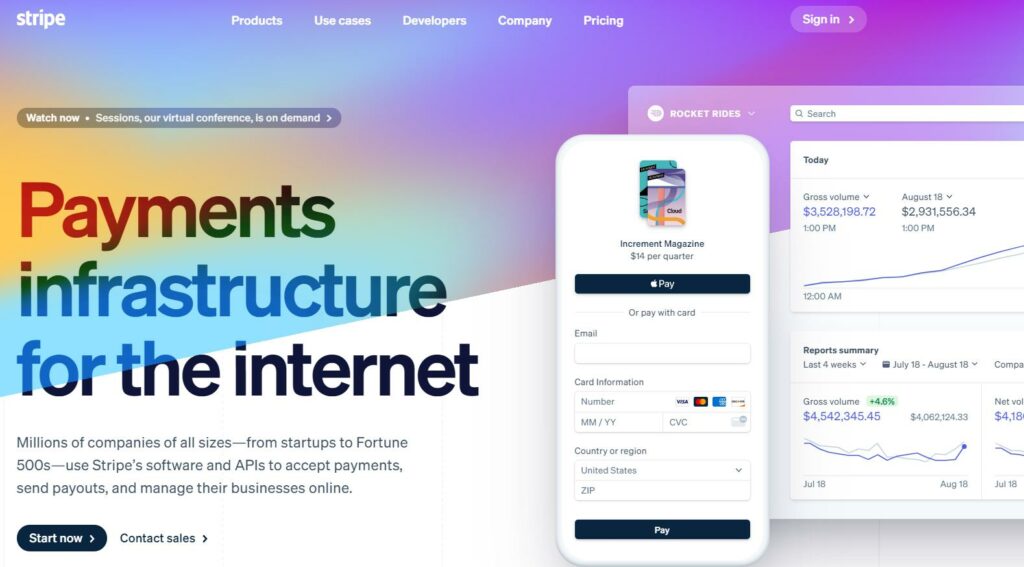 About the price, Stripe charges customers 2.9% plus 30¢ per successful transaction.
Visa Click to Pay allows all Visa cardholders to check out on your website without typing their payment information. It is used by over 2 million people, therefore you'd be making the checkout procedure easier for a large number of customers. Visa Click to Pay offers you many options for advanced features. This method is very suitable for businesses that sell products globally.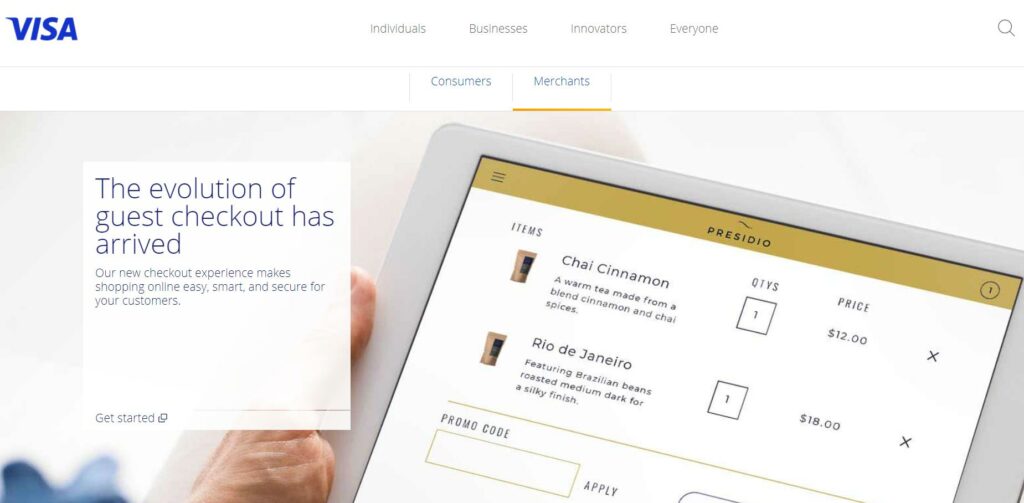 As same as Visa, Mastercard enables customers to check out fast and conveniently from your website. This digital wallet service includes features such as user verification, tokenization, issuer authentication, and fraud.
You will not be charged any fees by Mastercard. Developers are on hand to assist you with your setup.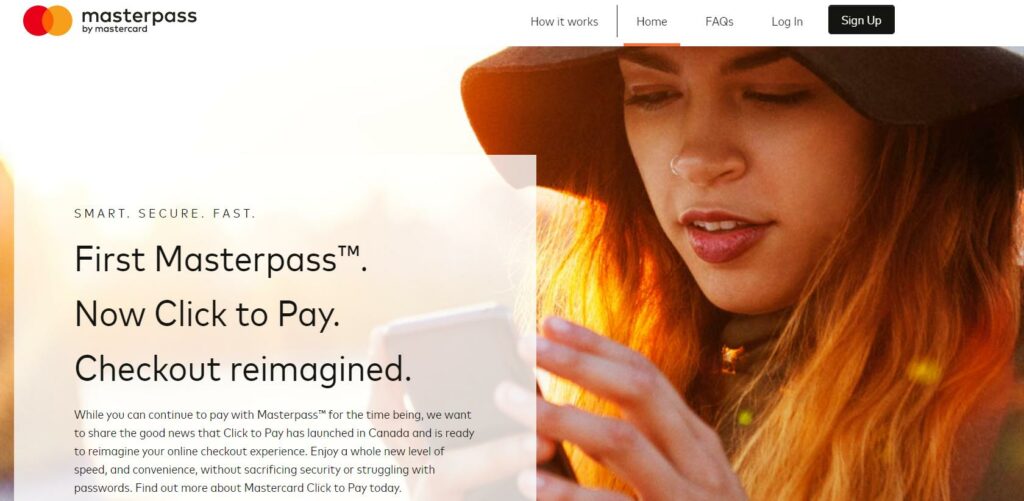 WePay is a payment infrastructure provider for independent software service and software platforms. Small enterprises can use the software platforms to collect payments through WePay.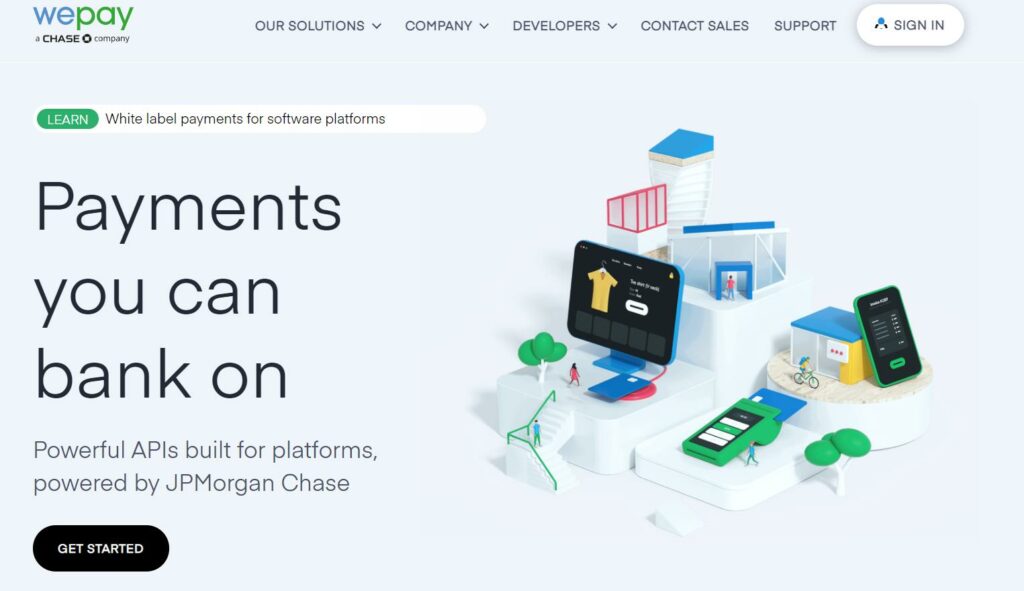 WePay negotiates its own fee with each software provider or platform. WePay's standard cost is 30 plus 2.9 per cent per transaction if a vendor or platform does not set its own rate.
2Checkout is a global payment processing service that accepts payments in a variety of currencies from all around the world. They offer a customisable checkout that you can build and integrate into your website. In addition, it provides you with extensive fraud protection and a flexible design that allows customers to check out on any device. It provides an API that allows you to easily integrate the processing solution into your website while also allowing you to change it as needed.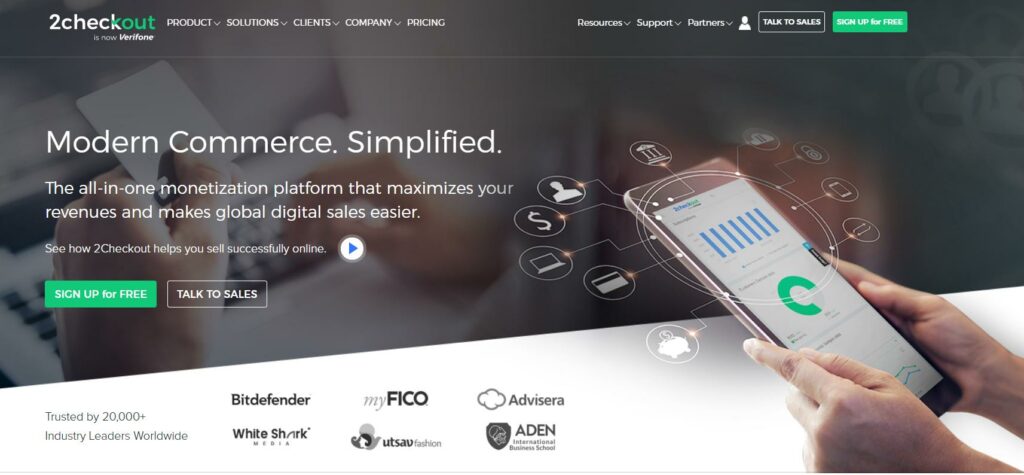 About the price, 2Checkout charges 2.9 percent plus 30 cents per transaction. However, foreign clients may pay additional fees.
Although Square is best known for in-person point-of-sale (POS) payment processing, it also provides eCommerce services. It features an online payment API that takes credit card payments as well as several of the payment options we've mentioned (Google Pay, Apple Pay, Masterclass). Also, it offers a quick checkout solution that allows users to enter payment information. At the same time, customers can create profiles for the next purchase.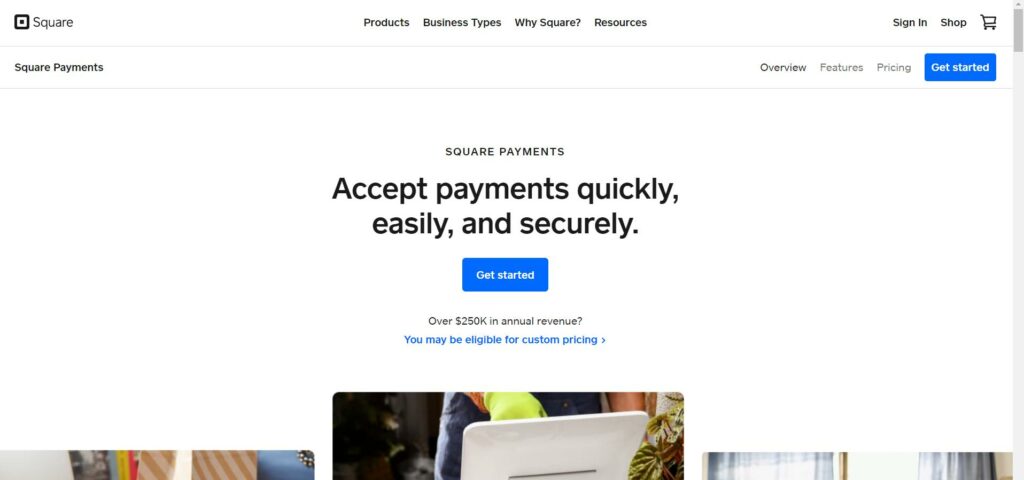 Square, like many other payment processors, charges 2.9 percent plus $0.3 for each transaction.
In conclusion, store owners should consider these methods carefully to make decisions. It is recommended that businessmen install both free and non-free methods to balance the cost and advantages. If you are interested in eCommerce businesses, access here to read more.