Shopify 3D product model apps: Top 8 powerful apps to boost the revenue
3D product mode is a modern image viewing technology which is widely used in most e-commerce websites & apps to provide a stunning 360º viewing experience with your product images. It allows customers to view the details about your product from every angle by using viewer controls, mouse drag and/or touch events. In this post today, we would like to introduce to you top best Shopify 3D product model apps that will make your store much more flourished.
1. LevAR ‑ AR/3D Product Viewer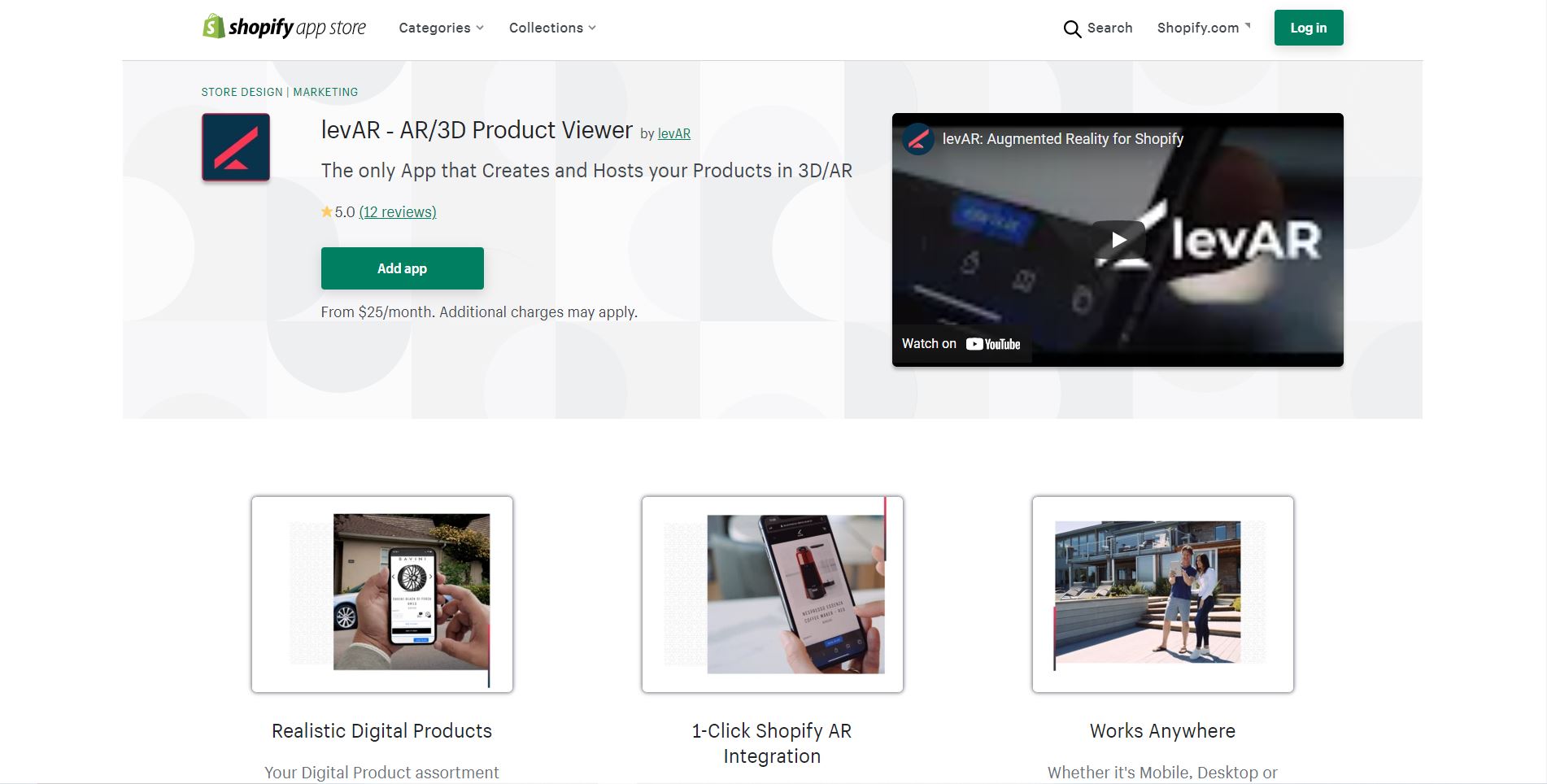 This module helps to show your customers every side of a product. It allows your customers to view products in a more magnificently and attractively way. By adding multiple images in a proper sequence, the admin can set up a 360 view of a product. Furthermore, on mobile (iOS & Android!), your customers can view your product in right in their own space, reducing the imagination gap between what a customer sees online vs. what ships to their doorstep.
2. Angle 3D Configurator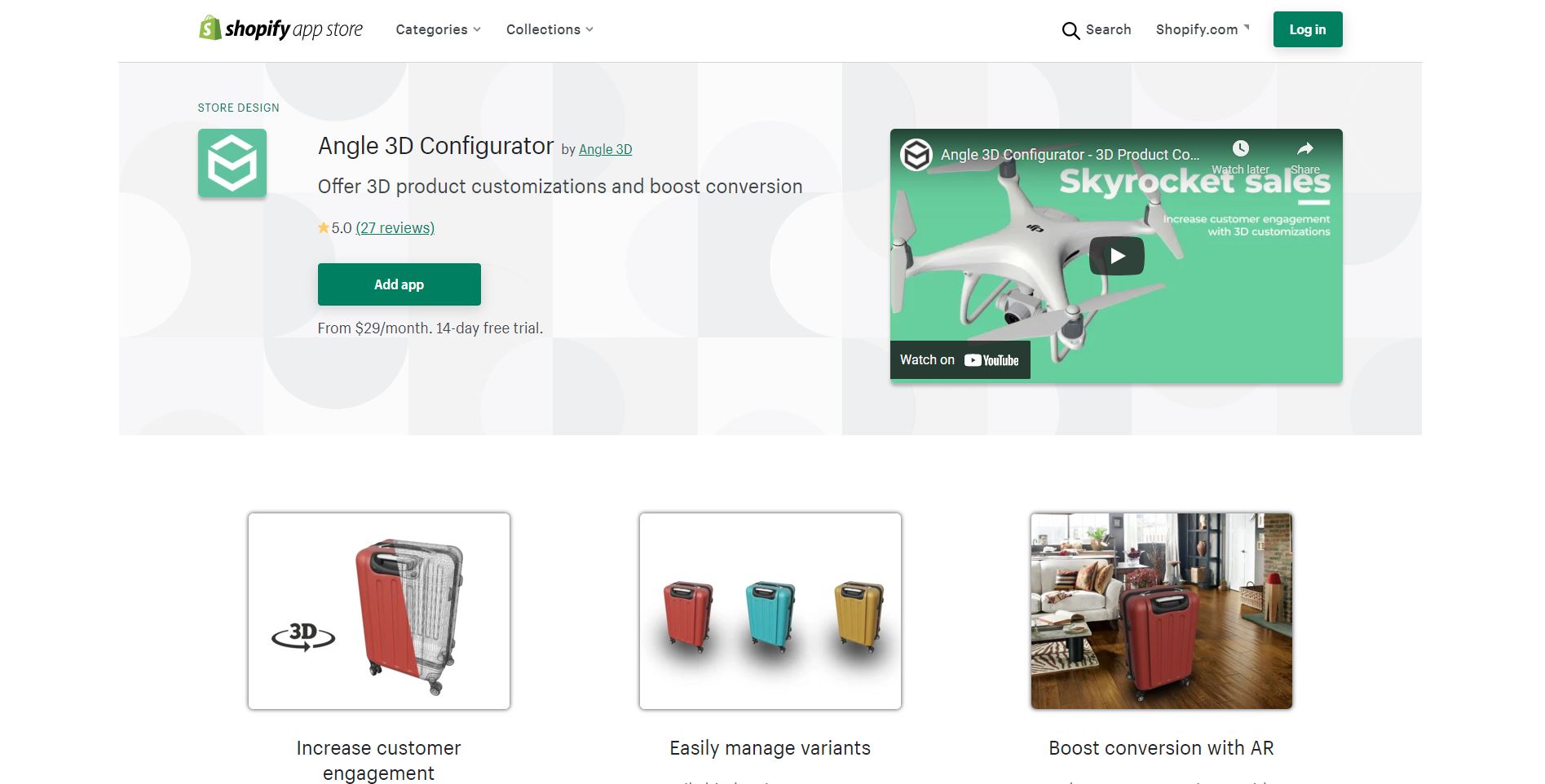 The Angle 3D Configurator app lets you create a 3D product customization experience for your customers. Allow anyone to fully engage with your products with photorealistic details. Besides, this module allows you to easily bind variants to your 3D customization options.
3. Spiff 3D Product Customizer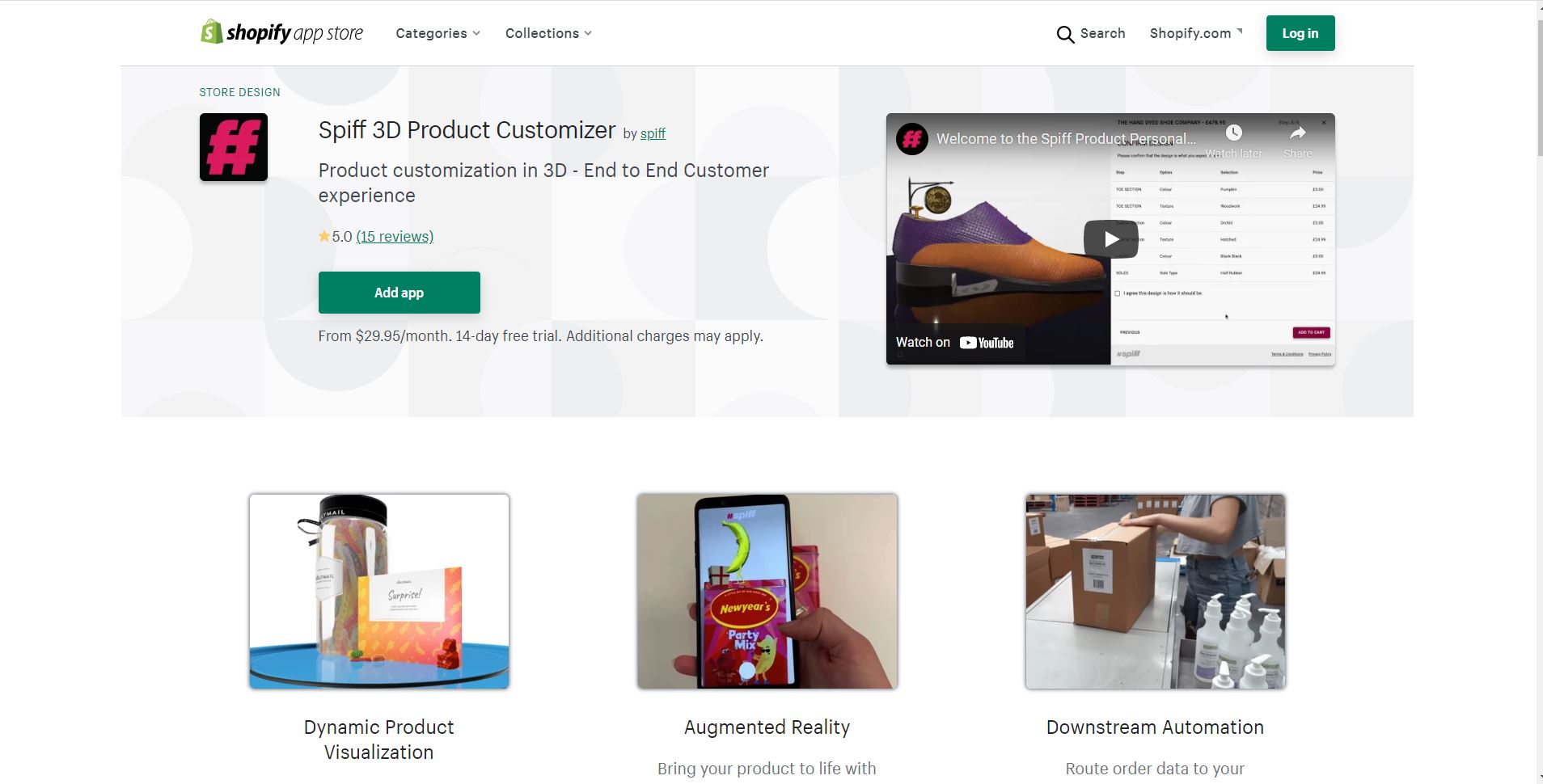 This module helps to show your customers every side of a product. It allows your customers to view products in a more magnificently and attractively way. Especially, Spiff takes 3D product renders to the next level by allowing you to dynamically personalize the product in real-time. This is especially useful if your store offers products which have customization and personalization options. In these cases, in the past, it has been difficult to visually represent these products to the customer.
4. Easy AR+3D Product Previews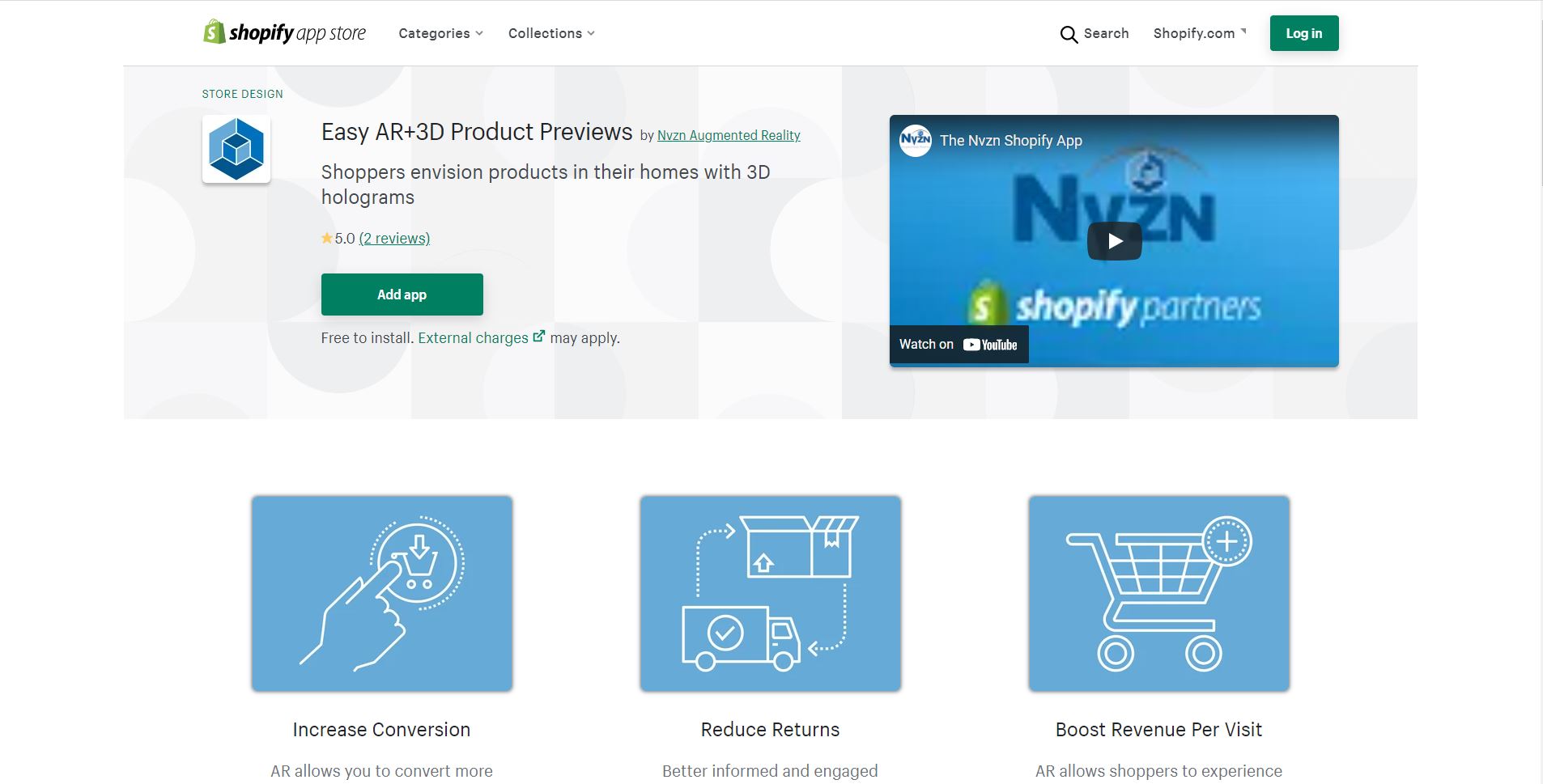 Easy AR+3D Product Previews provides you with an easy way to add a dynamic, controllable 360º image rotation to your Shopify site. By simply adding a group of images to a product's gallery, you'll have a beautiful image rotation replace the product's featured image. It's responsive, touch-enabled and extremely easy to use. It's simply a matter of adding some images to a product's gallery.
5. Extreme 3D Product Customize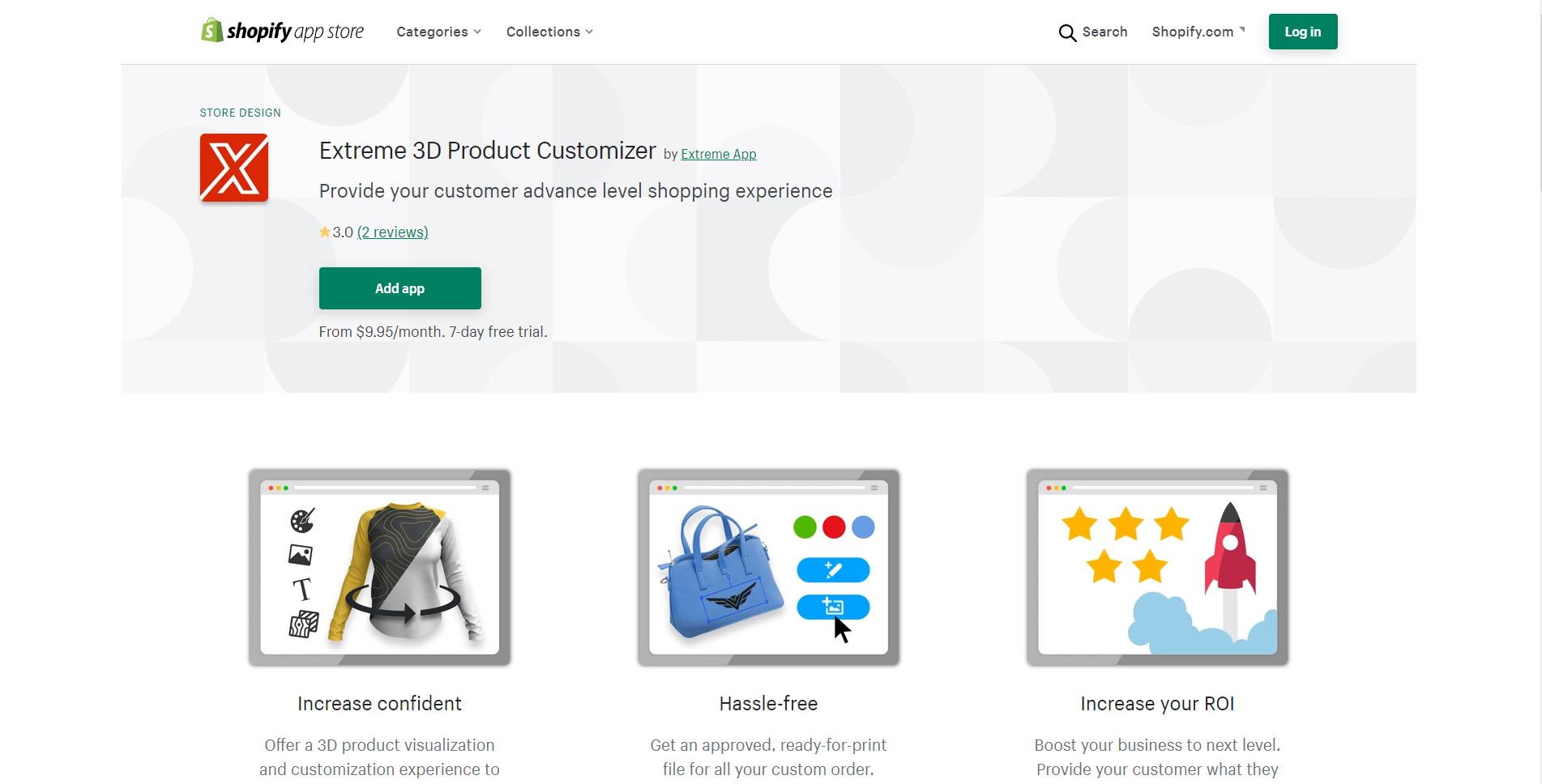 This helpful plugin offer a 3D product visualization and customization experience to your customers. Besides, it is designed for maximizing sales conversions, visitors can rotate images down and up to view a product and quickly make a purchase decision with this effective solution.
6. 3D Product Slider & AR Visuals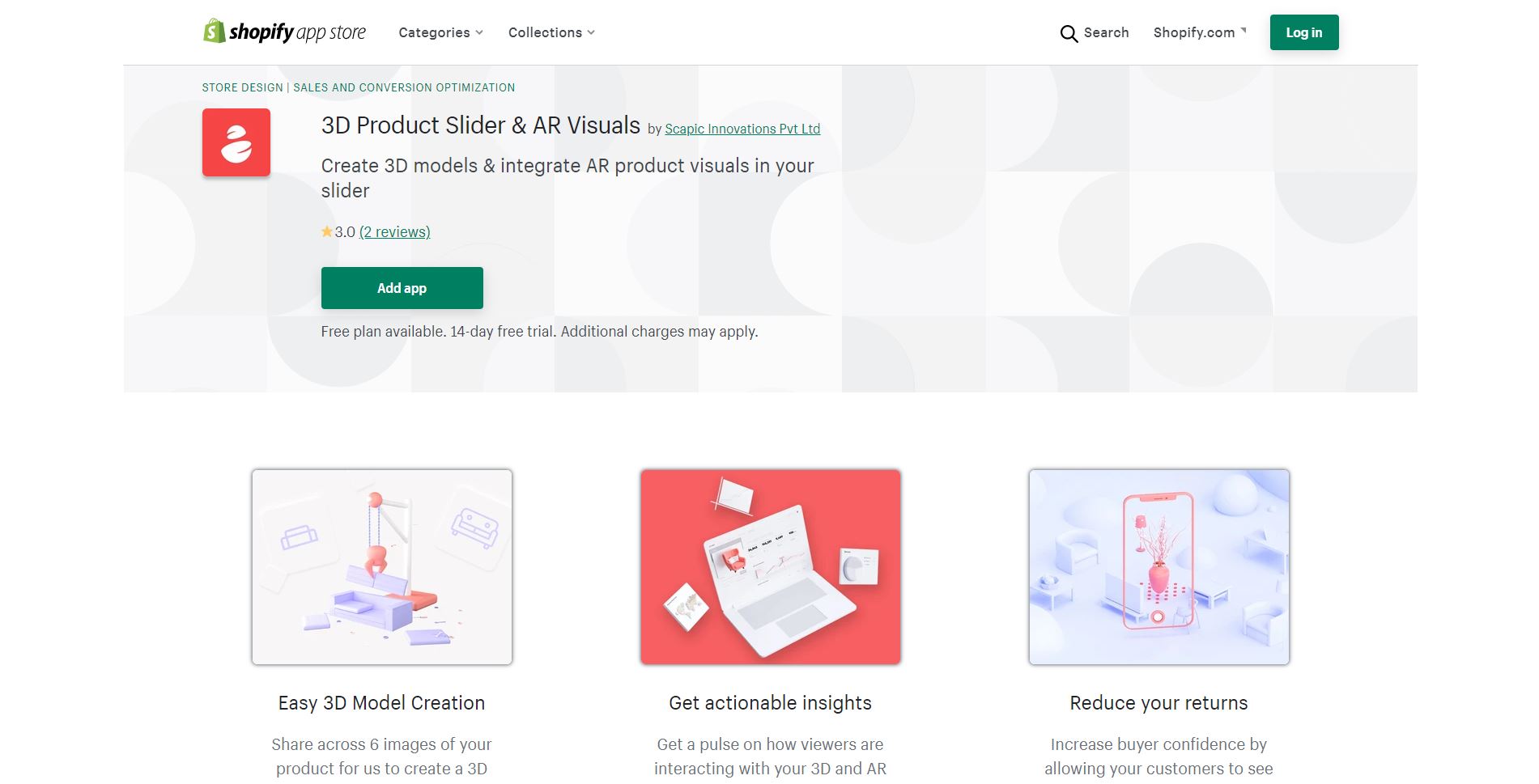 Understand your customers in a whole new way. Not only does this module enable your products to become 3D ready easily, it gives you line of sight into how customers interact with it. Likewise, 3D Product Slider & AR Visuals allow you gather unprecedented insight to optimize your offering. It also provide dramatically better product experiences to take the guesswork out of 3D asset distribution by providing instant access to your certified models in any format, any time.
7. 3D & Augmented Reality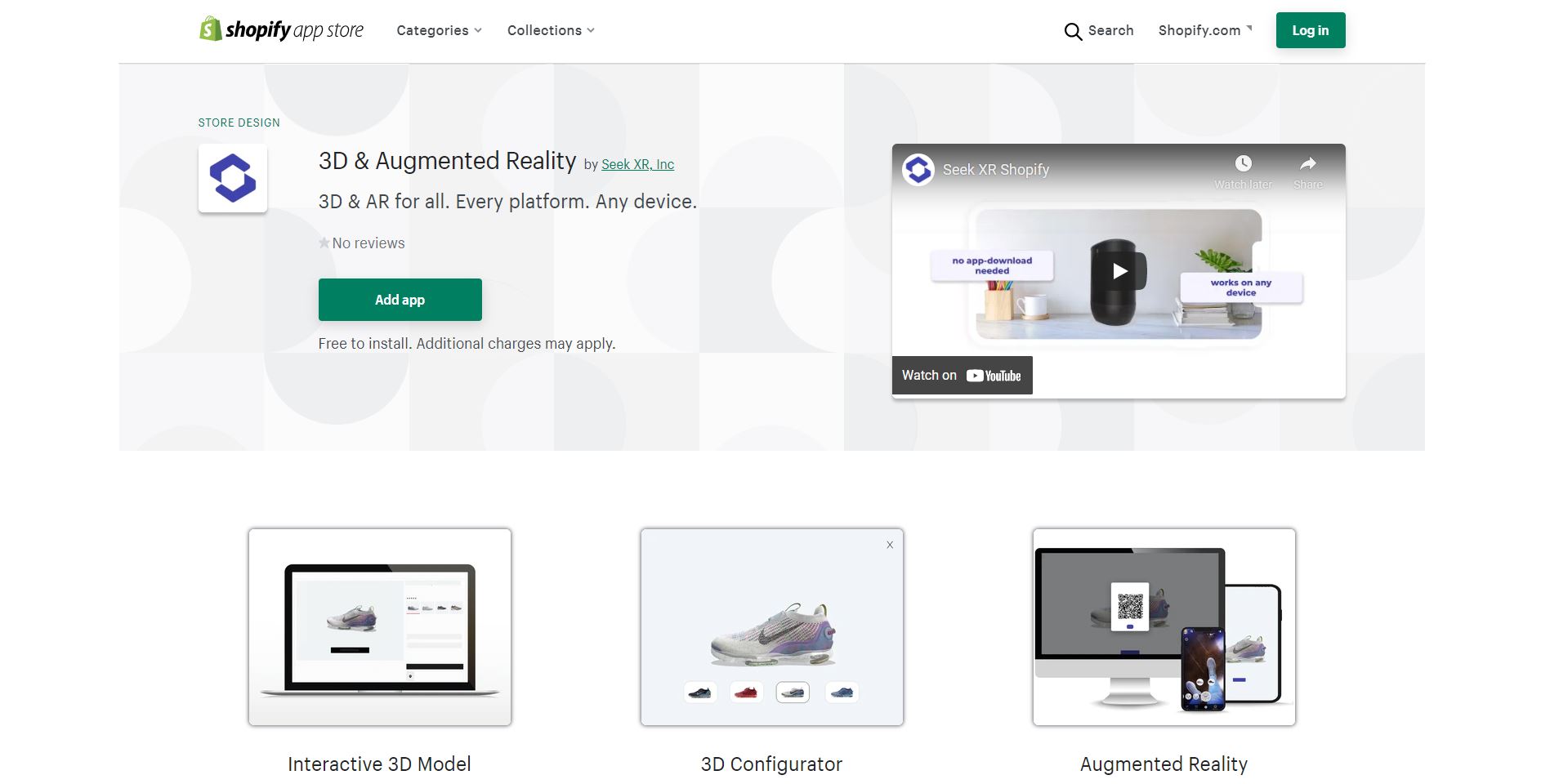 This Shopify app helps you to seamlessly embed 3D and AR experiences on your storefront, so that visitors feel more confident and empowered in their purchasing decisions. Some other features include:
A convenient interface for requesting and seeing the status of 3D assets for each of your products.
Automatic 3D/AR embed injection on product detail pages — no theme editing required.
The ability to customize the embed to match your theme.
8. Logocopter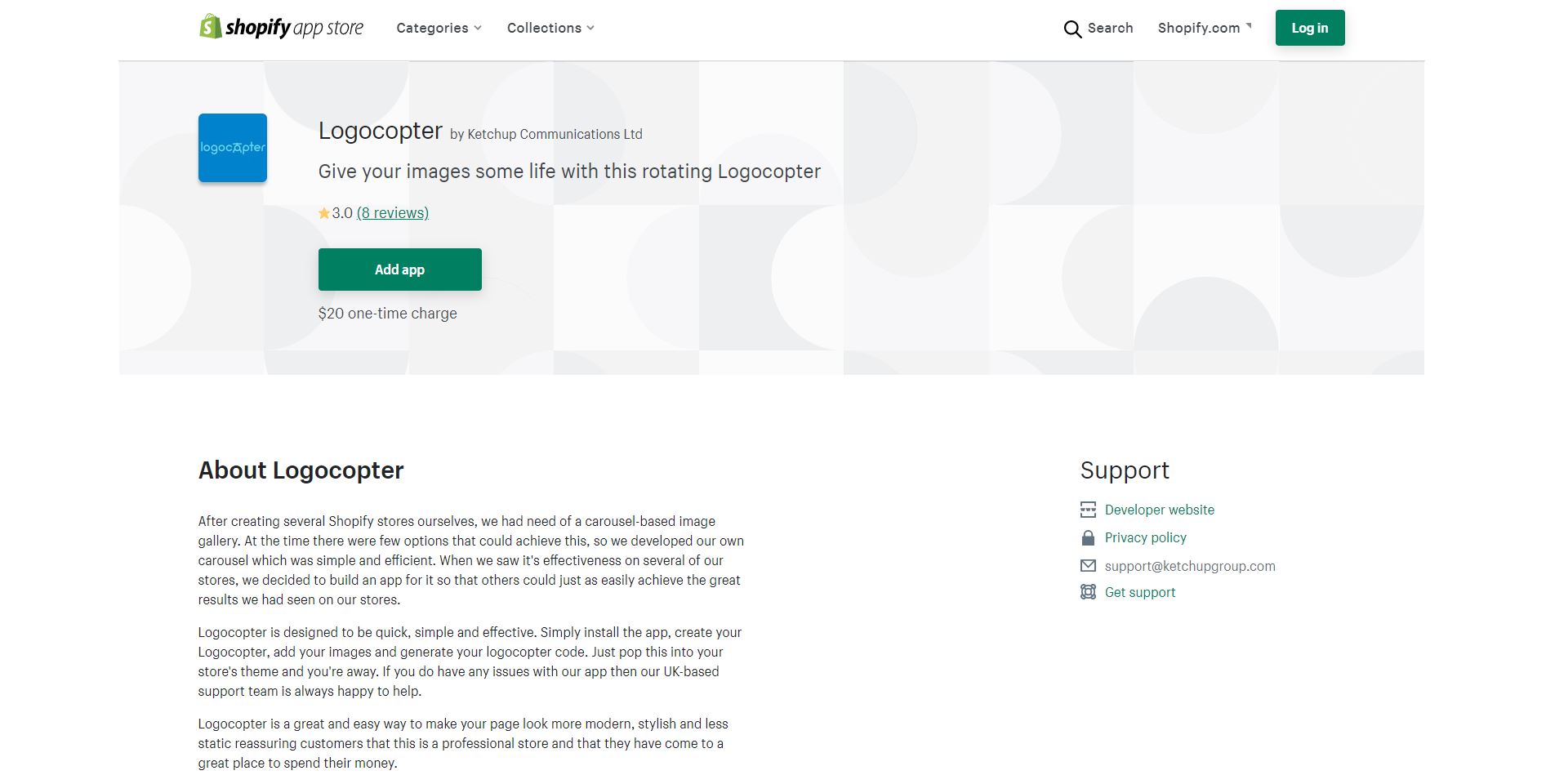 Logocopter Shopify 3D product model is a great and easy way to make your page look more modern, stylish and less static reassuring customers that this is a professional store and that they have come to a great place to spend their money. Moreover, you can add/remove or change the order of the logos on your storefront to attract your consumers, for example, you can put the most well-known brand first. Another point is that you can use the app forever with a one-time payment of $20 only.
Why Needed?
Business is a game of tactics. If you want to run a business successfully, make your shoppers happy. You can do whatever your customer likes, for example, if he wants to view an item before making a buying decision, show it to him. He might buy a better product once he checks out what he is purchasing. That's why 3D product model are essential feature for your Shopify stores. It helps you increase sales by focusing on the core aspect of the business.
Using one of the top best 3D product model apps mentioned above is one of the best methods to do that. Besides, you can take advantage of this amazing feature with Lusion – Multipurpose eCommerce Shopify Theme.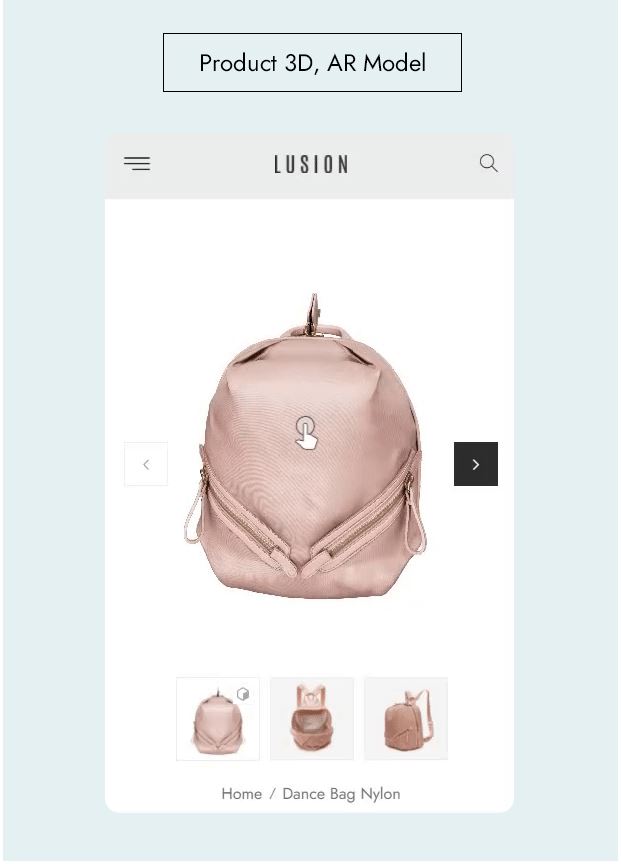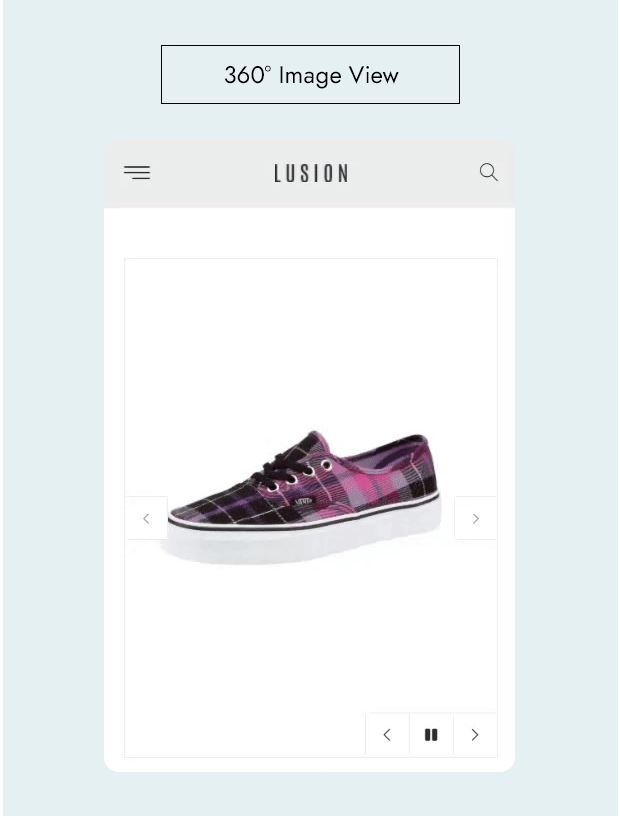 Lusion is a multipurpose, functional and customizable eCommerce Shopify theme. Theme comes with Product 3D, as well as AR Model, which allows you to showcase your products from every angle with 360° photography. Similarly, your customers can see the product in detail by spinning the 360° image. The users can zoom in and out product images with mouse buttons and scroll. Besides, theme also support you with other powerful features including:
The newest feature: Google rich snippets structured Data, AJAX Search Autocomplete
Theme is optimized for Drop shipping.
24 + Pre-made demos
Compatible with top plugins including MegaMenu, ajax search autocomplete, native Shopify quick view, Ajaz product filter..et
One-click Demo Importer: one theme importer already offers pages, posts, sliders, widgets, and so many more
Fake Sales Popup: Easy way to convince visitors stay around
Recommend products: Highlighting the products that helps increase conversion rate
Full Customizability: modifying is more simple because you don't have to write any new coding
Want to see more information on the Lusion theme, let check it out via the Themeforest!
Wrapping up
If you're already doing a Shopify website, it's likely that you're at least reaching some app to power up your website. But remember, it is always much better to have the best support for experts. You can find a IT company to do integration and customization for your website. At Arrowtheme, we provide the professional service to help merchants improve the customer experience. Want to know more about our Shopify service? Check it out
Especially, our packages are ready to provide you with 30 % OFF !!! You can reach us at Here. We'll be happy to provide you with a free consultation.