Shopify analytics app: Top 10 best apps to strengthen your Shopify stores
Shopify is one of the best effective platforms for online business. To utilize the best of Shopify, the businessman should install Shopify analytics tools to follow your work easier and save more time. Let's improve your stores now by installing a Shopify analytics app. Here are the top 10 best Shopify Analytics App 2021 that Arrowtheme introduces to you.
An overview of a Shopify Analytics app
Before going into detail, Arrowtheme will give you an overview of a Shopify Analytics app. Like other function-supported apps on Shopify, the Analytics apps solve your problems with the data. These apps show your strength and weakness through given data. Hence, you can make smart decisions to develop your business.
To be detailed, read information for each app to understand more.
Prices: Free plan available, 14-day free trial and from $29/month for the pro edition
Conversific Store Analytics is a wonderful management tool for the store owners in Shopify. This app provides you with a smart analysis including both Shopify and Google Analytics. This analysis shows exactly what product is most favourable, what product is not cared for by customers and how effective your marketing channels are,… Depend on those data, you can understand deeply about your customers. Hence, you save time to make decisions. Also, this app will send you both a full report updated every week and smart advice for your business.
Highlight functions:
Firstly, calculate net profit and gross profit
Secondly, analyze the sales and customers
Thirdly, compare your performance with competitors by retail industry benchmarks.
Next, marketing analytics (effectiveness of marketing channels)
At last, weekly, daily reported and useful suggestion.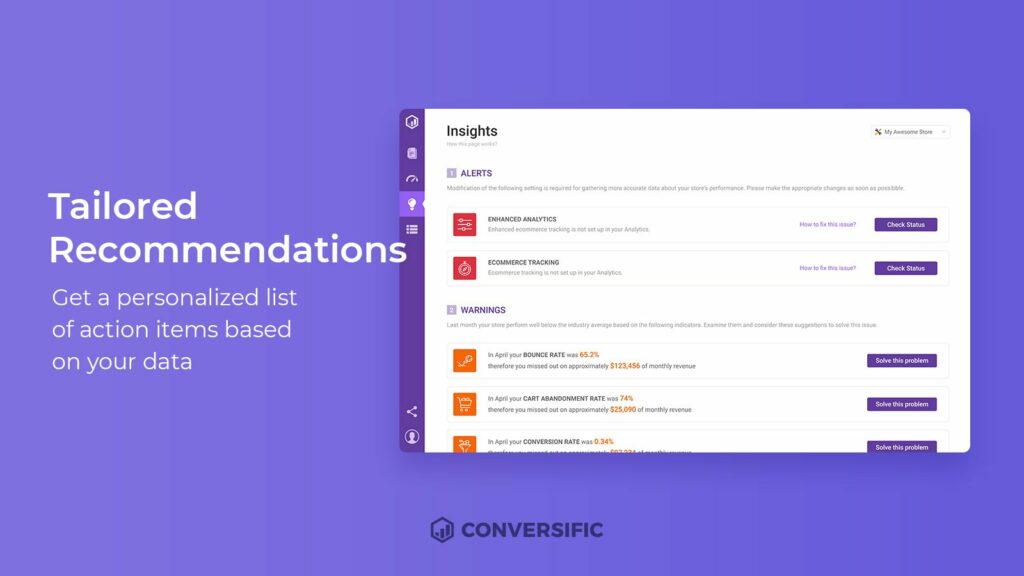 2.Shopify analytics app: StoreView (by optymyze)
Download here
Prices: $4.99/month, 7-day free trial.
StoreView is a Shopify Analytics app that helps you record all the activities of the customers on your store page. Hence, you can easily follow your customers, make improvements and gain more profits. This app will send you a daily report to your inbox to update the situation. Also, this app is compatible with all devices. Therefore you can even use it on your smartphone. Besides, depending on your goals, it classifies the kind of activities and brings you the most wanted data in your feed.
Highlight functions:
Firstly, track your customer's buying journey
Secondly, compatible with all devices.
Thirdly, update the app without additional fees
Next, daily report with detailed activities
Then, customized data in your feeds
At last, the kindness of the support team
Prices: Free plan available or $5/month
Analytics Buddy acts as an assistant to help you integrate with Google Analytics. This app provides data analytics inside your Shopify admin. Hence, you are not worried about the lost content of your work. Also, it gives you information about each order. You can see how it works and receive a fully detailed report about marketing attribution. Besides, Analytics Buddy makes sure that your Google Analytics was set up properly. If you have any question, feel free to send an email to this app for support.

Highlight functions:
Firstly, a free plan is available
Secondly, reports are sent every week through emails
Thirdly, free audit for your Google Analytics account
Next, for advanced edition, custom report and automatically remove your personal information
At last, customer support through emails
Prices: From $29/month. 14-day free trial.
Repeat Customer Insights is an analytics tool for Shopify store owners. Like the name of this app, it focuses on analyzing your customer in order to know the insight. And it gives you the best suggestions. Therefore, this app is very suitable for you to search for the reasons that store usually lose customers. You can have a view of the customers buying process. From that, you have a deep understanding of your target customers. Besides, you will receive detailed reports every Monday.

Highlight functions:
Firstly, customer segmenting with RFM
Secondly, analysis of customers life cycle
Thirdly, discover the most attractive customers
Also, useful advice according to data
Next, good customer services
At last, receive reports every Monday
Prices: $9/month, 14-day free trial
GetSocial: Sharing & Analytics is a Shopify analytics app that brings you a helpful tool to understand and connect with your customers. This app records all social activities occurring in your stores. Also, it utilizes the time by using smart schedule features to reach more traffic from social. In addition, you can know exactly the real-time customer shares your products via social media as well as the amount of traffic increasing.

Highlight functions:
Firstly, real-time analysis
Secondly, social activities recording
Thirdly, track the shares that Google Analytics does not know
Next, the viral score is provided
Also, auto-pilot social media
At last, secured information with the third party.
Prices: Free
As the name mentioned, Customer insights & analytics is a Shopify analytics app that helps you deal with the data about customers. It will analyze the proportions that customers no longer rebuy. Hence, it recommends some suggestions for customers at risk of leaving. And it discovers the most loyal customers segment of your stores. Especially, this app is completely free. However, it is really good. This app will bring you meaningful insight into customers, the comparison with industry benchmarks and the effectiveness of your loyalty program.
Highlight functions:
Firstly, completely free
Secondly, store history in 1 year
Thirdly, analyze the proportions that customers do not rebuy
Next, recommend suggestions for bringing customers back
Also, identify loyal customers
At last, comparison with industry benchmarks
Prices: From $99/month. 30-day free trial.
Google Analytics by Littledata provides you with automatic tracking and sends it directly to Google Analytics. Besides, it allocates your marketing channels including search, social media, paid, organic and email. It also connects with Google Ads and Facebook accounts. About sales, it gains data by tracking your overall checkout flow and repeat buyers. Furthermore, this app connects with ReCharge, CartHook and payment gateways to have multi-currency sales.

Highlight functions:
Firstly, automatic tracking
Secondly, directly integrate with Google Analytics
Thirdly, allocate marketing channels
Next, connect with ReCharge, CartHook and payment gateways
Also, the ability to scale up for Shopify Plus
At last, evaluate your performance
Prices: Free plan available or from $19.90/month edition
Profitario ‑ Profit Analytics is a Shopify analytics app that supports you with profit analysis. This app automatically updates your daily report. So you can save time. It also connects with many apps to sync your work. Besides, it imports data from other sources. Then it analyzes them to identify your real-time profit and the most profitable products. Additionally, instead of many excel files, it brings all cost data into one dashboard and updates it continuously. Moreover, you can follow the change of price over time by using Historical Cost tools.
Highlight functions:
Firstly, identify real-time profit and profitable products
Secondly, one dashboard with full cost data
Thirdly, compatible with all devices
Next, estimation of COGS (cost of good sold)
Also, adjust the profit margin
At last, integrate with many apps
Prices: Free plan available or from $4.99/month edition
Hitsteps Analytics acts as a camera of your virtual stores. This tracks all the activities of customers from start to checkout actions. Moreover, it provides a live chat where you can talk with your visitors. Therefore, it will give you a detailed report about customers activities in your store. It also identifies which products are favoured and which complements are best. Moreover, it defines the keywords and websites that bring visitors to your stores. And, it gives you information about the location of visitors.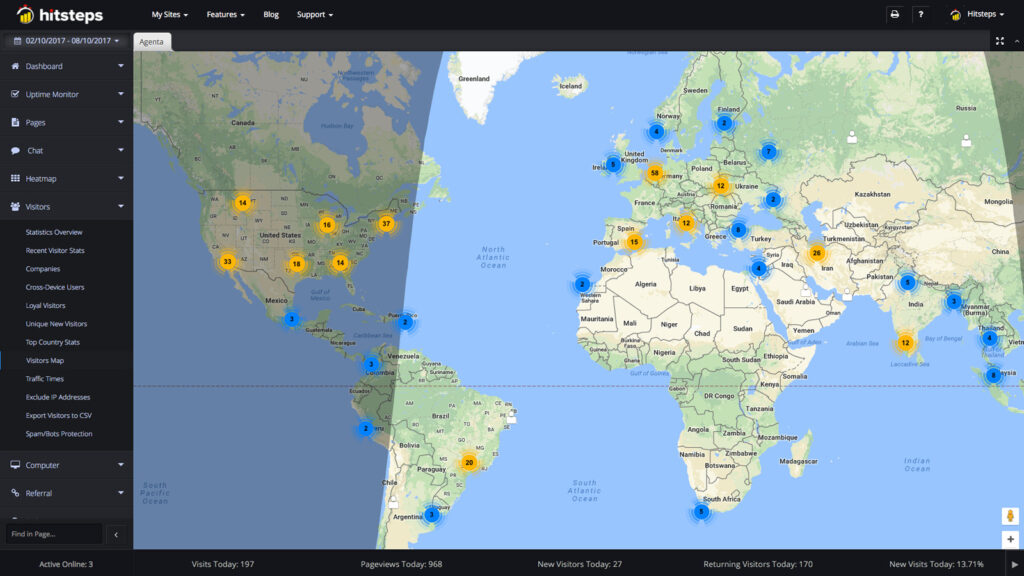 Highlight functions:
Firstly, live stream of customers in stores
Secondly, live chat with visitors
Thirdly, know the location of visitors
Next, send daily report about your performance through emails
Also, multiple users (your agents or employees)
At last, measure page speed meter
Prices: Free plan available or from $9.5/month upgrade
Web‑Stat. Know your visitors! is a Shopify Analytics App that brings you closer to your visitors. It provides you with full information about people visiting your website. This information includes where they are, how they find you, and how long they are in stores. All information will be present in colourful graph and reports for you. Also, you can install and use this app easily without coding knowledge. If you need help, feel free to call them.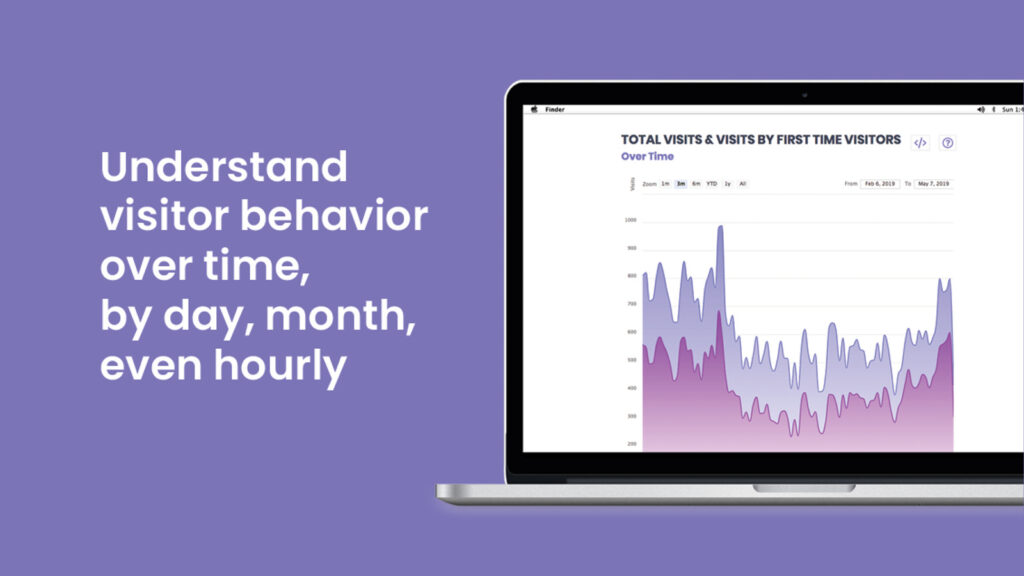 Highlight functions:
Firstly, full information about visitors
Secondly, colourful graph and reports
Thirdly, easy to use and install
Next, good customers service
At last, notification about new visitors
Thank you for reading our review. You can read more interesting posts about Shopify apps here.