Supermarket magento theme: Top 5+ well- known Magento themes to boost sales
Supermarket business is always one of the areas with the biggest revenue return. Nowadays, there is no denying the popularity of supermarket business. Then, if you want to build a supermarket online shop, you need the support of a suitable Supermarket magento theme. In case you want to start your online business on Magento, Arrowtheme provides you with a list of Top 5+ best Supermarket magento themes. When you choose the suitable theme with your website and products, you will easily boost sales and give a lot of profits.
Let's read this blog and select the most suitable Magento theme to your website and products. Explore with us now!
The first and also the most outstanding Supermarket magento theme in our list is GemMart. It is one of the best brainchildren of ArrowHitech. What is so special and useful about GemMart?
Firstly, GemMart is a multipurpose magento theme. Then, it is not only suitable for Supermarket online stores, but it also fits to many types of products. For example, electronics or digital shops. With Supermarket, your website will look as well as many big e – commerce websites in the world such as: Amazon, Ebay… Thanks to that, it helps you to boost sales and attract more and more customers.
What's more, this magento theme has over 18 layout demos for you to choose. Additionally, it provides a lot of hot extensions to support you such as: Front-end CMS Page Builder, Ajax Quickview, Ajax Layered Navigation, Guest Wishlist, Instant Search, Mega Menu and so much more. Also, this Supermarket Magento theme has standard UX/ UI. Best of all, GemMart has the fastest loading speed. Therefore, it will bring to shop owners and customers high level satisfaction when using this magento theme.
In case you want to look for the well – known Magento theme, SuperTheme is an ideal choice for you. Because of a multipurpose theme, it is suitable for every product, especially Supermarket. This Supermarket magento has many layout styles for you to choose. Each one is unique and exclusive, but all of them are clean, eye-catching and product – focusing.
Furthermore, SuperTheme is also fully customizable. Hence, you'll be free to edit and customize the theme as you want. Best of all, you can install this magento theme very quickly. Not only that, SuperTheme has SEO friendliness that helps your website always appear at the top of search engines. Besides, it is built on many new technologies such as: Bootstrap 3, SASS/SCSS, W3C HTML5 and so on. Not only that, SuperTheme is fully responsive. Hence, your website always looks stunning regardless of any devices from mobile phones to desktops.
As you see its name, Supermarket & Deal is a magento theme built specially for Supermarket online stores. Supermarket & Deal is considered as one of the best – selling and professional Supermarket magento themes in the market. At first, it includes more than 6 layouts for you to choose. Furthermore, this magento theme supports a feature "Multi language". Thanks to that, this website can translate to many different languages and approach a lot of countries in the world.
Best of all, this magento theme is very convenient. If you don't have any knowledge about code. Don't worry about it. Because with this theme, you can easily download and use without any coding. Other outstanding features of Supermarket & Deal are: Mega menu, RTL, Ajax cart, Quick view and so on.
The next Supermarket magento theme in our list is X98. This theme has a clean yet modern design with a wide range of advanced features. X98 provides 4+ per – made homepage layout templates to products like home and kitchen appliances. What's more, it is 100% responsive. From that, even using mobile phones, your website still runs perfectly as well as on big screens.
Additionally, if customers have any problems with your products, they can easily contact you thanks to the "Blog and Testimonial module". Then, it will increase customer's experience on your website and promote them to buy your product quickly.
Other highlight features on X98:
Mega menu
Ajax add to cart
Quick installation
Category tabs slider
Brand logos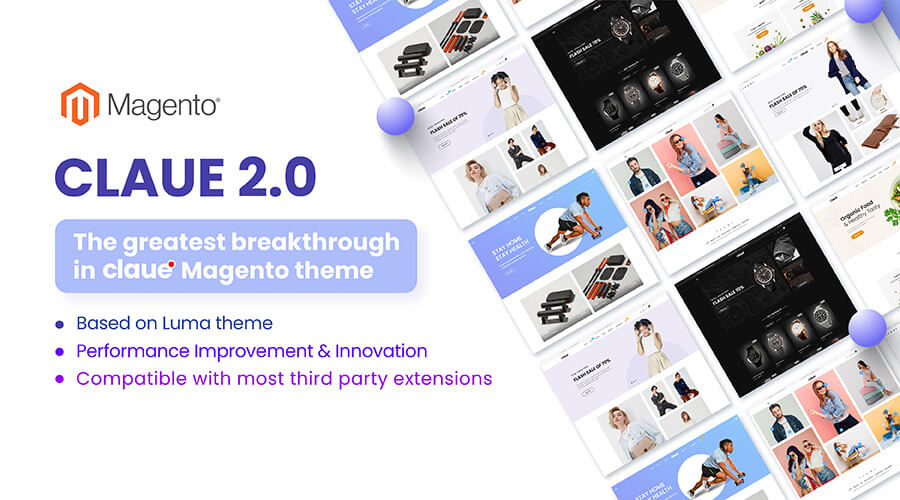 If you're looking for a professional Magento theme for Supermarket online shops. Then, you have to take a glance at the Claue Magento theme. Firstly, this theme provides over 32 homepage layouts and unlimited colors for you to choose. Besides, you also have many choices to design Header and Footer layouts to fit with your website. 
Best of all, this magento theme is very easy to install. Just only one click, you can do many things on your website. What's more, it supplies many hot extensions such as: Quick View, Ajax Contact, Layered Ajax, Lookbook, Magicmenu, Magicslider, Shopbrand and so much more. 
Other advanced features of Claue magento theme:
Quickview
Elevatezoom
Fancybox Lightbox
Thumbslider Image Product
Hover for Product Image
More importantly, Claue 2.0 was released recently. This is the new version of Claue 1.0. Therefore, it has more awesome features. So let's take a look.
Above are Top 5+ best Supermarket magento themes in the market. All of them are very perfect and useful to boost sales and increase brand awareness. Arrowtheme hopes this blog provides you with a lot of useful information. Then, you can choose the most suitable Supermarket magento theme for your products. Try one of them and give us your comments!