6+ Best eCommerce Chatbot Tools for Your Online Store (Free & Paid)
Running an online store comes with many responsibilities and processes that you have to monitor and manage. Customer service is the most important thing to your business's success, and you don't want to offer your customers a low-quality experience. This may lead you to wonder how an eCommerce chatbot can help you.
Of course, it can. Using the chatbot will give you a smart way to streamline and automate customer support. They can help you both answer and handle shoppers' queries swiftly and also personalize and adapt the purchasing process.
In this article, we'll go over the reasons why you should have an eCommerce chatbot and some tips for selecting one.
In addition, there is a list of the best eCommerce chatbots for your website. Let's get started!
Why You Need a Chatbot for eCommerce Store
Even if you have the most amazing online store on the internet, you still need to provide good customer service. Otherwise, you will probably fail to achieve success.
Just like live chat software, a chatbot for eCommerce on your website can offer many advantages. The main one is that it can greatly improve how you handle customer service and how your visitors feel.
You can enjoy many perks from having an eCommerce chatbot, for example:
It helps to welcome customers as soon as they visit your site and provide them with a more personal experience.
It can suggest articles, FAQs, and other resources to assist customers in resolving issues.
It can direct users to particular pages on your site that may appeal to them.
You can use your chatbot to make product recommendations in order to increase sales.
With a chatbot, you can collect information about visitors to customize their shopping experiences, such as getting their email addresses for your newsletter.
It can handle buyers' payments for them.
Chatbots are especially useful when you don't have a large support team (or none at all) and need assistance managing customer inquiries and questions.
Even if you are capable of handling customer service operations during working hours, some customers may visit your store during 'off' hours. A chatbot can ensure that they have access to help if they need it.
Tips for Finding The Right eCommerce Chatbot Tool
A few aspects that you'll likely want to look at when choosing a chatbot are:
Flexible and easy to use: You should be able to use and customize the tool on your own, especially if you are a beginner.
Good support and help: The tool has enough support and help. This is why we also advise that you choose a solution that the developer keeps improving and updating.
Extensive integration support: It is important to make sure that the chatbot you pick works well with the tools, platforms, software, and solutions you use now.
Pricing: Many eCommerce chatbots are reasonably priced, with options to suit almost any budget.
Multilingual support: It should support different languages since some customers may prefer to communicate in their native language.
Lyro – AI Chatbot for eCommerce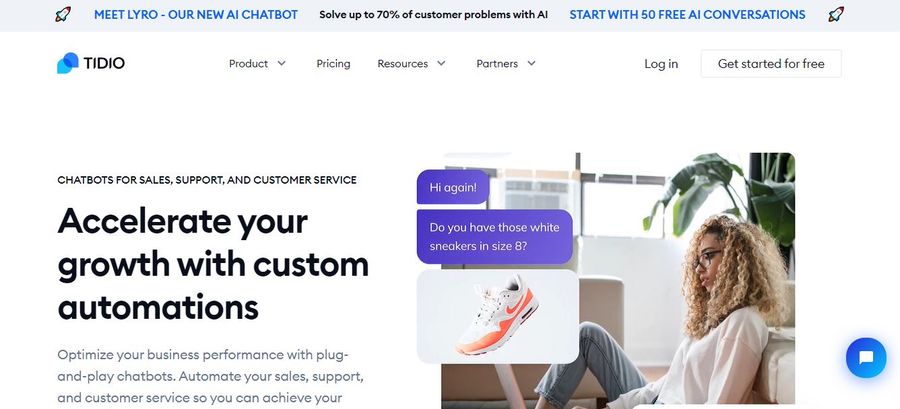 Learn More
Lyro is the best AI chatbot for eCommerce that we highly recommend. It can chat naturally and provide clear solutions.
Lyro handles 73% of customer questions on its own by examining the questions and sorting them into categories. It creates answers for each category of questions. It delivers answers to customers according to the categories.
In addition, Lyro comes with a user-friendly interface for making conversations flow with custom actions and conditions and creating answers for the grouped questions.
All of these are possible without the need for coding, thus improving customer support team productivity and giving useful information with chatbot analytics.
Features:
Drag-and-drop builder interface
Free sales and FAQ chatbot templates that can be customized to fit business goals
Integration with Messenger, Instagram, email, and apps
Compatible with WooCommerce, Shopify, Magento, etc
Knowledge base included
Ticketing system
Multilanguage
Chatbot triggers
And so much more
Pricing: Free to test, then $29 per month.
FLOW XO – eCommerce Chatbot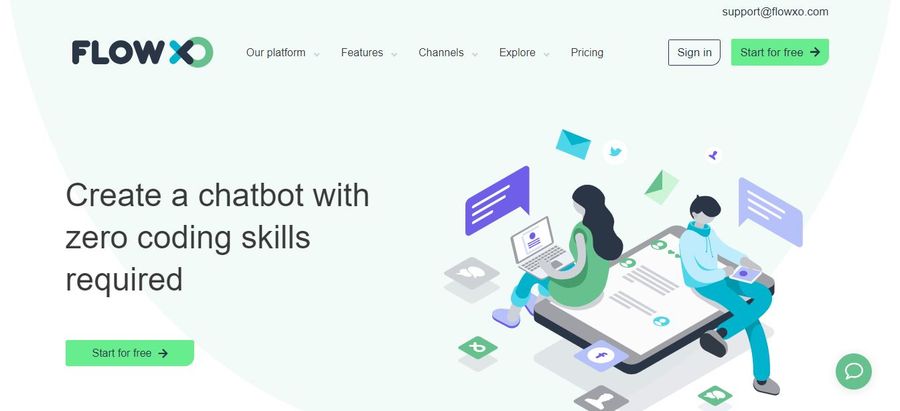 Learn More
FLOW XO is an effective tool for creating chatbots for the web, Facebook Messenger, Slack, Telegram, and other platforms.
It's an extremely versatile eCommerce chatbot that can be used for a variety of tasks, such as lead generation, payment processing, live chat, customer service, and more.
You can also select from a variety of bot templates, including those for buying tickets, answering FAQs, registering accounts, and so on. It also has an intuitive, user-friendly UI, making it an excellent choice for users of any skill level.
Features:
Live chat
Gather information
Payment integration
Tools to capture leads
Quick answers to simple questions and links to relevant sources
Bot templates
And so much more
Pricing: Start for free and the standard plan costs $19
ChatBot – eCommerce AI Chatbot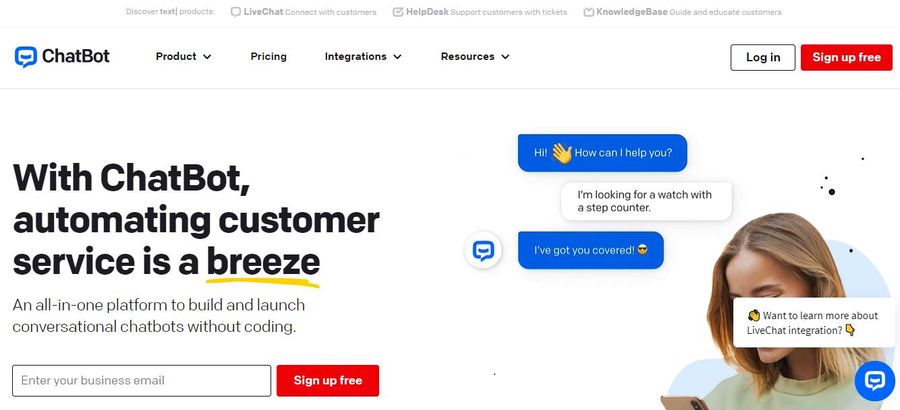 Learn More
This is a chatbot that is part of LiveChat – the well-known live chat tool for businesses. It was designed to provide your online store with the automation you need to continue conversations with your customers.
ChatBot is considered an eCommerce AI chatbot that establishes a friendly dialogue to make customers feel like they are talking to a human.
Creating a chatbot with this tool is easy because you have a visual interface where you can drag and drop the chat elements as you like.
Features:
Pre-made templates and free workflows
Machine learning algorithms assist you in improving your responses
Work with different platforms, such as WordPress, Facebook Messenger, Slack, WordPress, Shopify, WhatsApp, etc
Allow customers to create help tickets
Chat transcripts are generated automatically
Have a system for tracking goals and conversions
And so much more
Pricing: Free trial, then the starter plan starts at $52 per month
Chatfuel – ecommerce chatbot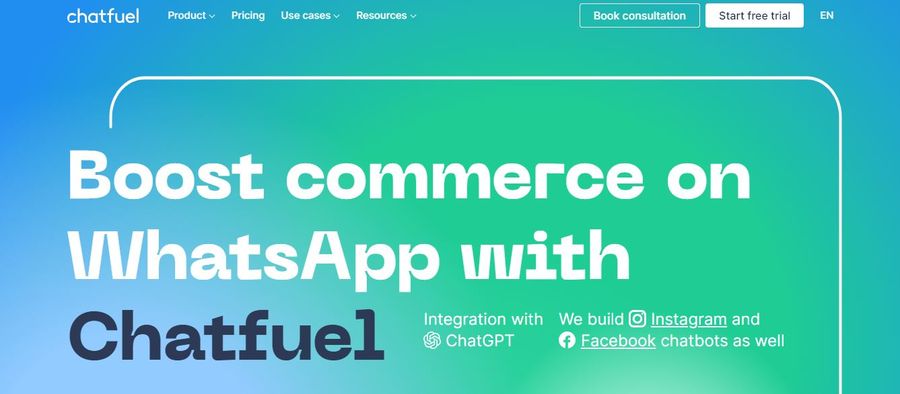 Learn More
Chatfuel is yet another famous and reliable eCommerce chatbot tool on the market. The tool allows you to easily integrate with Facebook Messenger and create a chatbot without any coding or experience. Surely, you can build your own chatbot in minutes with Chatfuel.
If you want a lot of flexibility and control, Chatfuel is a must-consider. It's a strong tool that's also adaptable and suitable for users of all skill levels.
While you can sign up for a free account and start a trial, you will need to upgrade to a premium plan to use all of the chatbot features.
Features:
Simple to use editor
Pre-designed chatbot templates for eCommerce platforms
A complete bot that seamlessly integrates with Messenger
A/B testing
Cart notifications
Targeted ads via Facebook Ads
Accept payment
And so much more
Pricing: A free trial for up to 50 conversations per month, then an upgrade to the next plan starts at $14.99 per month.
Giosg – eCommerce Bot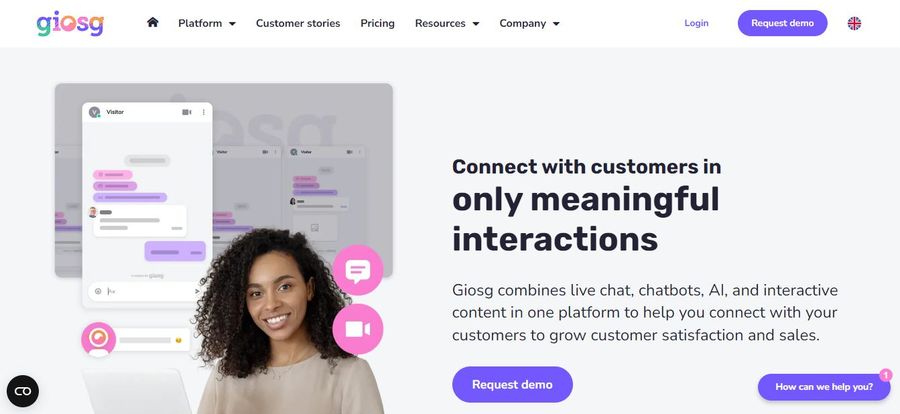 Learn More
Giosg is a platform for making good interactions with customers, but it also helps businesses make chatbots. You can use this AI eCommerce bot to create an amazing chatbot without coding.
Giosg also has other products like live chat and popup integrations. They can be used for customer service, lead generation, live shopping, and HCP engagement.
It uses NLP to find the best answers to customer questions in its knowledge base.
Aside from the technical aspects, it also provides real-time analytics on chatbot performance in customer conversations.
Features:
A/B testing
Live chat
Integration with CRM & marketing tools
Support data reporting
Lead generation
Pre-made chatbot templates that can be modified.
And so much more
Pricing: It depends on variables that are specific to the business.
Read More: 8+ Top Free Magento Templates For Your eCommerce Sites