Challenges for online fashion retailers and how to solve them
Large numbers of retail stores and shopping malls have been closing despite the economy's growth. The retail industry has been deeply affected over the last two years. Therefore, it has affected everyone – from small stores to large shopping centers. Furthermore, compared to last year, more than twice as many clothing stores have closed this year. Despite a slight downturn, total retail spending keeps growing steadily. Moreover , there are several trends such as the growth of Ecommerce, the excess of shopping malls, and the unanticipated consequences of other businesses' revival that lead to the fact that clothing stores are not doing well. Therefore, fashion and boutique retail shops face a number of challenges. These challenges for online fashion retailers are discussed further below. More importantly, we will also show you how to solve them. Are you ready to start right now?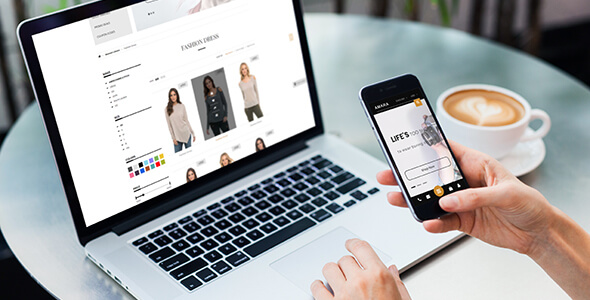 Challenges for online fashion retailers
Increased interest in online shopping
A most common reason for retail store downfall is that online shopping gets to eat retail. From 2010 to 2016, online Ecommerce company sales increased from $16 billion to $80 billion. Last year, total revenue was around $22 billion. So, in the last six years, e-commerce companies have more than doubled in size. However, Ecommerce has simple return policies which made online shopping cheap, light, and risk-free. Therefore, retailers in physical stores have been forced to provide similar conditions and strive for the same convenience as online shopping.
Previously, people would make several trips to the store before purchasing an expensive dress. They most likely made numerous other small purchases while walking around on each trip. Today, there are less walks into shopping malls and less random shopping trips to traditional stores. Because Ecommerce growth shifts some purchases to the online network and makes new habits.
The major reason for the closing of large numbers of fashion retail stores is Ecommerce and an excessive amount of retail space. Moreover, nowadays, customers spend more money on travel and restaurants. Therefore, the number of clothing stores declined. People bought many items before the Great Recession, like houses, furniture, automobiles, and clothes, and the retail trade expanded significantly in the 1990s. But a lot has changed. Clothing prices are falling, and its share of total consumer spending has fallen by 20% in this century.
Secondly, while wage growth is important for workers and the economy as a whole, it has no effect on low-margin businesses that rely on low-cost retail stores. Cashiers and sellers are the two biggest job categories with over 8 million people. Besides that, the average annual salary for both professions is less than $25,000. However, new minimum wage laws and a tight labor market have recently increased the wages of the poorest. As a result, it leads to the retailers who are already under pressure from the e-commerce industry.
Consumerism
Consumers have enormous power in today's world. Fashion and boutique retailers are being required to follow the needs and desires of their customers. However, the boutique's retailers are under pressure to provide similar e-commerce services. Moreover, it is difficult to do so profitably. Besides that, the most common issue with fashion retail shops is that customers expect new products with a wide range of variety, which is not always possible.
Fixing this isn't going to happen overnight. Because it requires proper sourcing and fully traceable supply chains to be completely transparent with your audience. However, the data indicates that it's well worth it in the long run.
Different colors on different screens
We have a photo of a dress. Firstly, it was dependent on the screen you were viewing it on. Secondly, it was an unusual color combination that interfered with some people who were colorblind.
There isn't much you can do about the second issue. But for the first, you can take some photos of your garments in-situ, similar to a lifestyle photography choice. Customers will be able to see them in various lighting configurations to determine what color they believe it is!
Building authority through effective SEO
Search Engine Optimization (SEO) is not easy for many online retailers in virtually every industry. Google announced that in this year, it will make significant changes to how it handles user shopping searches. Moreover, how it offers them the best deals from across the internet. While this is great news for customers, it may make brands nervous.
For this challenge, you can come to the SEO Optimize Services. SEO's Experts can help your brand get the high rank on the search engine.
Competing with highstreet stores
When the coronavirus pandemic happened, countries around the world were required to shut their borders and lose their high streets due to local and national lockdowns. Therefore, online shopping increased. This was terrible news for traditional retailers. However, ecommerce stores saw a massive increase in sales. After lockdowns are removed in various parts of the world, retailers must consider the problem of competing with high street stores once more.
The advice here is to simply keep improving your online offering, to be unique and casual. Besides that, you can use social media to showcase your items in the best light.
Overcome challenges for online fashion retailers with Cecile- new WordPress theme in 2021
WordPress theme 2021 is now available! Cecile is the perfect pick for your ecommerce store if you want to build a simple but stylish online store. This theme brings to customers lots of stunning homepage options. More specifically, you just need to add your content and wait for people to browse and buy your items. Furthermore, Cecile offers the Check in-store Availability option. Therefore, customers can see the availability options for your goods at a glance.
Furthermore, with this great theme, your customers also will get the notification when your goods are restocked. Thanks to that feature, you can boost the conversion rates. The Quick view option of this theme is also useful. Because it speeds up the shopping process of clients. Customers don't need to browse to each product page to get a better look at the item when they want to buy. In addition , the recommended product feature provides shop owners with relevant product information to persuade customers to take action. This is helpful to both the customer and the store. Finally, thanks to Color Swatch, you are able to display available product variable attributes such as colors, sizes, styles,… your online store.
Let's explore more highlight features of this theme:
10+ Homepages
12+ Shop pages
10+ Product pages
7+ Header style
Fake sale popup
Built In MegaMenu
Checkout Optimized
Ajax Cart
Fully Customizable
Responsive & Retina Ready
800+ Google Fonts Supported
Unlimited Colors
Conclusion
If you need more assistance for your business, ArrowTheme by AHT TECH JSC is always ready to help you with any cases. Just fill this CONTACT FORM and our support team will reply to you as soon as possible.