Claue: The most excellent and recommended Magento 2 theme for your online store
Thanks to the development of the ecommerce business, nowadays life has become more convenient. In order to take full advantage of the ecommerce business, what should you do? First of all, you should choose an ecommerce platform for building your online store. So it is not only easier for you to do and also save your time. One of many ecommerce platforms you should consider is Magento- open source ecommerce platform. Next, choosing themes is the most important step that can attract your customers. Therefore, Claue is a Magento theme that may meet all your requirements and make your business get better . I think Claue is one of the good choices that you should not miss.
Thus, in this blog, I will give you a more detailed look about fascinating themes called Claue. By using Claue, you can find many stunning and modern homepage layouts that are suitable for your online shop. Claue provides not only diverse functions, but also the security for the shoppers. So now, let's find out the answer for the question: "Why does Claue become the most excellent and recommended Magento 2 theme for your online store ?
WHAT DOES CLAUE BRING TO YOU?
Claue Magento Theme is a product of . Claue Magento Theme brings 32+ homepage layouts and tons of options for shop, blog, portfolio, store locator layouts and other useful pages. With the clean and modern design templates, users can build their furniture online shop quickly and simply. Furthermore, there are fascinating functions included in Claue Magento Theme such as Mega Menu, Store Local, Quick view, color swatches, Ajax cart, products questions, and so on. Those functions make your online shop become eye- catching to attract more customers. Hence, Claue has become one of many user's personal favorite themes.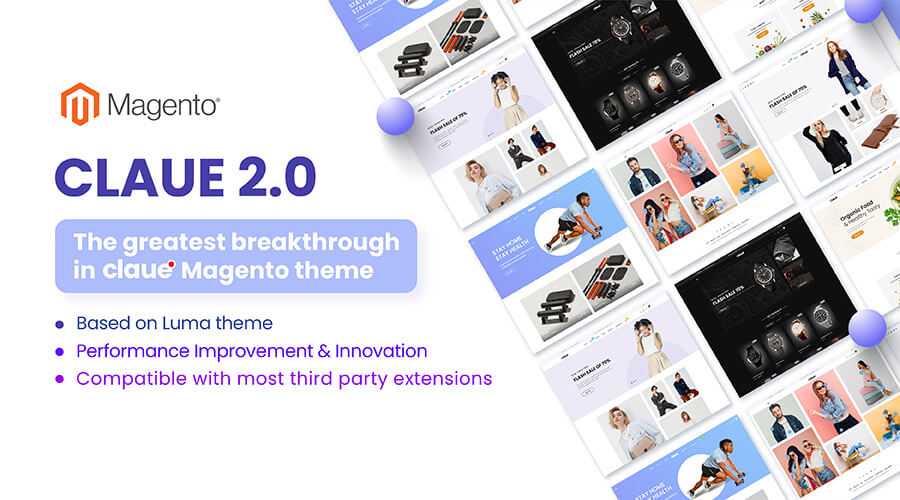 WHAT ARE THE DIFFERENCES BETWEEN CLAUE 2.0 AND CLAUE 1.0?
Claue 2 is the upgraded version of the Claue Magento theme, which provides you lots of differences from the first version. As a result, if you're running Claue version 1 and wish to update to Claue 2.0, let's explore the awesome features of Claue 2.0
Based on the Luma theme.
Comply with all Magento Theme requirements.
Significant improvement in performance
Most third-party addons are supported.
Claue 2 is Magento 2.4.x compatible.
VARIOUS HOMEPAGE LAYOUTS
Below are some homepage styles that you can use when setting up Claue 2.0 for your website:



SPECIFIC CLAUE 2.0 THEME FEATURES:
#1 Product 3D, AR Models
This is the special feature of Magento Claue 2.0
#2 Optimized for Speed and Performance
By using a lightweight platform and SEO standards, the Magento 2 Claue Theme is able to provide a website, which has been maximized the page loading speed and increased user usability. In addition, Claue brings the solutions to reduce the time for loading pages.
#3 Feasible and easy to use
Claue Theme offers great flexibility, ease of use and is perfectly suited for all types of business niches: portfolio, blog, e-commerce, etc. For this reason, Claue 2.0 becomes one of the most popular and favorite among Magento 2 store owners.
#4 Designed by the top of Ecommerce Specialist
All the layouts and models on Claue 2.0 are taken from the UI and UX E-commerce background. Thus, more than 60K+ Porto ecommerce stores have expressed their interest with Claue Theme.
#5 Bring the best experience for customers
To suit the customer's purpose, the Claue 2.0 theme is designed with key design, creativity, and simplicity in mind. Furthermore, they have a professional customer support team with 4.76/5 stars rating based on 3.7k+ products.
#5 Suitable with Magento Extensions
Besides designing the website to attract clients, each theme chosen from Claue 2.0 also combine and assist the below the extension on their website
ADVANCED FEATURES FOR DEVELOPERS
Looking in The Magento 2 Claue Theme, we can see that 32+ stunning homepage layouts are provided. Ajax technology, as well as many custom blocks, are used to power it. This Magento 2 template has a responsive design. With a single click, you can easily move to another responsiveness (mobile-friendly) option. Claue 2 also contains Ajax Navigation/Cart and provides up to eight columns.
Furthermore, the Claue 2.0 theme allows you to change the background/foreground color of different elements. It lets you turn off or on the sidebar that appears on product pages.
So now, let's take a look at some of the modules and features that Claue 2.0 theme provides to developers:
#1 MSG Front-end builder
This helps you to build as many CMS pages as you want. Claue 2.0 will also assist you in building a site, landing page, advertising page, content page… at the front-end quickly. Furthermore, the latest updated version has been speed-optimized. Therefore, your new page will become faster to load.
#2 Mega Menu
Simply, Mega Menu is the combination of a total list that can be displayed under the format of vertical or horizontal on your website.
Claue 2 allows you to define the super menu type and depth. Therefore, a user can access all of the item's information. It allows you to specify a custom label for the categories. Mega Menu helps your website become eyes catching. Hence, it increases the user experience of your website. Your website has a lot of content with complex organization. Users feel it is difficult to find out the content. Don't worry. Mega Menu will make it easier.
#3 Powerful Ajax Shop
In order to help the customers recognize your online shop, you should set the banner image for your own shop. Hence, Claue 2 is the perfect choice for you to create a banner image with beautiful effect. Moreover, slider can be added into your banner image to highlight your best-selling products, categories… Similarly, changing the category template to 'boxed' or 'full width' is another way you can use for your banner.
The Magento 2 Claue theme lets users set up the width and height of the images shown on the Ajax page. Besides, there are some functions like display the "Add to Compare" or "Add to Wishlist" button, show the product ratings and the filter toggles or change the category description position, and so on
#4 Products label and Configuration
You may use the label to highlight the items that you want to discount. By this way, those items will become eye-catching and so you can sell those items quickly.
#5 Other key features of Magento Claue theme
GDPR: General Data Protection Regulation
Dark Light: you can set the dark or light version for all pages
Product Variation Swatches: you can swatch product attributes with color, size or any attributes
Lookbook Collection: You can make your lookbook collection easy with Pin Maker plugin
Instagram shop: Sale your products over your Instagram Feed. Add more shoppable link by clicking on your Instagram Feed tab
Fully responsive and Mobile Optimized
Multiple Header and Footer Options
Multiple layout options for shop pages
EASY TO INSTALL AND ACTIVE WITH ONLY SEVERAL CLICKS
Installation
First step before you download the theme is download the license code and then purchase certificate. Next, you download the Magento 2 & 1 Claue theme to your device. In order to install it, you have 2 ways: by using an FTP tool or access to SSH of your managed Magento hosting
Activation
So how to activate the theme? To begin with logging into your Magento dashboard, click "Claue", and then click "Activation". Next, enter the license/activation code that you received in the "license code" text file. Please visit Claue's official documents for more information.
COMPATIBILITY
The Magento 2 & 1 Claue theme is compatible with Magento Edition 1.7.x, 1.8.x, 1.9.x, 2.1.x, 2.2.x, 2.3.x, 2.4.x. It also supports some browsers such as IE9, IE10, IE11, Firefox, Safari, Opera, Chrome, Edge
SUPPORT AND PRICING
The price of Claue 2 based on your theme that you choose for your ecommerce business. This theme has a ticket-based customer service. If you need assistance with a feature, all you have to do is creating a support account and waiting for a response from the support team.
POSITIVE RATING OF CUSTOMERS AFTER USING CLAUE 2.0
FINAL WORDS
Due to the above features, Claue 2.0 became the best-selling themes in Themeforest. To conclude that Claue 2.0 theme is really a good product. I believe that Claue 2.0 theme combine all the best standards and practices. This theme is a best choice for you because of the fast loading speed, perfect design, fascinating features, and excellent ecommerce support team. Magento Claue theme will bring more visitors and surely boost your web site.
So now, let Claue help your business get better by downloading Magento Claue theme. And then let us know about your feelings.