Magento vs Shopify – Choose the Suitable Platform for You
Which eCommerce platform is right for you: Magento vs Shopify?
You are not the only one who faces difficulty in choosing between Magento vs Shopify. These two platforms are among the leading eCommerce solutions today.
Shopify is a simple platform for creating online stores. It has a monthly fee and can handle low and high-volume businesses.
Magento, like WordPress, is a free open-source platform that you can download and install on your computer. You will, however, need to pay for web hosting (nearly $10 per month), security, and extensions (similar to apps).
If you want to make comparison between Shopify Plus vs Magento Enterprise, you should consider several factors. These two platforms have differences in pricing, features, usability, and scalability. The top platform for you may vary depending on your business objectives and requirements.
So today, we will give you a detailed Magento vs Shopify comparison that helps you decide which one is the best fit for your business.
Magento vs Shopify: Detailed Comparison
Magento vs Shopify: Pricing
Pricing is a critical factor to consider when purchasing anything. What is your budget for your online store? Let's compare Magento vs Shopify pricing and see which one is cheaper.
Magento Pricing
Magento does not charge a monthly fee. You can download, install, and set up your store for free. However, when we were building our Magento store a couple of months ago, we realized that we had to pay for a domain and a hosting provider to publish our website. So, the cost of Magento depends on your choice.
You can also enhance your store's functionality by adding some apps to your website. These integrations are available on the Magento App Market, and they can have a price of up to $15,000.
Shopify Pricing
Shopify charges a monthly fee, while Magento does not. We built the same store as we did on Magento. There are three main pricing plans that range from $25 to over $399 per month. Luckily, this plan covers both domain and hosting fees, so you don't have to buy these separately. You can refer to the details of Shopify fees to understand them clearly.

Shopify has a more budget-friendly range of themes and website templates. A theme from Magento can be as expensive as $499, but a website template from Shopify that is the best on the market is only $350. However, the transaction fees for Shopify vary leaning on your subscription plan and are quite complex.
The Verdict: It's not easy to compare Magento vs Shopify pricing since they have very different features and functionalities. Magento's pricing varies based on your needs, as it's open-source. Shopify has three set-price plans that seem cheaper, but you'll also pay for themes and apps.
Magento vs Shopify: Ease of Use
Is Magento vs Shopify easy to use? Let's check!
Magento Ease of Use
Magento is not very user-friendly when comparing Magento vs Shopify, especially for non-tech users. You'll have full control over their website, but it requires a lot of technical skills to install and set up their online business.
Shopify Ease of Use
Shopify clearly beats Magento since it's a hosted platform and quite easy to use. Moreover, Shopify is made for everyone, both tech-savvy and beginners with little technical skill. So, we didn't have much trouble building our online store on Shopify.
The Verdict: Surely, Shopify beats Magento in ease of use. It's great for non-techies.
Magento vs Shopify: Themes & Templates
Magento Themes & Templates
With Magento, you'll get nine themes that are fully mobile responsive, but they come with a high price tag (up to $499). Building a custom theme demands advanced coding skills or a large budget to hire help.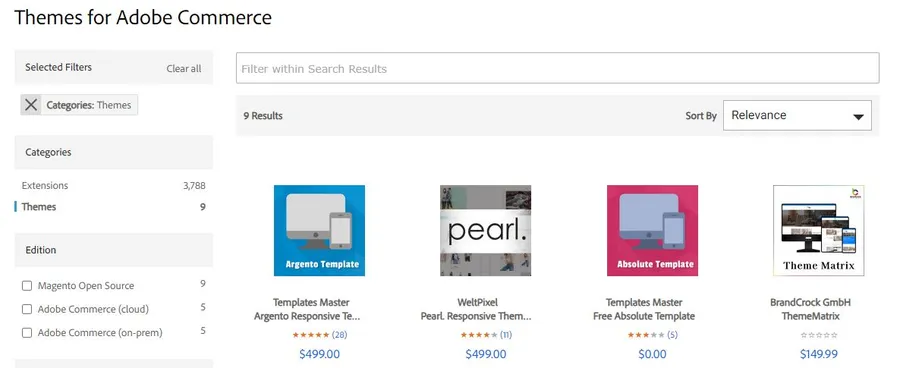 Features:
Customize themes more quickly (if you have strong technical skills)
Possible to add animations to make your store more engaging
Display a featured product slider on your homepage
You can integrate newsletter options in your webpage footer
Boost your sales by placing "cross-selling blocks" on your online store product pages
Shopify Themes & Templates
Shopify offers 138 Shopify themes to suit any business on its theme store. But some can be pricey, ranging from $150 to $350. If you aim to reduce your expenses while still having a stunning website, you can use the drag-and-drop editor to customize your theme. In particular, if you're a newbie, you can try free Shopify themes first and upgrade later. It's safer, right?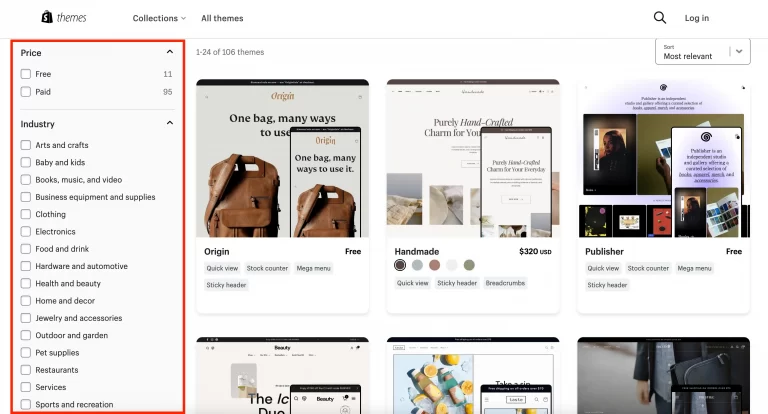 Features:
The drag-&-drop editor assists you in customizing, adding, switching, removing, and resizing Shopify theme elements
All of the themes are responsive to mobile devices
Fast loading time
Adding or creating new pages with ease
You can change the color and images to suit your needs
Adding social media feeds easily
The Verdict: Comparing Magento vs Shopify in this field, Shopify has more themes to choose from. And you can adjust Shopify themes with no coding, which makes it more convenient to have a distinctive design for your stores.
Magento vs Shopify: Apps & Extensions
Magento Apps & Extensions
There are almost 3.787 extensions in the Magento marketplace to help you create a powerful eCommerce website. And installing and using these extensions doesn't require a lot of coding skills. You can find free or paid extensions, depending on your needs.
Shopify Apps & Extensions
You can get over 8,000+ free and paid apps from the Shopify App Store to enhance features, run your online store, and grow sales. If you don't have much money to spend, even the free ones are great.
The Verdict: As the number indicates, Shopify has more apps and extensions than Magento. So Shopify beats Magento in this area. Please note that Shopify has the fourth-largest eCommerce market share at 10.11% and Magento is seventh at 1.1%, according to Datanyze in Shopify vs Magento market share.
Magento vs Shopify: Marketing Features
Magento vs Shopify are two shopping carts that offer similar options for SEO, such as editing meta tags, changing page titles, editing descriptions, creating sitemaps, and using SSL certificates.
In addition, Shopify vs Magento provides strong marketing tools to help you grow your online business.
Magento, for example, assists users in generating flexible coupons for a variety of purposes, creating landing pages for various categories, and managing newsletters.
There is an email marketing tool with Shopify by default to promote your products and share updates. This tool also includes a plethora of stunning email templates that can be customized while maintaining professionalism.
The Verdict: Shopify, in my opinion, is the winner since it comes with social media advertising as a default feature.
Magento vs Shopify: Payment Fee
Magento Payment
Magento does not have its own payment gateway, so you have to download the extension of the payment processor from the Magento marketplace and pay a transaction fee for them.
The transaction fee varies depending on the payment processor and the plan you choose. Magento provides 339 payment method options, but some may not be available in your country or compatible with your online store.
If you decide to use PayPal as your Magento payment processor, for example, PayPal will charge you 3.49% plus $0.49 for each transaction processed within the United States and 5.0% for international cards (with no setup or monthly fee). Furthermore, Magento payment apps support multiple languages, which is critical to expanding your eCommerce business globally.
Shopify Payment
Shopify provides over 100 payment gateways for you to choose from, but we have to pay some particular fees based on your chosen plan. You can save on transaction fees by using Shopify Payments. You can refer to the detailed Shopify fees to understand more about each payment.
The Verdict: Shopify beats Magento when comparing payment fees between Magento eCommerce vs Shopify.
Magento vs Shopify: Customer Support
Magento Support
Magento doesn't have support channels such as live chat, email, or phone. It's because it's a self-hosted solution unless you get the Magento Commerce Cloud plan. We struggled to build our own Magento store. But we had help from Magento's user community and help center.
Shopify Support
Shopify has the best help and support. You can contact them 24/7 by Shopify customer service number, email, or live chat. They also have forums, a help center, documentation, and video tutorials. You can also hire certified Shopify experts for more help.
The Verdict: Shopify outperforms Magento in the Magento vs Shopify comparison
In Conclusion
We gave Shopify a higher score in comparison to Magento, but this is still our personal opinion based on the analysis. You should evaluate Magento vs Shopify according to the aspects that matter to you and make your choice accordingly. We suggest that you do this before selecting one.
Read More: WooCommerce vs Shopify – Find Out The Best for Online Store