Clean shopify theme: Top 15 flawless shopify themes to make the completed online store
When joining in any business area, the first thing you need to do is creating a clean yet stunning website. A well – designed site not only draws customers' attention quickly but it also helps shop owners to knock out any competitors. In this blog, Arrowtheme delivers Top 15 flawless and clean shopify theme for you to make a unique appearance for your website. Let's explore with us right now!
The first theme we highly recommend is named Lusion from – one of the most well – known outsourcing companies in the market. There is no denying the clean yet very professional of this clean shopify theme. On top of that, Lusion is a flexible multipurpose theme. Hence, it is suitable for a variety of e – commerce stores. In order to match with vast types of shops, Lusion includes over 24 pre – built homepage templates, 12+ shop pages and 10+ product pages. Not only that, you also have the ability to customize all elements on your site as you want without touching any coding. 
In fact, not rare companies integrate 3D and AR models in their products, but not many companies use best like in Lusion. Besides is the combination of "360 degree view". Thanks to these features, customers can see your products authentically in every aspect, then, they will make a quick shopping decision. Moreover, Lusion is a responsive theme, especially with mobile versions. As a result, your website will look stunning and show every function in the best way regardless of device. 
Read more about Lusion here.
Great news! Lusion theme is now fully compatible with latest Shopify 2.0. It comes with new features and enhancements providing easier and more flexible customization options for merchants.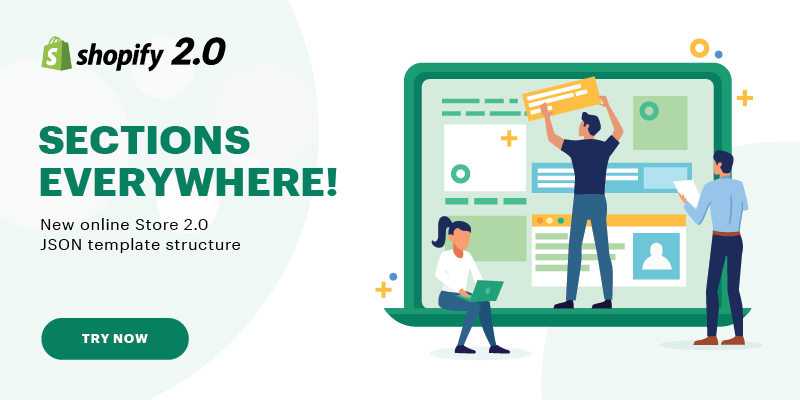 Some new features you'll get when choosing Shopify 2.0 theme
Sections are available on every page like the Home page, product page, collection page, collection list page, cart page, etc.
App Block supports you to relocate or move Shopify apps within the template without touching the code files.
Shopify Metafields permits you to add dynamic information about your products, variants, collections, customers, orders, blogs, and many more in your store.
Collection and search filters support you to filter products and search results by availability, price, vendor (brand), color, and many more.
In case you're seeking a clean and flawless shopify theme, you have to take a look at Amely. It comes with 8+ pre- built homepage demos for you to display your product collection. Firstly, Amely is a multipurpose design. Hence, you can sell anything you want with this theme as effectively as possible. Not only that, you can easily become a professional designer to customize your site owing to the combination of "Powerful section settings" and "Powerful theme settings" feature.
Addition to, Amely allows you to add an eye – catching video about your product as well as your brand at the first homepage with "Product video popup". Above all, you can effortlessly transform your dream store into reality in order to gain high profits.
Other highlight features of Amely:
Ajax add to cart
Newsletter Popup
Multiple currencies dropdown
Mega menu
Ajax collection filter.
Coming to Oreo – a clean shopify theme for you to make the completed online store. On top of that, Oreo offers 30+ pre – built layouts for selling many types of products such as: Accessories, Furniture, Fashion and so much more. Additionally, this clean shopify theme is compatible with every device thanks to the fully responsive design. Wanna your store is more smart and unique than any opponent, this theme will help you. Because it is equipped with the "Powerful Shopify builder" so that you can design anything you want on your site.
When it comes to the clean shopify theme, it will be a mistake if you can't mention Shia. Not only clean, but this theme is also very stylish and friendly for mobile users.
In fact, with this theme, your online business will be more effective than ever. Built with HTML5, CSS3 as well as inherited all features of Shopify platform, Oreo becomes one of the most clean shopify themes you should adapt to your items. Best of all, it also features the "Drag & Drop Shopify Builder" that allows you to unleash your creativity.
Other highlight features of Shia:
Choose the best fonts from over 800 ones in Google fonts collection.
Ajax shopping cart
Mega menu
Newsletter pop-up and SEO optimization help you in digital marketing well
Checkout Buttons.
Comes with clean design and a lot of advanced functions, we believe that Canvas will not make you disappointed when using it for your e-commerce store. Besides 16 detailed layout templates, Canvas supplies 10+ Multiple Headers and 9 Multiple Footers for you to match with your site. Moreover, Canvas is also in charge of SEO optimization. As a result, it helps you a lot to promote your products to approach potential customers as effective as possible.
Read more about Canvas.
In fact, any shop owner wants to do well in business must find a way to differentiate itself from its competitors. And, Sigma will help you accomplish this goal as well. Despite clean on design, Sigma still exudes the professional and trendy with 4 color schemes. Moreover, the compatible ability with every device and browser is the one of the best features integrated in this clean shopify theme. Above all, it will assist you to complete your site in order to gain high profits in the shortest way.
Yorick draws a wide range of customers thanks to the flawless and astonishing design style. On top of that, Yorick is a 100% responsive theme. Therefore, your website will look astonishing and display all functions well on every device. Only comes with 2 pre – made layouts, however, this clean theme is strong enough to defeat any opponent in the market.
Hooli is the ideal solution for store keepers who are looking forward to a flawless and clean shopify theme to trade. With a powerful image, standard UX/UI design and in pastel color options, this clean shopify theme will capture customers' attention at the first glance. Best of all, the integration of a bunch of hot features makes this clean shopify theme stand out in the crowd with the greatest performance.
Highlight features of Hooli:
Drag & Drop Layout builder allows you to customize every aspect on your site as you want
Product Filter
Mega menu
Ajax add to cart and ajax compare
A package of google fonts options.
Don't forget Kalles if you're finding a clean shopify theme can help your store to appear on the best – selling top in the market. Although there are various shops that do business in the same category as you, your store will always stand out with Kalles. Kalles proves itself is the first Shopify Dropship theme recommended by Envato with a lot of advanced features. They are:
40+ pre – built homepage demos for you to choose
Super fast loading page speed
Product type
Powerful Shopify theme
3D models make your product alive in customers' eyes.
Coming to another clean shopify theme called Shella. Because of a multipurpose theme, it has a variety of available homepages (up to 99+) for you to sell many different products. At first, this theme was updated with many versions such as: 4.7, 4.6 and 4.5. What's more, Shella helps you to import hundreds of items in just some minutes. Best of all, the loading page speed is the special feature of this theme. It is considered one of the fastest loading themes with 95% on mobile devices and 99% on desktop.
Freaza is a clean shopify theme for anyone who wants to sell organic food effectively. With a theme about food and fruit, we should keep in mind that it's very colorful and fresh. And, Freaza is also, nevertheless it still keeps the clean and flawless style.
Outstanding features of Freaza:
Section Drag & Drop Page Builder
Oberlo Compatibility
360 degree view product allows customers see your products in every angle
Product Quick view
Friendly SEO optimization.
T-shirt is one of the easiest categories of products for selling through many years. Although the number of shopkeepers doing T- shirt business in the market is extremely high, you still make this store unique thanks to the Urban Tee theme. Why is it so good? Let's explore highlight features of this clean shopify theme below:
Shopify Visual Builder supports you to make changes your site to stand out from the rest
Fully responsive theme to adapt with every device
Multi- currency and multilingual
Many google fonts options
Collections catalog.
If you're planning a clean shopify theme for beauty and cosmetic products, let's take a look at Maysily right now. Being built with framework bootstrap 4 version plus the combination of fully responsive design. As a result, your website will look stunning and activate well on mobile versions as well as on large size screen devices. Not only that, Maysily also includes many other extensions for you to add on your website. Discover more here.
Sayings "All – in – one" tells all about this clean shopify theme – Apparelix. At first, Apparelix comes with over 60 sections, 10+ skins options and unlimited color options for you to select. Besides that, you have many freedoms to customize your site as you want quickly thanks to "Shopify Visual Builder". Best of all, it supports RTL to translate your native languages into many other languages to approach more and more international customers.
As you know, there are more and more people raising pets as their best friends, it is the reason why the demand for pet food is extremely high. Then, PetFood is an ideal clean shopify theme for you to take part in this potential market. Because of the vast demand, you can capital return and get profits as soon as possible. Many highlight features of PetFood such as: Newsletter Popup, Latest Blog, Testimonial, Mega menu and so on.