The Best Way To Sell On Shopify: 7 Easy Steps
Shopify not only simplifies the setup of an online store but also provides a dynamic space for growth and success, making it the best way to sell on Shopify.
Shopify is one of the most popular eCommerce platforms in the world, and for good reason. It's easy to use yet powerful enough to support businesses of all sizes. And with its wide range of features and integrations, Shopify can help you sell your products anywhere, online or offline.
If you're ready to start selling on Shopify but don't know where to begin, this blog post is for you. In this post, we'll walk you through the seven easy steps to selling on Shopify, from signing up for a free trial to placing your first order.
We'll also provide some additional tips for selling on Shopify and making the most of your platform. So whether you're a complete beginner or you're looking to take your Shopify store to the next level, this blog post has you covered.
Step 1: Sign Up For Shopify's Free 14-Day Trial – Best Way to Sell On Shopify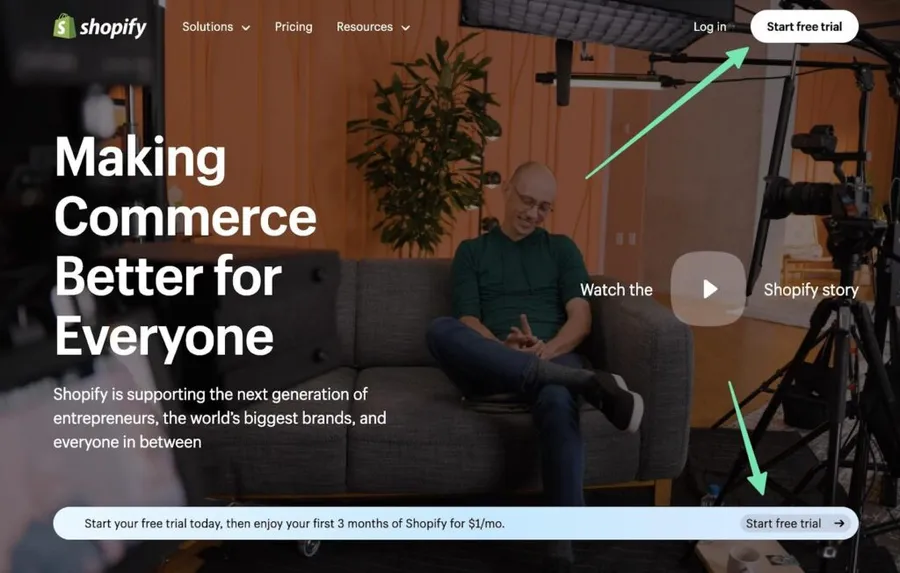 The first step in learning how to sell on Shopify is to sign up for an account.
Shopify offers a 14-day free trial of its eCommerce platform, which includes access to all of its features and functionality.
This allows users to test the platform and evaluate its suitability for their business needs without incurring any financial risk.
During the free trial period, users can launch their online store, sell in person and on social media, and explore other sales channels.
If they decide to continue using Shopify after the free trial period, they can choose a paid plan that meets their specific needs.
You should consider the different Shopify fees to find the best fit for your business.
Step 2: Select Your Sales Channels – Best Way to Sell On Shopify
After you sign up for Shopify, a setup guide will pop up to help you get started.
While Shopify promptly provides you with an online store, it's important to note that this is merely the starting point for discovering the best ways to sell on Shopify.
You can also connect to other sales channels, like social media and in-person sales.
The setup guide can also help you connect some social media platforms (Facebook, Pinterest, and TikTok) to your Shopify dashboard.
You can feel free to explore your Shopify sales channel options by opening your Shopify admin and clicking Settings > Apps and sales channels > Shopify App Store button to open a new store tab.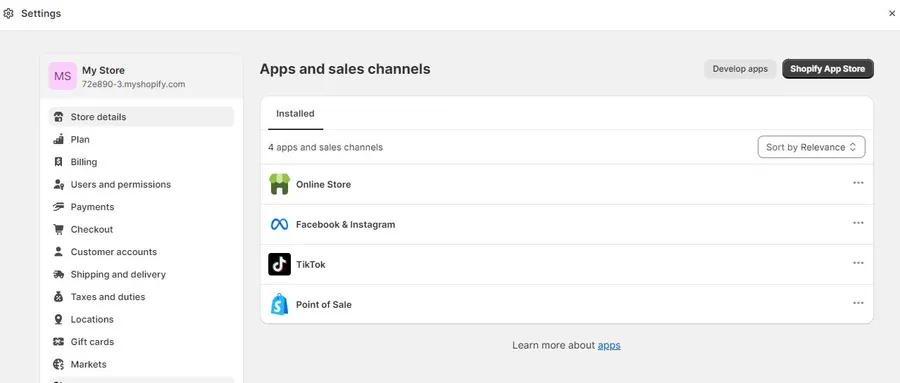 Search for a platform you want and click the Install > Add sales channels button.
Step 3: Configure Payments – Best Way to Sell On Shopify
Shopify Payments is a convenient and affordable way to accept credit, debit, and in-person payments, making it an excellent choice for selling on Shopify.
Moreover, you can activate it quickly and easily with a simple setup process. Shopify Payments has straightforward processing fees, so you'll know exactly what you're paying.
If you prefer to integrate your own credit card processor, you can do so, but Shopify will charge you an additional fee per transaction.
For in-person sales, you can expand your payment options by incorporating manual methods like cash and checks.
The flexibility to add or modify your payment methods is easily accessible by navigating to Settings > Payments.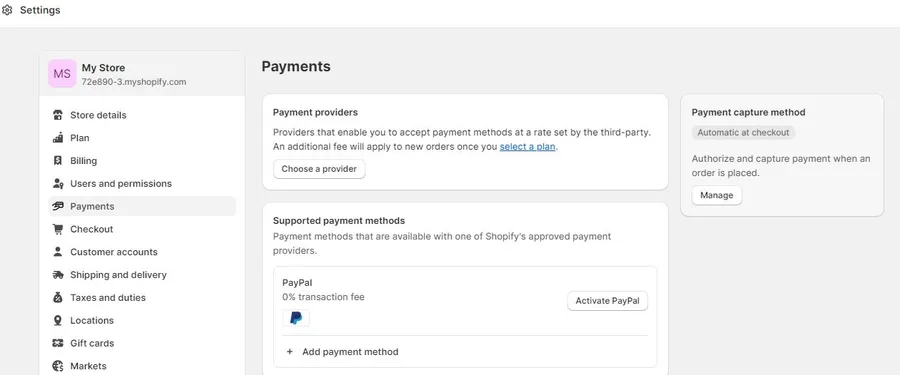 Step 4: Create Collection Pages – Best Way to Sell On Shopify
Collections are the best way to sell on Shopify and organize your products. You can create collections based on any criteria you like, such as product type, price, brand, or season.
To create a collection, go to your Shopify dashboard > Products > Collections, click on the Create collection button, and enter a title and description for your collection. You can also add tags to your collection to help with SEO.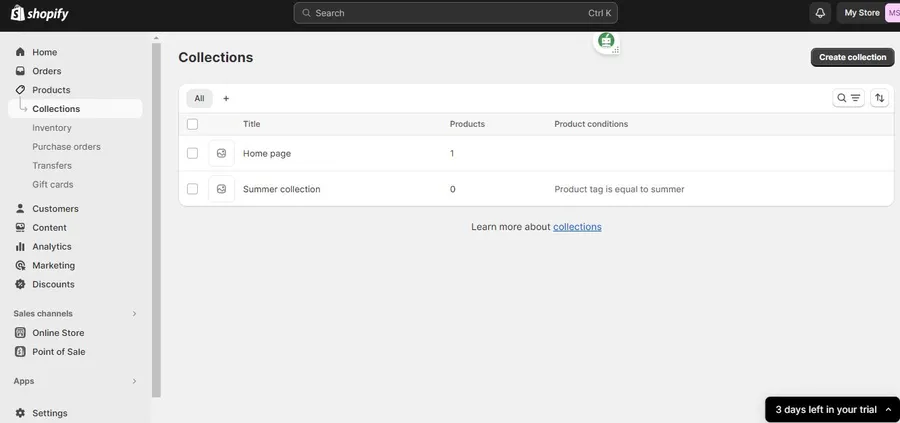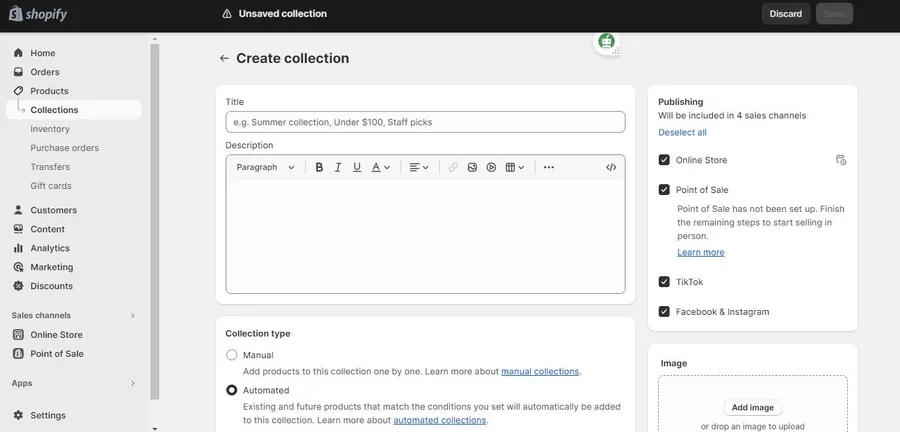 Once you have created your collection, the next step is to populate it with products, and understanding how to write SEO product descriptions becomes crucial.
Simply click Products > Add product. You can add products to your collection manually or by using tags or other product details.
Collections can be a great way to feature specific products in your store or create a custom shopping experience for your customers.
For example, you could create a collection of new products, a collection of sale items, or a collection of products that are popular with a certain customer segment.
Step 5: Add Products – Best Way to Sell On Shopify
Shopify is a versatile platform that allows you to sell anything from physical products to digital services.
So how to find products to sell on Shopify? To find products to sell on Shopify, you can conduct market research, analyze trends, explore popular online marketplaces, reach out to suppliers and manufacturers, and consider your own interests and expertise.
To add products or services to your Shopify store, simply click Products > Add product in your Shopify dashboard.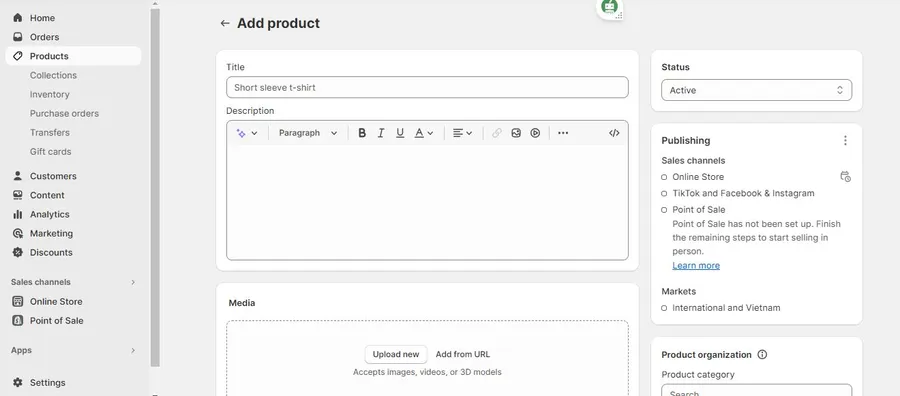 You'll now need to enter some essential information about your product, including:
Product title: Enter a clear and concise product title that accurately describes the product and is relevant to the keywords customers are likely to use when searching.
Product description: Provide a detailed and informative product, including its characteristics, advantages, and size charts or choice options.
Product images, videos, or 3D models: Give customers a closer look at your products with stunning images, videos, and 3D models that highlight their features and details.
Pricing: Provide the price and compare-at price.
Inventory: the number of units of the product that are currently in stock. You can enable the continue selling when out of stock and this product has a SKU or barcode feature.
Shipping: Fill in the item weight for producing mailing labels and customs details for international commerce.
Variants: Different versions of the product, such as different sizes, colors, materials, or styles.
Search engine listing: Show a preview of how your product appears in search engine results. You need to enter the title, meta description, and URL.
Product Status: Whether the product is active and available for purchase or whether you store it in your product listings
Publishing: Choose the channel where you want to sell this product, such as Online store, Facebook, TikTok, POS, etc.
Product organization: Enter product category, product type, vendor, collections, and tags.
Step 6: Build a Shopify Online Store – Best Way to Sell On Shopify
You can begin building your online store once you have some collections and products ready in your Shopify dashboard.
Choose a theme: Shopify comes with a default theme, but you can also browse and install a variety of free Shopify themes and premium Shopify themes.
Customize your theme: Once you've chosen a theme, you can customize it to your liking. This includes changing the colors, fonts, and layout of your store.
Edit the header and footer: The header and footer appear on every page of your store, so it's important to make sure they look good and have the information that customers need. You can edit the header and footer by going to the Themes page and clicking Customize.
Set up policy pages: Shipping, returns, and privacy policy pages are essential for any online store. You can create these pages by going to the Online Store page and clicking Pages.
Create store menus: Store menus help customers navigate your website and find the products they're looking for. You can create store menus by going to the Online Store page and clicking Navigation.
Optimize SEO details: SEO helps your store rank higher in SERPs. Simply go to your Shopify dashboard > Online Store > Preferences > Title and meta description to optimize title and description and see how your store shows up on search engines.
Buy or connect a domain: Buy a new domain from Shopify, or connect a domain you already purchased from a third-party like Google Domains or GoDaddy.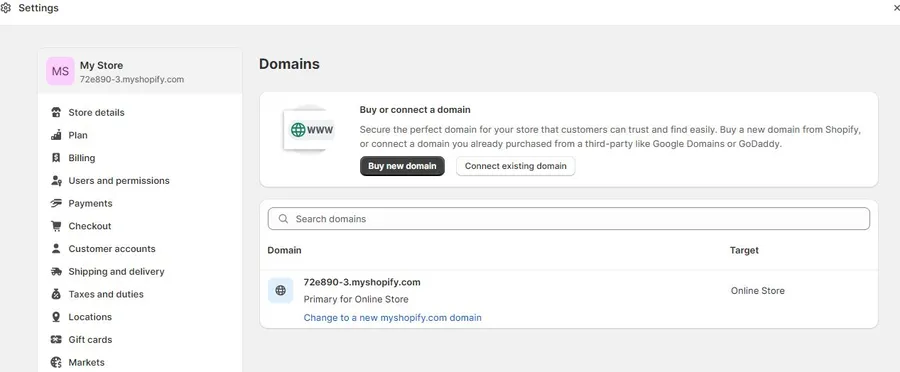 Step 7: Test Your Shopify Store Before You Launch – Best Way to Sell On Shopify
Before you launch your Shopify store, it is important to test it thoroughly to make sure that everything is working properly. This includes testing your website's speed, checkout process, and overall user experience. You should also test your payment and shipping settings to ensure that customers will be able to complete their purchases without any problems.
Final Thoughts
Selling on Shopify is a great way to start or grow your online business. Shopify is a powerful and user-friendly platform that offers you everything you need to create and run a successful online store. By following these seven easy steps, you can learn how to sell on Shopify and take advantage of its features and benefits.
Don't forget to check out Lusion from ArrowTheme! Lusion is a multipurpose eCommerce Shopify theme that offers a clean and modern design for online stores. Lusion has many features and effects that enhance the shopping experience and increase sales.