Magento custom stock status extension: Top 10 best ones to create attractive and diverse status labels for your online stores
Magento custom stock status extension equips you powerful features to customize stock statuses. With this extension you can provide your customers with a detailed view of the stock status of each product. In this blog, Arrowtheme will introduce top best extensions on the market to help you make better choices.
1. Custom Stock Status by Amasty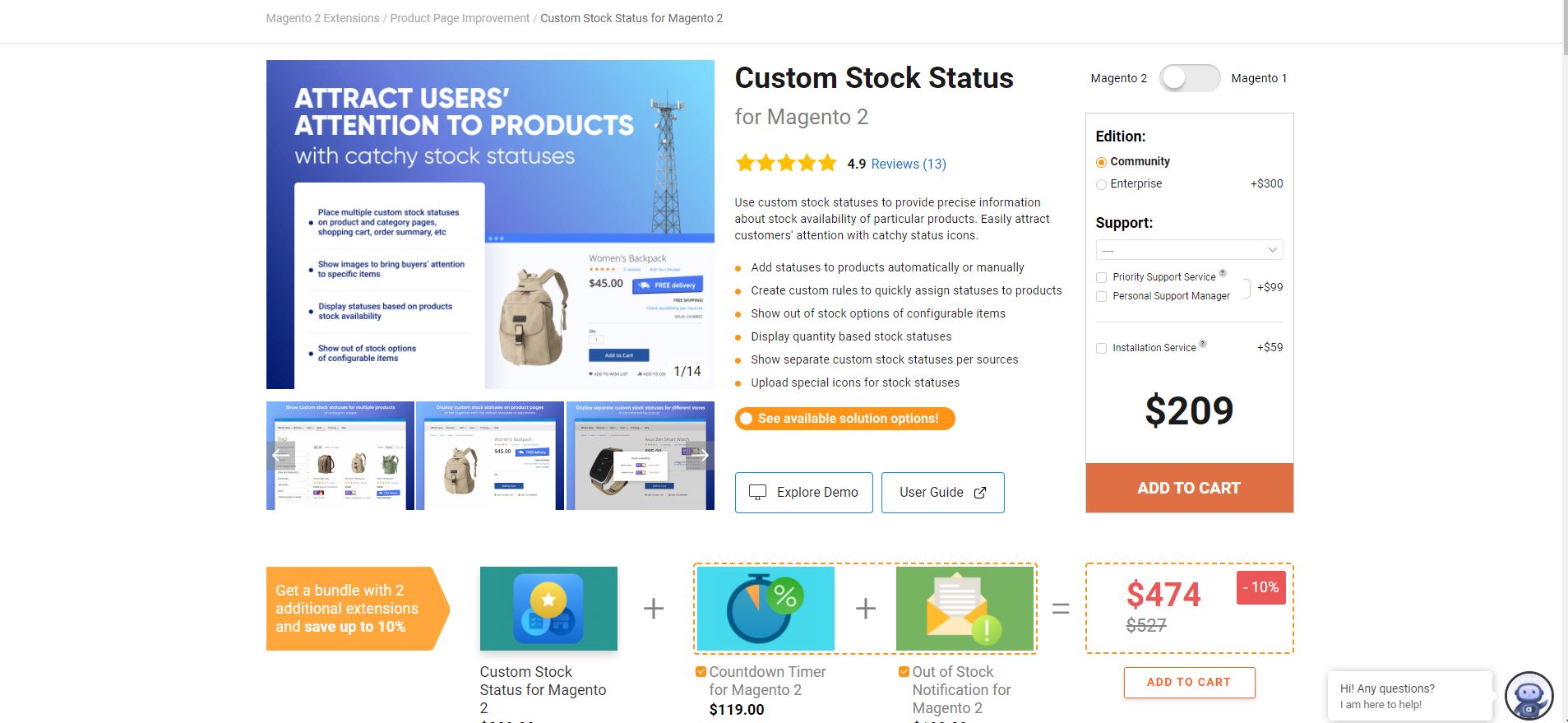 Magento Custom Stock Status extension comes with many helpful features that let your online business to boost the sales dramatically. Thanks to this extension, your shoppers can know about the stock statuses of products. From that, your customers will get more information about your products and then get more chance for them to come back. Besides that, store owners also use eye-catching icons to draw the customer's attention.
2. Custom Stock Status by Aheadworks

Integrating Custom Stock Status extension for Magento 2 is the best solution for your clients to update about stock availability of your products. With this, you can provide your customers a great purchasing experiences. Besides that, this Magento extension allows uploading the various images for different products quantity.
3. Custom Stock Labels by FME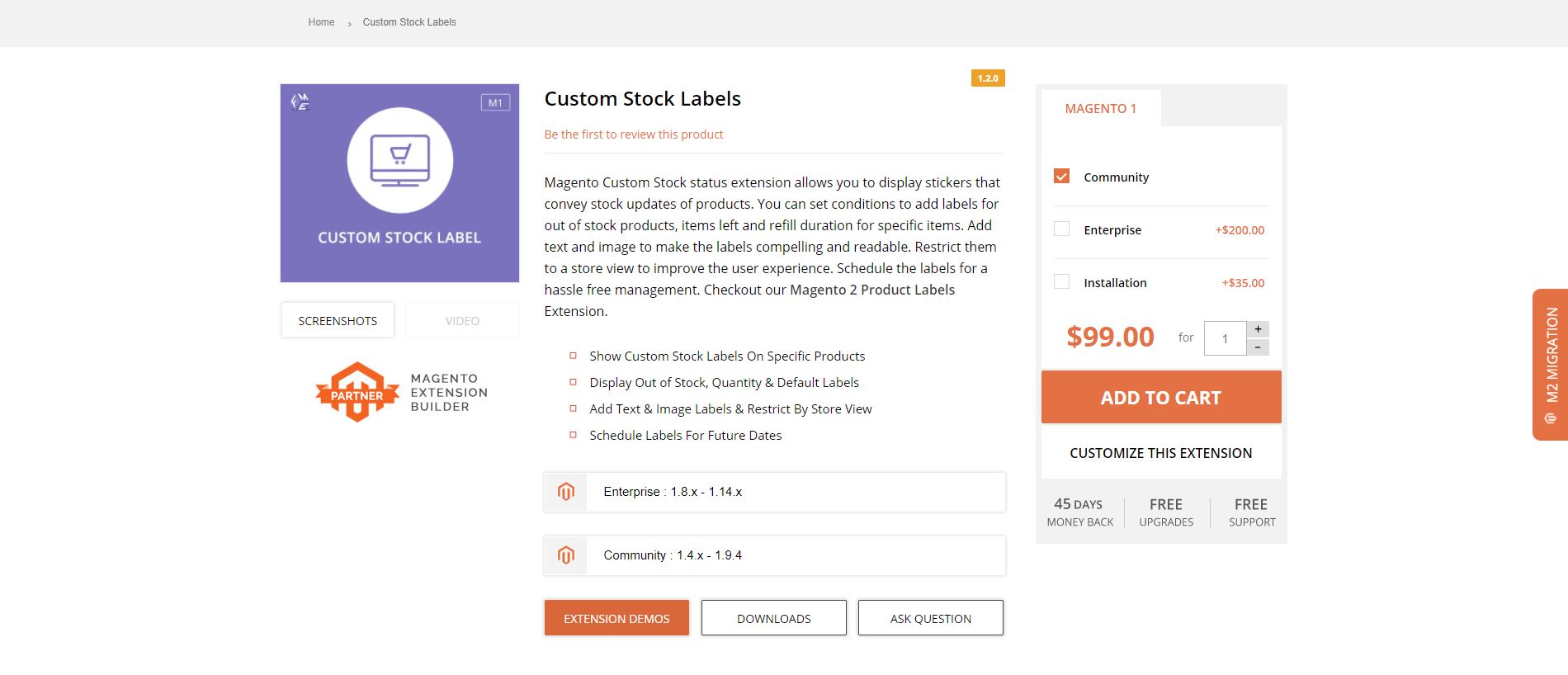 It's time for your store to select the Custom Stock Status extension that comes with many helpful features. To be more specific, it helps you to notify your customers about the stock availability of the products on your online store. Besides, this module is very easy to customize and configure. Significantly, this Magento extension supports you to improve your sales dramatically.
4. Custom Stock Status by Mageplaza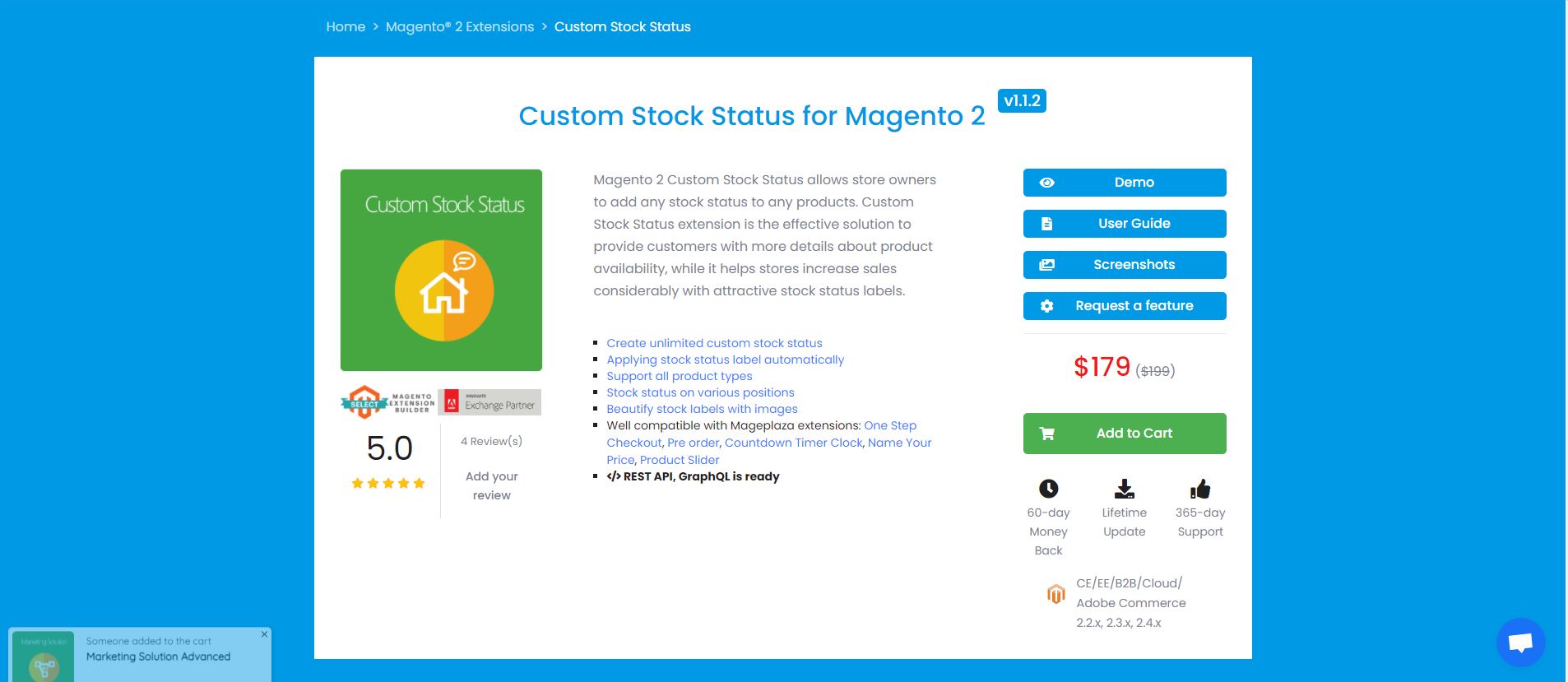 In case you're seeking a Magento custom stock status extension for your store, let's take a look at this extension by Mageplaza. First and foremost, this extension is regarded as a must-have function to help Magento store owners add stock status to their items. Besides, this module allows you to provide your clients full information about product availability as well as improve sales with attractive status labels. What's more, this tool is using specific stock status label automatically based on the adjustments in product quantity ranges.
5. Custom Stock Status By MageAnts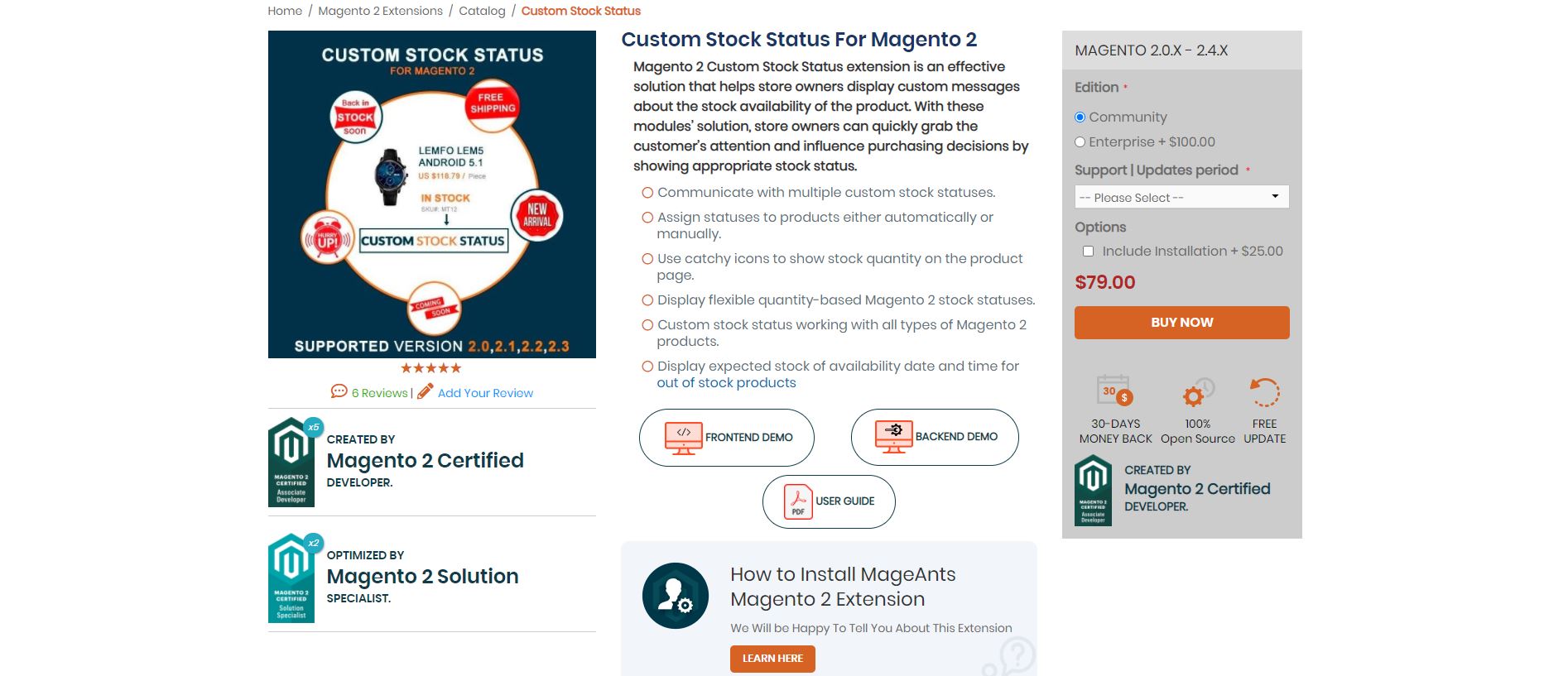 This Custom Stock Status is a helpful extension which allows the store owners to display custom messages about the stock availability of the product. On top of that, this extension allows the store owners can quickly get the customer's attention and encourage purchasing decisions by showing suitable stock status. For more details, it enables you to display specific statuses per your stock availability and requirements.
6. Magento 2 Custom Stock Status by MageComp

If you are looking for an easy-to-use tool to expand default Magento 2 stock status functionality, let's consider this extension from Magecomp. Firstly, this Magento extension allows the store owner to showcase understandable stock status with a custom message. Moreover, this tool supports you to show a custom message to the shoppers with informative statuses like coming soon, few left, free shipping, ships today if ordered in 3 hours, and so on. As a result, this helps to draw customer's attention and make their purchase faster.
7. Magento 2 Product Custom Stock Status

The Custom Stock Status extension by Belvg is a powerful tool which provides your customers with a lot of helpful information. With the support of this extension, you can easily add the unlimited number of statuses and take the control of them. Further, your shoppers can follow the stock status of the goods to make the purchasing decision easily.
8. Stock Inventory stock Status By Wyomind

Advanced Inventory Magento extension enables you to dispatch orders to different warehouses and POS systems. Besides, you can do everything manually or let the extension perform all the tasks automatically on the basis of country codes and/or zip codes.
9. Custom Stock Status

This Magento 2 extension is a sales booster that utilize stock limits to create the sense of urgency in shoppers. In details, with this extension, you can run exclusive promo campaigns depended on stock status quantity. Likewise, you can attract a particular customer reaction with promotions which be available for the segmented audience.
10. Magento 2 Custom Stock Status Extension

Magento 2 Custom Stock Status extension lets you create an inexhaustible number of custom stock status messages for products. Based on the real world scenarios you can generate any number of custom stock status labels and display them with products. It also works effective with multi store views.
Final Words
In brief, Magento 2 Custom Stock Status extension is an effective method to grab the attention of the potential customers with communicative status message. Besides, you can find more powerful Magento 2 extensions and Free Magento 2 themes at our store