Magento wholesale extension: Top 10 best ones to build a Magento B2B website effectively
If you are looking for a Magento wholesale extension, you've found the right place. The article will introduce to you the top best extensions for B2B you can try to deal with a different aspect of the whole journey. Let's check them out!
1. Wholesale by Magedelight

The first name we will mention on the list is the Magento wholesale extension from Magedelight. This extension allows the store owners to create the package of multiple products quickly as well as make the fun buying the activity for their wholesale customers. Besides, this extension is easy to add, modify, or subtract the products in the wholesale package.
Key features:
Firstly, this extension provides the ability to manage the single product as well as the wholesale product
Also, it supports an unlimited number of package items
Besides, it comes with the ability to limit the capability of accessing wholesale products
At last, this tool enables adding multiple products without returning to the product page
2. Wholesale Module for Magento 2

A second name on the list is Wholesale Module from Exinent Store. Indeed, this Extension is one of the most effective solutions for approving and managing wholesalers. Similar to the Wholesale B2B module, this extension permits wholesale customers to log in to an exclusive portal with special prices. Take a look at some unique features of this module:
Key features:
This extension offers a specific registration form for wholesalers, with the additional field such as company name, phone number, address, postal code, country, and PayPal account.
Besides, the admin is able to customize some specific features for wholesale customers such as payment options, pricing..ect
Also, it permits the admin to turn on and off the wholesale feature from the backend
3. Wholesale extension by MageArray

The one developed by MageArray is a user-friendly module. Like other extensions, the primary purpose is to revolutionize your store by creating an exclusive website for wholesalers to access crucial media files quickly. These are the key features of this extension:
It provides a customer registration form with additional information requires such as Tax/VAT, address, region.
Allows guests to create a wholesale account.
Approve and assign wholesalers to a specific group after registration
Create a different wholesale website for wholesalers
Show products, categories, price and add to cart button after login
4. Wholesale Extension For Pricing
If you are seeking an effective solution to set up a special offer for each wholesaler depending on your partnership with them, this Wholesale extension will support you to do that easily. As a result, product prices can now be individualized for each wholesale clienst to reward your most loyal customers with suitable prices.
Key features:
Personalize product price per customer/customer group
Set up price rules to assign prices for customer/customer group conveniently
Replace the original price with a custom price
5. Wholesale by Iwdagency

If you are looking for a helpful extension that enables creating multiple wholesale orders as well as boosts your revenues for your business, thenn the Wholesale extension from Iwdagency is a perfect choice. This module not only assists you to solve all wholesale orders effectively but also provides the customer with interesting shopping experiences.
Key features:
Permit wholesalers to add configurable products to their cart by using product matrix
Ability to expand the wholesale reach
Enable admins to limit the credit for each wholesale account in their store
Wholesale registration and approval included
6. Customer Group Catalog by Amasty

Another suggestion is provided by Amasty, one of the well-known eCommerce solution providers worldwide. This extension by Amasty provides an effective solution to manage price and catalog visibility for particular customer groups to meet the requirements of each segment.
Key features:
This extension provides selective access to the store catalog
It also allows you to hide 'Add to cart', 'Add to wish list', and other buttons
The admin easily replace product prices with CMS blocks or images
It supports the admin to negotiate about prices via a quote form
Auto-assign customers to groups
Reindex from the admin panel
7. Magento 2 Catalog Permission by bsscommerce.

Coming to another powerful, well–functioning wholesale extension for Magento 2 from Bsscommerce. This extension permits the store admin to assign different access to specific product categories and CMS pages for different shoppers groups. This module might not be the richest-in-function. Yet, if you find an easy-to-config extension to control over the catalog access by shopper group, this extension becomes the best in budget and quality
Key features:
Restrict access to categories by customer groups
Restrict access to CMS pages by customer groups
Easily adjust error messages for all or per category/CMS page
Redirect non-authorized customers to a CMS page or a custom URL
8. Multi Supplier Wholesale by webkul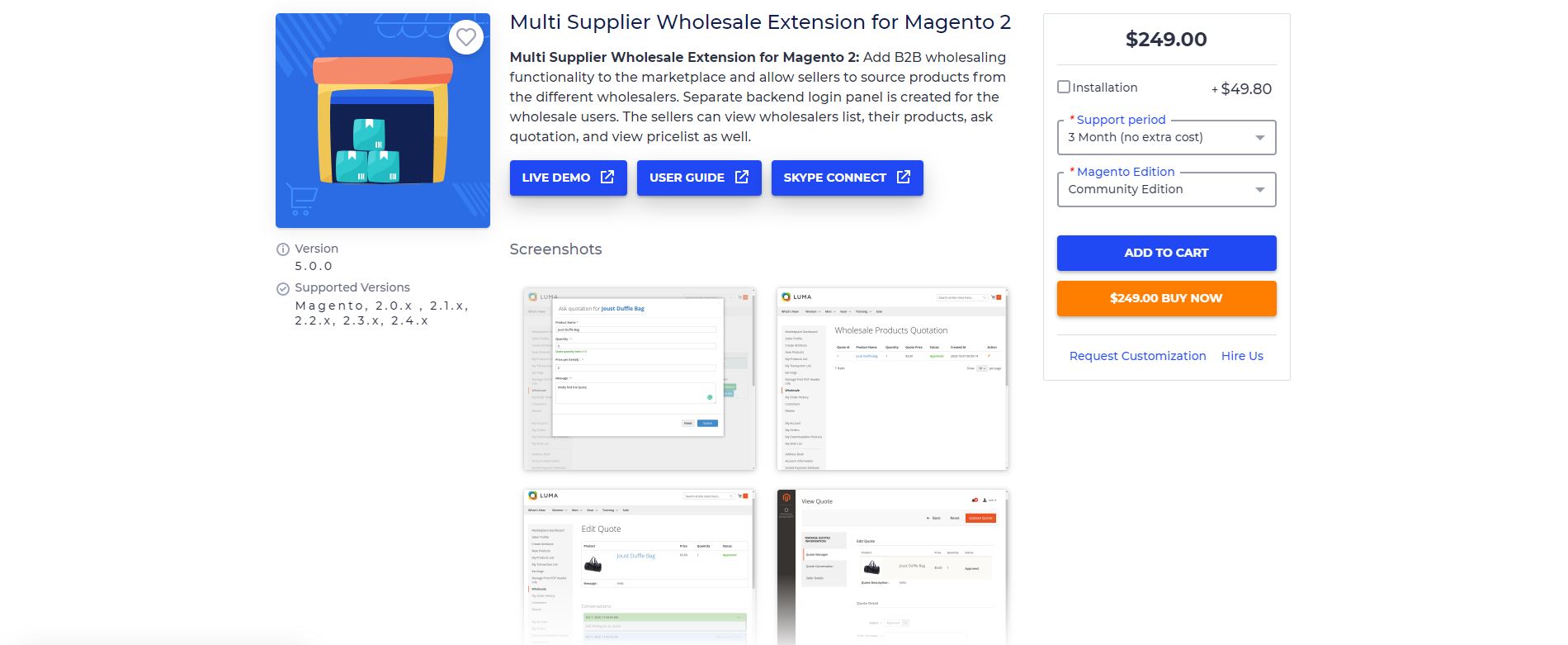 Webkul created a number of high-quality extensions for the Magento store and one of these must be noticed is the Multi Supplier Wholesale. To be more specific, this extension enables you to add B2B wholesaling feature to the marketplace. Likewise, it allows sellers to source items from different wholesalers. On top of that, it supports a separate backend login panel which is created for wholesale users. With this feature, the sellers can view the wholesalers' list, their products, ask for quotations, and view the price list as well.
Key features:
Firstly, it allows anyone can register as a wholesaler.
Also, the admin can add wholesalers from the back-end.
Notification emails like wholesaler registration etc.
Support wholesalers can add their products.
Also, the wholesalers can communicate with the seller.
Wholesalers can check their leads.
Sellers can quote for the wholesalers' products.
This extension allows sellers to add the quantity of the product and a message while sending the quote to the wholesaler.
9. Restrict Products By Customer Group

Another extension we want to mention in the topic is "Restrict Products" by FME. In fact, this module enables you to block the whole store or specific items, category, CMS pages, and static blocks from specific shoppers groups. Moreover, Rule-based management permits merchants to generate an ideal viewership for each shopper group and store view.
Key features:
Firstly, it enables creating rules to restrict content by specific customer groups
Secondly, it blocks specific products, categories, CMS pages or the whole store
Thirdly, the admin is able to hide Products From Wishlist, Compare List & Search Results
Also, this tool enables showing a custom error message to block customers or redirect them to another URL
At last, the admin is able to create Multiple types of rules to configure ideal product visibility for each customer group
10. Wholesale Fast Order

Our last suggestion is also the most powerful one on the list, provided by Magebees. To be more specific, this extension permits the customers to order items in bulk without visiting each product page. All thing they need is to enter the SKU & quantity, and then add the products to the cart. This feature is useful when you have wholesale customers who want to buy products in bulk.
Key features:
Firstly, it enables searching products quickly with products Name or SKUs.
Secondly, it enables adding products to the cart directly or via a CSV file
Thirdly, it allows customers to add multiple products with a single Add to Cart button clicked.
At last, the admin can allow a specific group of customers to use the fast order feature and place orders using product SKUs & names.
The above Magento wholesale extension listed are meant to help you improve your customer journey. Looking for more effective tools to improve your Magento 2 store? Check out robust Magento 2 Extensions or Magento 2 Themes at our store