Magento gdpr extension: Top 10 best ones to make sure your site complies with the regulation in the EU
As you know, online businesses nowadays are required to comply with the General Data Protection Regulation (GDPR) when they operate across the European Union (EU) or sell products to customers in the EU. Hence, store owners may face difficulties collecting customers data. As a result, Magento gdpr extension was born to solve this problem.
So, Arrowthem wants to review the top 10 best extensions for you to make sure your site complies with the regulation in the EU.
This extension helps your store ensure to comply with GDPR. Therefore, all the personal data of buyers and sellers are protected. With this extension, customers can delete their account forever in just one click. By entering "Delete your account", customers will delete all the personal information in this account. Similarly, customers can remove the default addresses.
Besides, you can text the messages to delete customers as a reminder. In addition, for the delete seller account, you need to install Magento 2 Marketplace extension or Magento 2 Marketplace Pro. Last but not least, all the functions are configured to use easily.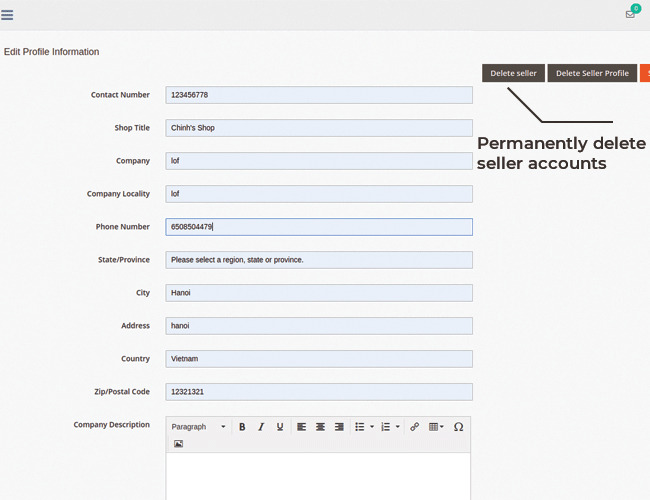 Price: Free for a single license and $55 for the premium installation
Magento 2 GDPR extension by Magedelight strengthens your data security of customers by requiring all the compulsory consents upfront. Also, you can build multiple policy versions to match your needs. In addition, you can name the version hierarchy. It will update the latest version by default and inform your customers to accept it again. Moreover, you can limit access to your store if shoppers do not accept the cookie policy. Finally, you can accept or decline a customer's account deletion request via emails.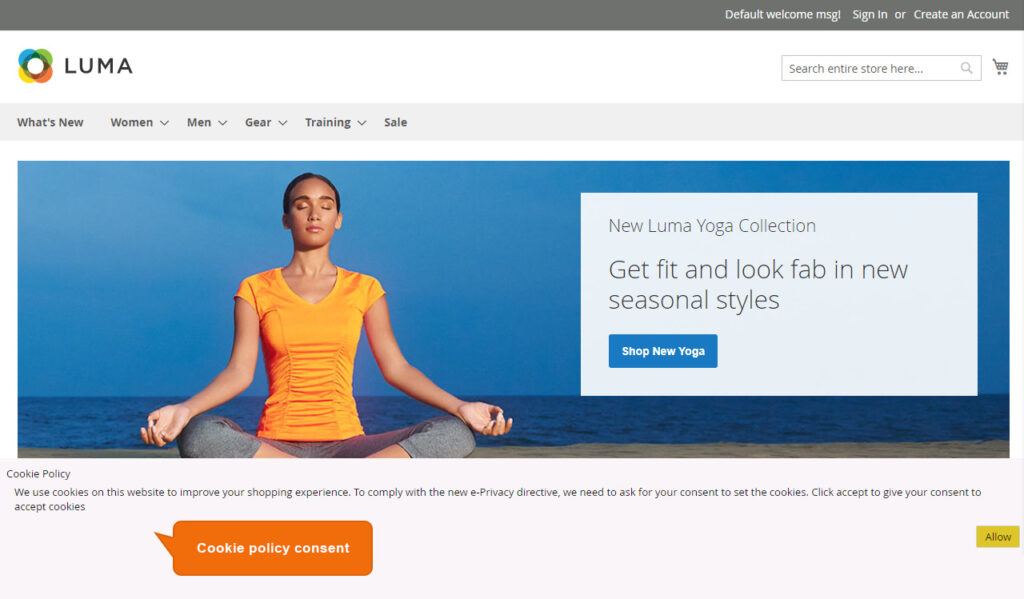 Price: From $49
GDPR for Magento 2 by Amasty makes your store fully GDPR compliant but you still collect the consents without penalties. Firstly, it offers separate users data collection from multiple pages. Secondly, it gains the cookie consents by an advanced popup. Thirdly, it allows customers to control their data in accounts. Moreover, it auto-deletes the unimportant data. Additionally, it views all the data consents in a grid and updates the database timely.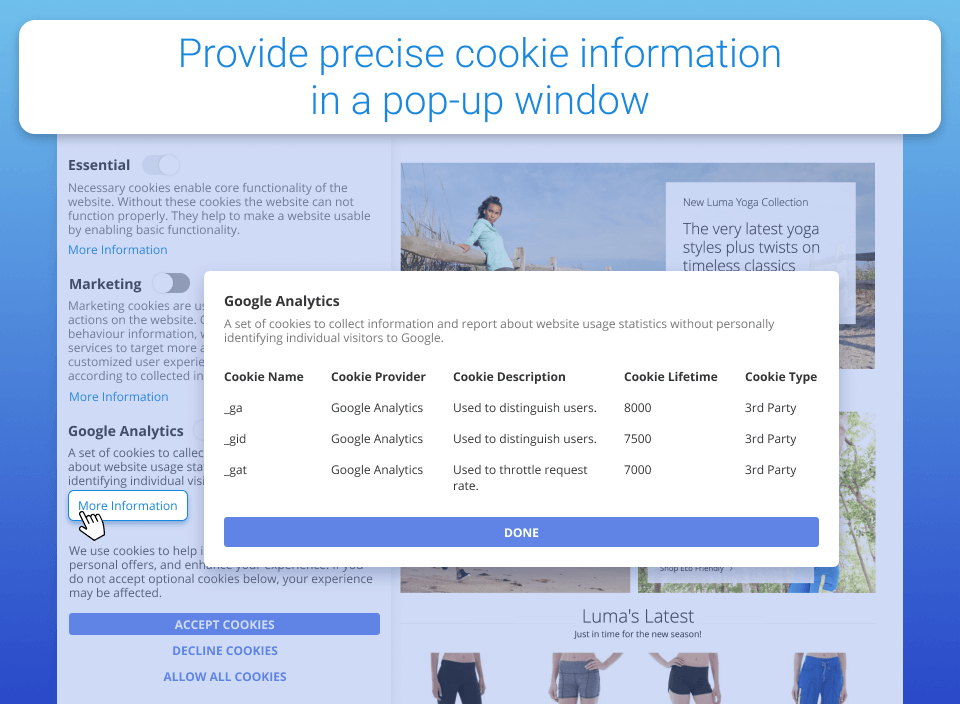 Price: From $259
This extension makes stores compliant with GDPR. Firstly, it allows customers to delete their account permanently. Secondly, they can delete all the default addresses and shipping information. Thirdly, it protects the customer's billing information by anonymizing their private information and replacing it with a string. Moreover, this extension customizes the messages using HTML and position to show the Cookie. Hence, the cookie can be protected. In addition, customers can download their account information in CSV, Excel XML files. At last, it allows you to auto-delete the inactive accounts at a specific time.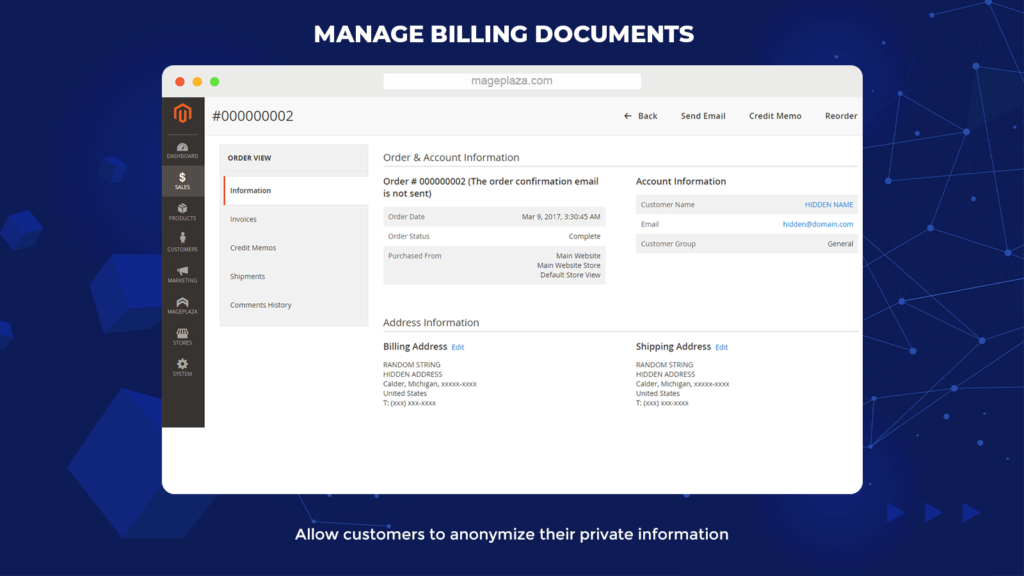 Price: Free for the standard
GDPR for Magento 2 by Mirasvit protects your data and comply with the GDPR and CCPA regulations. For the customers, customers have the right to change or delete all their personal data in your stores. Also, they can get a copy of their data in CSV form. Moreover, customers can request anonymization to protect their data. About your stores, it ensures that you do not receive penalities because of GDPR and CCPA regulations. In addition, it helps you gain trust from customers by secure data. Finally, you can control your pricy consents in the Magento backend.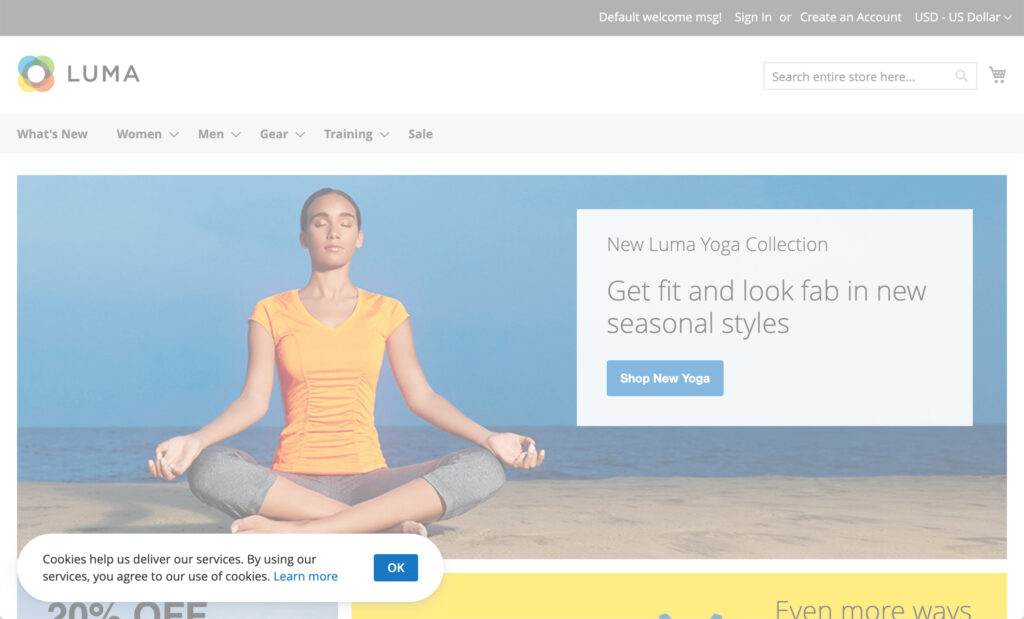 Price: From $149
Magento 2 GDPR by Meetanshi is a great tool in collecting customers'data and making it lawfully according to the GDPR regulations. Firstly, it updates your privacy policy versions to comply with GDPR. Secondly, it uses separate grids to display users who have agreed and disagreed with your policy. Hence, you can easily control your customer data. Additionally, it allows customers to change the consent and download their data in CSV files. Customer also can send a request to delete the account permanently or anonymize the data. Furthermore, this extension automatically sends customers updated policy and requires consent via emails.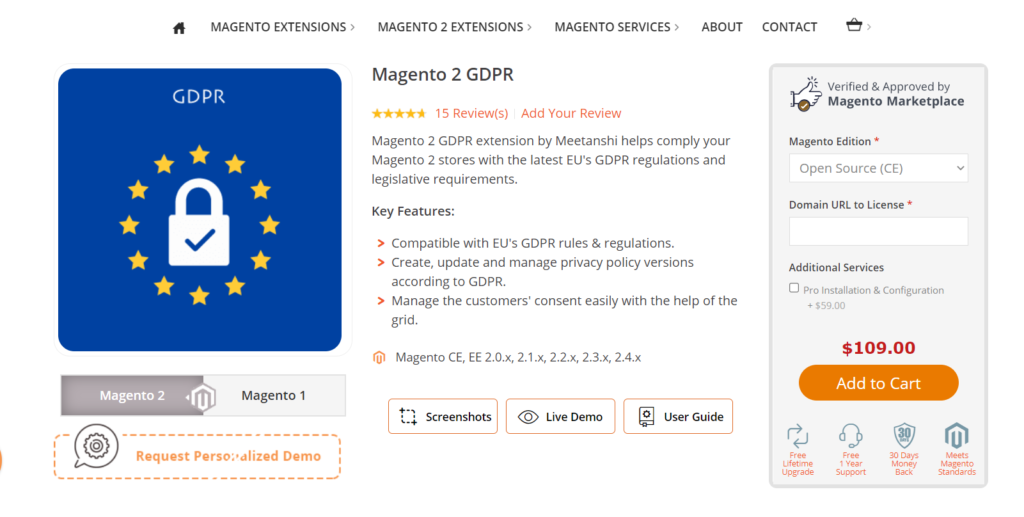 Price: From $109
7. GDPR by Sparsh Technologies
This extension guarantees your stores be compliant with the GDPR regulations. Firstly, it prevents your stores from penalities of GDPR. Secondly, it monitors all the cookies effectively. Also, the admin can turn on or turn off the cookie policy content. Thirdly, customers have the right to delete their account or anonymize them. Besides, you can select the order status for anonymization and deletion. In addition, it provides customers with detailed email templates for deletion and anonymization requests. At last, it customizes the message in a consent checkbox.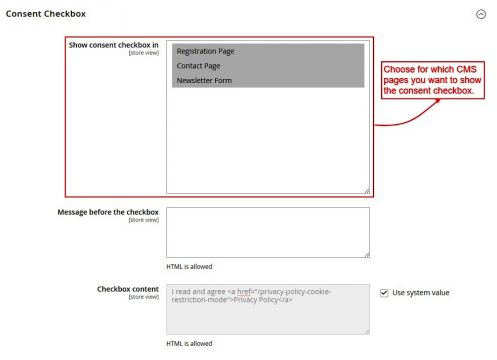 Price: Free
GDPR by Templates Master brings to your stores the customers data without violating the GDPR. In the first place, it gives you multiple forms of consent checkboxes. For example, these checkboxes appear on the registration page and Contact Us page, on the newsletter subscription or testimonial consent form. Secondly, admins are able to control Advanced Cookie consent settings. This setting allows you to blocks all optional cookies until visitors accept your policy and check the availability of cookies in the consent list. Moreover, you can customize the Cookie Banners to gain consents from customers. Finally, the data deletion request is processed automatically to save your time.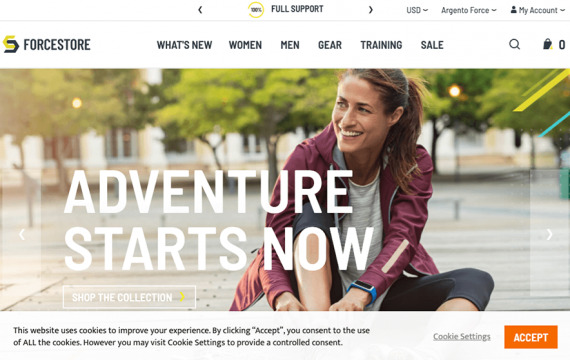 Price: $99
This extension assists you to collect consent from customers and comply with the GDPR. Firstly, it allows customers to access and remove data in their accounts. Especially, this extension requires verification via email to prevent data from leakage. Secondly, customers are able to give consents easily through registration, checkout pages or popups. Moreover, in case you update your privacy policies, all customers are required to give consents again. In addition, you are able to manage all the consents in the Magento backend. Finally, this extension comes with API to manage the data from the third party easier.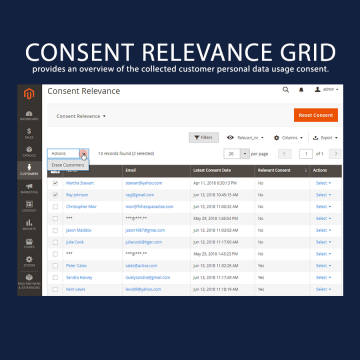 Price: $199
GDPR extension by WebKul manages well with your data within GDPR rules. Firstly, the admins enable consent from customers on the registration pages. Secondly, you can receive notification about cookies on the website. Thirdly, you can edit the default module to customize the cookie notice. Also, the admin can see a grid including all the customers' request about their data. Besides, customers can view or download their information in the accounts. At last, both customers and admins will receive the email about the status update.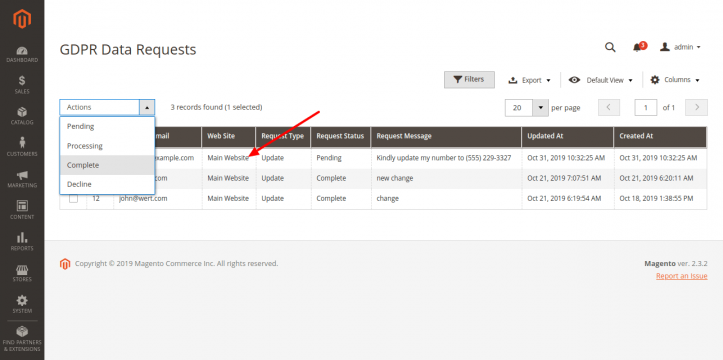 Price: From $99
In conclusion, the Magento GDPR extension is a must-have item to install on your store in case you operate within the EU and to EU customers.