Magento gift card extension: Top 10 best ones to increase your brand awareness and drive revenue immediately
Magento gift card extension is a great tool for you to prepare for the coming holiday shopping season. To help you make better choices, this post introduces the top best Gift Card Extensions to make this holiday season a time of growth and success
1. Gift Card Pro for Magento 2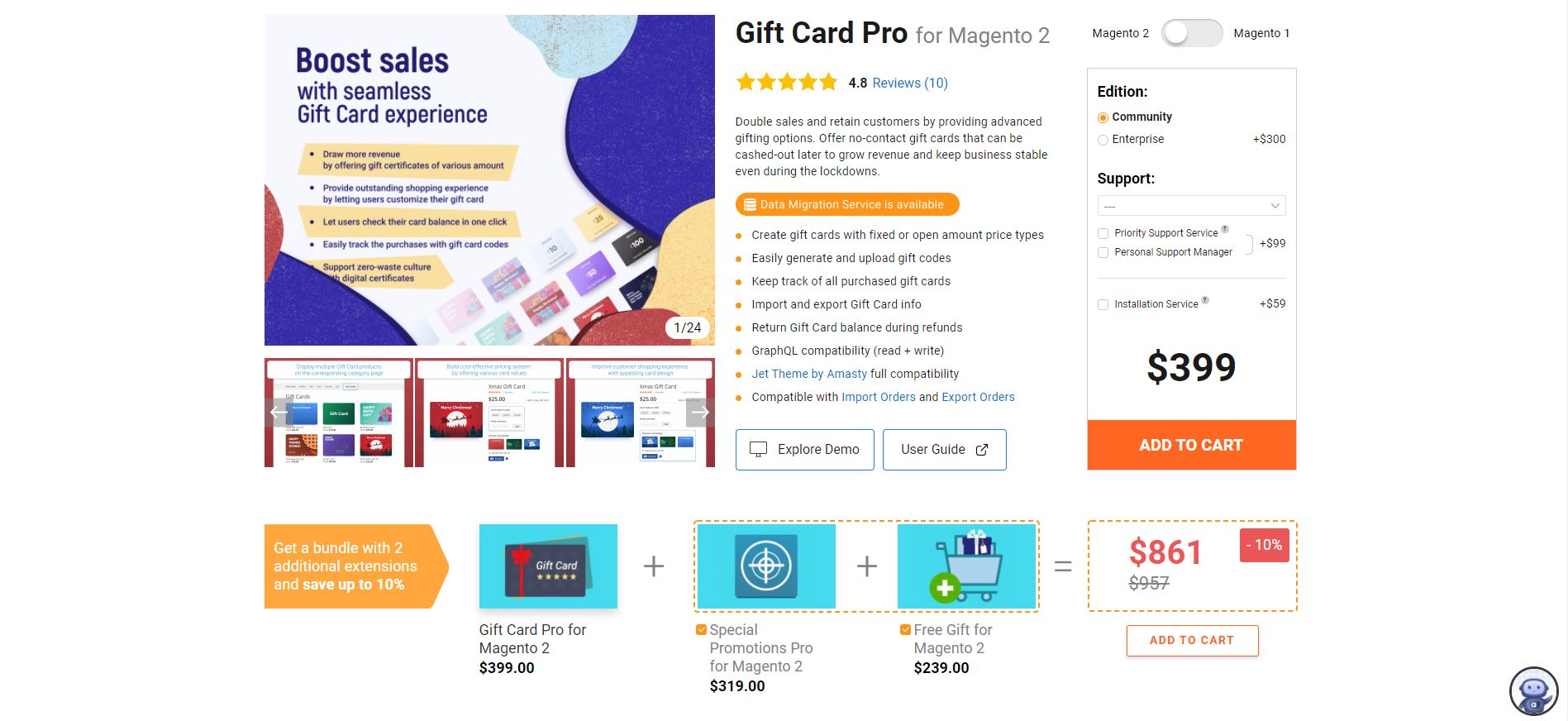 With the Gift Card extension by Amasty, you can provide customizable gift card products for customers to purchase for themselves or send to others via email. Furthermore, this extension enables the shop owner to generate an unlimited number of gift cards with fixed or custom pricing. Likewise, the admin can monitor all purchased items from the backend. More than that, the store admin can also set up automated email campaigns to remind clients to use their cards a number of days before their expiration date.
Design gift cards depend on different types of price
Manage purchased gift cards
Send through email or post office
Offer the beautiful gift card templates
2. Gift Card for Magento 2 by Aheadworks
Gift Card by Aheadworks is a powerful tool that equips you with great benefits for both users and the admin store. Apart from basic gift card features, the tool comes with various options for your shoppers such as flexible gift card design, delivery methods. Moreover, its rich customization feature helps the admin to set up the gift card program in an exact method
Firstly, it enables you to add the physical gift cards
Besides, your customers can write a personal message on the gift
The documentation available within the gift card extension
Support API
Also, the admin can easily create design offered to the customers
Lastly, from the backend, the Gift code grid is added by the admin straight
3. Gift Cards by Mageworx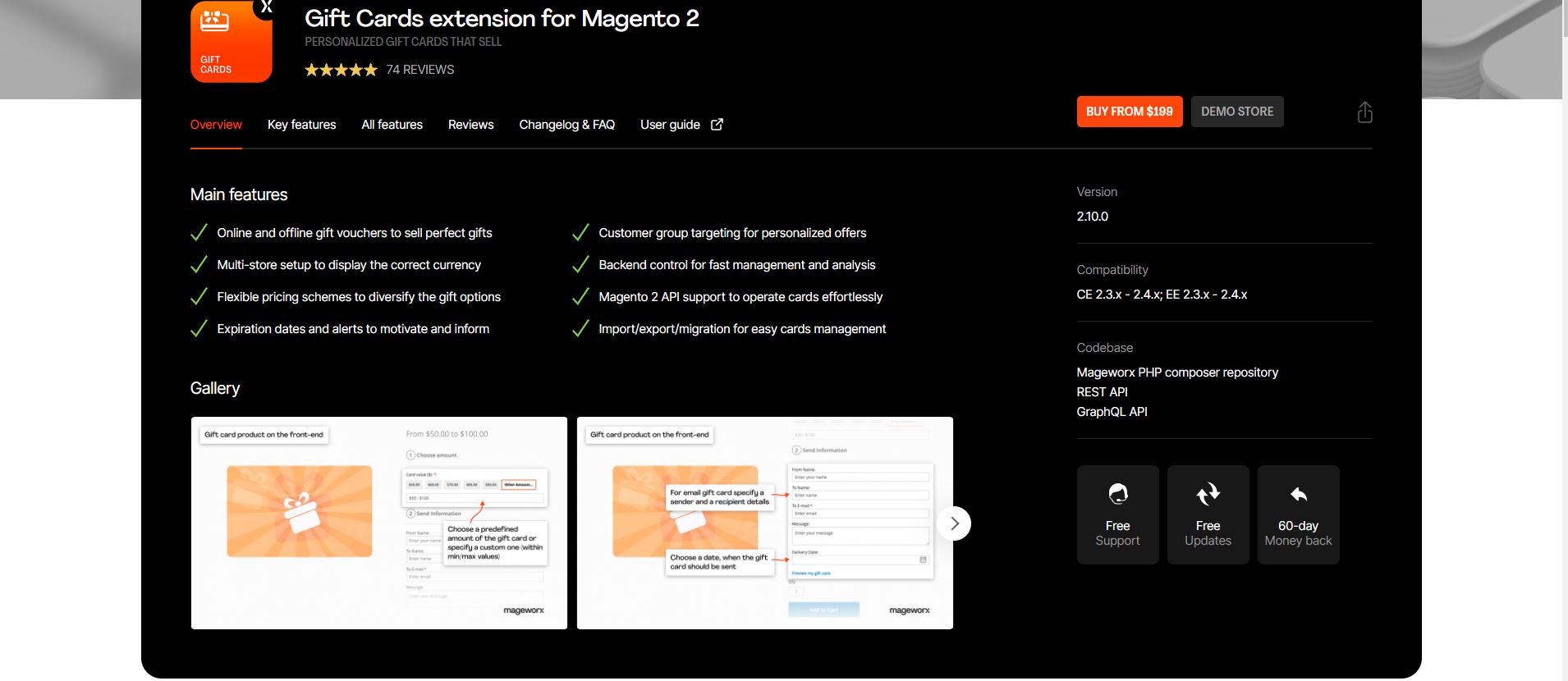 Gift Cards by MageWorx is a must-have extension with multiple options for the shop owner to provide a Gift Card as part of the store loyalty program. The extension is built to allow customers to purchase conveniently. At the same time, you can share and redeem gift cards whenever you want them. Besides, a lot of features are integrated to make the creation and management process of gift card products convenient and efficient.
Firstly, it comes with various gift card types such as email, print-out, mail
Also, it provides various pricing schemes and values
Manage gift cards on the backend
Creating gift card codes in bulk
Gift card with Expiration Date
Lastly, it supports multiple stores and currencies store setup
4. Gift Card by Magenest

Gift Card Free version for Magento 2 equips you with all necessary functions to attract customers to buy gift cards. With this app, you can support your customers to buy gift cards from your website in a flexible and convenient way
Easily to manage, edit, delete gift card products as well as import and export gift card data
Enable to configure the gift card module, change the email template and the pdf gift card settings
Print many gift cards by one click to deliver gift card offline
5. Gift Card by Landofcoder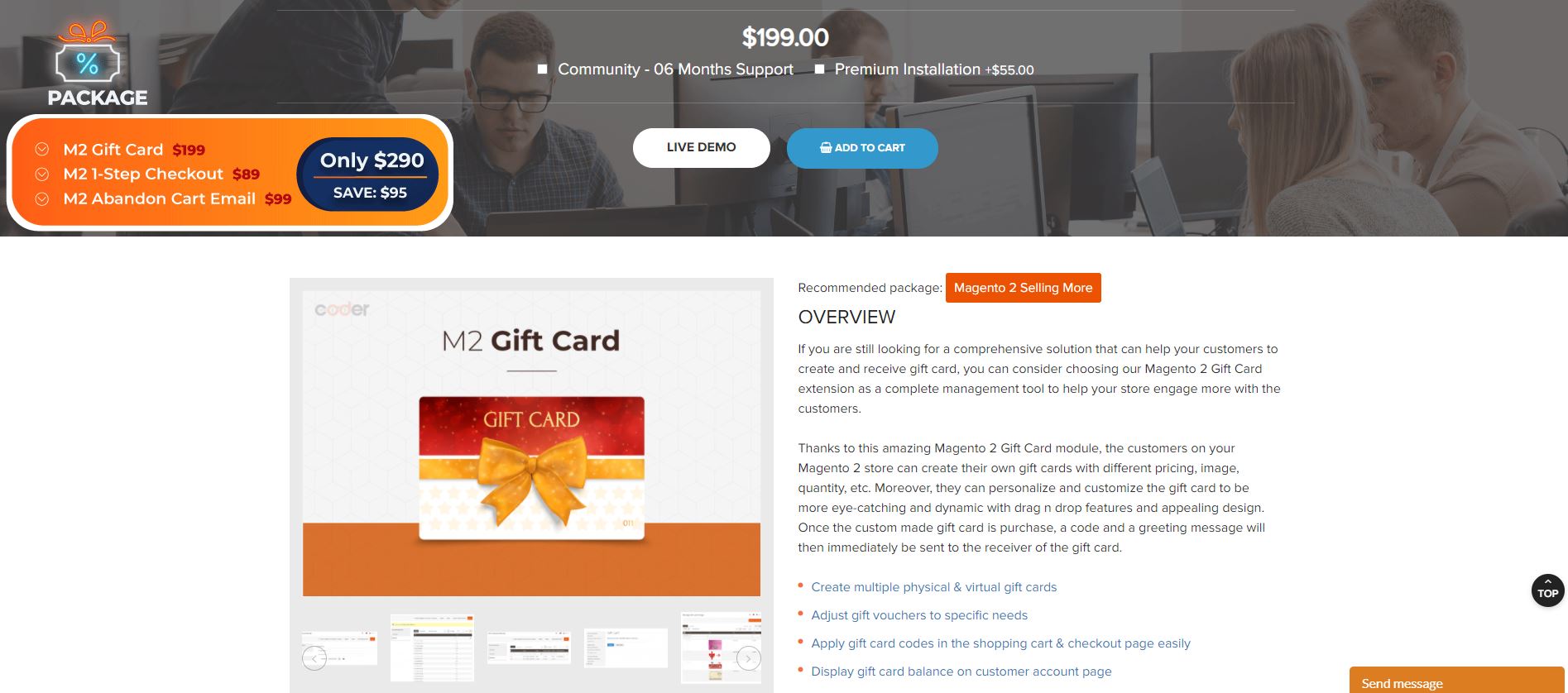 Magento 2 Gift Card by Landofcoder allows the shop owners to improve the average order value. Moreover, this extension helps shoppers to create and customize unlimited gift cards. With this, your customers can send these cards with attractive codes to their friends as special gifts.
Firstly, you can easily create multiple physical & virtual gift cards
Also, the admin can adjust gift vouchers to specific requiremets
Apply gift card codes in the shopping cart & checkout page easily
Display gift card balance on the customer account page
Create unlimited gift card codes
Lastly, it comes with various gift card images
6. Gift Card by Mageplaza

Magento 2 Gift Card extension will support the shop owners to give presents to their friends, family members, and colleagues. With this extension, you are able to design their gifts on their own with ease and they can be sent via email, print out, or post office.
Firstly, this extension comes with virtual or combined gift cards
Besides, flexible gift card values based on the prices
Cards sent through Gmail or post office
Beautifully designed gift card
Lastly, it is suitable for custom designs, themes
7. Gift Card by MageAnts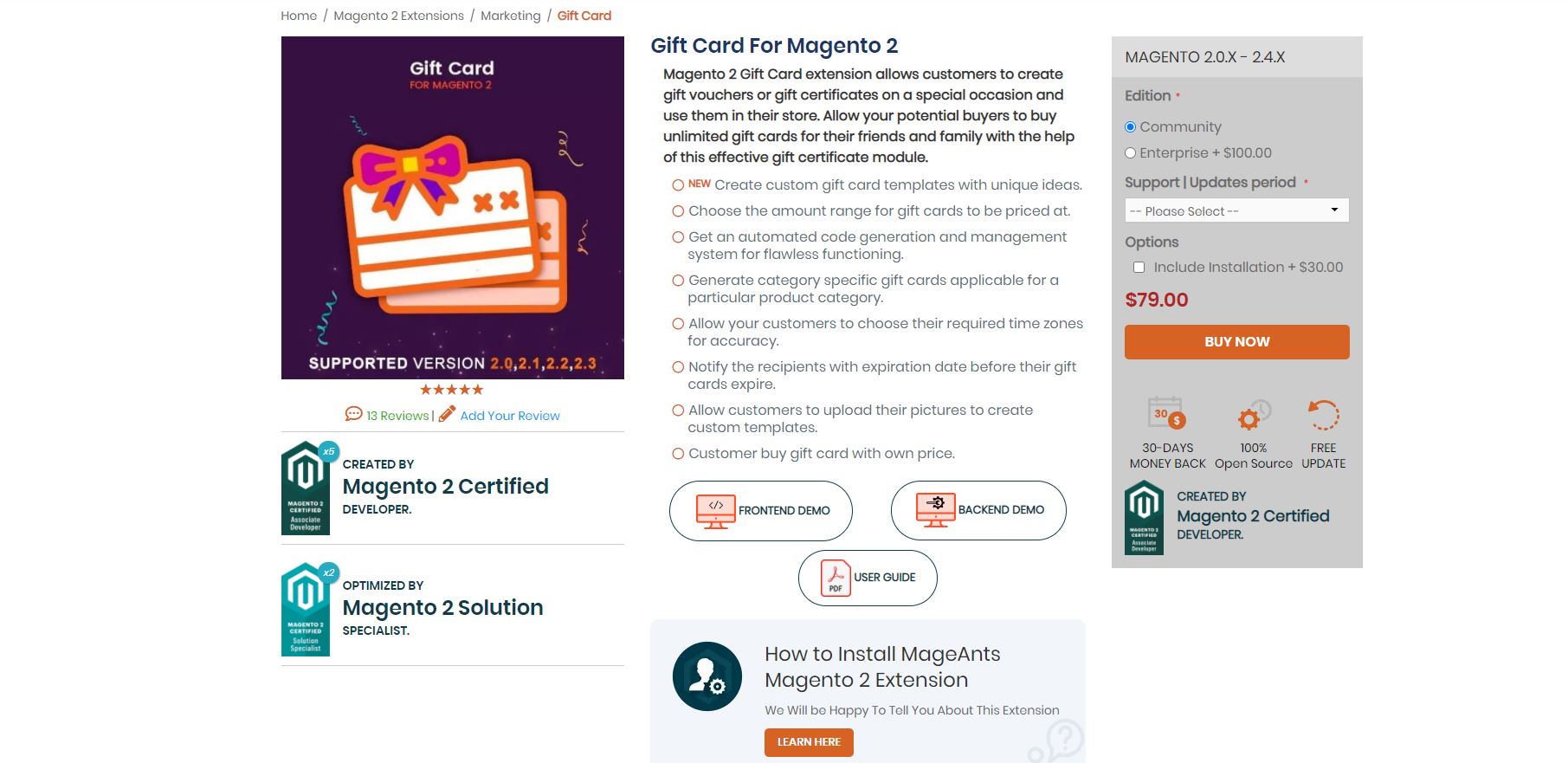 By integrating the Magento 2 Gift Card by MageAnts, the shop owners can offer their customers an attractive gift option with gift cards valued at differing rates. A gift card program would be hefful during holiday festival seasons, which can save shoppers' time and efficiently incrase sales for websites at the same time.
Firstly, you can easily generate custom gift card templates with unique ideas.
Also, it enables you to select the amount range for gift cards to be priced at.
Get an automated code generation and management system for flawless functioning.
Create category-specific gift cards applicable for a particular product category.
Besides, it allows your shoppers to select their required time zones for accuracy.
Inform the recipients of the expiration date before their gift cards expire.
8. Gift Card by Webkul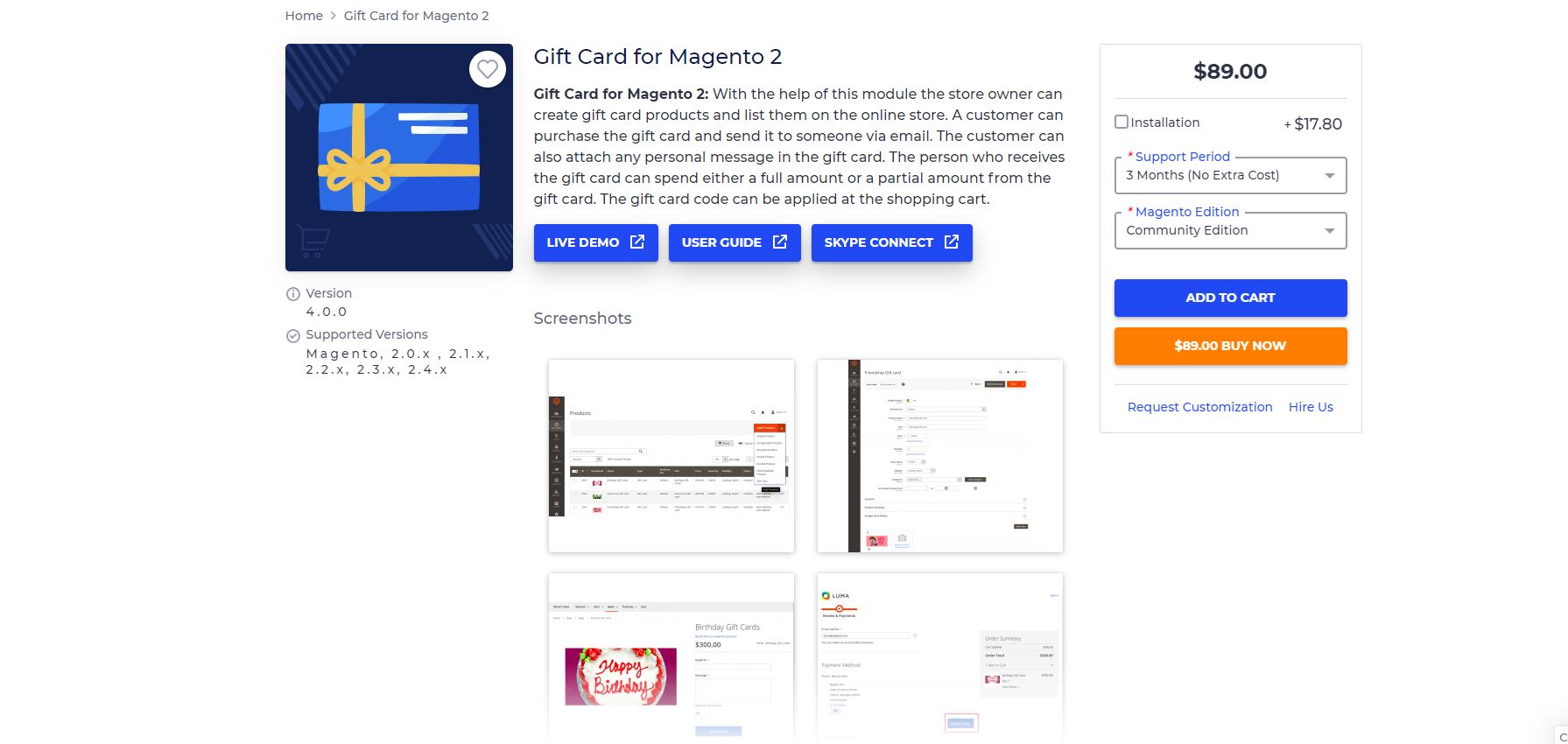 Magento 2 Gift Card module supports the admin store to create gift certificates depending on product types. With this tool, your customers also can create gift cards on their own. Then as a gift, it will be sent to friends, members of a family, etc on special days.
Firstly, it supports you for a smooth creation of gift cards through the admin panel
Besides, your clients can use all or one of the gift cards to make purchases
Using one gift card based on various prices
Receive email notifications
9. Gift Card by Magetop

Magento 2 Gift Card Extension allows your customers to buy gift cards of the amounts you need and they will get an attractive gift card via email with a discount code, and inspire your shoppers to gift them to possible new customers of your online store. From that, you not only have the chnace to make appreciated presents and the ability to promote your products thanks to attractive coupons
A new product type, Gift-card, to configure your own gift cards.
Set the amount you need to use for each Gift Card.
The admin can enable or disable a gift card from backend panel.
Email the gift card to the recipient once the order has been completed.
The recipient can utilize it as a discount code as far as there's credit available
10. Gift Card by Bsscommerce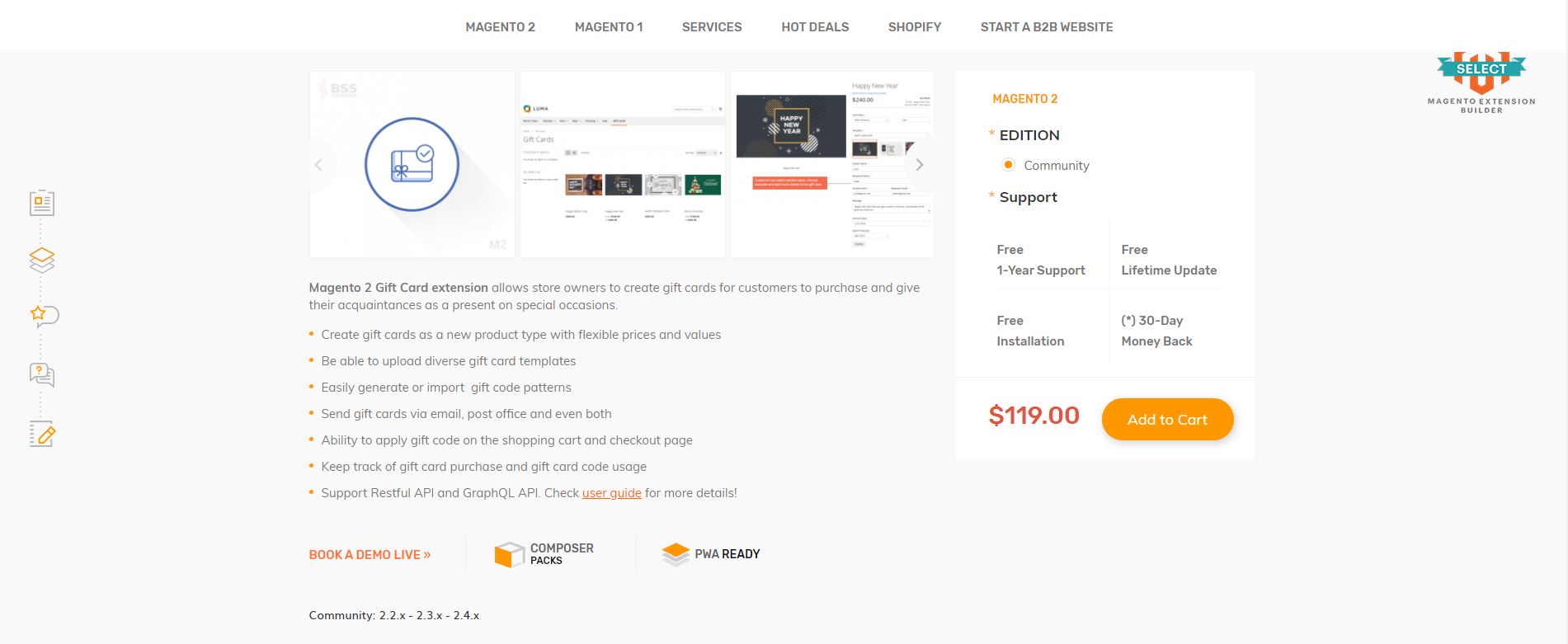 Magento 2 Gift Card extension allows the shop owner to generate gift cards for shoppers to buy and give their acquaintances as a present on special occasions
Firstly, it enables you to generate gift cards as a new product type with flexible prices and values
Besides, you have the chance to upload diverse gift card templates
Also, the admin can easily create or import gift code patterns
Send gift cards via email, post office, and even both
Ability to use gift code on the shopping cart and checkout page
Lastly, the admin can keep track of gift card purchase and gift card code usage
Final Words
Arrowtheme hopes that you could find the most appropriate and suitable Magento gift card extension to increase your brand awareness and drive revenue. Besides, you can take a look at a lot of powerful Magento 2 extensions and Free Magento 2 themes to upgrade your Magento store at our store.