Magento RMA extension: Top 10 best ones to handle every aspect of the return effectively for your eCommerce store
Magento RMA extension helps the shop owner to manage product return and order exchange on an online store effectively and easily. It helps you to improve brand loyalty and customer satisfaction. In this post today, we will introduce to you this awesome feature the top 10 returns and exchange extensions (RMA) for you. Let's check them out!
1. RMA for Magento 2 by Aheadworks

The first extension we mention on this list is an extension by Aheadworks. Compared to another extension, this extension actually comes at a higher price. With that cost, this module supports you to get out of the same extension in some aspects with more advanced functions. Especially, with a robust set of management tools, this extension could be a helpful solution to control the return or exchange of products.
This extension enables creating an RMA request through visual forms
Also, it permits customers to access RMA requests
The admin can easily manage in the backend
It allows you to notify buyers of status changes
Easy to install the extension for modifying different workflow elements
2. RMA extension by Webkul

The second module we would like to introduce is an extension from Webkul. With this extension, your customer is able to access their RMA request directly from their user's account. Therefore, it helps them save lots of time and enhances their shopping experience in your Magento 2 store.
Enable guests to create RMA requests
Allow shoppers and admins to communicate via the RMA system
Easy to track RMA history
Permit admins control RMA statuses and reasons
Allow customers and admins to receive notifications
Let admins select the allowed products for RMA
3. Magento 2 RMA by Meetanshi

If you are seeking the best RMA Extension for Magento 2, here is your choice. This extension helps to manage returns and/or exchanges of goods easily and effectively. With this extension, when your customers purchase multiple products and unsatisfied with only one or several products, they can return them easily. Moreover, it is a great solution to build the loyalty & trust of customers.
Easy for customers to return a purchased item
Insightful reports to manage RMA
RMA request for guest customers & offline orders
Build customer loyalty
4. MageAnts Magento 2 RMA

Another choice for you is a platform of MageAnts – Magento 2 RMA Extension. This Magento 2 extension provides the vendor a final opportunity to diagnose and correct the customers' problems with the products. Hence, you can replace or repair them to satisfy your shoppers as well as contribute to enhancing their loyalty.
Easily create custom or use existing quick response templates
Provide Two-way notifications for status changes and messages
Enable customer to create an RMA request for multiple products
Support Powerful RMA reports
5. Mageplaza RMA for Magento 2

The one developed by Mageplaza is a user-friendly module. Like other extensions, the primary purpose is to manage and solve the returns on Magento 2 stores in a convenient and effective way. With this extension, your return management will be effective, easy and transparency will be assured.
Permit guests to request RMA easily
Set conditions for RMA
Support custom RMA reasons, solution, etc.,
Communicate with customers about returns via emails
Enable admins to create RMA requests
6. RMA for Magento 2 by Amasty

Amasty RMA Magento 2 is one of the premium products on our list. And of course, it provides various amazing features worth the price. With a user-friendly and flexible interface, the RMA extension allows shop owners to manage product exchanges or return efficiently and easily. This gives clients satisfied with your products and service and motivates they to buy more products.
Firstly, it provides a clear return policy
Secondly, it supports the return requests for authorized/guest buyers
Thirdly, it includes the visual/email/chat informing on return statuses
Besides, this extension provides the rich return input data: reasons, resolution, conditions, custom fields
At last, it provides you with 3 return management grids
7. FREE Returns & RMA by weltpixel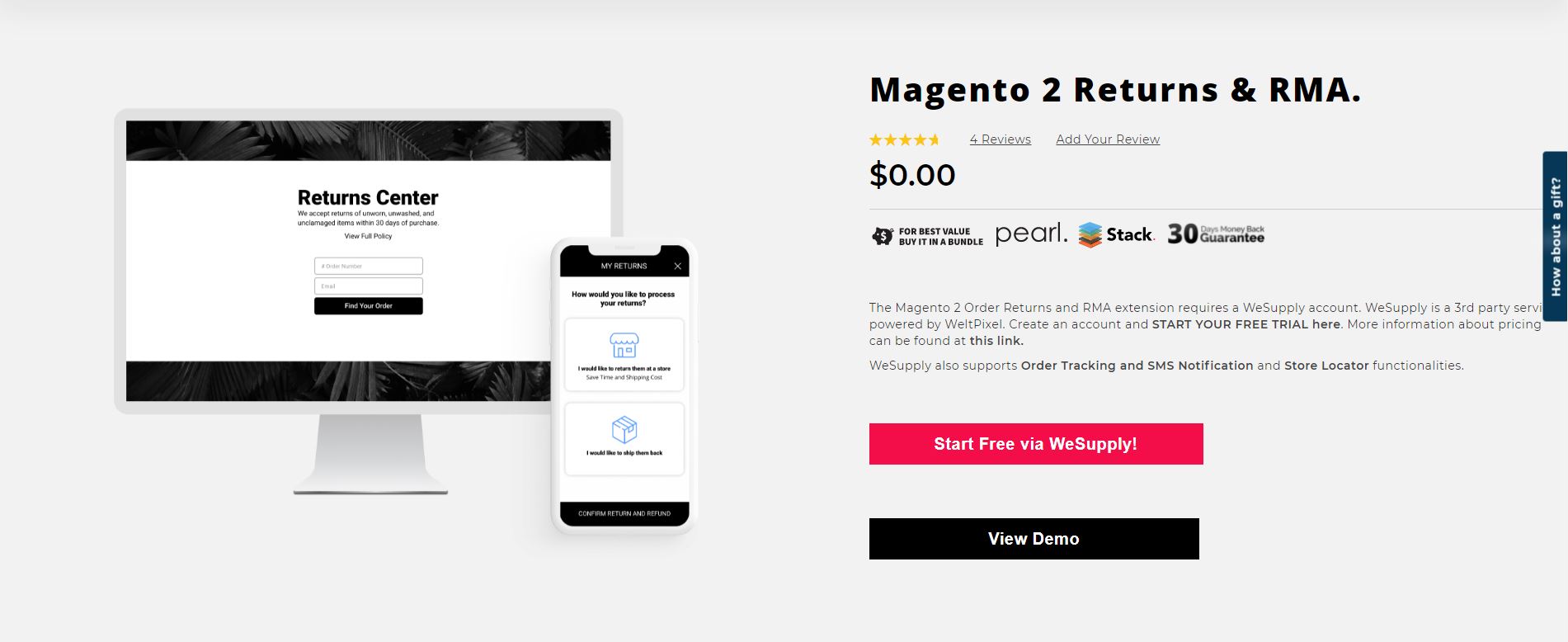 A free extension we want to mention in the topic is "RMA Magento extension" by Weltpixel. With it, your buyers' return requests will be prioritized, which permits them to know that you are on their side and willing to help them until they are happy with the product they ordered. Furthermore, all the information about the return process will be sent to customers so that they can keep track of the information easily.
It comes with a simple self-service return process.
Also, the admin can track and proactively notify your customers about their return
It allows to investigate, analyze, and optimize your return process
Besides, this extension offers a flexible selection for return items.
8. Landofcoder RMA Extension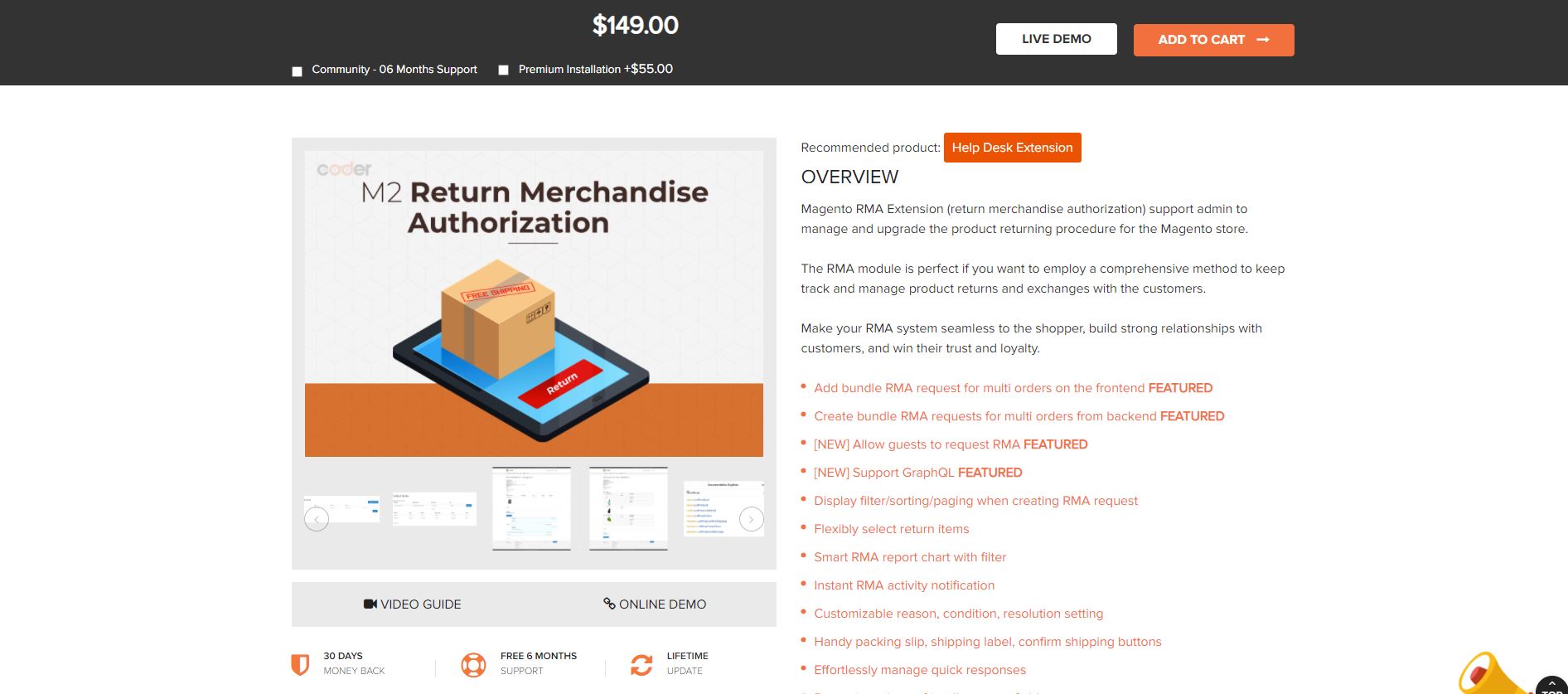 The module from Landofcoder is another awesome tool for the return process in your eCommerce store that you need to take into consideration. Simply speaking, this extension helps you manage product exchanges and returns effectively in an automatic way. It is essential tool if you want to improve customer loyalty and boost sale for your Magento 2 website
Firstly, it supports selecting return items flexibly
Also, the admin can create several RMA at once
It also enables sending message fastly
Besides, this extension provides a smart RMA report chart
At last, it is very easily to Pack Slip, ShipLabel, and Confirm Shipping Buttons
9. MageDelight Returns and Exchanges Extension

Magento 2 RMA extension is a useful extension that will assist you to manage product return and exchange with lowest efforts and great convenience. Moreover, this extension supports a simple and less complicated return and exchange process that will help enhance brand loyalty and trust among clients
Firstly, it enables returning even a single item from the purchased products
Also, the admin is able to create a return order from the admin back-end
Besides, the shop owner can manage status, reasons, conditions and resolutions
This extension support you to build 2-way communication between user & store owner
At last, the admin can manage return package requests & update
10. Returns and Exchanges Boostmyshop

Our last suggestion is also the most powerful extension on the list, provided by Boostmyshop. Indeed, this is a perfect solution for your store to build relationships with your customers. This extension integrates a retrieval products system into a Magento 2 website, which supports your customers to return the previously purchased products. Moreover, with this extension, the customers and show owners will be able to easily monitor the return process from the moment the return form.
Firstly, it allows you to create RMA for returns, refunds, exchanges,
Also, it allows you to manage RMA using the different statuses
Besides, this extension supports you to download and print the return form
The shop owner can easily exchange messages with customers
In brief, here are the top 10 Magento image extensions including free and paid options for your Magento 2 store, so you can make suitable decisions about which extension will suit your requirements and satisfy your users best. Looking for more effective tools to improve your Magento 2 store? Check out robust Magento 2 Extensions or Magento 2 Themes at our store