Magento import products extension: Top 10 best ones to help you save time and efforts in managing stores
If you are looking for a Magento import products extension, you've found the right place. The article will introduce you to this great feature and the top best extensions for Magento 2 you can try to reduce unexpected mistakes that can happen while you manually import data.
1. Import and Export for Magento 2 by Amasty

This Magento import products extension is really an effective solution if you want to import or export products with images or any data type you want. Firstly, this extension enables the admin to generate profiles for regular data transfer or perform one-time migration. Besides, this extension best suits automated stock updates and third-party software synchronization.
2. Improved Import & Export by firebearstudio

The next extension we highly suggest for you is the import extension by Firebearstudio. In fact, this extension is a great choice for store owners who need to import and export any Magento 2 entity to reduce management time. Moreover, this module comes with enhanced import functionality such as the automation of the import and export process with the attribute and price mapping.
3. Import Export Products by Magebees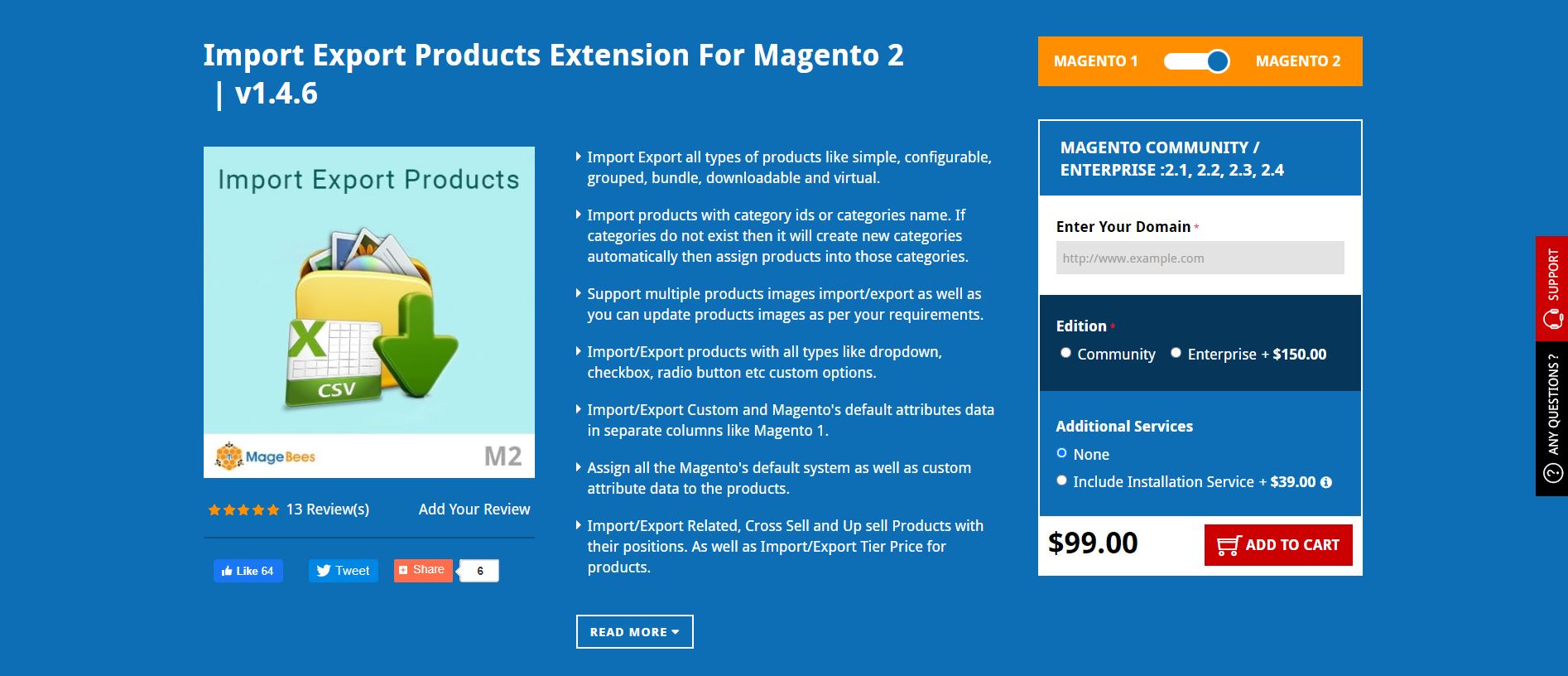 This Magento 2 Product Import Export extension is an essential feature to make Magento mass product import and export effortlessly. With this tool, the admin can confirm import and export products via a CSV file easily and effectively.
To import products, the admin just needs to download the CSV file and fill in all required information about products, then validate this file and import it into websites.
For export, the admin can have diverse filters to export their wanted data such as store views, attribute set names, product type, and so on.
4. Product Import by Commerceextensions

This module enables you to export/import any type of product Magento 2 and all data related to the product. With fast data transfer rates, it will certainly satisfy online shop owners.
Import/export with high speed
Easy to import/export any product types
Enable importing/exporting tier pricing, super attribute pricing, and customer group pricing
Able to import/export image labels
Support import/export all related attributes or data for products
5. Import And Export Products by Vnecoms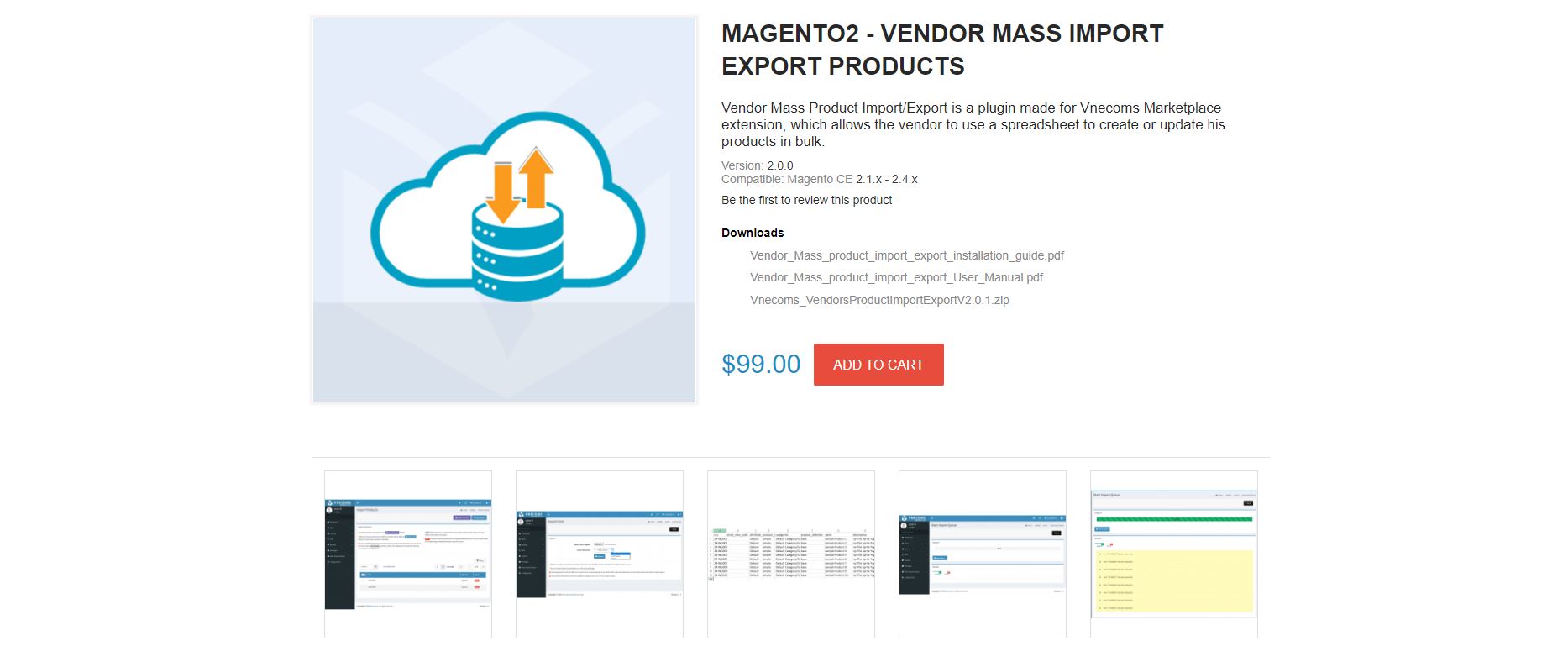 To support shop owners to export/import their product attributes easily and conveniently. Vnecoms has designed Import & Export Products extension to assist shop owners to improve the product import/export process in the store quickly and exactly. This is an excellent solution for you.
Enable using a queue to avoid error importing
Enable importing/exporting all product attributes via a CSV file
Import/export unlimited products with high speed
Easy to manage and upload product images
6. Import Export Product Attributes by Bsscommerce

This Magento extension is a smart solution for the shop owners to enhance some of the outstanding features of the export/import feature. With some easy clicks, you can export/import all product attributes through a CSV file easily and correctly
Allow to import multiple product attributes at one time via a CSV file
Offer the sample import CSV file for users to download and follow
Validate the import CSV file before importing
Show messages to notify errors when importing
Export all product attributes at once or each product attribute set into a CSV file by one click
7. Orders Export and Import by Aitoc

This Magento 2 extension enables you to delete an unlimited number of orders from one store to another easily. In addition to this, it also offers some useful features to combine two Magento 2 stores into one. To be more specific, the admin is able to import orders to Magento 2 from older Magento versions and different other platforms as well. Apart from this, it will automatically create customer accounts from the order billing information.
Furthermore, this module ensures that all orders are imported and exported. Likewise, it also automatically save orders when you integrate with 3rd party. This module will also check and solve import errors in a particular log to continue migration.
8. CMS Page Import/Export by solwininfotech

The CMS Page Import and Export is a great Magento 2 extension. It offers a user-friendly interface to handle with some of the regular Magento 2 tasks. Moreover, this module allows you to import as well as export all the CMS pages with all fields like page title, meta description, URL key..ect. In addition to this, by install this useful toool, you are able to convert existing CMS pages from Magento 1 into the latest Magento 2 version. Apart from this, it will be very useful for you to update and take the control of all CMS pages. What's more? it is also helpful for medium to large store that comes with hundreds of CMS pages.
9. Static Block Import/Export

Static Block Import and Export extension is an effective and easy-to-use module. Firstly, this extension makes it easy to convert static blocks without any core file adjustment. Moreover, this module allows you to import and export CMS Static Blocks using CSV format.
Furthermore, a static block import and export extension is applied to update and manage current static blocks. Apart from this, it is really an essential extension for medium to large stores that may own tons of static blocks. What's more? this module equips you with a helpful solution to edit and manage a large amount of data on your website. Lastly, this tool is well documented that simply means each option is demonstrated in a simply way to find out and use
10. Mass Product Import & Update by Wyomind

Mass Product Import & Update permits you to update and import products heavily in Magento in record time through CSV or XML files available from your store's server, or any remote server through FTP or HTTP.
Firstly, it permits you to Import and updates your products from any source
Besides, this extension helps you to Automate the import/update tasks
Also, it allows you to import incomplete data or misformatted data without headaches
Update or import all product attributes in only one process
Lastly, it helps you to save huge time creating your profiles
Final Words 
On the journey of development and growth, the best Magento import products extension on our list will do wonders for your online business. With a smart investment, your saved effort and time will really worth it. In addition to this extension, you should refer to other powerful Magento 2 extensions as well as Magento 2 themes.