Magento mega menu extension: top 10 best ones to create a navigation menu with ease for your stores
Magento mega menu extension is a must-have tool when it comes to improving the way your main menu display. In this article, will introduce you to this great feature and the top best extensions for Magento 2 you can try to impress your customers right at first sight
1. Mega Menu by Amasty

Mega Menu by Amasty is a perfect choice for your online store. This extension will help you rearrange the products in a scientific and beautiful way. What's more, this extension makes it easier for customers to find products on your website.
Exclusive features
Firstly, this extension allows the admin to select Horizontal and Vertical Menu include effects: Fade, Slide, toggle
Also, you can easily adjust different menu styles easily such as width, color, icon or position
Besides, it is compatible with the mobile menu
Lastly, admin can easily choose style your own mega menu without editing CSS file
2. Magento 2 Mega Menu by Magesolution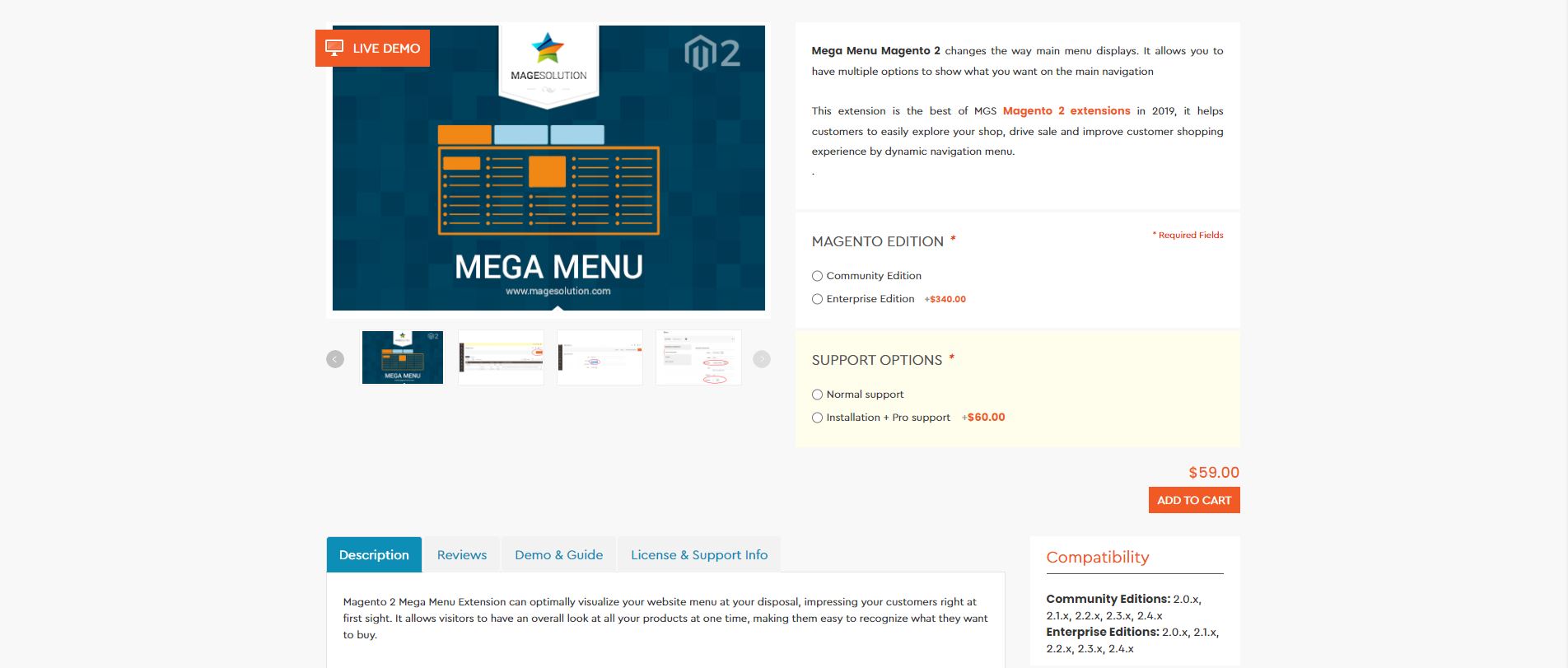 If you are looking for a way a improve usability and navigation on your online stores, Magento Mega Menu by Magesolution is exactly what you are looking for. First of all, this extension allows displaying in horizontal, vertical, or both of them can make your website not only beautiful but also easy to use. Besides, it provides you with 7 styles in a menu that not only attract customers but also helps shop owners to create an excellent direction board.
Firstly, it enables inserting menu without limiting
Also, the admin can insert a menu to any position to create code automatically
Different stores can add different menu
Besides, this extension allows generating a menu for the category, cms page, or any URL
You can insert icon/custom HTML to the menu
Allow supporting mobile responsive menu
Lastly, it allows you to insert video, images to attract the customers on the menu
3. Mega Menu by Cmsmart

The next Mega Menu extension we highly recommend for your online store is an extension by Cmsmart. . In fact, this extension provides you the shortest way to navigate customers to the exact place they are looking for. First of all, thanks to this extension, you can easily select different styles on the menu. With this, your customers feel new to your website. Besides, you can adjust the color to be more eye-catching with the visitors
This extension provides 7 menu styles
Also, it is very easy to customize and install
The admin can set a different color for the menu
Besides, this extension supports both horizontal and vertical menu
This tool provides outstanding options in the menu
4. Mega Menu by Bsscommerce

With the help of Mega Menu extension, customers will easily find all information and products at the first sight. Additionally, this extension assists store owners to add and customize a big menu with a visual backend panel to navigate guests on the website.
This extension offers 3 sub-menu levels
Also, it supports 3 types of sub-menu: classic, category listing, and content
With this tool, you can freely customize Menu URL: category link or custom link
This extension allows adding, delete and edit menu items
The admin can easily insert labels to highlight menu items. For example Hot, New, Sale
You can freely insert static blocks into the menu
5. Mega Menu by Magenest

The menu is a crucial function on every website. It is the place to get the customer's attraction. Therefore, creating an impressive menu is an effective solution to optimizing your website and impress your customers with your online store
Generate a multi-level menu using drag & drop or hyperlink
Add pages, categories, or custom items to the menu
Customize menu items with different colors, labels, or icons
Generate menu according to existing categories automatically
Create labels for the menu
Assign a label to each menu item
Able to customize label and menu with HTML and CSS
6. Mega Menu by Rootways Inc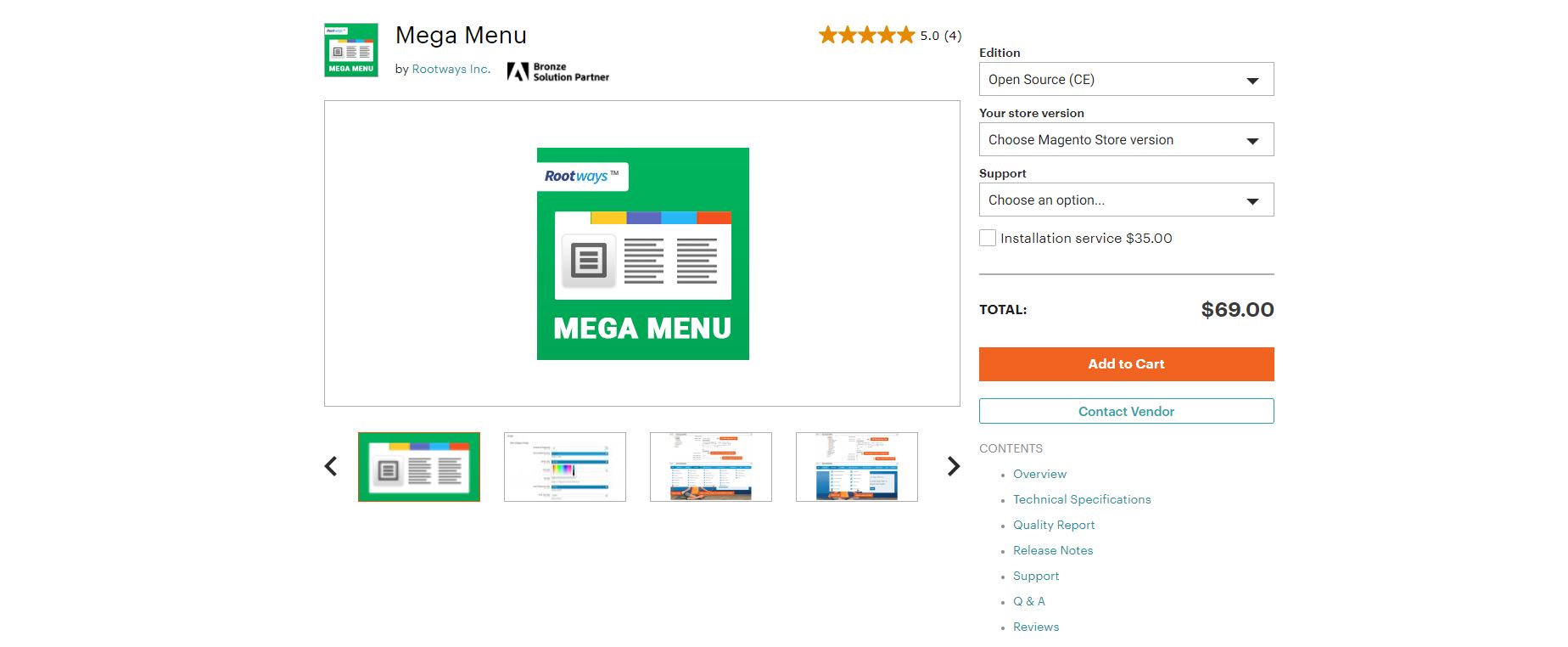 This extension will equip you with helpful features to create the best sitemap right on the main navigation of your online store. By using this tool, you can easily create your basic navigation into an appealing mega menu layout with multiple styles and layouts. Besides, you can easily generate a customizable navigation bar that showcases categories, sub-categories, a header, footer, sidebar, content, images, and exclusive products
7. Menu Magento 2 by weltpixel
Menu Magento 2 by Weltpixel supports both user and administrator to manage and display all kinds of information flexibly. Besides, this extension enables you to create an appealing and dynamic navigation menu without any technical skills.
Add CMS blocks for each category individually.
Full control over CMS Block position.
Multiple Menu layouts available.
One click add custom content to Mega Menu.
8. Mega Menu by Magezon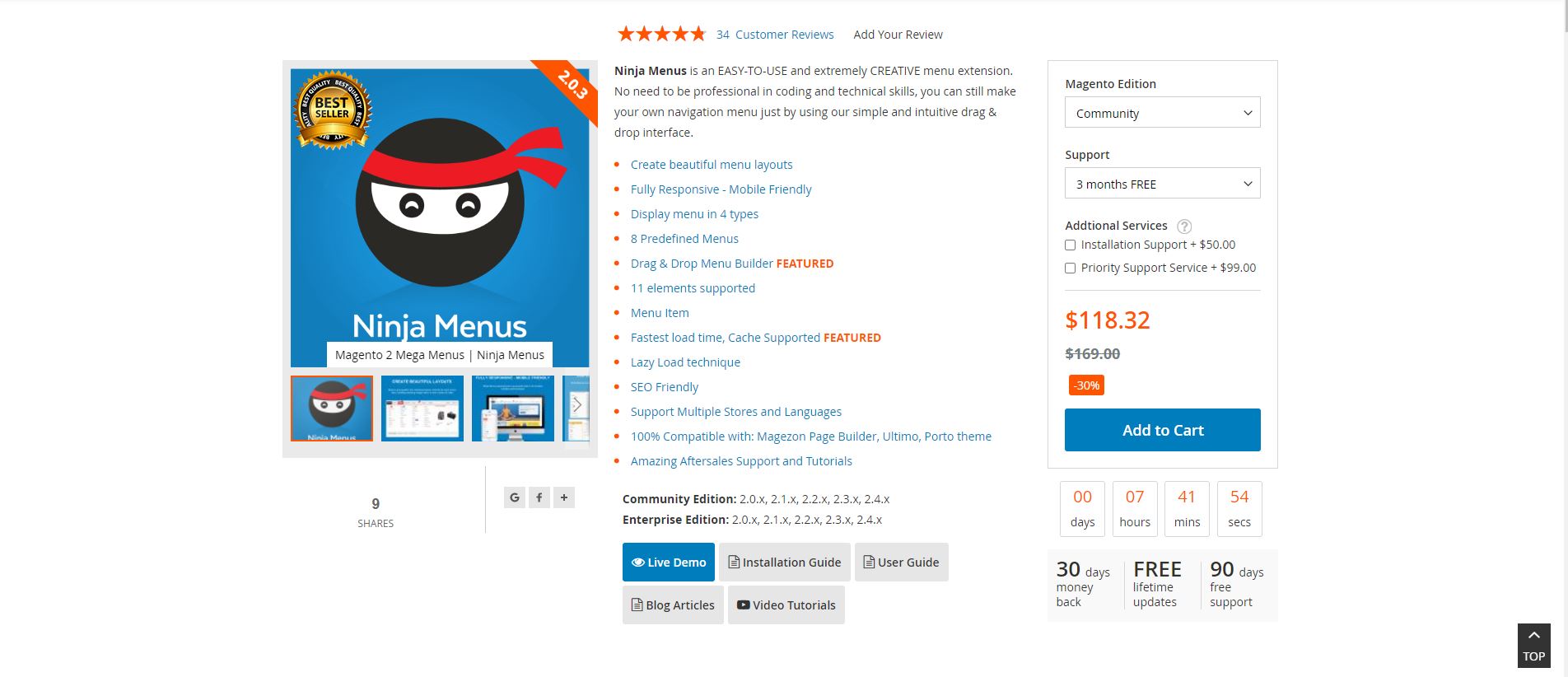 This Mega Menu by Magezon allows you to optimize menu layouts with flexible options. First and foremost, this tool helps your Magento store enhance its layout and also customers' experience with ease and effectively. Besides, this extension offers a top-notch intuitive interface that allows you to create any mega menu within minutes. Just simply drag and drop 11 elements to adjust its position and size. Then, this extension will do the rest for you.
Drag & Drop menu Builder with fastest load time and cache supported
SEO Friendly
Support multiple stores, languages, and aftersales
9. Mega Menu by MageDelight

Magento 2 Mega Menu extension from Magedelight provides an effective solution for store owners to design menu items using images and videos with different animation effects. Moreover, this extension provides the ability to generate a mega menu that redirects visitors to static blocks, external links, categories, or pages.
Firstly, this extension allows showing images and videos in mega menu
Also, you can generate sticky menu on site
Besides, you can choose different animations effects
Include different design styles such as horizontal, vertical, drill down
Allow dragging & dropping menu fields in the menu
Lastly, it enables setting Mega menu anywhere
10. Easy Mega Menu by Ibnab

This free extension can optimally visualize your site menu to impress your customers right at first sight. Besides, it allows users to have an overall look at all your products at one time. Thus, your customers can easy to find what they want to purchase.
The admin can easily add, delete and edit menu items without coding skills
Also, this extension is responsive all device such as tablet and mobiles r
This extension provides a flexible navigation menu management
Final Words
On the journey of development and growth, the best Magento import products extension on our list will do wonders for your online business. In addition to this extension, you should refer to other powerful Magento 2 extensions as well as Magento 2 themes.