Magento inventory management extension: Top 10 best ones to streamline the process of handling inventory for your store
Wise inventory management is crucial for the success of any eCommerce business. In this blog, Arrowtheme will introduce to you the top best Magento inventory management extension on the market to assits you make better choices.
1. Inventory Planner by Mirasvit

The first Magento extension we suggest for you is "Inventory Planner by Mirasvit". First and foremost, this module helps you to estimates the time and amount of product you need to restock. At the same time, it also detects the presence of overstocked products.
Exclusive features
Firstly, it helps you to optimize planning your stock
Besides, it supports schedule inventory replenishments with confidence
Also, it helps you to identify overstocked products
Get to work immediately after installation
Lastly, the admin store gain insights quickly, no matter the product count
2. Multi Warehouse Inventory by Amasty

The next inventory management extension we highly recommend for your online store named "Inventory by Amasty". In fact, this extension is a great choice for store owners who want to manage inventory easily. First of all, thanks to this extension, you can create as many warehouses as you need. What's more, this tool allows you to define your own stock locations and create a virtual warehouse for defective products to be sent back to the manufacturer.
Exclusive features
Firstly, it supports you to easily create multiple warehouses
Also, the admin easily manage stock right from the product grid
Besides, it helps you to reduce delivery cost with a smart algorithm
Create shipments in one click
Lastly, you could set custom shipping methods and rates
3. Advanced Inventory by Wyomind

Coming to another helpful extension in our list is "Inventory by Wyomind". In reality, this extension is always known as one of the most outstanding and worth-using Magento extensions in the global market. For more details, thanks to this great extension, shop owners to track the amount of inventory accurately. In addition, they easily manage the location of merchandise in their stores and avoid the loss of goods on the online store.
Exclusive features
Firstly, it tool supports managing your inventory in Magento store easily and effectively
Besides, it helps you to ,anage the drop shipping effectively
Also, you can keep track of all your warehouses continently
The stocks levels can be shown on the frontend pages correctly
Allocate permissions for every stock
Lastly, it permits you to send your orders to one or more warehouses
4. Inventory by Magestore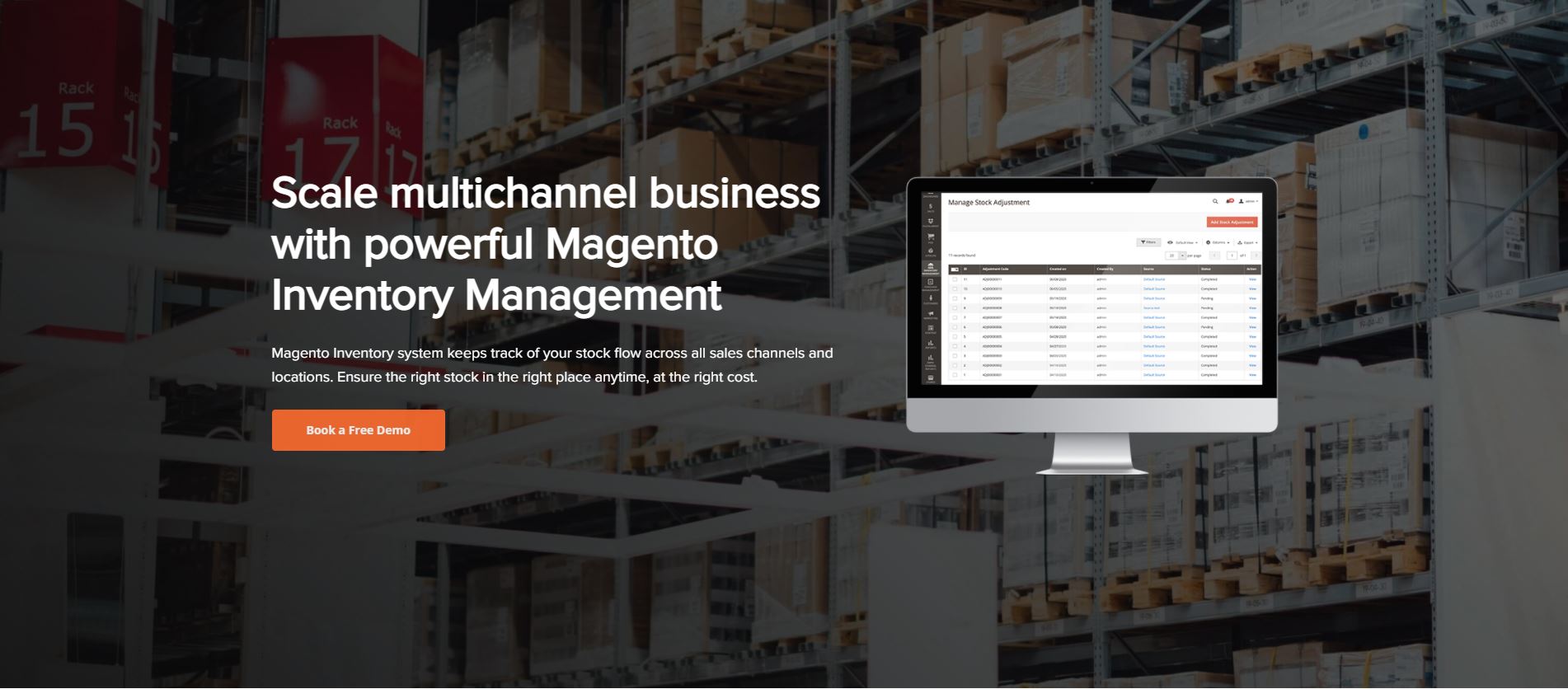 Inventory by Magestore is one of the best modules we would like to recommend to you. This helpful module support you to keep track of your stock flow across all sales channels and locations to make sure the right stock in the right place anytime. It is a great tool to improve your Magento 2 website
Exclusive features
With this extension, the admin easily edit, customize, assign inventory inline
Besides, it supports the auto-forecast the stock funtion
Also, this tool offers multiple warehouses for your Magento website
It comes with API function to connect with other systems/extensions
This extension comes with UI/UX design optimization
5. Inventory For Magento 2 Appjetty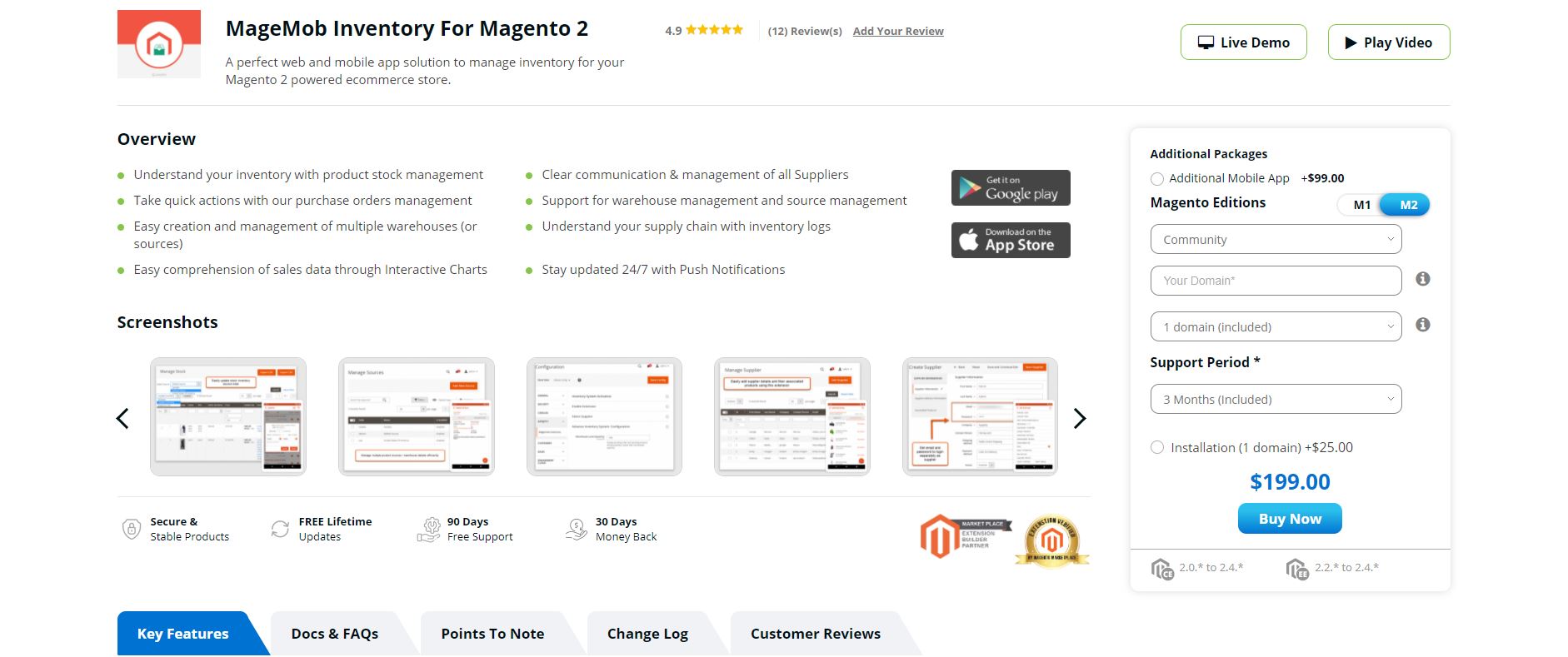 Let's take a look at "Inventory For Magento 2 Appjetty" and your purpose of optimizing inventory will easily come true. To begin, this extension helps store owners seamlessly manage different aspects of their store inventory. Besides, it supports you have an easy comprehension of sales data through Interactive Charts
Exclusive features
This extension supports the management of suppliers
Besides, you easily manage purchase orders
You are able to manage the inventory log and product stocks
6. Inventory for Magento 2 by Aitoc

Inventory for Magento 2 by Aitoc allows you to manage your warehouses and automatically offers to choose the nearest one at the checkout, which reduces the time and costs for both customers and your business.
Firstly, this extension helps the shop owners to separate inventory among multiple warehouses
Besides, the admin easily split stock following store view or customer group
Also, it helps you to track low-stock elements on the store
Lastly, it supports auto-update fields per website
7. Inventory by SafeMage

In order to manage inventory easily and effectively, one of the most worth-trying ways you should integrate for your store is using a trustful inventory management extension. And, "Inventory by SafeMage" will surely be the ideal choice for any type of eCommerce store. First of all, this extension is designed to create an unlimited number of warehouses. Besides, the tool also comes with great functions to create rules or choose appropriate warehouses for purchased items.
Highlight features
Firstly, this extension support you to set one or multi-warehouse order easily
Also, it supports no limitation to the number of warehouses and the ability to allocate separate warehouses for each product
Besides, this extension supports API to update value stock for items
Enable to edit warehouse on order
Lastly, it provides reports warehouse stock
8. Inventory Extension by Boostmyshop

Why don't you try using "Inventory Extension by Boostmyshop" for your eCommerce store? In particular, this extension is a great feature to help manage stock and warehouse(s) directly from your Magento backend. Moreover, this extension will do wonders for optimizing shipment.
Exclusive features
Firstly, it permits storekeepers to solve Multiple Stocks, Multiple Warehouses
Also, the administrator is able to monitor stock with Stock Movements
Besides, it assists you with anticipating deals for your store and deal with the stock
9. Inventory Report by bsscommerce

Let's take a look at Inventory Report by Bsscommerce and your purpose of managing inventory will easily come true. To begin, with this extension, you'll always know the number of products you should replenish as well as which products currently have surplus products. Besides, by providing exact changes at the precise time, this module helps the last and first step of your inventory overview more precisely.
10. Inventory Management by veeqo

This extension is an effective solution that not only supports omnichannel inventory management but also handles some problems such as orders, shipping, and returns. Moreover, it provides smart forecasting features that permit you to analyze your sales and define your best-selling items in just a few clicks.
Looking for more ways to improve your Magento 2 store? Check out Top Best Magento 2 Extensions or Magento 2 Themes for your Magento 2 Store or contact us to receive personalized consultation on your business development.