Magento XML Google sitemap extension: Top 10 best ones to accelerate Google's crawling for your store
Magento XML Google sitemap extension is a great tool to get a better SEO score and improve user's experience. In this post today, Arrowtheme will introduce you to this powerful tool and the top best extensions you can try to fasten the indexing process on your website.
1. XML Google Sitemap for Magento 2

The first product on our list is XML Google Sitemap by Amasty, one of the prestigious providers. It is a quality extension that works very well as described functions. Also, this extension provides Magento stores with the basic functions of a Magento XML sitemap module to speed up the indexing process.
Helps to index your content much faster
Include or exclude various types of pages
Specify the frequency of updates for each type of pages
Set priority of importance for a group of links
Specify Hreflang to deliver relevant con
2. XML Google Sitemap by Mageworx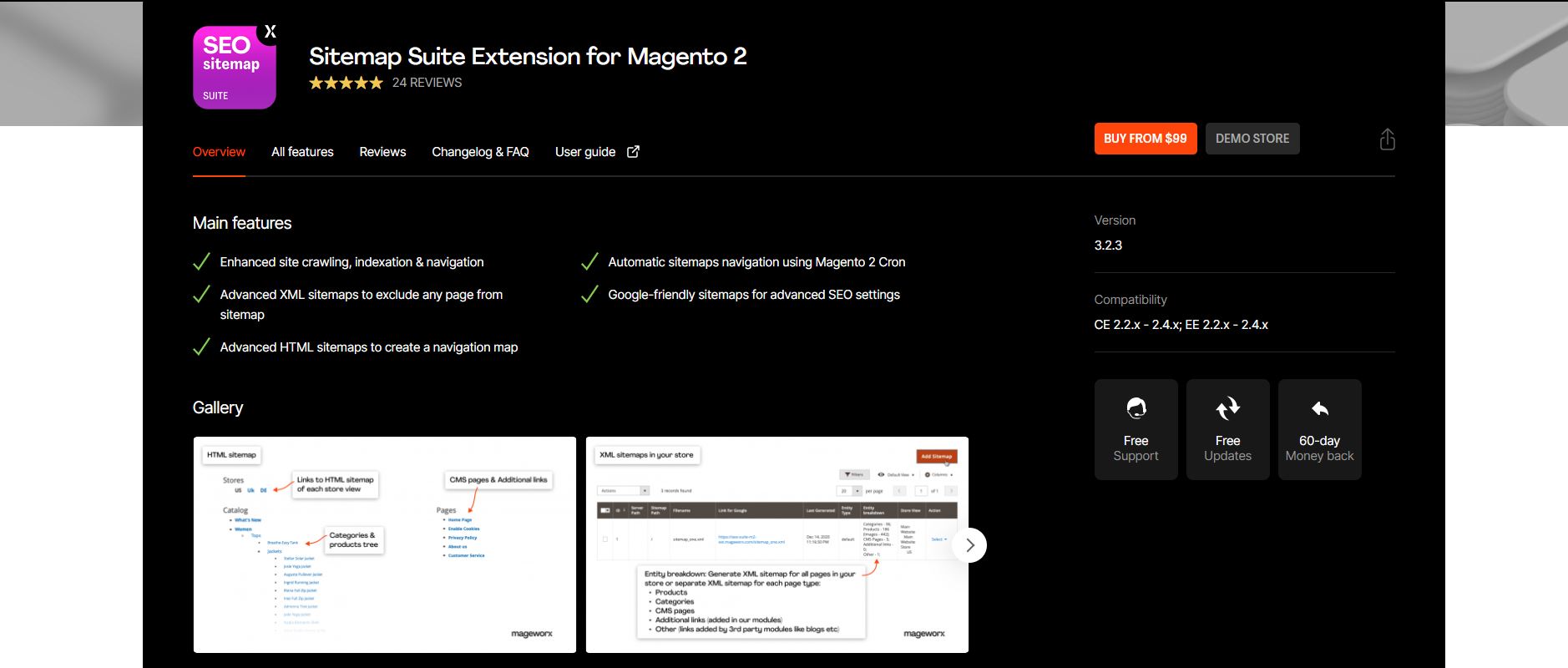 The second extension on our list is XML Google Sitemap by Mageworx, one of the prestigious providers. Firstly, this extension not only allows the admin users to exclude out-of-stock items but also any product, category, and CMS pages from the XML sitemap. Besides, it allows you to create the XML sitemap directly right from Console and disable URLs with literal characters automatically
Firstly, this extension enables excluding out-of-stock products from the XML sitemap
Secondly, it helps the shop owners to easily get out of any product, category, and CMS pages from the XML sitemap
Besides, it enables setting priority and frequency of changes for links
Also, the admin is able to add third-party links to the sitemap
At last, it supports the auto-disable URLs with certain literal characters
3. XML Google Sitemap by Weltpixel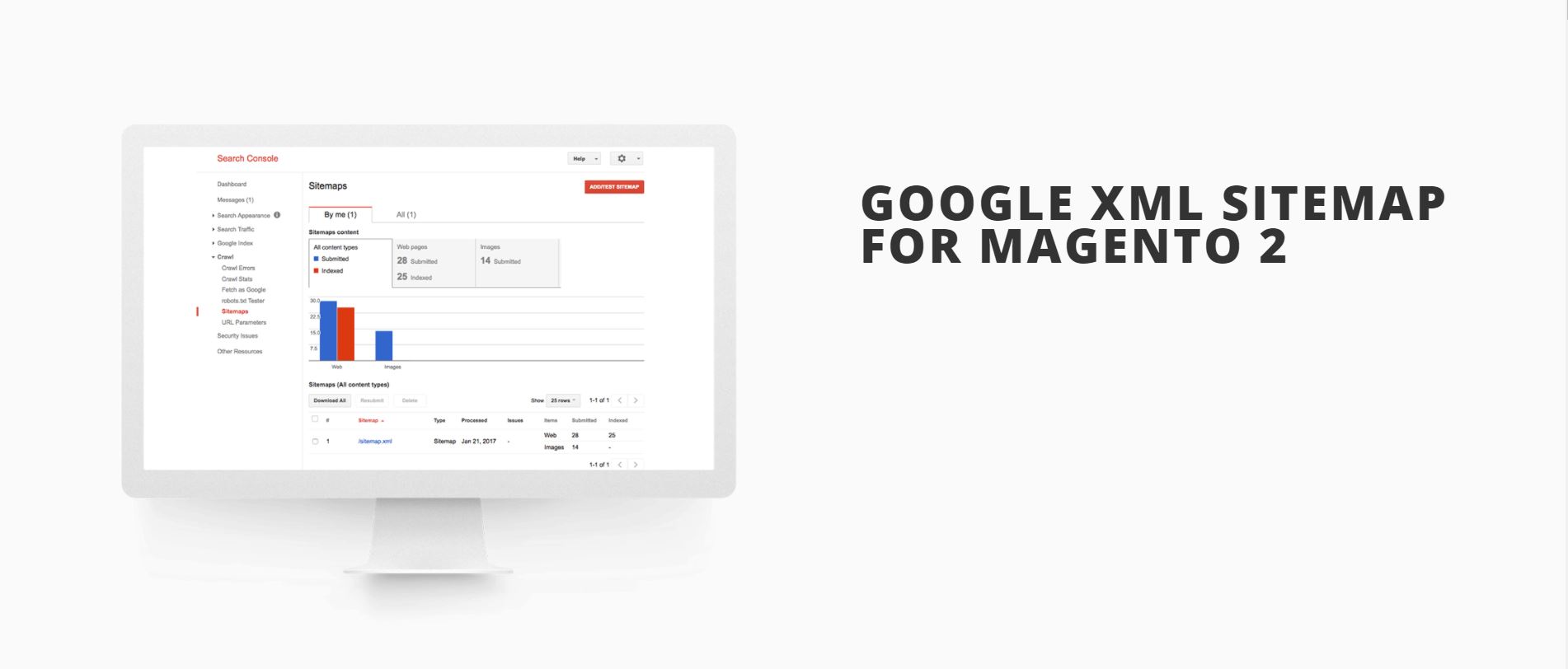 The next product we want to show you is one of the most powerful products from Weltpixel. This extension helps you take control of your Magento 2 sitemap. Also, this extension permits you to control visibility in sitemap for each Product , Category and CMS page. On top of that, you are able to add into the sitemap custom URLs that are not included with the default magento sitemap.
Enable individual product/category/CMS page control in the XML sitemap
Support custom URLs to be added at an unlimited number in the XML sitemap
Allow the shop owners to create a dynamic sitemap so that it will always be up-to-date
4. XML Sitemap by Bsscommerce

Magento 2 XML Sitemap by BSS Commerce is one of the richest in functions compared with other extensions at medium prices. This extension enables you to create a very admin-friendly Magento 2 XML sitemap including all links on your website. Besides, the support team is dedicated, which commits to provide the best support.
Auto-create XML sitemap including all links of Magento 2 store
Permit admin to choose links to exclude from the sitemap
Split sitemap into multiple sitemaps for an easier indexing
Set priority and frequency for the fastest update to search engines
Include additional links to the sitemap
5. XML Sitemap Splitter by Ulmod

Having a properly structured and optimized XML sitemap is an essential element to ensure your store ranks well in Google and other search engines. And this extension will permit admins to split XML sitemap to make it SEO-friendly. However, its price is not low.
Generate an XML sitemap for product pages (include both in-stock and out-of-stock), category pages, and CMS pages
Allow admins to split XML sitemap by a maximum number of URLs
Allow admins to add or exclude product images in the sitemap
Display or hide image title, caption in the sitemap
Support a separate mobile sitemap
Support daily report of XML sitemap generated
6. Google Sitemap by Magepow

Google Sitemap by Magepow is a helpful tool that helps search engine crawlers better understand and navigate the Magento 2 website. In Magento, it is a file that has links to the pages of the website that need to be indexed and the relationship between them. And Magento 2 Sitemap extension will help you to set up a sitemap in HTML and XML
Enable creating separate sitemaps for different store views
Show HTML sitemap on the user interface
Option to display HTML sitemap files: categories, products, CMS
Limit the number of products on the HTML sitemap
Add extra links on HTML sitemap
Set up XML sitemap to help search engines index links
Exclude child category by parent category from sitemap
7. XML Google Sitemap by Cedcommerce

Another extension we want to mention in the topic is "XML Google Sitemap" by Cedcommerce. In fact, this extension helps in ranking your sites higher in search results and makes crawling easier. Besides, this extension is compatible with Magento version 2.0.x. However, the vendor does not come with a specific price for this module and you have to contact them to get a quote.
Offer a separate XML sitemap for each type of products
Control XML sitemap generation and update via Cron jobs
Admins can notify major search engines if the sitemap is created or updated
Include/exclude any webpages in/from XML sitemap
Set frequency and priority to update pages' content regular
8. Google Sitemap by Meetanshi

The extension by Meetanshi is free downloading, but the functions are as much interesting as the premium extension. This free extension enables creating XML and HTML sitemaps to index and crawls your webpages faster. As a result, it helps your website visible in search results and gets more organic traffic.
This extension enables generating XML and HTML sitemaps automatically
Also, it offers XML sitemap generation for crawlers to easily crawl the webpages
Besides, this extension supports an HTML sitemap for the shoppers to navigate through the store easily.
9. XML Google Sitemap by Mageplaza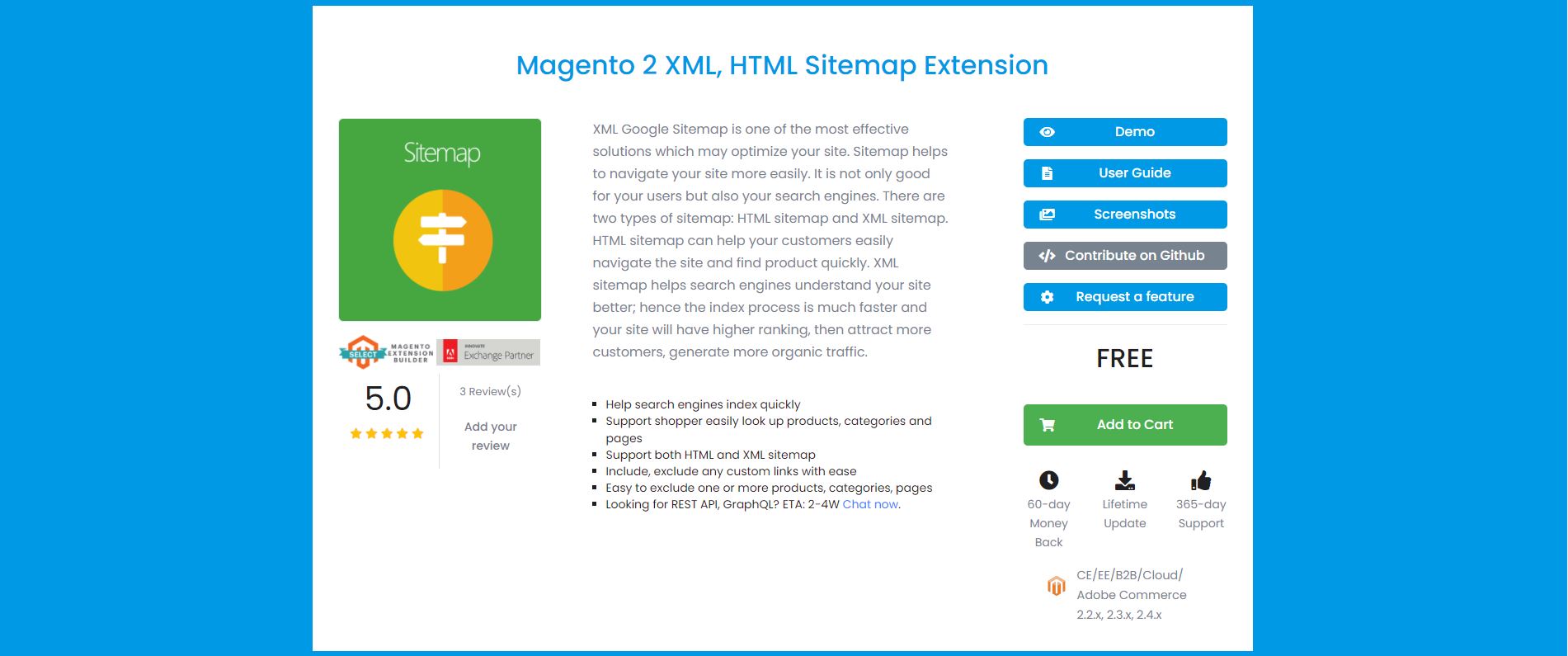 XML Google Sitemap by Mageplaza is one of the most effective solutions which may optimize your website. In detail, this extension comes with many powerful fields that enable eliminating duplicate content. Also, it offers layered navigation, advanced structured data, and so on. Without any code changes, shop owners can easily get better SEO results and improve their store rank in search engines.
Firstly, it offers advanced HTML/XML sitemaps
Secondly, this extension helps you to prevent duplicate content issues
Besides, the admin is able to set metadata information
Also, it allows you to enable or disable cross-linking functionality
At last, the admin is able to gather all negative factors with the dashboard report
10. HTML & XML Sitemap Generator by FME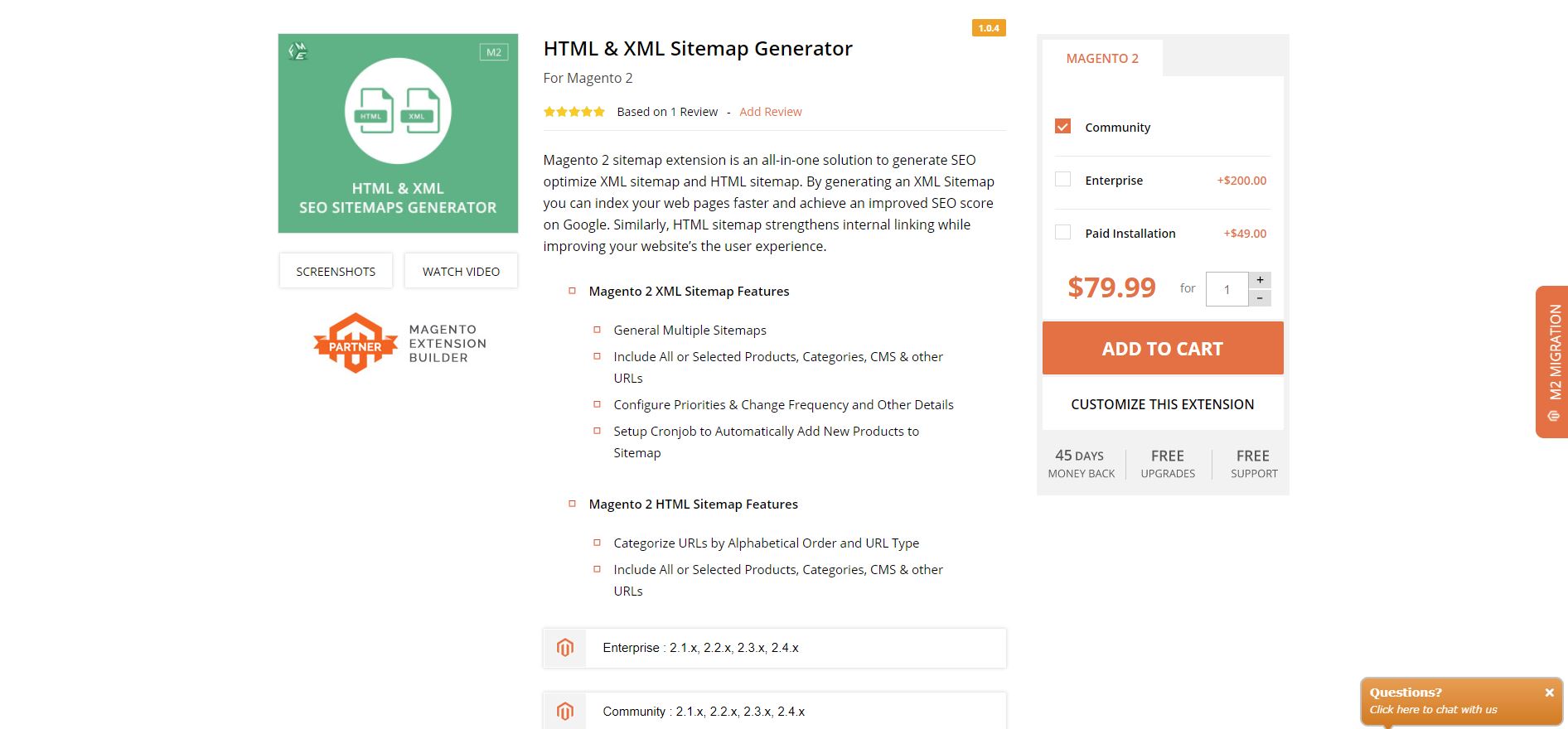 The last product in the collection you should also pay attention to is "Magento 2 sitemap" by FMEextensions. This extension is an effective solution to generate Google optimized XML & HTML sitemaps. Besides, with the extension, the shop owners will have the ability to gain a better SEO score and improve the user's experience.
Firstly, this extension enables creating multiple XML sitemaps
Secondly, it supports various page types
Thirdly, it allows you to setup Cronjob to automatically add New content
Besides, this extension allows you to configure priorities & change frequency
Also, the admin is able to add images, images titles with templates
At last, it supports the HTML sitemap to improve user experience
Thank you for reading our Top 10 Magento XML Google sitemap modules review by Arrowtheme. Looking for a more effective solution to improve your Magento 2 website? Check out robust Magento 2 Extensions or Magento 2 Themes at our store