Magento layered navigation extension: Top 10 best ones to improve the online shopping experience for your stores
Magento layered navigation extension provides the online store with a user-friendly navigation system to allow customers to browse their desired product in the most convenient way. In this blog, Arrowtheme will introduce to you the top best extensions on the market to help you to make better choices.
1. Layered Navigation by Magebees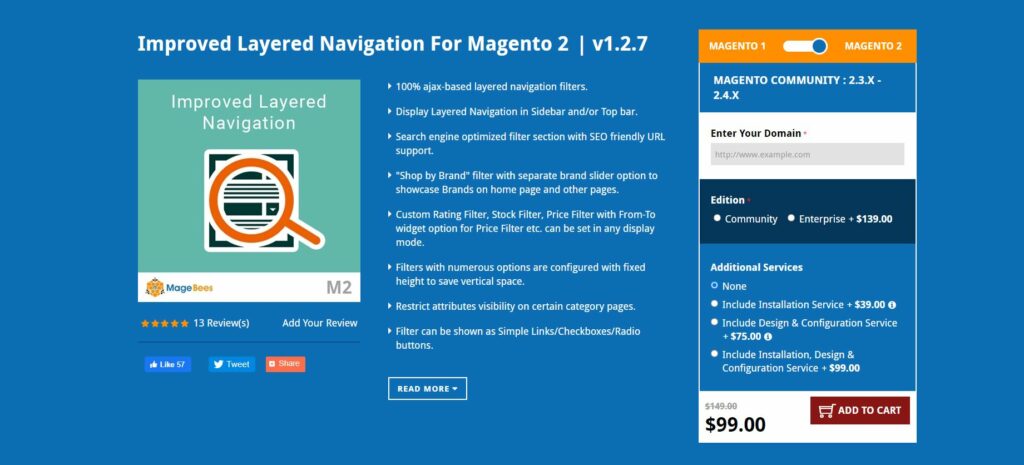 The first Magento extension we suggest for you is "Navigation by Magebees". First and foremost, this module offers multiple features at affordable prices. Besides, it allows customers to choose multiple attributes and filter results instantly. There is no need to wait for annoying page reloads. What's more, this extension makes navigation easy with the added benefit of the "Shop by Brand" option.
Exclusive features
Firstly, this extension offers100% Ajax-based layered navigation filters
Also, it supports displaying filters in Sidebar and/or Top bar
Besides, this tool comes with the Shop by Brand filter with a separate brand slider option
Custom Rating Filter, Stock Filter, Price Filter with From-To widget options
Filter can be shown as Simple Links/Checkboxes/Radio buttons
Lastly, you can use AND logic to multiple selections of attribute filter
2. Amasty Layered Navigation

The next Layered Navigation extension we highly recommend for your online store named "extension by Amasty". In fact, this extension will help you to build the ultimate customer shopping experience. To be more specific, this extension provides your customers the catalogs with multiple products attributes one time and especially no reloading pages. Moreover, it supports the display of multiple filters and convenient widgets to help users instantly find the products they wants
Exclusive features
Firstly, this extension enables you to tailor the menu and filters' display to your needs
Also, the admin can easily generate SEO-friendly URLs and brand pages
Besides, this tool lets customers filter products by brands
Lastly, it helps you to speed up product filtering with AJAX
3. Improved Layered Navigation by mageplaza

Coming to another helpful extension in our list is "free extension by Mageplaza". In reality, this extension is always known as one of the most helpful and trusted extensions in the global market. For more details, thanks to this great extension, customers can find out and purchase their favorite items based on flexible categories, brands, colors, sizes, and so on in the shortest way. As a result, it helps shoppers save much more time to find any product and improve online sales.
Exclusive features
Firstly, your customers are able to find by different product attributes
Also, it supports the flexible selection of Attributes
Besides, this extension supports advanced filter choices
Ajax Layered Navigation
Friendly SEO- URL
Lastly, this tool offers multiple stores and languages
4. Layered Navigation by Aheadworks

Layered Navigation extension by Aheadworks is one of the best modules we would like to recommend to you. This helpful module supports your customers to filter search results easily. Besides, it also allows choosing multiple product attributes at once, especially no reloading pages.
Exclusive features
Firstly, it offers advanced filter management options
Also, this extension comes with smart use of images and swatches for filter customization
Besides, this tool supports the slider and From-To filters for numeric and price attributes
Multi- and single-select modes for filters
Lastly, the extension support you with an adaptivity and stability on the platforms of various devices
5. Layered Navigation by Tigren

Let's take a look at "Layered Navigation by Tigren" and your purpose of optimizing navigation for your eCommerce website will easily come true. To begin, this extension helps your customers to easily find items that suit their budget. Besides, your customers can adjust the price range by moving the slider or filling the minimum and maximum prices into the box.
Exclusive features
Show instant matching filtered results with Ajax loading
Combine multi-filters for better search results
Allow filtering products based on brands and ratings
Easy to create a unique Brand page and All products page
Display a nice and handy price slider and a "from-to" widget
Support SEO optimization
6. Ajax Layered Navigation by Magetop

There is no denying the effectiveness of the Magento extension from Magetop in building the ultimate customer shopping experience. Simply speaking, this extension equips your website with a highly flexible vertical and horizontal navigation menu. Besides, this extension provides an Ajax load feature to reload content on the page. What's more? This module provides a number of additional user-interface elements for the layered navigation, such as color swatches, size selectors, and checkboxes. With this, you can create a more meaningful, interactive experience for your customers
Exclusive features
Provide Ajax Loading page.
Enhance UX by Ajax technology.
Lightening-fast Ajax Navigation.
Provide Ajax Add to wishlist.
Offer multi-filters & Filter the options
7. Layered Navigation by Cmsmart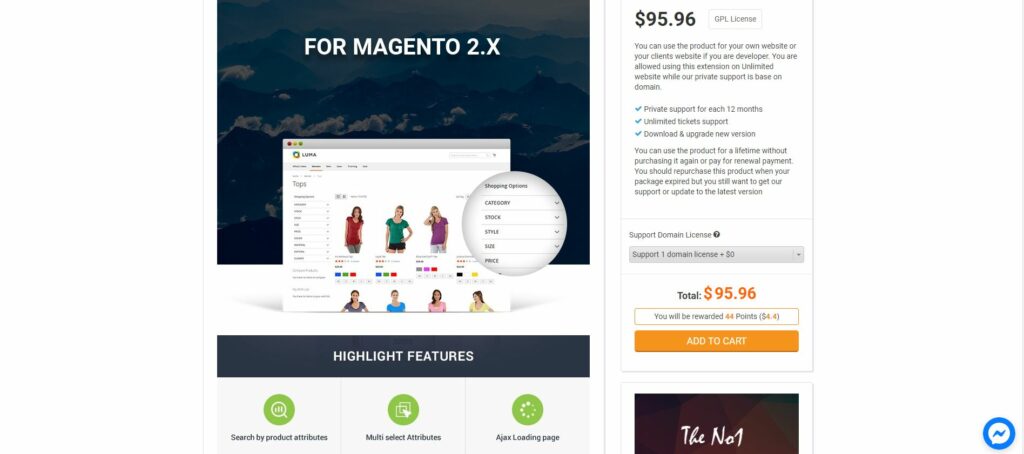 With the help of Magento 2 Layered Navigation extension by Cmsmart, customers can quickly find their favorite products with the category, style, size, color and more instead of walking around. It saves time and improves website performance better.
Exclusive features
Finding products by different attributes
Multi-select Attributes
Ajax loading page
Multiple options on the filter
Multi-store support
8. Layered Navigation by Bsscommerce

Why don't you try using this extension by Bsscommerce for your eCommerce store? In particular, this extension is an essential feature allowing your customers to reduce the time on browsing products: thus, it helps to improve your website usability. Moreover, this extension permits your users to use multiple filter selections in the same category, which can greatly benefit customers who are comparing products.
Exclusive features
Support layered navigation with multi-select
Helps the shop owners to speed up product filter loading in Magento 2 with AJAX
Offer the layered Navigation with checkbox and other attribute display mode
Support the Product Filter by price range with slider and input box
Provide the Shop By option with product filter by rating
9. Layered Navigation by Mageworx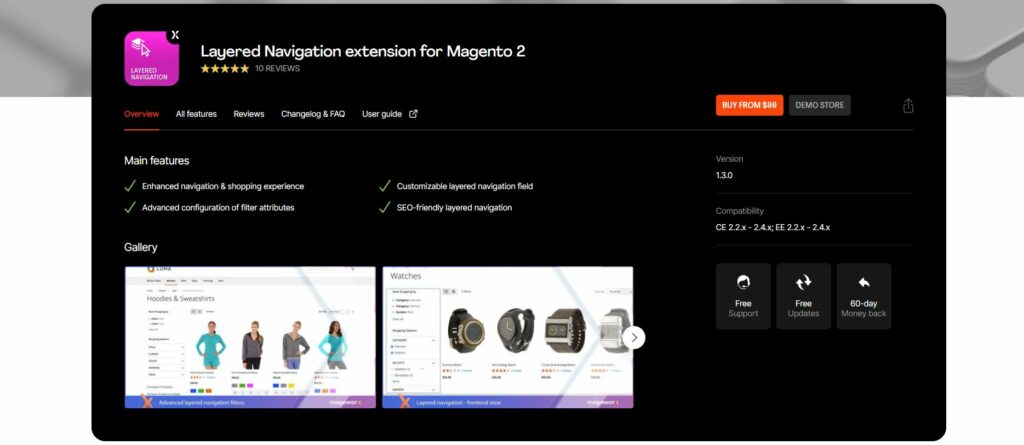 In order to enhance store navigation, one of the most worth-trying ways you should integrate for your store is using a trustful Layer navigation extension. And, "Layered Navigation by Mageworx" will surely be the ideal choice for any type of eCommerce store. First of all, this extension allows your customers to select several filter attributes at once. Apart from this, this tool also allows specifying the multi-select feature both globally and for some particular attribute.
Exclusive features
Support Enhanced navigation & shopping experience
Offer advanced configuration of filter attributes
Ability to customize the layered navigation field
Support an SEO-friendly layered navigation
10. Layered Navigation by landofcoder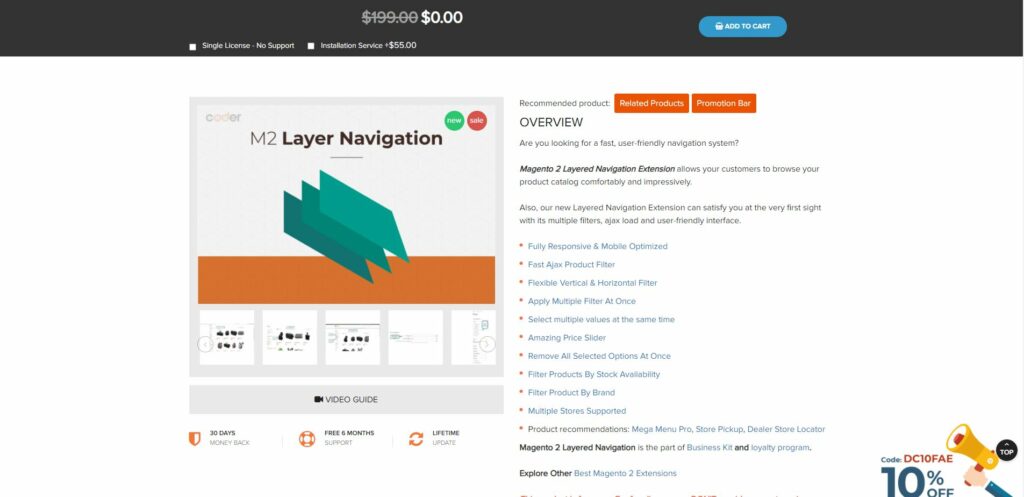 Last but not least is an amazing free extension from Landofcoder. In reality, this extension enables your customers to search your product catalog easily and impressively. Besides, this extension can satisfy you at very first sight with its multiple filters, ajax load feature, and user-friendly interface. On top of that, this extension is fully responsive on almost all the devices such as desktop, tablet, and mobile; hence, your shoppers can shop anywhere and anytime as their expectation.
Exclusive features
It supports a fast Ajax Product Filter
Provide the flexible Vertical & Horizontal Filter
The customers easily use Multiple Filter At Once
It comes with an amazing Price Slider
Able to filter Products By Stock Availability
Able to Filter Product By Brand
Looking for more solutions to improve your Magento 2 store? Check out Top Best outstanding Magento 2 Extensions or Magento 2 Themes for your store or contact us to receive personalized consultation on your business development.