Magento quote extension: Top 10 best ones to grow sales revenue for your Magento 2 stores
Magento quote extension supports the customers and bussiness to have a better interaction through quotations. As a result, both store owners and customers can reach a price agreement that not only boosts sale but also reduces cart abandonment
1. Request a Quote for Magento 2 by Amasty

The first extension in our list is the product from Amasty. In fact, this extension enables you to create opportunities for businesses to interact with customers via quotation. This helps your business to improve personalized experience by understanding shoppers' demands. At the same time, it provides your customers personalized functions as lower-price products.
Features:
Firstly, this extension supports the auto-approve quotes with a specified discount
Besides, the admin is able to hide prices of specific products to any customer groups
It enables to convert quotes to orders conveniently in one click
This extension get automatic reminders if a quote is about to expire
Connect quotes to other systems such as CRM, ERP using API
It also supports daily email reports of new quotes
Lastly, it allows managing all Cron tasks on a grid in the backend
2. Free Request for Quote by FME

Magento 2 Quote by FME Extensions is a free solution to enhance the quote process on your Magento store. The extension empowers the store owners with a great database management system that allows them to perform a search of specific quotes using filters. Moreover, it operates really seamlessly and is highly customizable.
Features:
Firstly, this extension provides customers with an automated Request for Quote form.
Also, it enables uploading files to complete the Request for Quote form
Besides, this extension supports notifications about the Request for Quote form via email.
Lastly, this extension helps the store owners can easily manage submitted quotes in the backend.
3. Magento 2 Request for Quote

The next extension we want to show you is one of the most powerful products from BSSCommerce. In reality, this is an effective solution to supports merchants satisfy B2B clients by providing them the ability to negotiate the product price. Furthermore, this module also simplifies the process of sending/receiving quotes from B2B customers.
Features:
Support Add to Quote for a product, multiple products, or a specific category
Make Add to quote available to specific B2B customer groups
Set a minimum quote amount for a customer group
Easily manage the requests
Customers can update all submitted quote request via email or in My Quote
Enable customers to re-submit the quotation if needed
4. Request For Quote M2

This Request For Quote M2 is a proper one for the store owners who want to allow guest visitors to request for quote. With this extension, the admin can apply to some specific customer group only as per requirements. At the same time, the customers will be required to fill a form and then the admin will contact them through email or call. Moreover, the code of extension is 100% open source. So, one can easily manage with it.
Features:
Firstly, it allows you easily apply some specific customer groups only as per requirements.
Besides, it enables displaying a phone number and request for a quote image.
Also, the admin can add terms and conditions for customers.
Lastly, the extension supports multiple languages.
5. Magento 2 Quote System by Webkul

Let's take a look at Magento 2 Quote System by Webkul and your purpose of improving your relations with customers will easily come true. To begin, this extension will allow the customers to quote for the products in Magento 2 store. Besides, it is very useful in ordering the admin products in bulk. Also, the customers can communicate with the admin for any queries regarding the quoted items.
Features:
Firstly, this extension helps to approve or disapprove quotation requests of the customers
Besides, it allows the admin to edit or delete the quotation requests from admin panel
Also, this extension sends email notification for each action to customer and admin
The admin can add image and file attachments to the quote request
Lastly, it supports the quote button popup at the front-end
6. Magento 2 Quotation Extension by Vnecoms

The Magento 2 Quotation Extension by Vnecoms enables the customer to add products to quotes and submit the quote to store owner to receive the better price. Moreover, the customers can add multiple items to quote with custom price and quantity. As a result, this extension personalizes customers' orders and increases their retention, loyalty.
Features:
Support admin to reset the quote id counter.
The admin can set default expiration time.
The admin can set default reminder notice time.
Facilitate to enable or disable uploading files function for the customer.
Enable to limit file extensions that are allowed to upload.
Support to config email templates.
Set admin emails who will get notification emails.
7. Magento 2 Email Quote by Meetanshi

Magento 2 Email Quote by Meetanshi facilitate your customers to quote for the desired price and qualities of products by emailing the shopping cart to the admin. At the same time, it supports the admin to create orders for the requested quotes from the backend.
Features:
Users can request for quote by Emailing the shopping cart.
Admin can manage requested quotations and create orders from the backend.
Admin easily create a customized order from the backend
8. Quotation Manager For Magento 2 by Magebees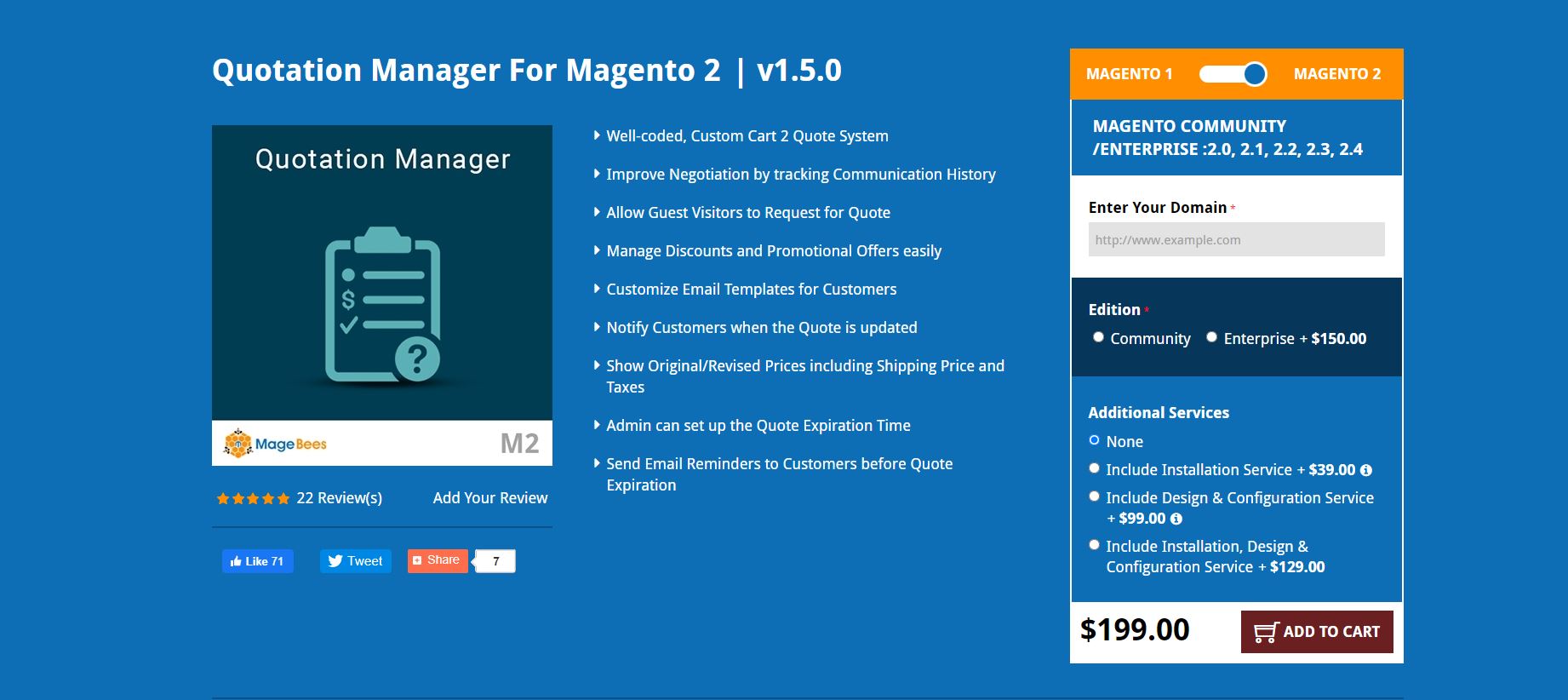 If you are looking for an effective solution to provide customized prices and qualities to your shoppers, then Magento 2 Quotation Extension is a good choice for you. To be more specific, this extension allows you to create an effective communication channel with your customers. Moreover, with this module, instead of adding products to the cart, your shoppers will be able to request a quote by mentioning proposed prices, product requirements, customization requests, etc.
Features:
Well-coded, Custom Cart 2 Quote System
Improve Negotiation by tracking Communication History
Allow Guest Visitors to Request for Quote
Manage Discounts and Promotional Offers easily
Customize Email Templates for Customers
Notify Customers when the Quote is updated
Show Original/Revised Prices including Shipping Price and Taxes
Admin can set up the Quote Expiration Time
Send Email Reminders to Customers before Quote Expiration
9. Free Magento Quote by Cart2Quote

Magento Quote by Cart2Quote is one of the great choices we would like to recommend to you. Firstly, this free tool enhances Magento stores with a Request Quote and Submit Proposal functionality. That means your customers can request the quotes and wait for your anwer with custom price proposals. Finally, the agreed price proposals can be converted to order easily
Features:
Firstly, this extension allows displaying won/lost and open requests in a dashboard.
Besides, it also supports a customizable quotation form that links to your product catalog.
The admin can receive instant notification if any user submits a request.
Also, the customers easily create custom price proposals in seconds.
Lastly, the admin manage all proposals in one place in the backend with ease.
10. Request For Quotation by CedCommerce

This Magento quote extension provides an effective way to improve your relations with Customers. That means customers have the ability to negotiate prices and quantity with the admin. Likewise, your customer will be able to quote multiple products at the same time. Besides, this extension has no errors during installation and operates very smoothly. It's also compatible with diverse Magento 2 themes.
Features:
Firstly, this extension allows customers to quote multiple products at the same time.
Also, the admin could access all quotes easily in the front end.
Besides, it enables editing their quotes before approval.
This extension allows estimating shipping rates according to shipping methods.
The admin can easily approve/reject PO
Lastly, this extension enable to checkout if the PO quantity and price are approved.
Are you looking for more effective solutions to improve your Magento 2 store? Check out robust Magento 2 Extensions or Magento 2 Themes at our website or contact us to get personalized consultation on your online business.