Magento pdf invoice extension: Top 10 best ones to reduce your workload in issuing invoices
An invoice is the confirmation of the sellers with the buyers about their orders. So sending invoices to customers is necessary for every online business. However, to create, send and attach PDF invoices to customers manually, Magento businessmen will take a lot of time and effort. Hence, installing a Magento pdf invoice extension will help you much to reduce your workload.
Here are the top 10 best extension that Arrowtheme suggests for your stores.
Magento pdf invoice extension is a great solution to create PDF invoices for your stores. Firstly, it provides you with 12 available PDF templates. Also, these templates are updated regularly. Secondly, you can add some adjustment to the template to match your brand. Thirdly, it allows you to insert more information about your store such as name, address, VAT, logo, images and so on. Furthermore, it supports Barcode and QR code for billing document. So customers can access important information quickly. In addition, you can send PDF invoices to customers, download them or print them out. This extension supports you with different paper size such as A4, A5, … Finally, it helps you print in mass and requires customer's authorization for downloading.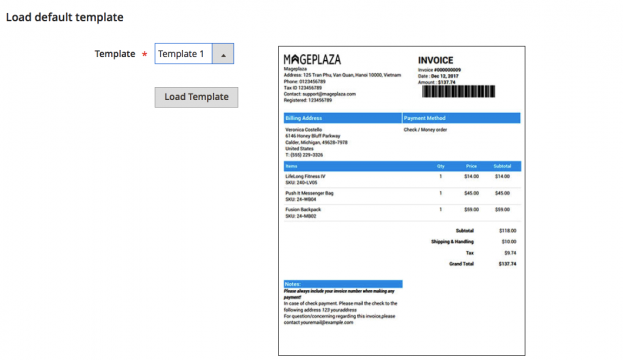 Price: $199
PDF Invoice allows your customers to download a PDF invoice on the account page. From that, it satisfies customers and improves their experience. You can use this extension without coding knowledge. Also, it will run automatically without customization.
In general, it provides your customers with PDF invoice at a reasonable price. This extension is very suitable for store owners who have a limited budget.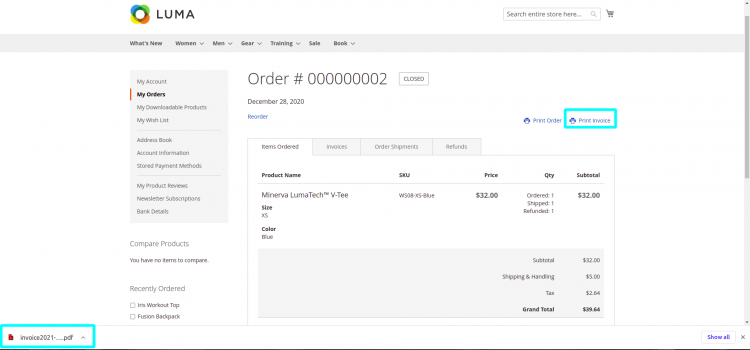 3. Pretty Invoice PDF by EC4YOU
Pretty Invoice PDF brings to your store many colourful PDF invoices. Instead of standard invoices, you can customize your PDF invoice with many options. First of all, you can change the colours of the heading backgrounds, texts, borders and invoice parts with a color picker. Secondly, you can add more information about your company. Thirdly, you can edit the footer messages. For example, you can write "Thank you", "Wish you a good day" for customers. So customers may feel happy and love your brand more. At last, this extension offers you a quite cheap price.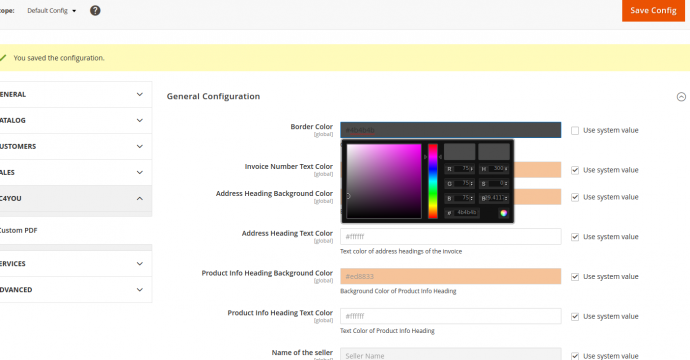 Price: $29
PDF Invoice Pro helps you create professional PDF invoices quickly. Firstly, you can use drag and drop to allocate the elements as you want. Secondly, it offers you a flexible change. You can adjust the width, height, background colours, font size of the invoices, and so on. Thirdly, this extension supports you with translation into many languages. You can see all the changes in the preview mode. Also, it has a testing tool for creating PDF document. Even more, the feature "element lock" of this extension fixes the elements to avoid moving accidentally. In addition, it allows you to import and export templates. Finally, it automatically attaches PDF documents to related emails.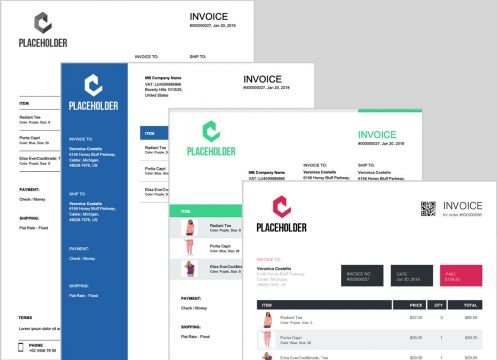 Price: $74
PDF Invoice provides you with customizable PDF invoices. Firstly, it installs your store with GrapeJS – a template editor. This will help you create HTML templates by an easy drag-and-drop. You can select elements to add to your invoices and match your brand. Secondly, you can choose templates for PDF order, invoice, shipment and credit memo. These templates are numerous and customizable. Thirdly, it supports you with many paper size for different purposes. In addition, it allows you to see the preview PDF template before sending it. Moreover, invoices are sent to customers in PDF via email. At last, customers can print out the PDF invoice on My account page.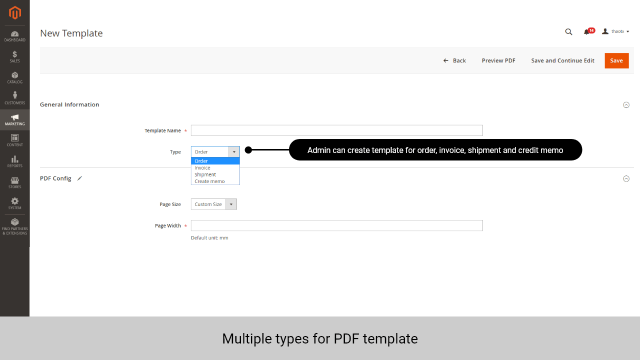 Support:
6-month free support
Free lifetime updates
Price: $119
This extension gives you a solution for fast PDF invoice generation. Firstly, it converts your HTML code to PDF templates. Also, you can use CSS to apply colours, margins easier to PDF billing documents. Secondly, it allows you to insert product images and product attribute into the PDF invoice templates. Thirdly, it supports you with a large number of printing orders, invoices, shipments and credit memos. In addition, you can print packing slips as orders in pending status. Moreover, it attaches PDF files to emails for customers. Even more, this extension translates your orders into some languages such as Arabic, Cyrillic, Chinese and other non-Latin symbols. Finally, it has the preview mode for you and reduces 30% PDF size compared with Magento default.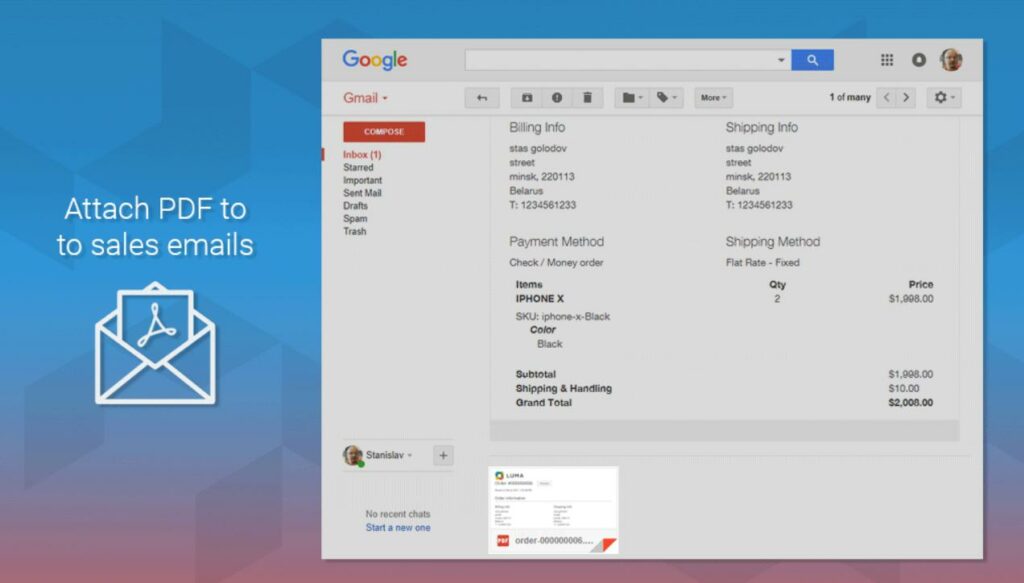 Support:
60-day money-back period
Update free
Free bugfixes
Free technical support
Price: $139
PDF Invoice Pro assists you with PFD invoice customization. Firstly, it allows you to customize all orders, invoices, shipments and memo PDF templates. Secondly, you do not need to know about HTML/CSS. But you still can build template in HTML/ CSS standard. This extension provides you with the Page Builder to do so. Thirdly, you can easily insert Barcode, QR code of order ID, Invoice ID, product SKU, tracking code … into your PDF Invoices. In addition, it supports you with email attached PDF documents. Moreover, it can translate languages into English, Thai, Chinese, Japanese, Hebrew, Vietnamese, Arabic and German.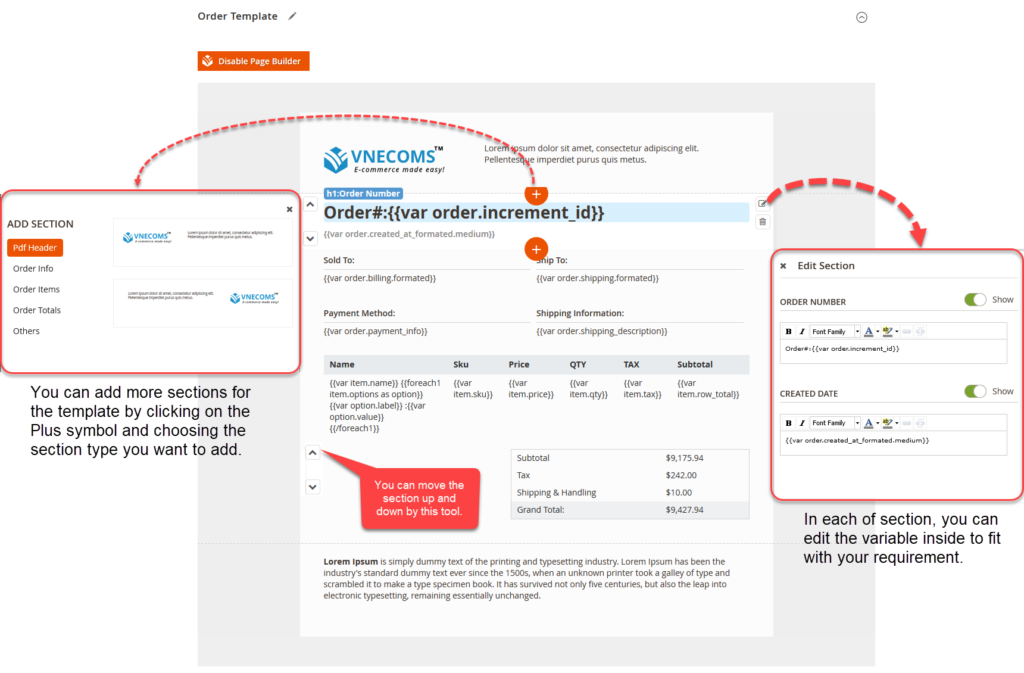 Price: $99
PDF Invoice extension makes your invoice outstanding from other brands. Firstly, it does not require technical knowledge to use this extension. Secondly, you can adjust the header, footer and body of the PDF billing documents. Thirdly, you control all the design of each invoice. Moreover, this extension can generate separate invoices for each store. Also, you can add your store information to the PDF invoices. Additionally, the admin can create the PDF documents from the grid view. Finally, it allows customers to download PDF order from the frontend.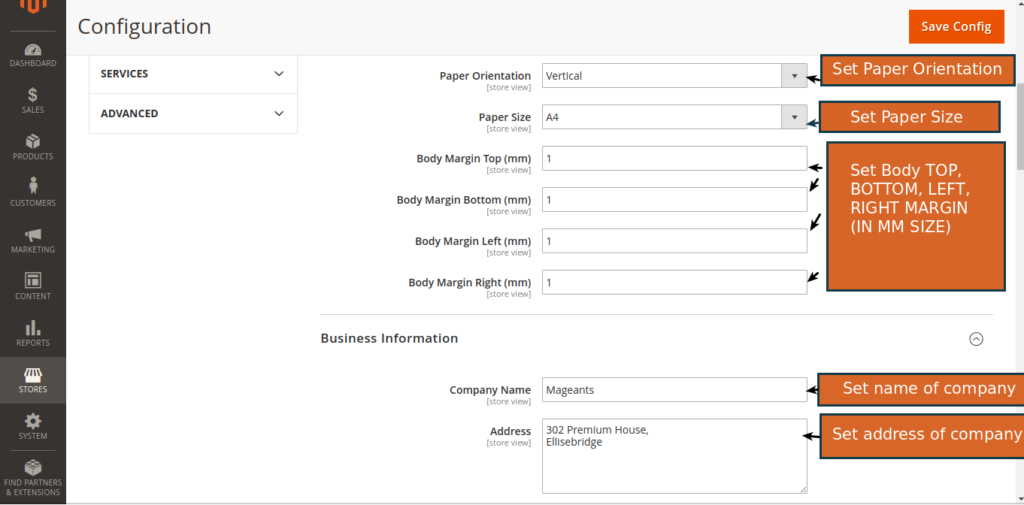 Support:
30-day money back
90-day free support
Free update
Price: $99
This extension will save a lot of time for you by creating PDF templates from 4 types of documents: invoice, order, shipment and credit memo. It offers you 5 pretty designs for these documents. You can edit the contents in the template HTML and CSS Code. Also, you can add available variables and QR code, barcode to PDF invoices. Furthermore, it automatically attaches PDF link to the sales emails. Finally, it benefits customers by permitting downloadable documents.
Price: $79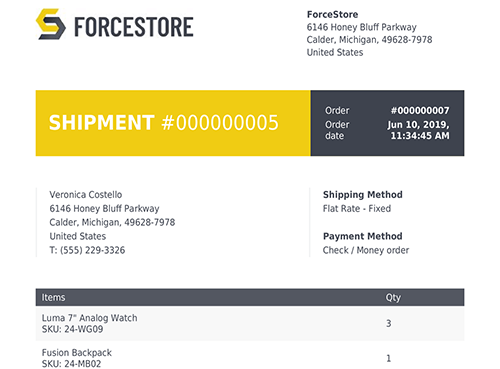 10. Invoice PDF Generator by Eadesign
Invoice PDF Generator is a free extension that creates PDF invoices for different stores. It is suitable for people who own a lot of stores because it allows you to personalize each store. To start with this extension, you need to add a new template from the library. Before using it, you have to enable templates. Also, you can set this template as default. Besides, it allows you to fill template name and description. Then, you can choose the store which applies the template. It permits you to edit the body, header and footer of the template. In addition, the template CSS field is used to generate your own style. Moreover, it also supports you to send emails with PDF documents for customers.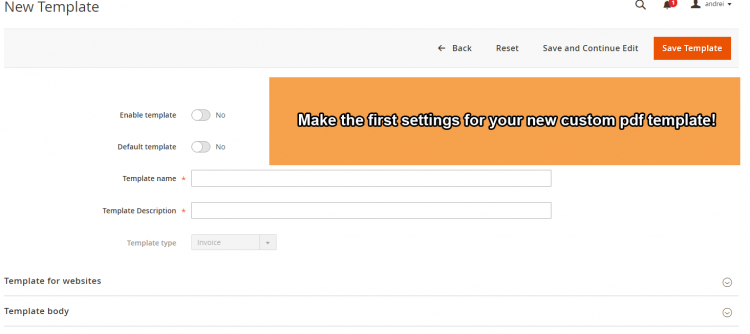 Price: Free, additional fee for installation may be charged
To sum up, Magento PDF invoice extension will help store owner create appealing PDF documents and increase brand loyalty. Arrowtheme wishes you the best choice!
On the other hand, Arrowtheme is providing many eye-catching and free Magento themes. See more here!