Magento rich snippets extension: Top 10 best free and premium ones for Magento 2 stores
Magento rich snippets extension provides Google and other search engines more trustful information about your business and your products. Hence, it will be considered as a must-have tool for a higher ranking on the search result. Presently, there are many rich snippet extensions on the market. And you are confused about selecting the best one to upgrade your website. Arrowtheme will help you!
1. Google Rich Snippets by Magesolution (Free)

The first extension in our list we highly recommend for you is "Google Rich Snippets" by Magesolution. In fact, although a Free Magento extension, it is one of the prestigious providers in the market. Indeed, this extension also helps you to improve the website's visibility and the overall customer experience as well. By installing rich snippets, you will accurately segment users and help search engines better information placed on your e-commerce storefront.
Key features:
Provide rich snippets of breadcrumbs to allow users to know where they are on the website at the present.
Initiating rich snippets with name, logo and more information of your organization.
Display search box as a homepage input in search results.
In the category page: Showing average-rating products and starting price data
Adding availability status and condition tag of products to rich snippets
2. Rich Snippets by Mageworx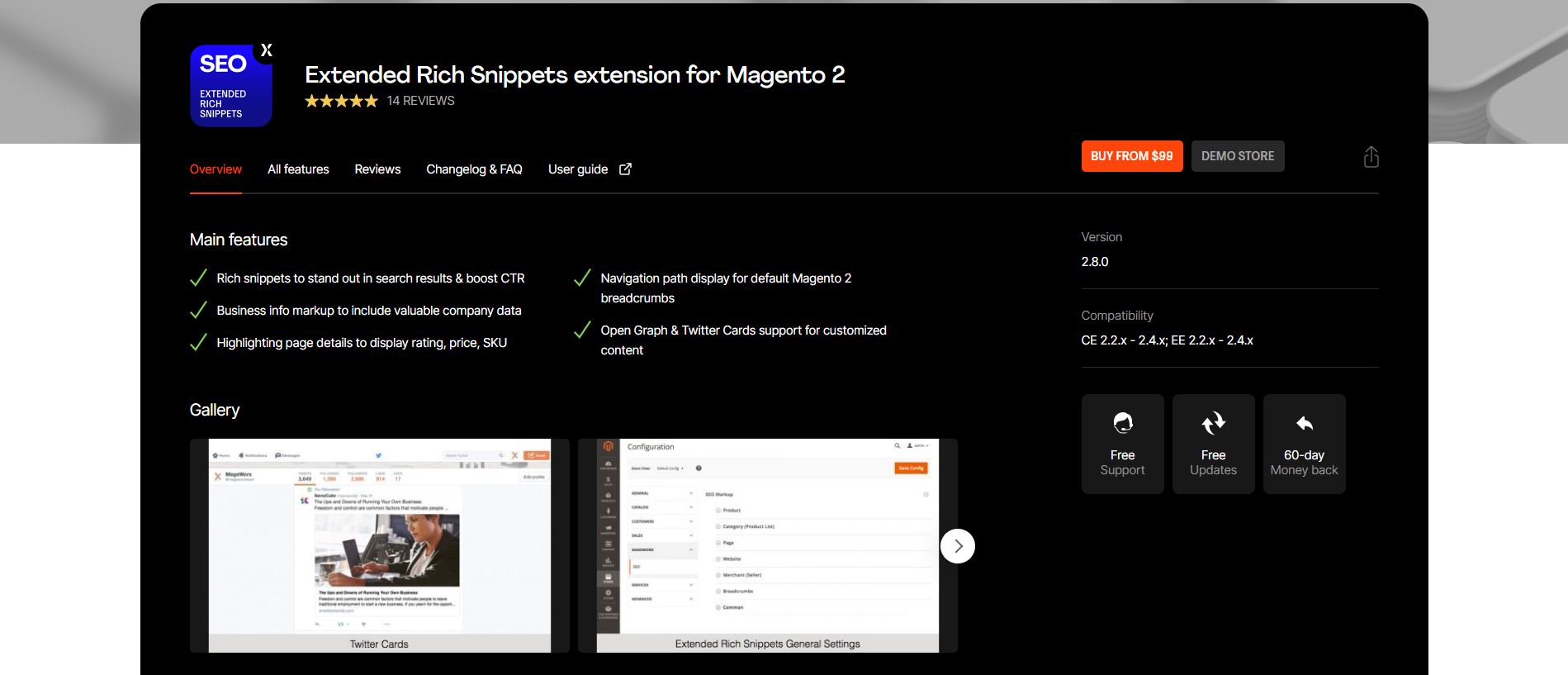 Another extension we want to mention in the topic is "Rich Snippets" by Mageworx. In fact, this extension helps to improve usability and attract more potential customers by adding Rich Snippets for Google Search, Facebook Open Graph, Twitter Cards, and Pinterest Rich Pins. As a result, customers already have an idea of what your webpage is about.
Key features:
Support the rich snippets to stand out in search results & boost CTR
Business info markup to include valuable company data
Showcase page details to display rating, price, SKU
Navigation path display for default Magento 2 breadcrumbs
Support Open Graph & Twitter Cards support for customized content
3. Magento 2 Structured Data by Bsscommerce

The third extension on this list is the Structured Data developed by Bsscommerce. Like the first two extensions, this extension is another helpful extension to optimize your web pages for search. In detail, this tool allows you to add rich snippets, breadcrumbs, rating, price, review… for products, and other information of your Magento 2 store in search result pages.
Key features:
The admin is able to show various Rich Snippets for the product (price, rating, review, availability, brand, category, custom properties).
Show rich snippets for categories (name, description, image, product offer).
Enable breadcrumbs (show navigation path) in the search result.
Show Rich Snippets for business information (name, logo, business type, contact, social links, etc..) on SERPs.
4. Google Rich Snippets by Swissuplabs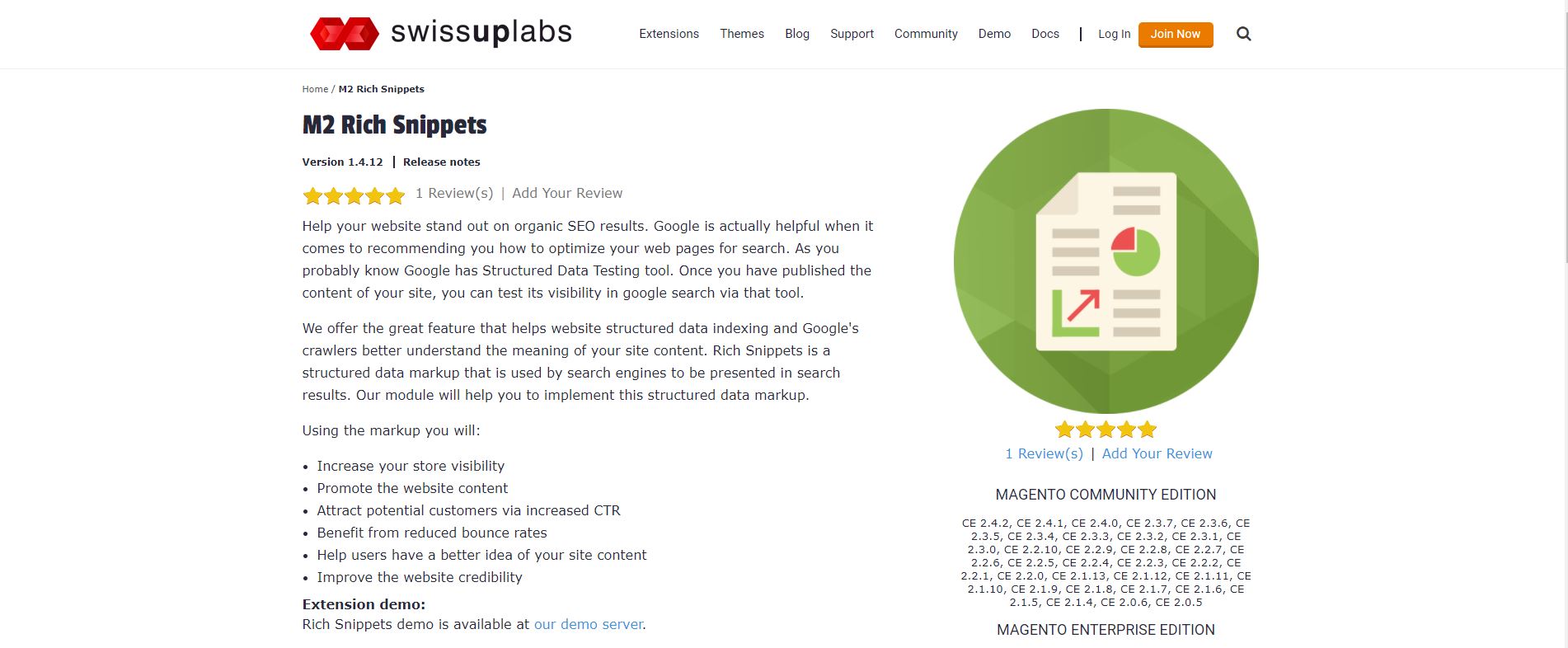 Another extension we want to mention in the topic is "Advanced Review Extension" by BSScommerce. In fact, this extension permits you to show breadcrumb trails to potential customers on the search result page. Thereby your leads will easily navigate to the appropriate catalog pages. In this way, this tool helps you to improve customer loyalty as well as get much traffic.
Key features:
Mark up your site content with rich snippets
Enable to show Rich Snippets (price, rating, review, availability) for product and category
Easily create a breadcrumb trail
Easy to install and configure
5. Rich Snippets by Welt

Coming to the next position is Rich Snippets by Welt which helps the store owner to grab users' attraction with eye-catching text across Google search results. By installing this extension, you achieve a better distribution of your content to visitors from search. Furthermore, it also allows you to add both aggregate rating and also latest user reviews: author, date, message, rating, review name.
Key features:
Product Structured Data
Website Structured Data
Twitter, Facebook, Pinterest Structured Data
Aggregate review rating
Rich Snippets Logo
6. Google Rich Snippets by Amasty

With the number of features it delivers, no doubt, Magento rich snippets extensions by Amasty is a popular extension ready to mark up your site content with rich snippets. In detail, this module helps you to improve the visibility of your website with Magento rich snippets display. Besides, this extension helps to highlight necessary information in search results to draw highly more potential customers to your store.
Key features:
Support breadcrumbs for rich snippets
Easily create rich snippets with organization name and logo
Enable to show search input box for a home page in search results
Allow to show average products rating and starting price data for category pages
Add products availability and condition tag to rich snippets
7. Rich Snippets Suite by Magmodules

If you are looking for a useful extension to improve your search engine rankings. We recommend that you take a look at "Rich Snippets Suite" by Magmodules. In fact, this extension allows showing brand, stock information, model, and product identifiers as SKU/GTIN. Besides, this extension is completely designed according to the Google Rich Snippet and Google Shopping Requirements to make your online store stand out.
Key features:
Firstly, it supports Website Rich Snippets
Also, the admin can add LocalBusiness Rich Snippets
Besides, this extension supports Organization Rich Snippets
At last, it comes with unlimited store views
8. Google Rich Snippets by Mconnectmedia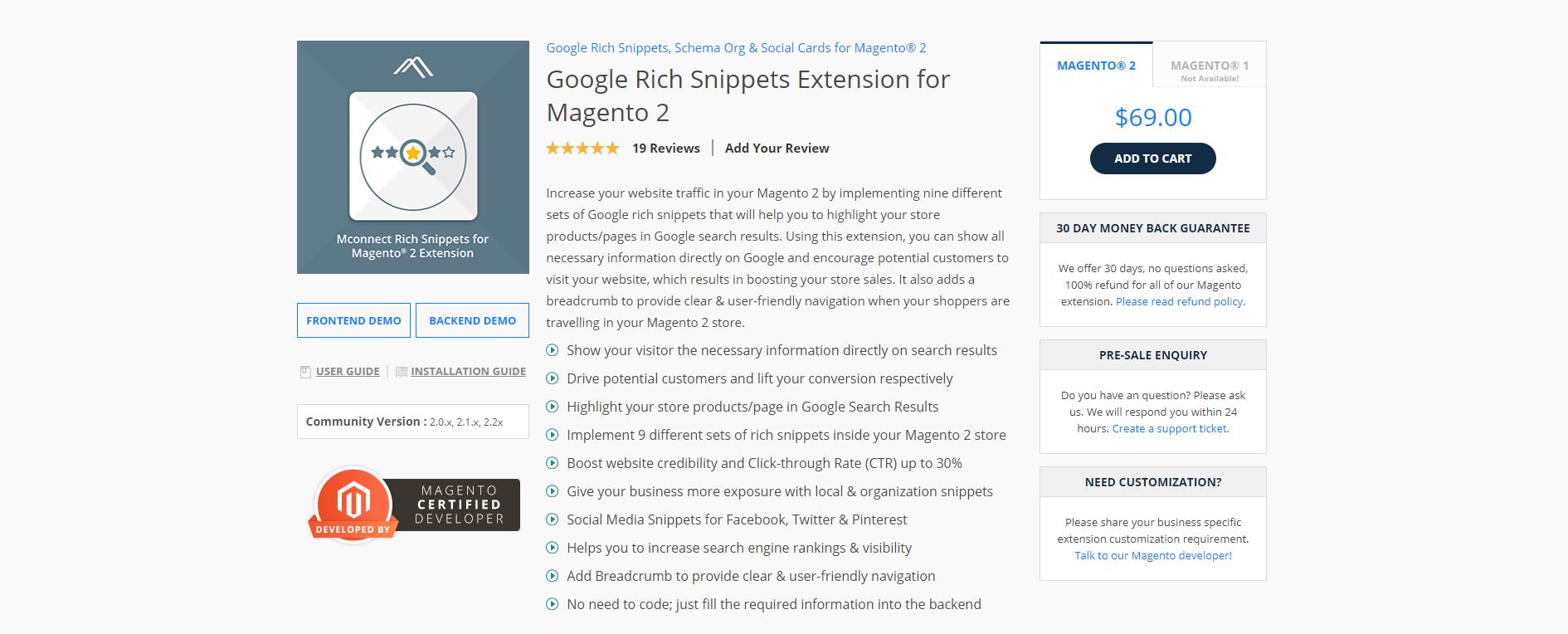 Still, you want a better option? so have a look at the "Magento rich snippets extension " by Mconnectmedia. Indeed, this tool helps you to improve the traffic by applying 9 different sets of Google-rich snippets. Besides, you can show all crucial information directly on Google and encourage potential customers to visit your online store. On top of that, it also provides a clear & user-friendly navigation to support shoppers when visist your website.
Key features:
Firstly, this extension allows you to display breadcrumb in SERPs
Secondly, it enables to display company or business information
Besides, it allows the merchants to leverage social media
Also, this tool provides an on-site search box
At last, the admin can show the site name with breadcrumb
9. Magento 2 Google Rich Snippets

The next product is provided by Mageplaza that is a well-known brand for providing a lot of helpful extensions for the eCommerce store. This extension equips you with an automatic feature to prevent duplicate content problems. Moreover, your SEO performance will improve significantly thanks to the schema structured data of Mageplaza.
Key features:
Firstly, it helps you to prevent duplicate content problems
Structured Data
Besides, it supports the Metadata template rules
Also, it offers Page Analysis (Rich Snippets preview)
At last, it is very easy to install and configure
10. Google Rich Snippets by FME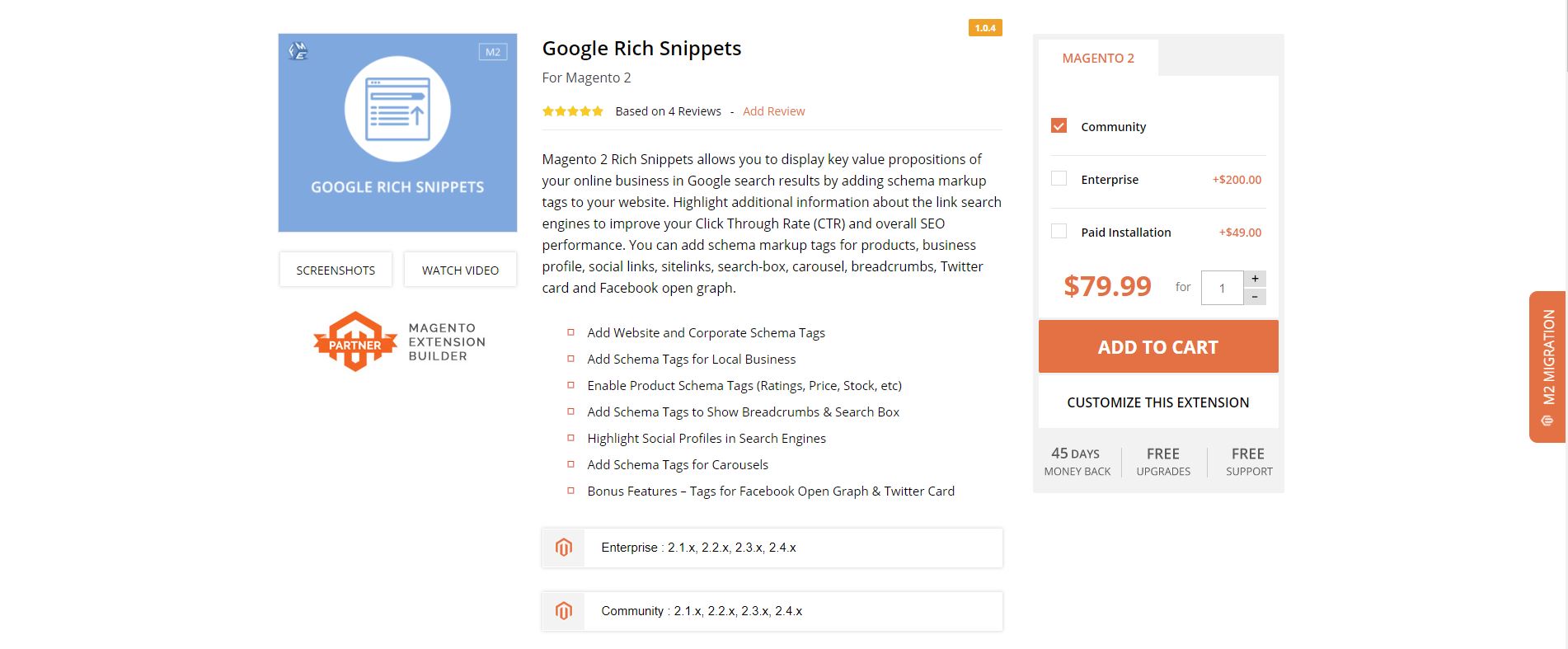 The last product in the collection you should also pay attention to is "Google Rich Snippets" by FME. It provides an amazing method for promoting your business. In detail, this extension allows the shop to easily showcase key value propositions of your business in Google search results by adding schema markup tags. As a result, it helps you highlight the nessery information on search engines to enhance your Click Through Rate and overall SEO performance
Key features:
Firstly, this extension enables adding Website and Corporate Schema Tags
Secondly, it supports adding schema tags for local business
Thirdly, the admin is able to enable product schema tags (Ratings, Price, Stock, etc)
Also, the admin can add schema tags to show Breadcrumbs & search Box
Besides, the admin can highlight social profiles in search Engines
At last, it allows adding schema tags for carousels