Magento testimonials extension: Top 10 best ones to engage more customers and double sales for your stores
If you expect to build a successful ecommerce store, one of the most important sections you must focus on is Testimonials. In fact, it plays a significant role in building brand's trustworthiness as well as enhancing more and more engagement. Then, boosting double sales as a great result for your store. In order to achieve this goal, Arrowtheme will review Top 10 flawless Magento testimonials extension for you. So, what are you waiting for without exploring them right now!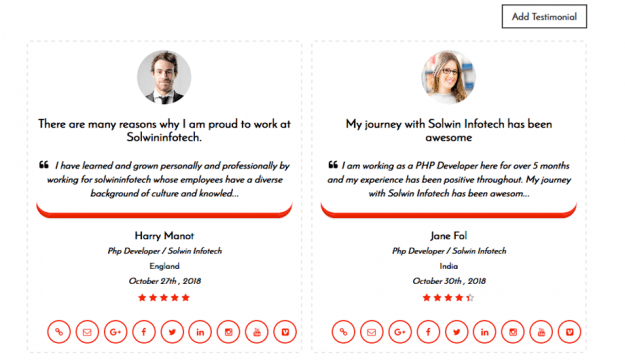 The first testimonials extension we highly recommend for you is Advanced Testimonials. In fact, it is one of the most powerful solutions for store owners to engage more customers as well as double sales for their ecommerce stores. Besides, it also brings customers the best experience whenever shopping in your store. What's more, it enables shopkeepers to add photographs to be shown on the testimonials page. In particular, from the admin control panel, the store owner may also create a bespoke transactional email template. Best of all, it comes with over 9 flawless layouts. As a result, you can display your testimonials effectively in the highlight section on your website as you want.
Outstanding features:
User-friendly interface
Allow you easily upload images as well as videos for each testimonial
Using a WYSIWYG editor to create eye-catching testimonial content
Provide Google ReCaptcha functionality.
If you expect a free method to build testimonials for your ecommerce stores, you should take a look at this one by Templates Master. First and foremost, it is an excellent solution in order to drive client's loyalty. Besides, thanks to it, your visitors are encouraged to know what other customers think of your website, how they rate the store's services, and so on. Moreover, you may display more user impressions of your store products by including a testimonials form. Therefore, customers' reviews will assist you in instantly converting your sales into online promotion.
Highlight elements:
Enables customers easily put testimonials on your store that don't need to log in
Product reviews should be imported into the testimonials.
Captcha can also be enabled on the testimonial submission form.
Coming to another Magento testimonials extension you must know to develop your online business – Customer Review & Testimonials. Firstly, this extension was created with the goal of assisting you to display previous customer's positive reviews for potential visitors. Hence, it will easily build the trustworthiness for your brand and then, it will help you drive more sales quickly. In addition, to make your reviews look real and appealing, it also includes a client photograph, present pros and cons, format content, add pagination and so on.
Key features:
Manually enter reviews on behalf of your consumers.
Display all of the client testimonials on a separate testimonials page.
Show reviews in a simple or detailed format.
Organize your reviews in a convenient grid.
Admin response, answers, comments, and customer rating can be enabled or disabled.
4. Testimonial Slider 
The next Magento testimonials extension we want to suggest for your ecommerce store to engage more clients is Testimonial Slider. In fact, this wonderful extension is one of the most outstanding solutions for showcasing amazing client stories and their experiences on the front end. Thanks to these, your store will effortlessly enhance its awareness, then boosting sales is easier than ever. What's more, it also comes with a wide range of smart features. Below are some outstanding of them:
Highlight features:
Support a front-end form for collecting testimonials quickly.
Use Shortcodes to display testimonials on CMS pages and static blocks.
Integrated social network and star rating
Upload a personal photo or a company logo with ease.
Testimonials by Sparsh Technologies is a worth-trying solution that any store owner should integrate for their stores if they want to build a great reputation in their customer's mind. Although it is free, it is not as inferior as any ones in the global world. Besides, it is a fantastic way to show that your brand or site is well-liked by the public, has positive feedback, and happy customers. Not only that, it also consists of a written or spoken proclamation praising the temperance of a particular item.
Outstanding elements:
The testimonials were approved both automatically and manually.
Audits performed by new guests without requiring a login are included.
Support for multiple stores and languages.
Keep track of and double-check the entire testimonies process.
Use widgets to make the testimonials posting process go faster.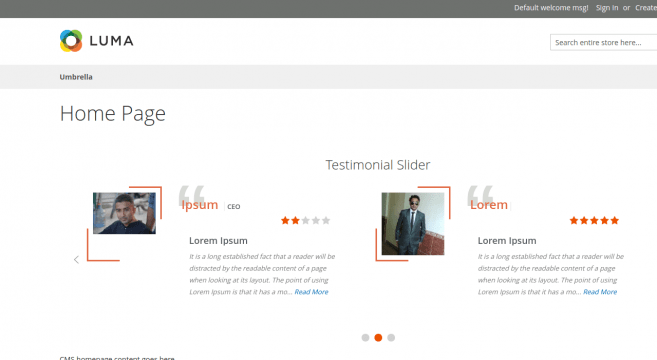 Another free Magento testimonials extension you should know in order to help your online store have a leg up in the market is Testimonials by Commersys. In reality, it is one of the most effective ways for shopkeepers to display previous customer's reviews on your website. Alternatively, it contains every method of presenting social proof, as well as the ability to add a picture and a link to a website, ensuring the reliability of testimonials.
Highlight features:
Allowing customers to leave a testimonial is beneficial. Multi-Store
After Admin Approval, enable or disable the display of testimonials.
On the homepage, enable or disable the Testimonial Featured Testimonial.
In the header/footer, you can easily add or remove the Testimonial link.
Rating of Testimonials.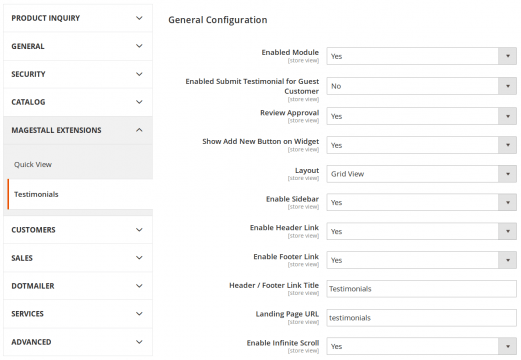 In case you're seeking a magnificent method to boost engagement as well as drive more revenue for your online store, Testimonials by MageStall is really the extension you should consider. To begin, it makes an allowance for you to display testimonials in a grid or slider format on the front end of your store. Besides, it includes tons of beneficial functionality, and all of them are fairly flexible. This is because it allows you to obtain testimonials via widgets or pop-up forms.
Notable elements:
Very easy to use and friendly with users
Configuration options abound.
Text testimonials can be sent using this simple form.
You can also upload video testimonials
Ability to manually or automatically approve testimonials.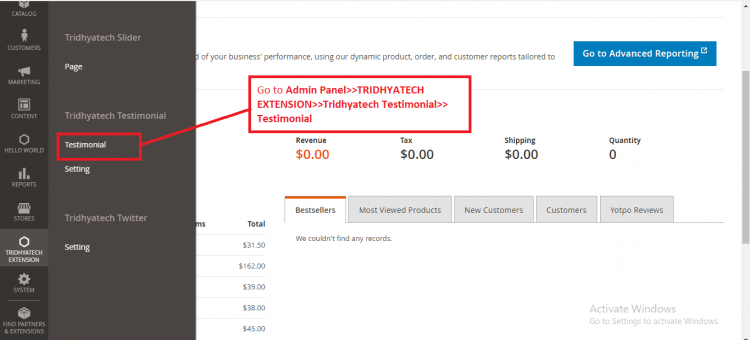 Looking for an effective solution that can push your store to stand out and easily boost engagement compared to competitors? Then, you can't ignore Customer Testimonial. First and foremost, it was built with the aim of assisting you in seamlessly transforming your sales into website promotion. With this in mind, it created a plugin that allows consumers to leave evaluations on the website. As a result, it will help your store increase the loyalty of customers and it will become the foundation to attract more potential customers in the future.
Awesome elements:
Using the "Enable Captcha" button, you may enable captcha in the testimonial form
From the admin interface, you can add, update, and delete testimonial data
Ability to change testimonial status from pending to approved.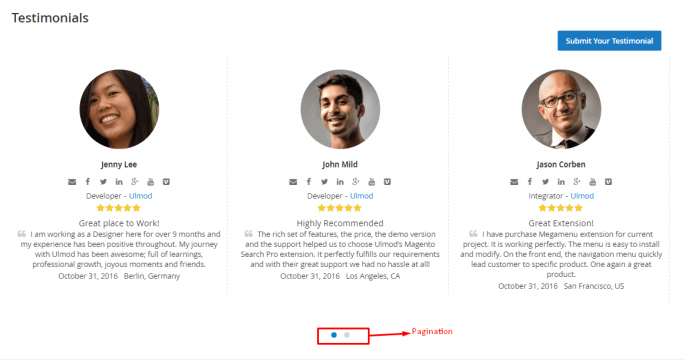 Testimonials by Ulmod is an eye-catching testimonials extension for any store owner who wants to get success in generating more engagement. In reality, it will let you collect and display useful feedback from your satisfied previous customers on your website. Hence, it will increase the trustworthiness for your brand and grab customer's attention at the first glance. Furthermore, thanks to it, customers can leave their feedback using a customisable form. Also, to collect more information from your consumers, you can add more fields to the testimonial form.
Key features:
It can help you build greater trust.
List, Grid, and Slider are the three templates available.
On the new page, there are up to four layout pages available to display the testimonial form.
Facebook, Twitter, LinkedIn, YouTube, and Vimeo are examples of social media platforms that should be supported.
10. Magento Testimonials extension by V Group Inc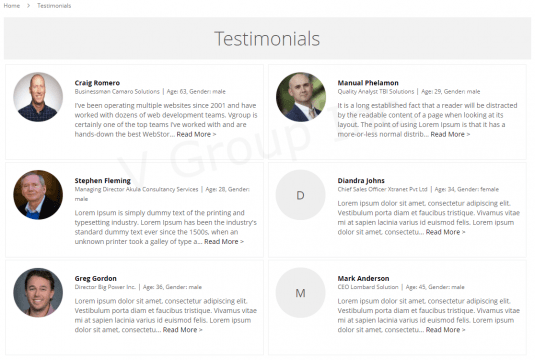 Last but not least is an extension from V Group Inc. In fact, testimonials are a terrific way to show off what your customers have to say about your services and products on your website. Merchants may use this extension to manage and display client testimonials on their websites. What's more, from the dashboard, merchants may add, update, and delete customer testimonials. Not only that, customers are able to leave testimonials on any page of the site thanks to the Testimonial extension's customisable widget.