Magento wishlist extension: Top 10 best ones to optimize customers' shopping experience and profit for your stores
A wishlist is a list that saves all the customers' favourite products of your store. So they can review later and make decisions more easily. Also, shoppers can share their wishlists with their friends. Hence, a wishlist contributes greatly to the customers shopping experience. For online stores, the Magento wishlist extension is an effective tool for store owners to satisfy and engage with customers.
So Arrowtheme wants to suggest to you the top 10 best Magento wishlist extension to optimize customers'shopping experience and profit for your store.
This wishlist extension allows customers to add any products to their wishlist and organize them logically. Firstly, shoppers can create various wishlists based on their needs. For example, lovely skirts, lovely T-shirt, lovely bags and so on. In addition, customers can add the wishlist into the cart to purchase more quickly. Secondly, customers are free to edit their wishlists. They can delete the items that are out of stock, move products to other wishlists or duplicate the items. Thirdly, the admin will receive a report about customers'wishlists. From that, you can understand more about the customers, the popular items to do marketing campaign effectively. Furthermore, you can allow showing all the items tab. Finally, customers can share their wishlist via social channels or emails.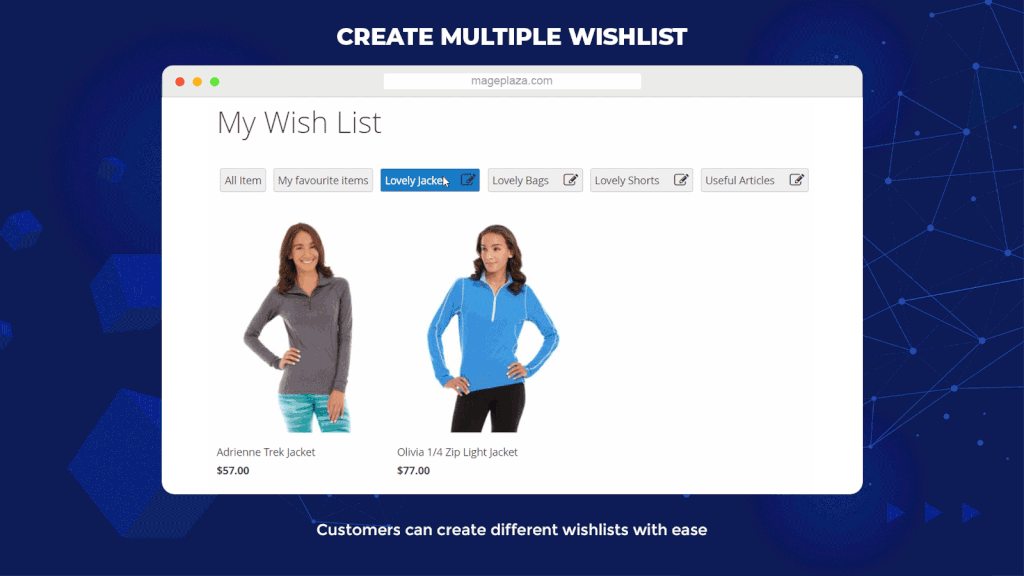 Support:
60-day Money Back
Lifetime Update
365-day Support
Price: $129
Multiple Wishlists by Landofcoder brings to your customers various and customized wishlists. Firstly, customers can generate a lot of wishlists within your stores. They can freely choose the name for each wishlist. Secondly, this extension allows shoppers to manage their wishlist with ease. Shoppers can choose to the public their wishlist or not, add wishlist to the cart or see all the detailed information about the wishlist. Also, a "Share Wishlist" button is available for customers. They can click anytime to send messages and share wishlist with their friends via emails. Furthermore, the admin can enable or disable the module, delete products from the wishlist after customers add them to the cart or redirect shoppers to "My wishlist" page.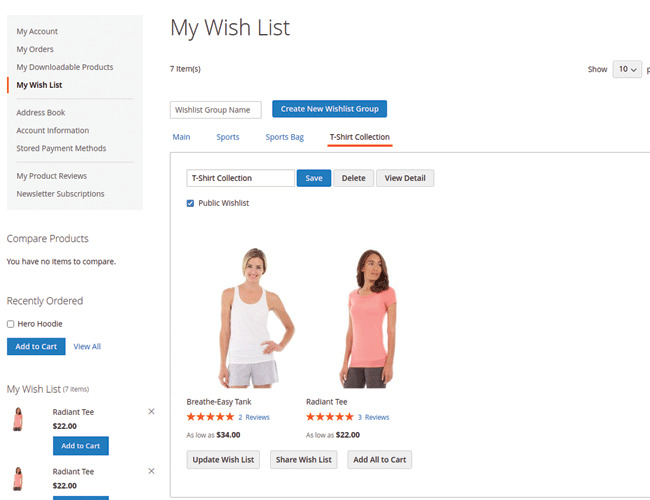 Support:
30-day Money Back
Free 6-month support
Lifetime updates
Price: $89
This extension helps you decrease the cart abandonment rates by offering wishlists for customers. Firstly, shoppers are allowed to add unlimited items to their wishlist. So they can watch and consider these items later. Then it will increase the likelihood to convert a wishlist into a purchase. Secondly, customer can manage their wishlists wisely by creating new ones, moving items from wishlist A to wishlist B or remove unneeded items. Also, shoppers can write notes and comments about the products in the wishlists. Thirdly, this extension supports shoppers with adding products via SKU and product name. In addition, shoppers can see the most wanted products to buy before it is out of stocks. Finally, this extension helps the admin do statics to know the most often items. So store owners can serve customers better.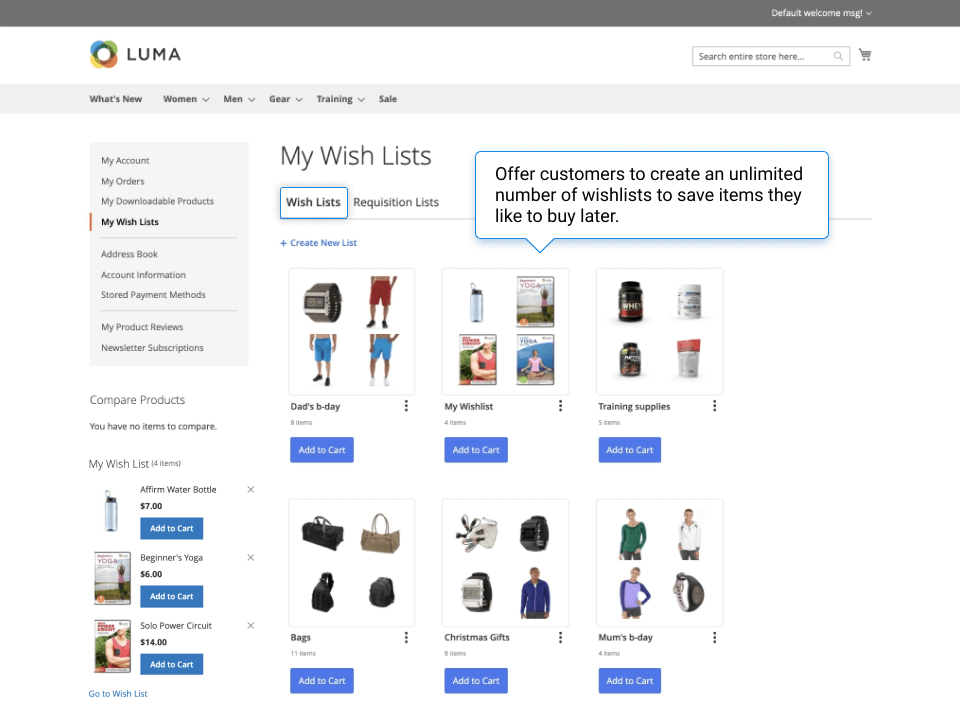 Support:
60 Days Money Back
Free Lifetime Updates
90 Days Free Support
Price: $109
Multiple Wishlists extension brings to your customers a more convenient way to use wishlists. Firstly, shoppers can use a popup to add favourite products into wishlist. The number of wishlists is not limited so customers can create as many as they need. Secondly, there are many functions for customers to manage wishlists. For example, copy a wishlist, create new ones, move items or delete all. Thirdly, the admin has the right to display the wishlist or not. Also, you can enable "Remove after adding to the cart" or "Redirect to Wishlist page". These settings are fast and easy to use.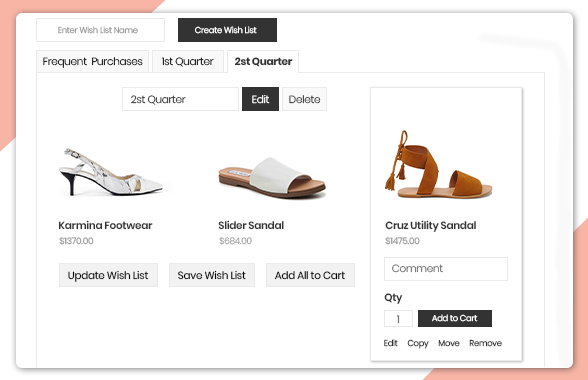 Support:
1-Year Free Support
Lifetime Update
30-Day Money-Back
Price: $89
This extension provides your store with a solution for saving customers'preferences. Firstly, customers can create many wishlists based on their demand. They can personalize their wishlist for future reference. For example, they can edit the name to remind such as "Cheapest Products in the Collection". Also, you can freely add, move or copy any items in the wishlists. Secondly, this extension supports customer to plan their future purchase. It helps them create a future purchase list in their wishlists. Moreover, shoppers can use wishlist via an instant popup to save items from any pages. In addition, customers can choose email templates to share wishlists with others. Besides, store owners can use the coupon generator extension to give discounts to the items in the wishlists. Therefore, store onwers boost more sales.

Support:
Free lifetime updates
90 days of free support
30 days money-back guarantee
Price: $89
Multiple Wishlists offers your customers personalized wishlists to have a better customer shopping experience. Firstly, shoppers can add any favoured products to new or premade wishlists. So they can find it easily and refer later. Secondly, customers are allowed to use multiple wishlists. They can insert products from any page into the wishlist. Moreover, customers control all the items in their wishlists. For example, move, delete or copy items. Additionally, they can share wishlists with others via social media. Finally, admins can manage the visibility of multiple wishlists.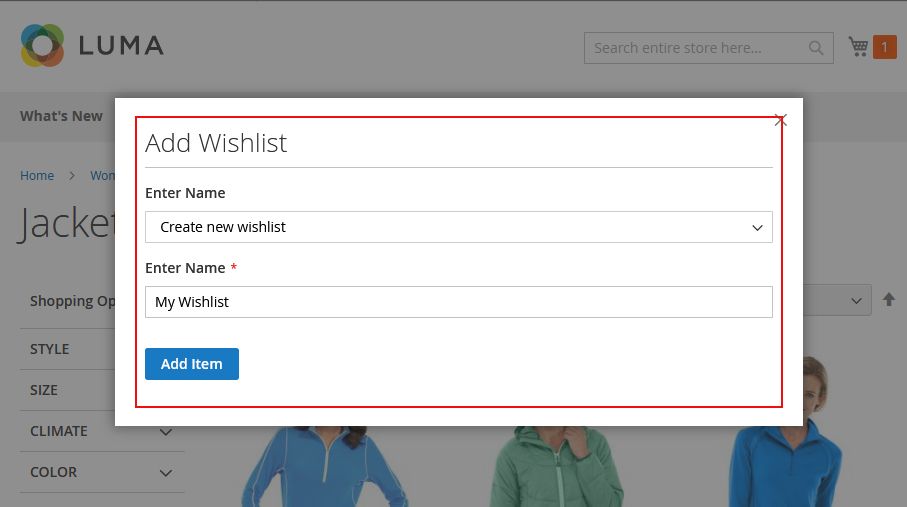 Support:
30-day Money Back
90-day free support
Price: $59
7. Multiple Wishlists by Webkul
This extension helps you satisfy customers by creating wishlists for them to refer to later. Firstly, customers can create a lot of wishlists for different purposes. They can select numerous products to add to their favourite items. Secondly, customers can directly add all the products on the wishlist into the cart for checkout. Thirdly, they can remove or transit any undesirable products in the wishlists. Also, this extension will update your products on the wishlists. Additionally, it allows them to share wishlists via emails. Moreover, it will notify you when customers add products to the wishlist. Finally, when products is out of stock, customers can track the product's status.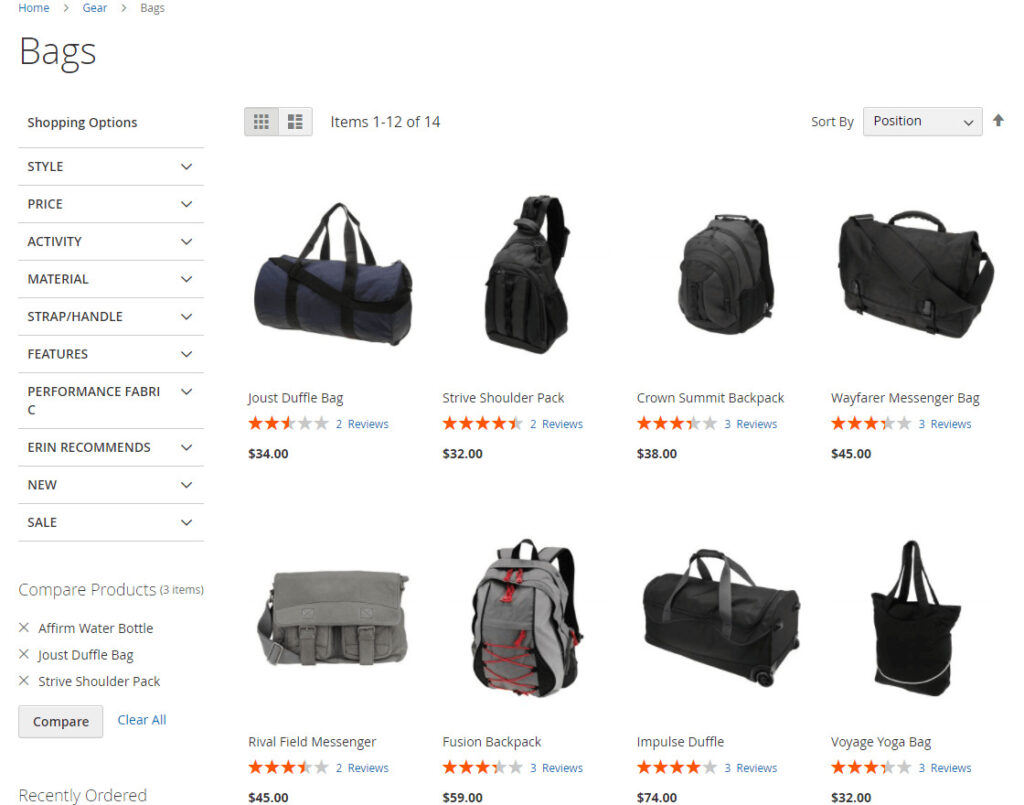 Price: $99
Multiple Wishlists extension allows customers to have numerous wishlists instead of one wishlist by Magento default. Firstly, customers are free to organize, sort and delete all the wishlists. So customers can buy repeated purchase easily. Secondly, customers can send their wishlists to their friends for reference. Thirdly, the admin can view and edit all the wishlist by the dashboard. Therefore, you can find more insight from customers. Additionally, you can give them discounts to gain more revenue.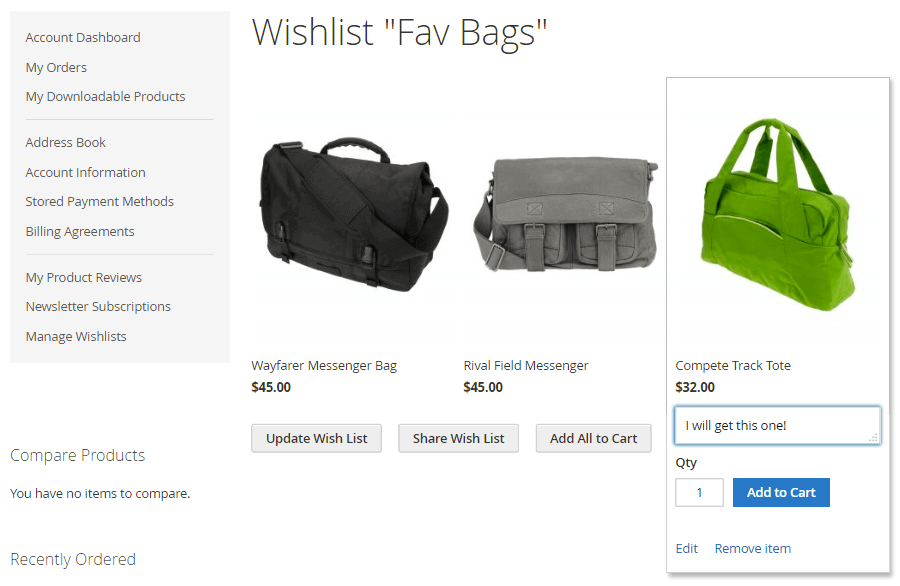 Support:
Free 12- month support
Price: $99
9. Advanced Wishlist by Tigren
The Advanced Wishlist Extension offers many expanded features of wishlists for your store. First of all, shoppers can add products on the Homepage, Category Page, Products Page or even Shopping Cart to their wishlists. Secondly, shoppers take control of their wishlists. They can delete items, update product attributes or move items to others. Also, they can write small notes for each wishlist. Thirdly, visitors can set up a notification to remind their wishlists. Moreover, it is free for them to share wishlist's link via emails or social media. Besides, the admin can set up a time for closing the popup about the wishlists. In addition, the admin can customize the email templates. Finally, you can select social media channels for sharing.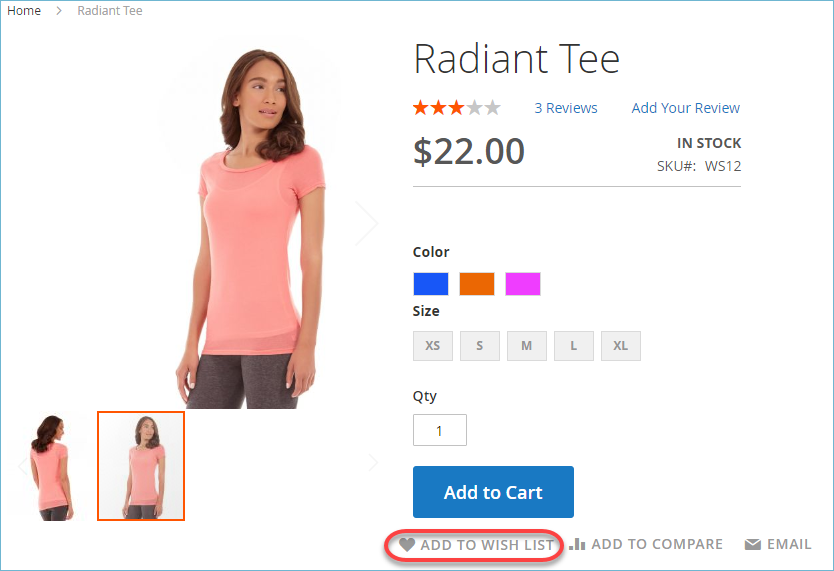 Price: $89
The advanced Wishlist extension gives you many highlight features to manage the wishlists. Firstly, it allows both visitors and shoppers to create unlimited wishlists. Secondly, customers can choose to display wishlists in only private mode. Thirdly, it permits store owners to watch all the wishlist by customers. Also, it is still compliant with GDPR. In addition, the admin can change the displayed language from the back-end. Furthermore, this extension provides you with product analysis, customers analysis and order analysis. So you can better understand about your store performance. Finally, this extension is compatible with mobile devices.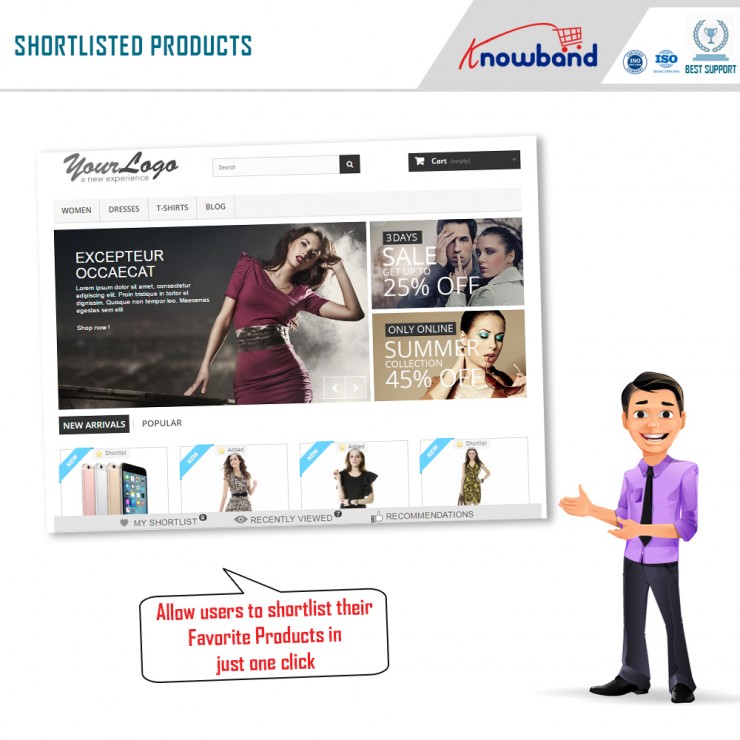 Price: $49.99
In conclusion, Arrowtheme suggest that you can use both the Wishlist extension and Coupon Generator extension to do marketing more effectively.