Shopify bootstrap theme: Top 10 great shopify themes with beautiful ecommerce design
Shopify is one of the largest eCommerce platforms which is getting more popular nowadays. If you are a newbie and dream to own an online store to get more revenue, you should start creating it by using Shopify. For that reason, in this blog today, I will bring to you the list of Top 10 great shopify bootstrap themes with beautiful ecommerce design. Hopefully, this blog will help you.
If you are seeking a shopify bootstrap theme, I will recommend a theme called Lusion. Lusion is developed by Arrowtheme. This theme comes with 25+ stunning demo homepages and 28+ landing pages in order to fit a range of customer's business.What's more? Lusion theme also provides a lot of unique designs with cool features for the customers. As a result, this theme is suitable if you want beautiful ecommerce design for your store. For that reason, it is the first pick of anyone who wants to increase their sales. Furthermore, with the aim of helping your work, advanced capabilities and high-end page designs are added into Lusion. Besides that, Mega menu allows users to build the top menu from the framework settings in the admin panel. Moreover, using this shopify bootstrap theme, your online shops will have beautiful views on all screen sizes, browsers and platforms.
Lastest Updates! Lusion theme is now fully compatible with latest Shopify 2.0. It comes with new features and enhancements providing easier and more flexible customization options for merchants.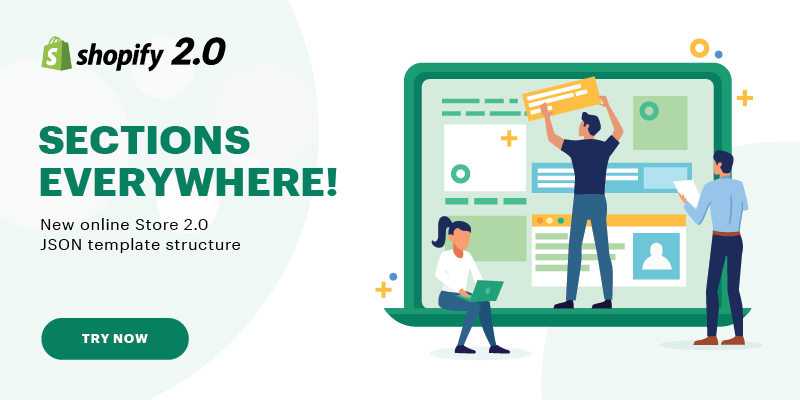 Some new features you'll get when choosing Shopify 2.0 theme
Sections are available on every page like the Home page, product page, collection page, collection list page, cart page, etc.
App Block supports you to relocate or move Shopify apps within the template without touching the code files.
Shopify Metafields permits you to add dynamic information about your products, variants, collections, customers, orders, blogs, and many more in your store.
Collection and search filters support you to filter products and search results by availability, price, vendor (brand), color, and many more.
Ella is known as the best selling Shopify theme of all time. Comes with multiple layouts and styles, you have permission to build different structures and satisfy any specific requirements. Not only that, Ella also provides you a variety of child themes for different kinds of business. Furthermore, thanks to Mobile Optimized layouts , your customers can enjoy a smooth shopping experience even on mobile devices.
Wokiee is a shopify bootstrap theme you should not miss. This theme goes with 25+ stunning homepage layouts that fits the range of online shops. Moreover, in order to meet all the customer's requirements, this shopify bootstrap theme also brings to users the Header Variants and Product Filters.Furthermore, by Quick view popup feature, your products with all their features such as: image, price, colors,…will be shown without reloading the page. Besides that, Wookie is known as a theme with the good loading speed. Wokiee's score loading speed on the mobile phone is Medium with 78/100 and on Laptop with Good with 81/100. Nextly, you don't know about coding. Don't worry. Because Wokiee will help you. You still can change any elements of this theme as you want without coding requirements..
The next shopify bootstrap theme I want to mention in this list today is Shella. Shella will provide the high loading speed with the score 89/100 for your site. Therefore, your customers don't need to wait a long time. Besides, thanks to lots of stunning homepages, Shella can meet all kinds of customer's business such as plants, pasta, wines, cakes, christmas,…Additionally, this shopify bootstrap theme also supports your work with multi currency.
You are looking for a shopify bootstrap theme. Thus, Porto is a suitable theme you should consider. Porto brings many stunning homepages with lots of cool features like: Powerful theme options, Super high performance. Therefore, Porto has received high ranking from its customers. Not only that, even with low level servers, this theme's demo still works well. Furthermore, whenever you get troubles with this theme, a professional support team of Porto is ready to support you. One more thing is this shopify bootstrap theme just takes you some minutes to activate. So let's try
StoreGo is a Multipurpose Premium Electronic Shopify Theme. When you apply this theme for your online shop, your online shop will look perfect when opened from any devices such as mobile phones, tablets, computers. In addition, this shopify bootstrap theme is designed with SEO optimization. So it helps you to get a higher rank on search engines. For that reason, your online shop can drive more traffic.
Come to the Newelise theme, a lot of stunning homepages are waiting for you. This theme allows users to customize homepages as you want such as: products, logo, brands, collection….Using Newelise, your site also performs high-quality visuals and works perfectly. Below are other features of this shopify bootstrap theme:
Fully responsive
ajax cart
Product Quick view
MegaMenu
Multi currency
Contact form
Search form
KarDone is a Multipurpose Designs Shopify Theme. Coming with a variety of homepages, this theme is ready to help you build a stunning sites with a range of stores such as: car parts, fashion, building materials, accessories, food, stationery, sports, medicine stores, single products store, drones, travel, pets, coffee stores online, barbershop. Not only that, by responsive design, multi-currency and multilingual support, your online shops can expand your target customers and make shopping in your store convenient for everyone over the world.
Apparelix brings to you more than 15 uniquely designed multi-faceted themes. As a result, this shopify bootstrap theme fits for highly sought types of business. Besides that, you have permission to customize Apparelix's homepages with ready sections such as: products, logo, collection…Furthermore, using this theme, you have the opportunity to enjoy a variety of different layouts as you wish. As a result, your site will be built with the Shopify visual.
Another shopify bootstrap theme called Multifly. Multifly is the best Shopify theme that boosts your conversion. Moreover, this theme is compatible with the official shopify apps such as: Twitter, Facebook,…Additionally, the support of professional technique is optimized. Therefore, your site speeding insights 90-100 score. Thus, let Multifly help your site to be the benchmark in the online shopping of whole world.